How To Make Chocolate Bowls
Learn how to make chocolate bowls the easy way using balloons! Use them to hold ice cream and other desserts, plus you can take a bite out of the bowl. So much fun for at parties and birthdays!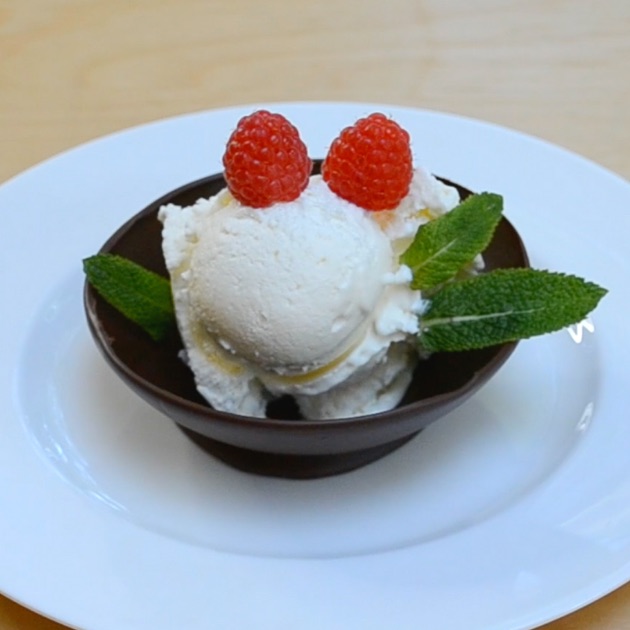 Chocolate balloon bowls are a great party hack, and everyone gets a laugh taking a bite of the bowl. We first made them as serving bowls for a potluck and they were a hit!
We've since put them out for holidays, dessert servings and more. They're also fun just for holding sweets, berries or ice cream. You don't need any special equipment, just some patience to let the chocolate freeze solid into shape.
How to Make Chocolate Bowls with Balloons
Here's what you'll need to make chocolate bowls with balloons:
Small balloons: they should be 5-inch / 12 cm balloons like these available online or at your local party store. Any other size will not work!
Baking chocolate: use a decent quality baking chocolate like Baker's or Ghirardelli, which becomes smooth and viscous when it melts. Poor quality chocolate or chocolate chips will become brittle and crack apart after chilling.
Baking sheet: any baking sheet that fits in your freezer will work.
Liner: Use a nonstick baking mat, parchment or wax paper to line the baking sheet.
There will be leftover chocolate after dipping the balloons, so you might want to use it to make treats like Ice Cube Tray Chocolates or Oreo Truffles. You can also put it into a ziptop bag and freeze for later use.
If you're making a lot of bowls, you may wish to get an inexpensive hand pump to easily inflate the balloons.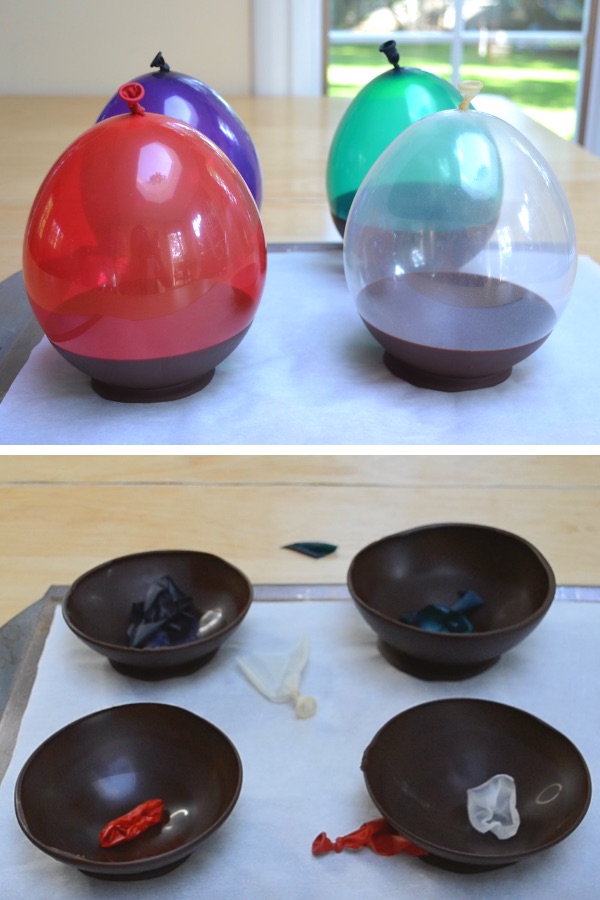 Watch Recipe Video
Note: While the video shows chocolate chips, but strongly recommend using baking chocolate instead.
Can I eat the bowl?
Yes, you certainly can eat the bowl, as it's made with pure chocolate! There is absolutely no residue from the ballon as long as they were clean at the start.
Can I make white chocolate bowls with balloons?
Yes, this recipe also works with white chocolate! The same rule applies about using quality baking chocolate, and I've had good results with Baker's, Ghirardelli or Lindt white chocolate.
More dessert bowls:
How to Make Chocolate Bowls
Learn how to make chocolate bowls with balloons! These edible chocolate bowls are fabulous for holding ice cream and other desserts at parties and birthdays. Plus it's so much fun to eat the bowl!
Ingredients
16 ounces semisweet baking chocolate, chopped (see note)
6-8 small balloons, 5-inch size
Instructions
Line a large baking sheet with parchment or wax paper. Set aside a medium cereal bowl, about 6 inches wide.

Inflate six 5-inch / 12 cm balloons to their normal size.


Place the chopped chocolate into a medium microwaveable bowl.

Melt chocolate slowly over a double boiler. Alternatively, microwave on medium power in 30-second intervals, stirring each time.

Spoon six tablespoon-size dollops of chocolate onto the prepared baking sheet about 6 inches / 15 cm apart.


Pour all the melted chocolate into cereal bowl.

Dip a balloon about 3 inches / 7 cm into the chocolate to coat, and gently press into a dollop on baking sheet. Repeat for remaining balloons.

Freeze for one hour or refrigerate 3 hours until solid.

Use a toothpick, cake tester or sharp paring knife to pop the balloon (see note).

Carefully peel away any pieces of balloon, and then lift the bowls off the baking sheet.
Notes
It's crucial to use quality baking chocolate like Baker's or Ghirardelli to ensure the bowls don't crack or fall apart. Chocolate chips will NOT work.
Bits of chocolate occasionally fly when popping, so it's a good idea to wear an apron and/or protect the immediate area to avoid a mess.
Nutrition Facts
How to Make Chocolate Bowls
Amount per Serving
% Daily Value*
* Percent Daily Values are based on a 2000 calorie diet.
Please read our nutrition disclaimer.

© TIPBUZZ. Images and text on this website are copyright protected. Please do not post or republish without permission. If you want to republish this recipe, please link back to this post. This post may contain affiliate links. Read the disclosure policy here.