Soft Cinnamon Roll Cookies
These Cinnamon Roll Cookies combine buttery cinnamon bun and cookie dough flavors for a soft, melt-in-your-mouth treat with an attractive round swirl.  They're perfect for any occasion including parties or holidays, plus easy to make with just 3 ingredients!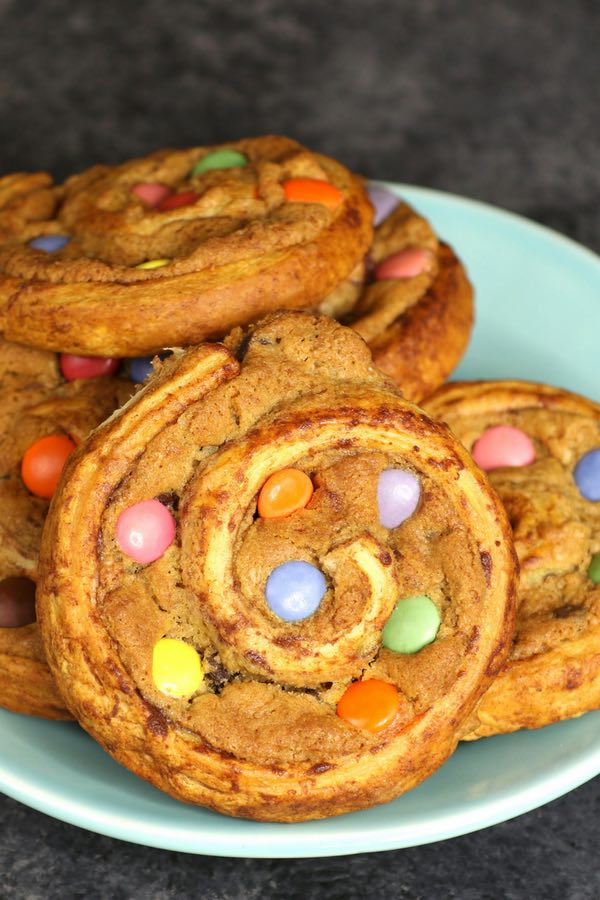 This cinnamon roll cookie recipe combines two favorites in one: cinnamon buns and chocolate chip cookies! With a few colorful decorations on top, people go crazy for them! The best part? They're ready in less than 30 minutes.
You don't need to chill and roll out the dough like from-scratch recipes, so this is about as easy as it gets! You can make them as big as you want, ranging from bite-size to giant cookies. Try serving them for a potluck or party and watch them disappear!
How To Make Cinnamon Roll Cookies
Step 1: Unravel the cinnamon roll dough: You can simply work with your fingers to loosen up the strips, and I've had the best luck with Great Value and store brand cinnamon roll dough. The major name brands have changed their product to not unravel.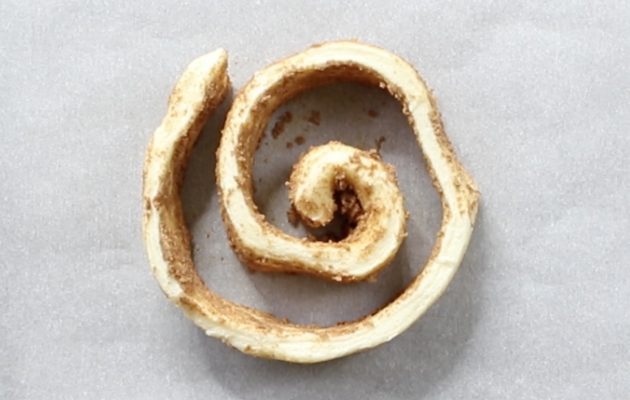 Step 2: Make spirals with cookie dough: Use your fingers again to make 6 inch x 3/4 inch pieces of cookie dough from the package. If you prefer to make your own dough, here is a homemade chocolate chip cookie dough recipe.
Then make a double spiral with the two together like this: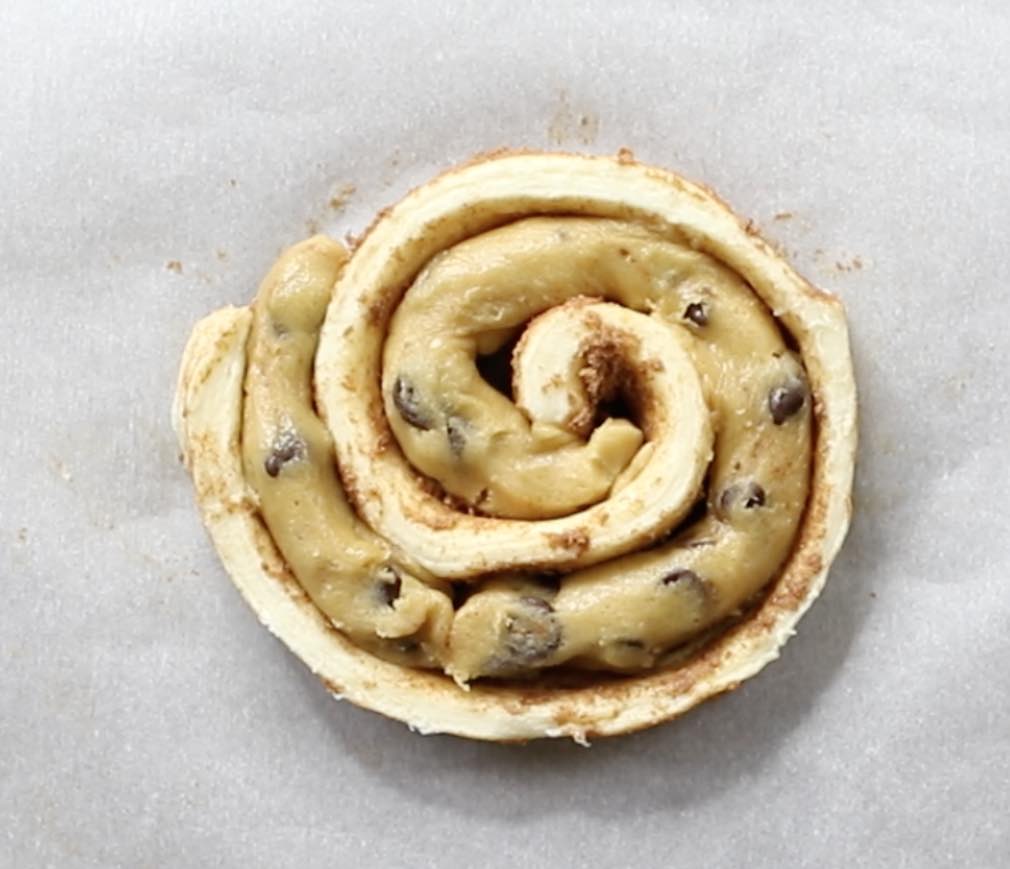 Step 3: Top with candy and bake: The last step is adding some M&Ms or other chocolate candy on top: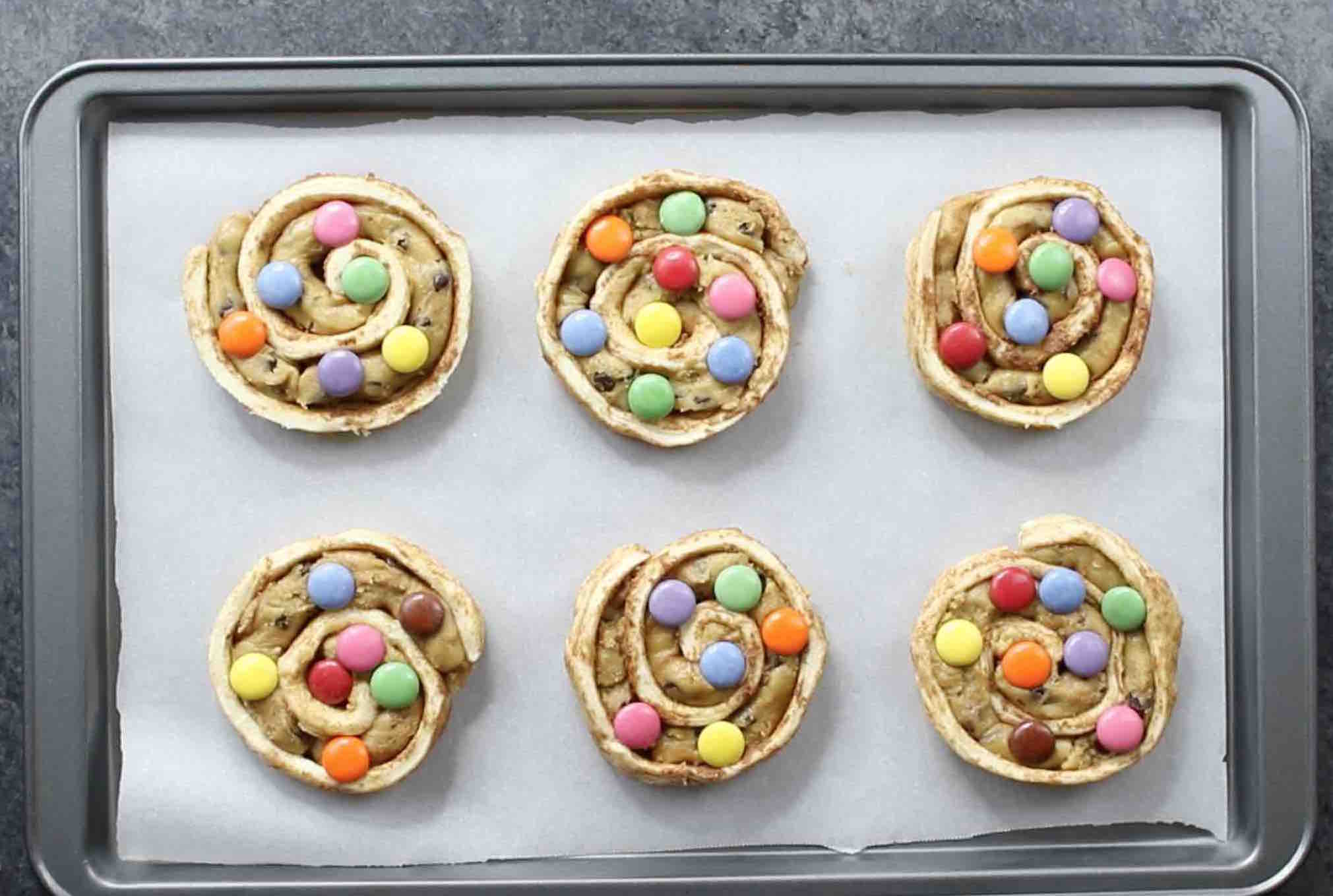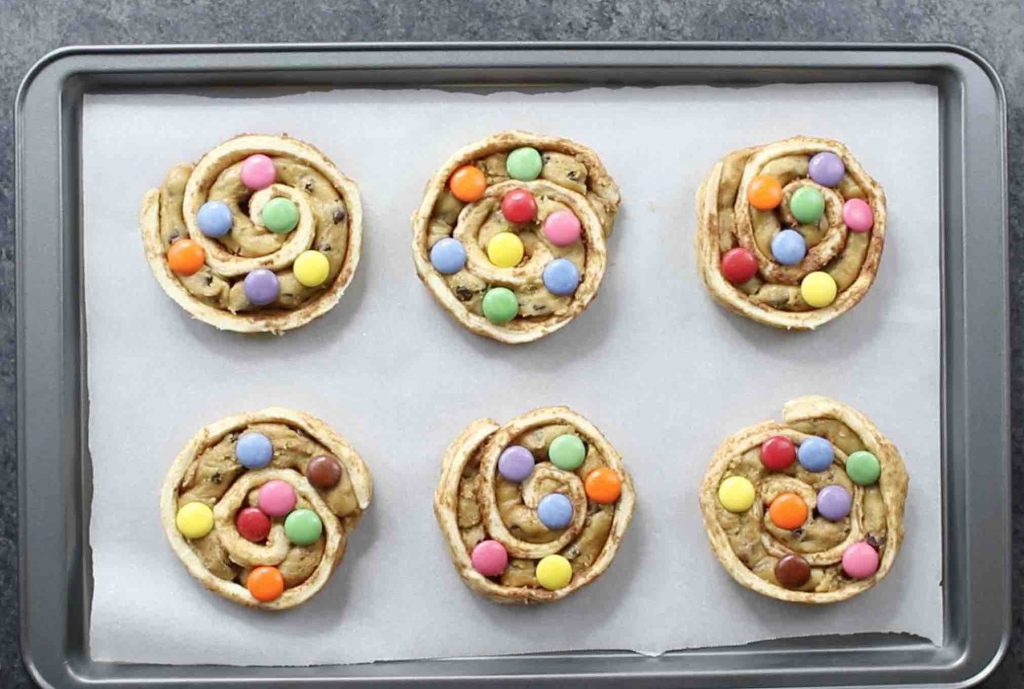 Bake at 350°F for 15-20 minutes until they're puffy and golden brown: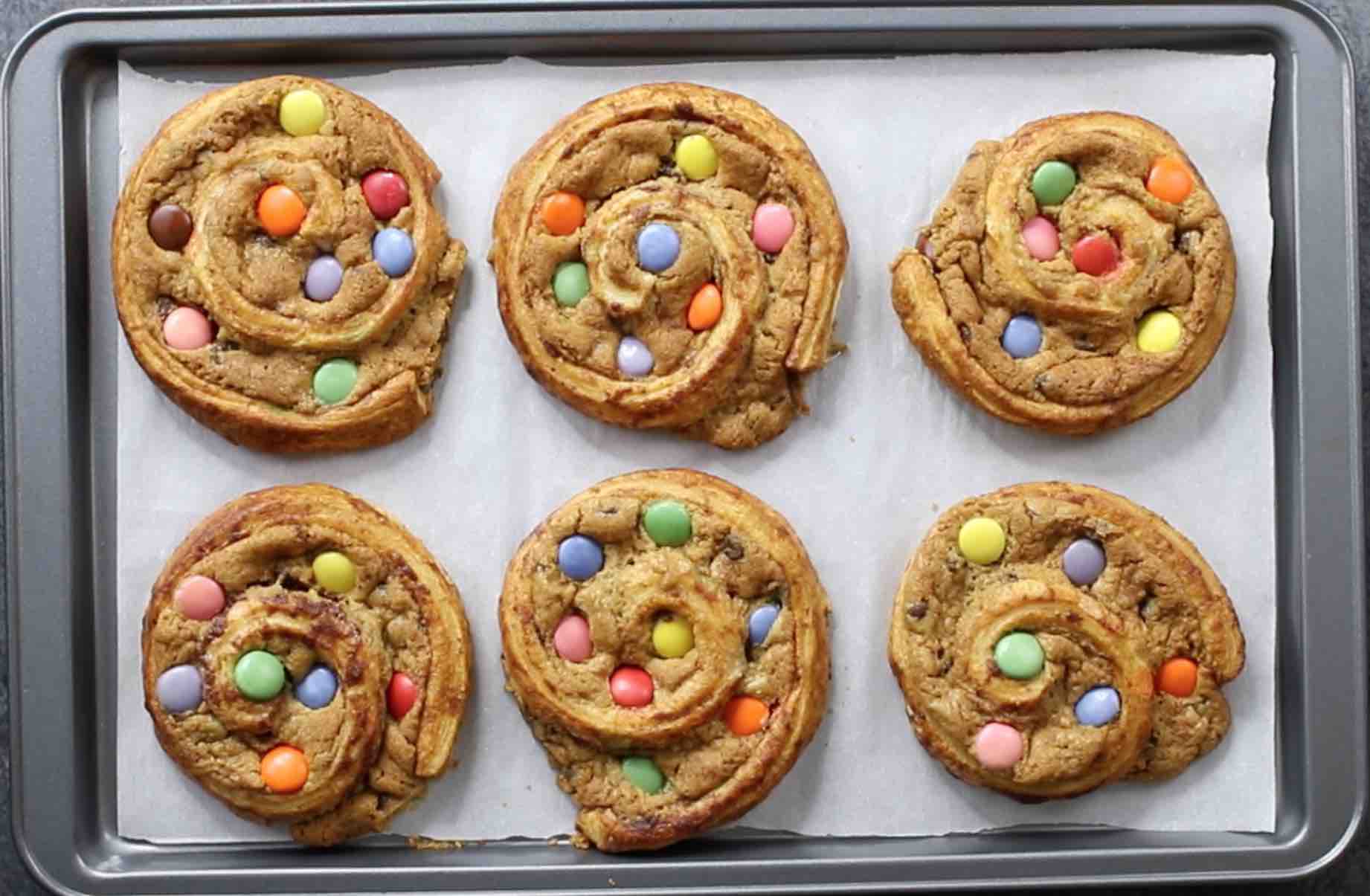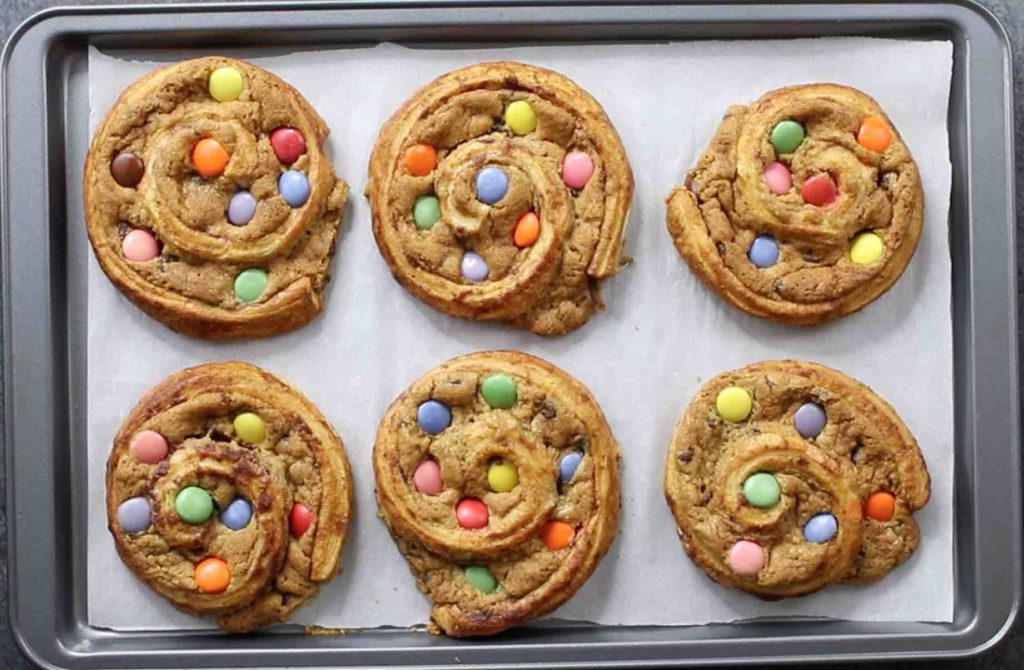 These cookies are delicious served warm out of the oven, but usually need 5-10 minutes to firm up so they don't fall apart when serving.
More cinnamon roll recipes:
View all cinnamon roll recipes
Watch How to Make Cinnamon Roll Cookies
Cinnamon Roll Cookies
Soft cookies combining cinnamon bun and cookie dough flavors.
Instructions
Preheat oven to 350°F (171°C). Set aside a baking sheet lined with parchment paper or a nonstick baking mat.

Open the can of cinnamon rolls and set aside the icing. Then carefully unravel each piece.

Slice 1 inch of cookie dough from the package and roll between your palms into a 6-inch long strip. Repeat for remaining dough.

Wind the cookie dough into the cinnamon rolls as a double spiral and place on the prepared baking sheet. Repeat for remaining dough to make 8 large cookies and space them at least an inch apart.

Place optional M&Ms on top to decorate, pressing them lightly into place.

Bake 15-20 minutes until puffy and golden. A toothpick or cake tester inserted into the middle should come out clean.

Remove from oven and cool in the pan for at least 10 minutes.

Slide a spatula underneath to lift them off the baking sheet to serve. Optional: drizzle with icing on top.
Notes
* Note: Pillsbury cinnamon rolls have been reformulated to not unravel, so you'll need to use another brand for this recipe.
** Follow this chocolate chip cookie dough recipe to make your own dough.
Storing & Freezing: You can store cinnamon roll cookies in an airtight container for up to 3 days at room temperature, or freeze for up to 2 months.
Nutrition Facts
Cinnamon Roll Cookies
Amount per Serving
% Daily Value*
* Percent Daily Values are based on a 2000 calorie diet.
Please read our nutrition disclaimer.
Recipe tools:
© TIPBUZZ. Images and text on this website are copyright protected. Please do not post or republish without permission. If you want to republish this recipe, please link back to this post. This post may contain affiliate links. Read the disclosure policy here.