Melting Chocolate Ball
These Melting Chocolate Balls are a stunning dessert presentation! You use a balloon to create a chocolate sphere that covers a small dessert. Then pour warm sauce on top to melt the magic chocolate ball for a dramatic reveal!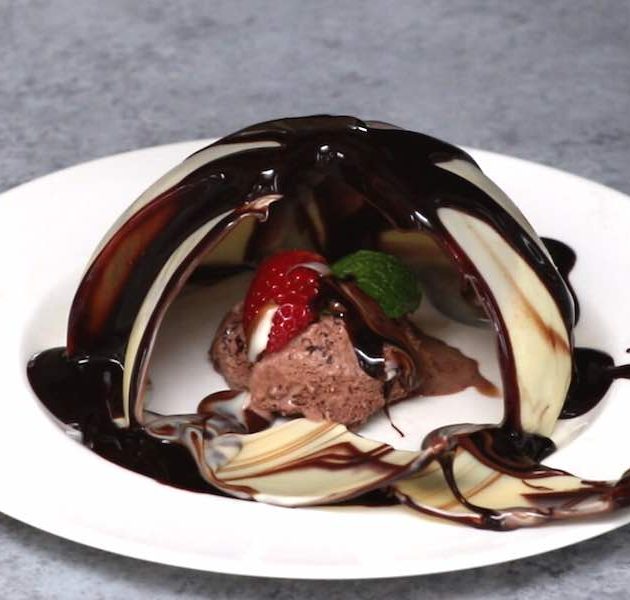 When you want to make a big impression, look no further than a melting chocolate ball! People go crazy over them, causing a viral sensation a few years ago. Whether you're celebrating a birthday, date night or Valentine's, this is a fun way to go!
You can put anything you like underneath the ball, as long as it's small. It could be a dessert such as a truffle, brownie, scoop of ice cream or mousse. Some people have even used an ornament (or engagement ring!)…
Ingredients and Equipment
Making a chocolate sphere is not easy, but it need not be difficult either. However, some patience is required to fully melt the chocolate and freeze it into the spherical shape.
Next, you'll need to get your equipment and ingredients organized upfront:
Small 5-inch balloons
Small bowls
Baking sheet
Double-boiler for melting the chocolate
High-quality baking chocolate: I used white to make light-colored balls, but you can use semisweet for a darker look.
Using quality chocolate is the most important consideration, in my opinion. Using chocolate chips, for example, will only cause the ball to splatter or disintegrate, causing disappointment.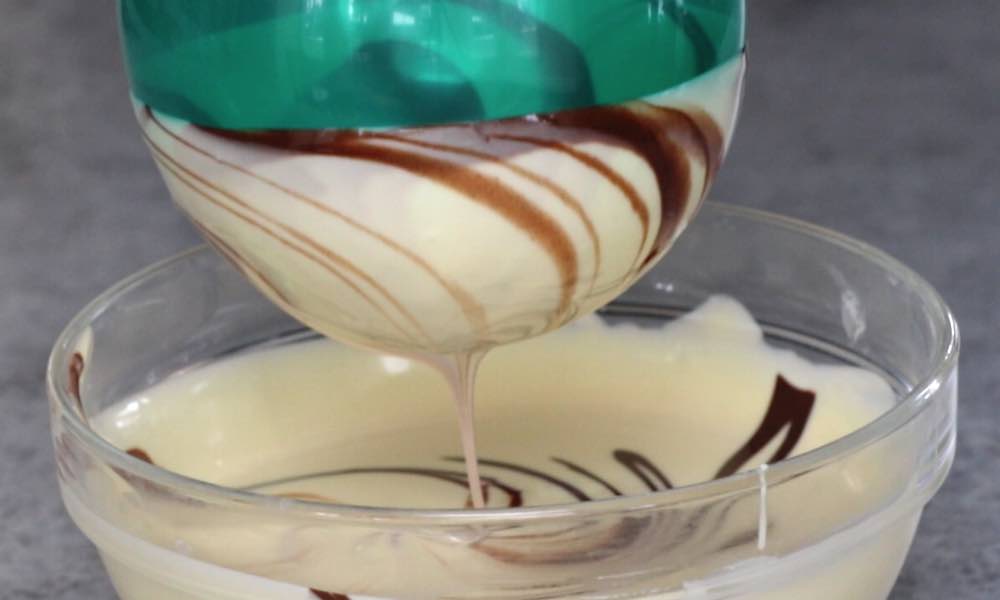 How to Make a Melting Chocolate Ball
Start by melting the chocolate in a double boiler over low heat until perfectly smooth. This process is called tempering.
Dip an inflated balloon about 3 inches into the chocolate until coated. Then invert and place into a small bowl. Repeat this process and then freeze the balloons in position for at least 60 minutes to let the chocolate harden.
After freezing, it's time to prick the balloons with a toothpick, knife tip or cake tester. The balloon will pop and you can gently peel it off of the chocolate ball. Note: you can make a chocolate bowl this way too.
When it's time to serve, melt more chocolate and put it into a creamer for easy pouring. Place the ball on top of the dessert on a serving plate. Now the moment of truth: pour the melted chocolate directly onto the ball in a criss-cross pattern (watch the video). It'll collapse to reveal the dessert underneath for everyone to enjoy!
Watch Recipe Video:
This quick video tutorial shows you how to make a melting chocolate swirl ball:
More Chocolate Dessert Ideas:
View all desserts
Magic Chocolate Balls (with Video)
A dramatic dessert presentation that uses a balloon to create a chocolate sphere or dome to cover a dessert. Pouring warm sauce on top melts the magic ball for a stunning reveal!
Ingredients
Chocolate Balls
10 oz white baking chocolate, chopped (285 g), see note
4 oz semisweet baking chocolate, chopped (115 g), see note
Instructions
Set aside a medium saucepan and a medium bowl that fits comfortably on top. Also set aside a baking sheet, four small bowls and four 5-inch balloons.

Fill the saucepan with 2 inches of hot water and place on low heat.

Chop the white chocolate into pieces. Add to the medium bowl and place on top of the saucepan. Let the chocolate melt until smooth, stirring occasionally. (If the water starts to boil at any point, turn the heat off.) Remove from heat and set aside.

Add the chopped semisweet chocolate to a second bowl and follow the same steps to melt until smooth.

Meanwhile, arrange the four small bowls on the baking sheet. Also inflate the balloons so they are approximately 6-inches in length.

Pour the melted semisweet into a small ziptop bag and seal. Then use scissors to clip 1/8-inch off corner off the bag. Pipe the semisweet chocolate in a zigzag pattern into the melted white chocolate.

Dip a balloon gently into chocolate, about 3 inches deep. Then rotate 90 degrees and lift back out (this creates a swirl pattern). Place upside down in the bowl on the baking sheet to cool. Repeat for remaining balloons.

Place baking sheet in the freezer for 60 minutes to let the chocolate harden. Then use a knife tip or toothpick to prick each balloon so it pops. Gently peel off the remnants of the balloon, placing the finished ball on the baking sheet. Freeze until ready to serve.

To serve, melt semisweet chocolate until piping hot. Meanwhile, arrange ice cream or another small dessert on serving plates. Place the frozen chocolate ball on top to cover.

Pour the melted chocolate onto each ball in a criss-cross pattern to reveal the dessert underneath. Enjoy immediately.
Notes
Chocolate: It's crucially important to use quality baking chocolate or coverture, which is designed for smooth coating and dipping. Do not use chocolate chips under any circumstances.
Melting: If you don't have a saucepan available, you can use the microwave. Melt in 30 second intervals on 50% power, stirring each time until smooth. 
Nutrition Facts
Magic Chocolate Balls (with Video)
Amount per Serving
% Daily Value*
* Percent Daily Values are based on a 2000 calorie diet.
Please read our nutrition disclaimer.
Recipe tools:

© TIPBUZZ. Images and text on this website are copyright protected. Please do not post or republish without permission. If you want to republish this recipe, please link back to this post. This post may contain affiliate links. Read the disclosure policy here.