How Long to Cook Bacon in the Oven
Learn how long to cook bacon in the oven at any temperature including 400, 350 and 375 degrees. Whether you've got regular or thick cut, you can make crispy bacon easily by using a parchment-lined pan with or without a rack. It's the BEST way to feed a crowd!
Whether you're cooking breakfast or preparing an elaborate main course, there's nothing better than crispy oven baked bacon! However, there are some tips and tricks to get the best results, and it's especially important to know how long to cook bacon in the oven. So friends, let's get started!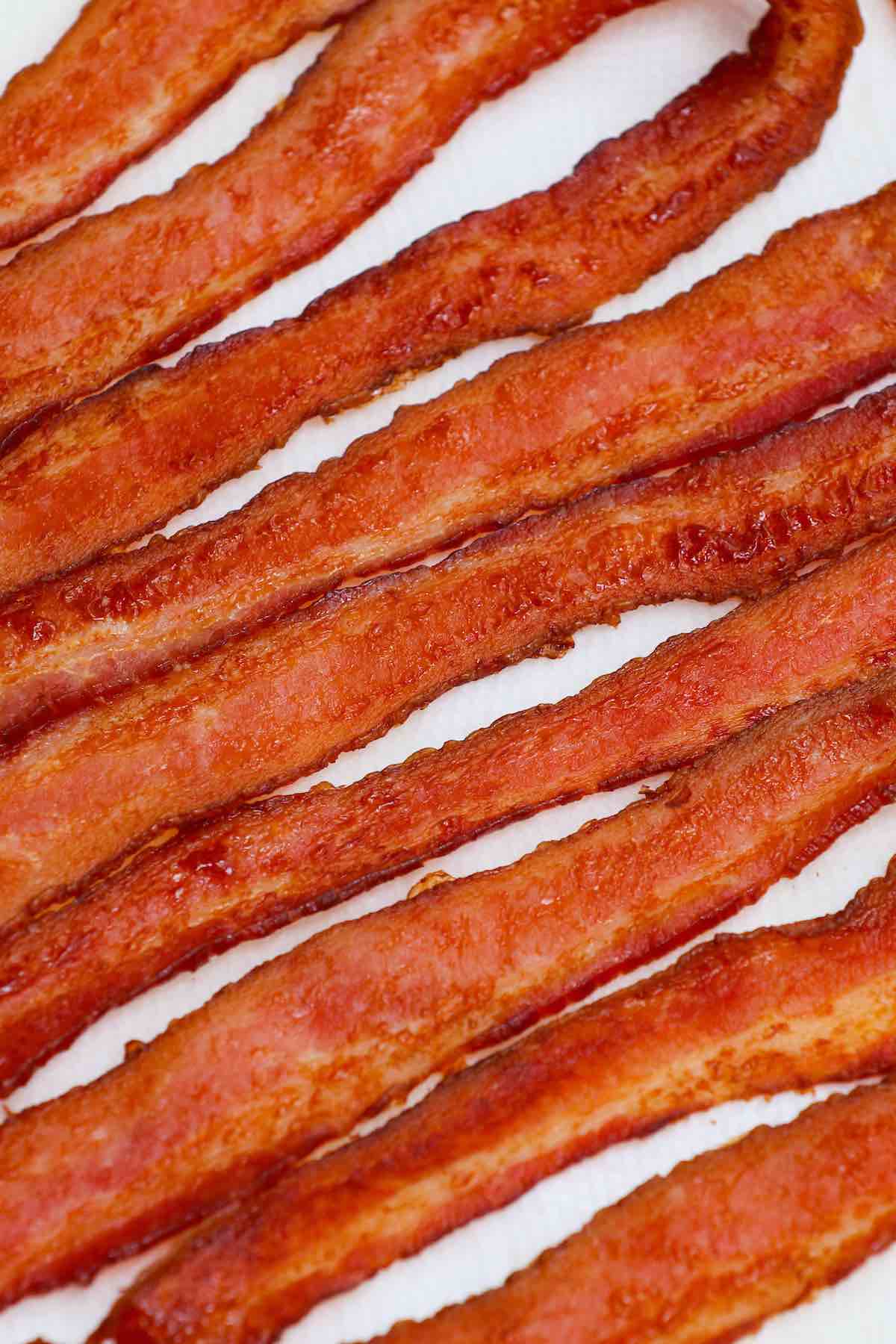 Benefits of Oven Baked Bacon
You may wonder: why do you cook bacon in the oven?
Even cooking: The oven's uniform heat distribution cooks bacon evenly, unlike a skillet where the edges can be crispy and the middle chewy.
No need to flip: You don't need to hover over the bacon and flip it halfway through, unlike with frying.
Safer: You won't have hot bacon fat splattering up at you, since it's in the oven.
Larger quantities: You can easily cook a dozen or more strips at once to avoid frying in batches.
Easier cleanup: When you line the pan with parchment or foil, it's easy to discard the fat so there's less mess to clean up.
Oh, and then there's the taste. Oven baked bacon is delicious when done right!
Baking Different Types Bacon in Oven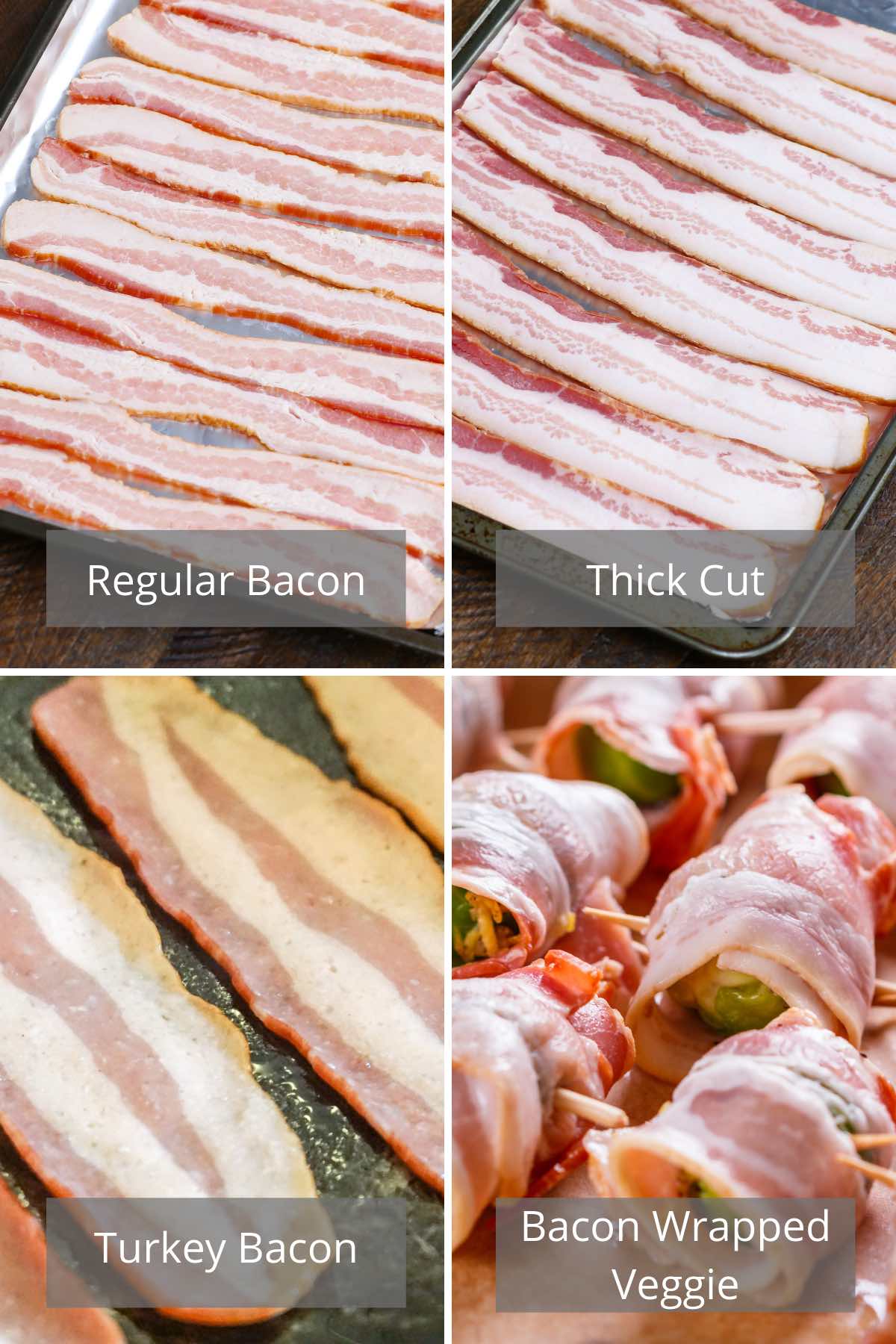 The good news is that you can cook any kind of bacon in the oven, including regular bacon, thick-cut bacon or turkey bacon.
You can also make bacon-wrapped vegetables such as asparagus or these Brussel sprouts. So good!
How Long Do You Bake Bacon
Cooking time depends on the oven temperature and what kind of bacon you're cooking! In addition, for crispy bacon, use the long end of the time ranges above and consider using a wire rack too.
For chewy bacon, use the short end of the range. Remember that bacon will crispen a bit more as it cools.
How Long to Cook Bacon in Oven at 400?
| | |
| --- | --- |
| Bacon Type | Baking Time in Oven (400°F) |
| Regular bacon | 18 to 20 minutes |
| Thick-cut bacon | 20 to 24 minutes |
| Bacon-wrapped vegetables | 20 to 30 minutes |
Note that each oven is different, so actual times may vary. For example, a less efficient oven will take a few minutes longer, while a convection or forced air oven will be faster.
How Long to Bake Bacon at Other Temperatures (325, 350, 375, 425)
| | | |
| --- | --- | --- |
| Oven Temp | Regular Bacon | Thick Cut Bacon |
| 325°F | 30 to 35 minutes | 35 to 40 minutes |
| 350°F | 22 to 25 minutes | 25 to 30 minutes |
| 375°F | 20 to 23 minutes | 22 to 26 minutes |
| 400°F | 18 to 20 minutes | 20 to 24 minutes |
| 425°F | 14 to 16 minutes | 16 to 20 minutes |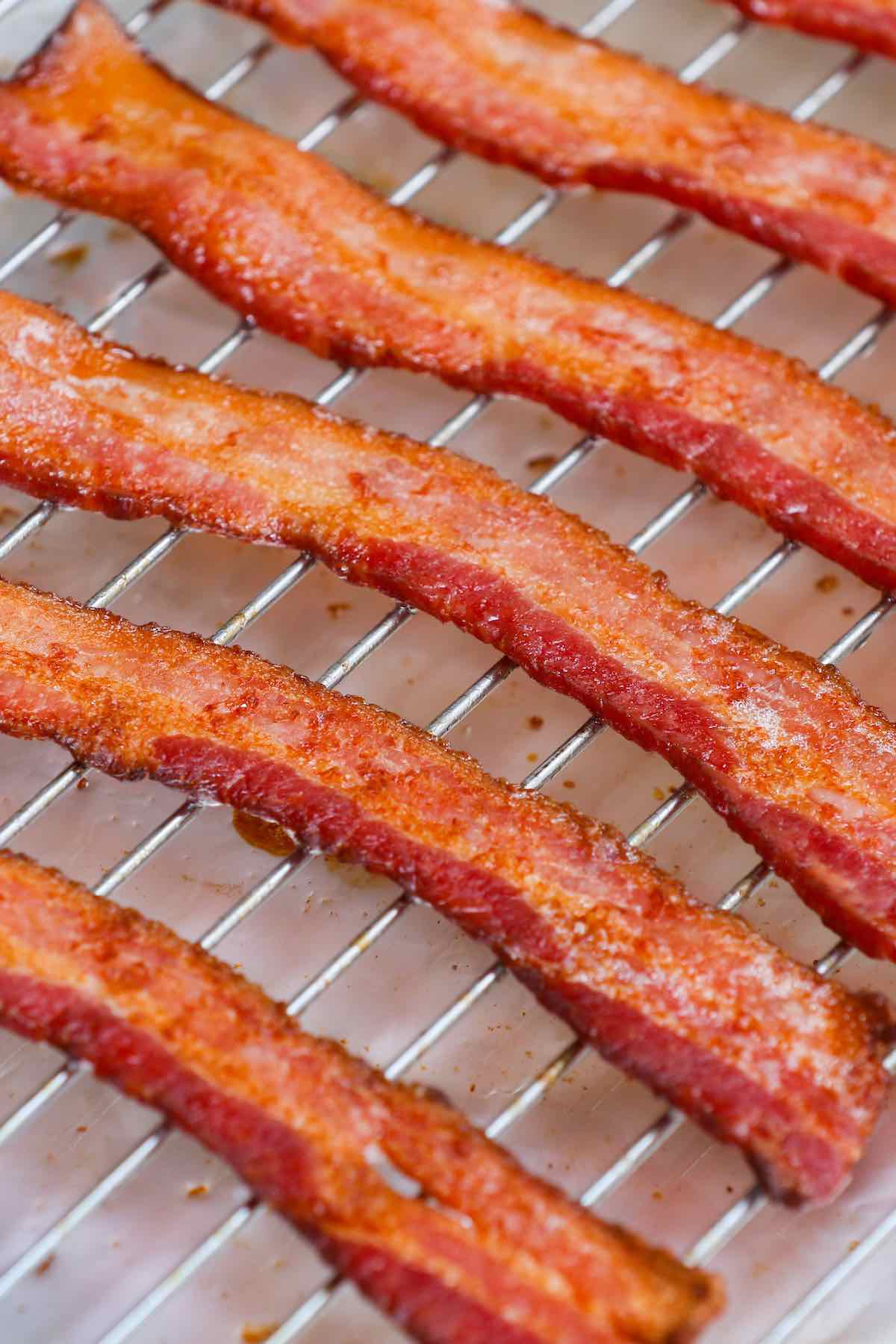 What's the Best Temperature to Bake Bacon in the Oven?
The best temperature for bacon is 400°F in most cases. The few exceptions are turkey bacon and pre-cooked bacon that should be cooked at 350°F or according to the package directions.
If you're not confident your oven temperature is accurate, then use an inexpensive oven thermometer to ensure the best results.
How to Cook Bacon in the Oven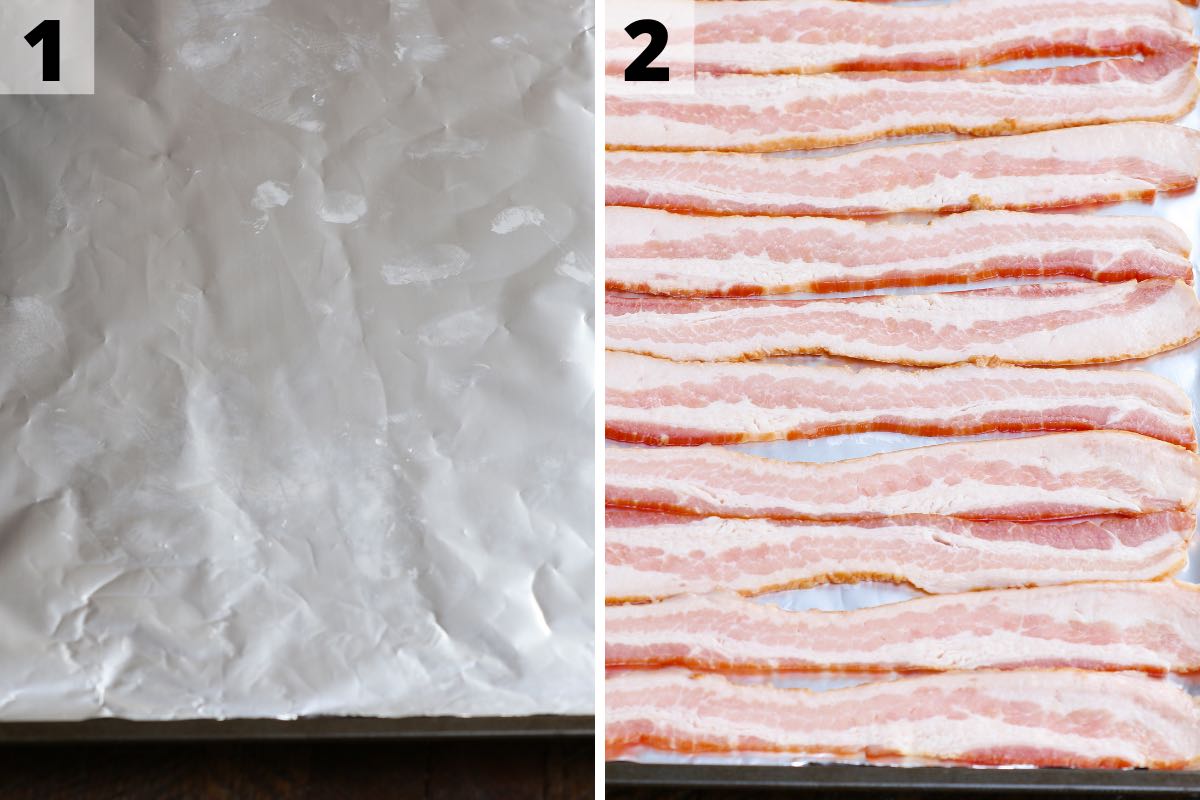 1. Grab a rimmed baking sheet and line with either parchment or foil, leaving enough to cover a half-inch up the edges so the grease won't spill over. If you want crispier bacon, then place a wire cooling rack into the pack and spritz a few times with a nonstick cooking spray (or olive oil spray).
2. Lay the bacon strips in a single layer in the pan or rack. Then place in the oven and set it to 400°F or the temperature you are using. It may seem strange to put it in a cool oven, but the fat will render better that way for even cooking with less curling!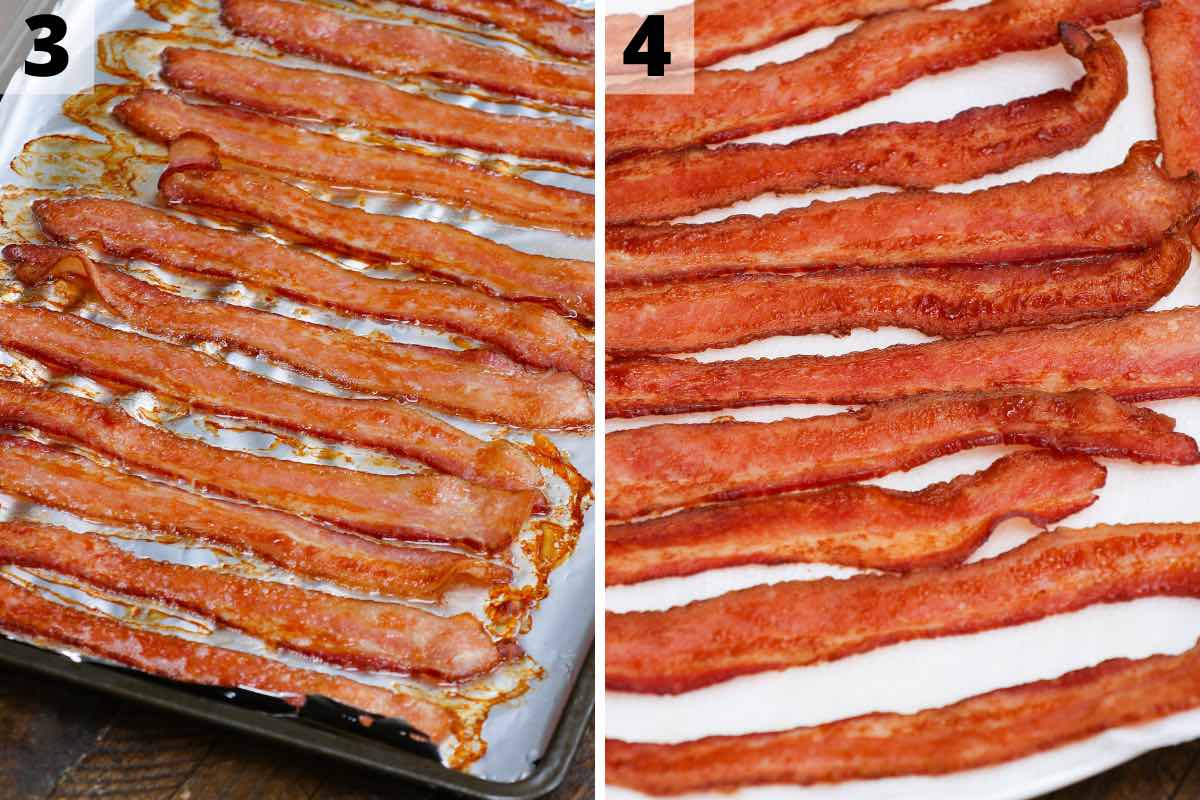 3. Bake according to the times above or until it's golden and has reached your desired crispness. Note there is no need to flip the bacon!
4. While it's cooking, you can line a plate with a double layer of paper towel. Remove the bacon from the oven and transfer to the prepared plate. Dab with paper towel to remove excess fat as desired before serving.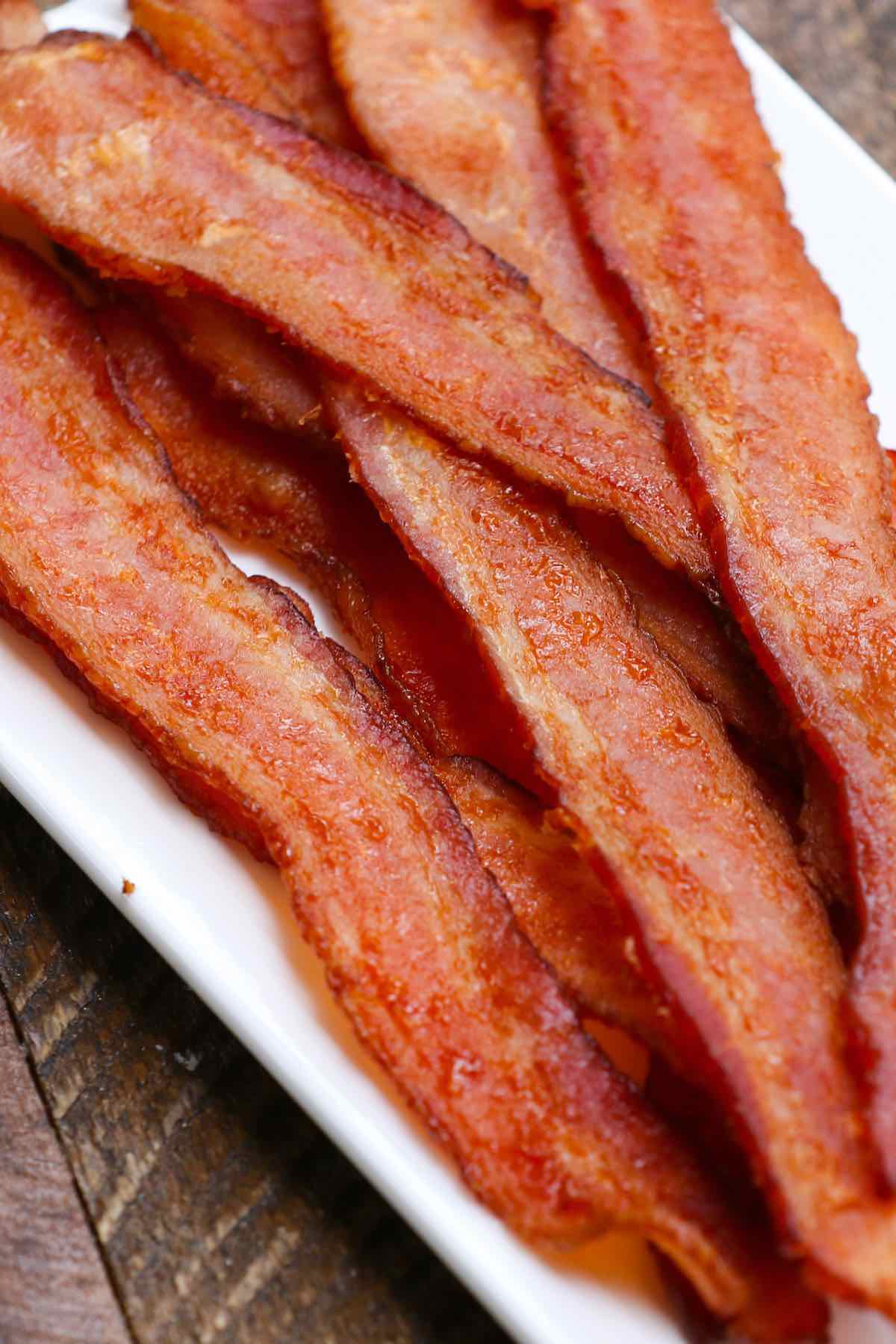 Pro Tips for Baking Bacon in the Oven
Don't preheat the oven – There is no need to preheat the oven, as a cooler start actually renders the fat better for crispier bacon with less curling.
Spray the rack lightly –  When using a wire rack, spritz it with oil spray to avoid sticking. Any oil spray will do.
Don't flip the bacon – There is no need to flip the bacon, as the oven's heat distribution will cook it evenly.
Reduce splatter – If you're using a higher temp or concerned about splatter in your oven, just cover the bacon loosely with parchment. It won't burn and the bacon will still cook beautifully.
Cooking Bacon in the Oven without a Rack
Using a rack is optional and strictly a matter of personal preference. I find the air circulation beneath the rack makes it slightly easier to get crispy bacon, but you can put the bacon directly in the pan too. Just line it with parchment or foil for easy cleanup.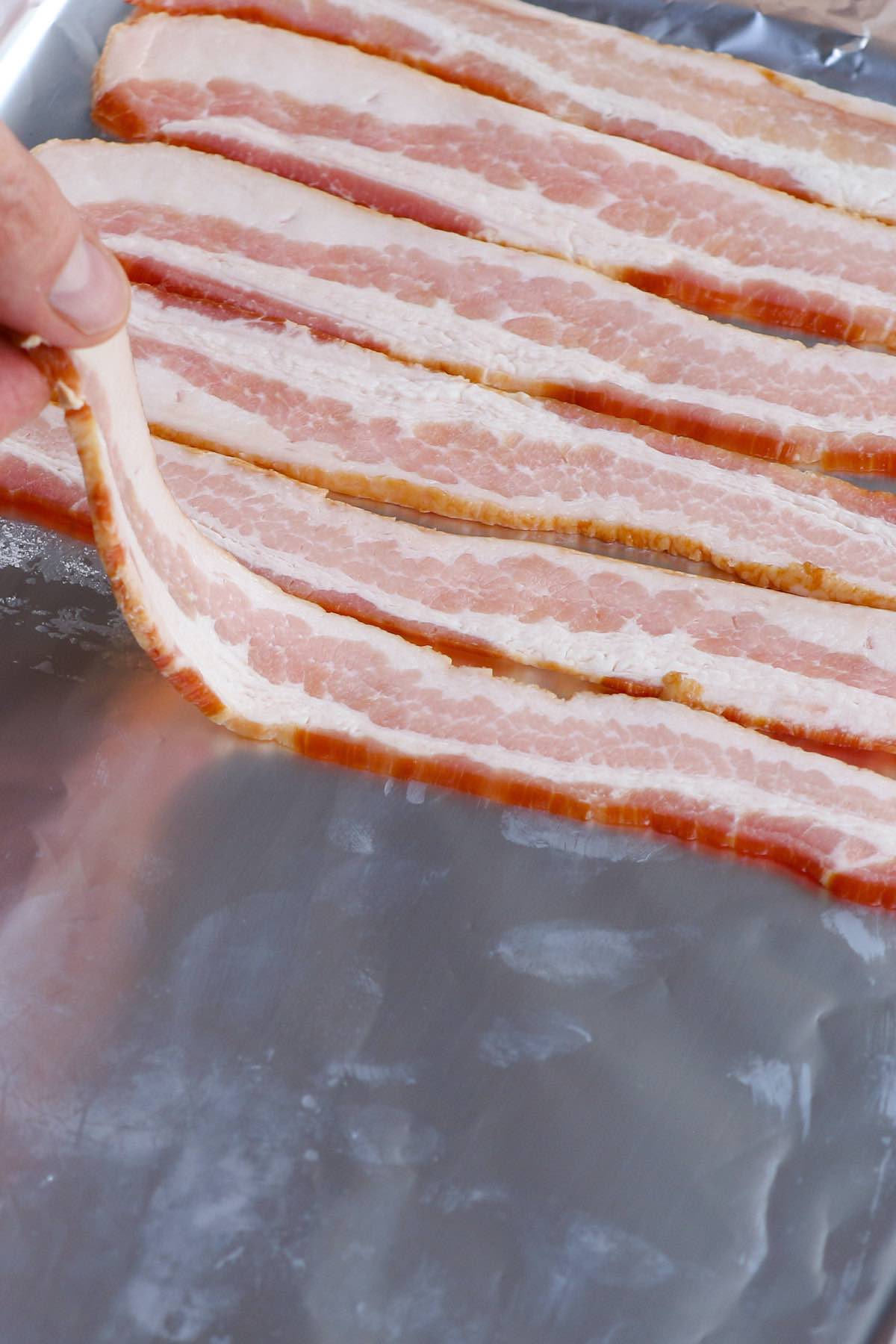 Frequently Asked Questions
Do I Need to Flip the Bacon?
No, you do not need to flip the bacon unless it's thick-cut. One of the benefits of the oven is even heat distribution, which will cook the bacon thoroughly without flipping.
How to Make it Extra Crispy?
Rubbery bacon is usually a result of excess heat, meaning the fat doesn't render properly before the meat is done, leading to a chewy texture.
For extra crispy bacon, it's best to heat gradually. That means putting the bacon in a cool or warming oven instead of one that is fully preheated. Also, make sure it's in a single layer, as crowding the pan will lead to less crispy bacon.
What to Do With the Bacon Grease?
Don't throw out the fat! You can save bacon grease for use as a substitute for butter or oil. I love to add a spoonful to potatoes before roasting for extra flavor. Some people also use it to make candles, lip balm and other DIY creations!
Simply pour the grease into a mason jar, cover and store in the fridge for up to 3 months.
What to Serve with Oven Baked Bacon?
Oven baked bacon goes perfectly with eggs, toast, pancakes, French toast and so many more breakfast and brunch ideas. The possibilities are endless!
More Recipes with Bacon:
View all recipes with bacon
How to Cook Bacon in Oven
Ingredients
2 pounds bacon, any type
nonstick cooking spray, recommended when using a rack
Instructions
Line a rimmed baking sheet with foil or parchment. If using a wire rack, place it on top and spritz several times with nonstick cooking spray.

Arrange the bacon slices in the pan or on rack in a single layer with no overlap.

Place the pan in the oven and turn it on to 400°F (or whatever temp you are using) with convection or forced air on if available.

Bake for 18 to 20 minutes or until it reaches your desired doneness (note that thick cuts will take 2 to 4 minutes more). Meanwhile, line a large plate with a double layer of paper towel and set aside.

Remove the pan from the oven and transfer the bacon to the prepared plate, dabbing with paper towels to remove excess fat as desired before serving.
Notes
Storage and Reheating: Leftover cooked bacon will last for up to 3-5 days in an airtight container in the refrigerator. You can also freeze cooked bacon for up to 3 months. Reheat in the microwave for 30-60 seconds on High power.
Parchment vs Foil: You can line your baking sheet with parchment or foil for easy cleanup, although parchment is a greener option that's slightly easier to work with in my opinion.
Grease: You can save bacon grease for later use in a mason jar with a tight-fitting lid. If you wish to discard, always put grease in the garbage as it will plug your drain.
Nutrition Facts
How to Cook Bacon in Oven
Amount per Serving
% Daily Value*
* Percent Daily Values are based on a 2000 calorie diet.
Please read our nutrition disclaimer.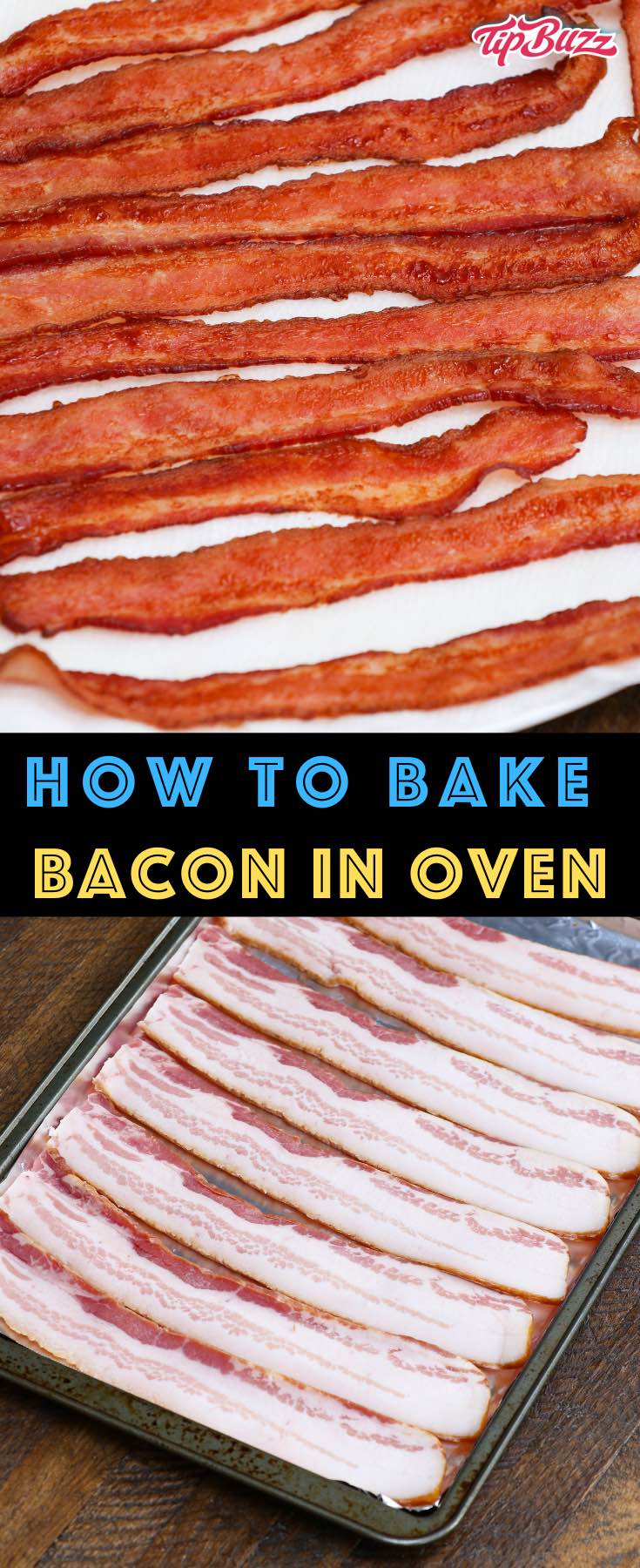 © TIPBUZZ. Images and text on this website are copyright protected. Please do not post or republish without permission. If you want to republish this recipe, please link back to this post. This post may contain affiliate links. Read the disclosure policy here.