Bacon Wrapped Brussel Sprouts
Bacon Wrapped Brussel Sprouts are tender on the inside and crispy on the outside! It's easy to make these Brussel sprouts with bacon using 3 simple ingredients. Serve this Brussel sprout appetizer with maple syrup or balsamic reduction for dipping.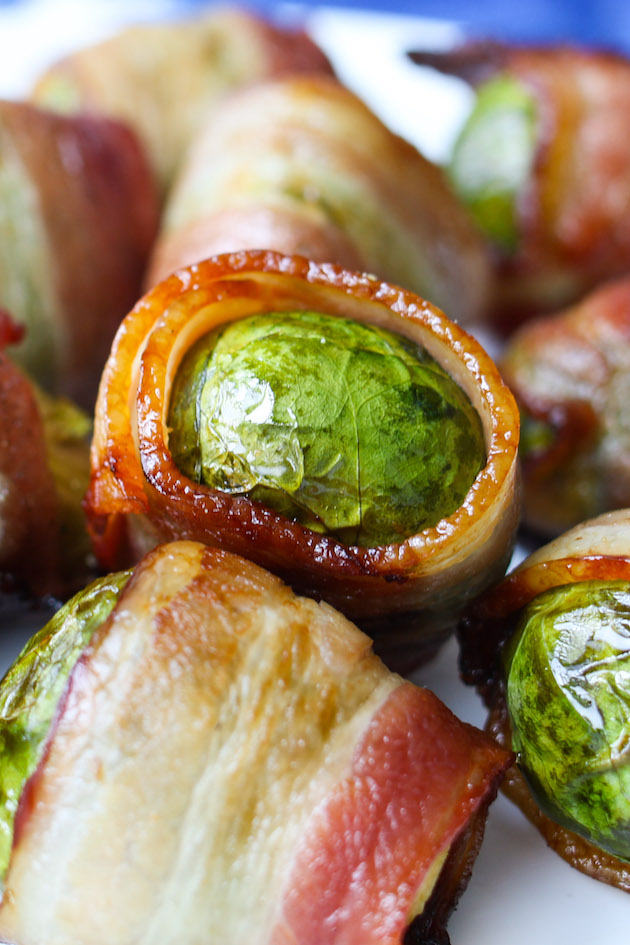 One of the best combinations is Brussel sprouts and bacon. The nutty flavor of Brussel sprouts pairs perfectly with the smokey bacon flavors. This hors d'oeuvre is a classic for Thanksgiving, Christmas and beyond!
This classy vegetable is worth savoring and crispy bacon only elevates the experience! While we've all had a mushy, overcooked Brussel sprout (or two), it's easy to avoid with a few tips.
Bacon wrapped Brussel sprouts are perfect for dipping in balsamic reduction or maple syrup. I've also tried a creamy lemon dip although the lemon clashes with the smokey bacon, y'know?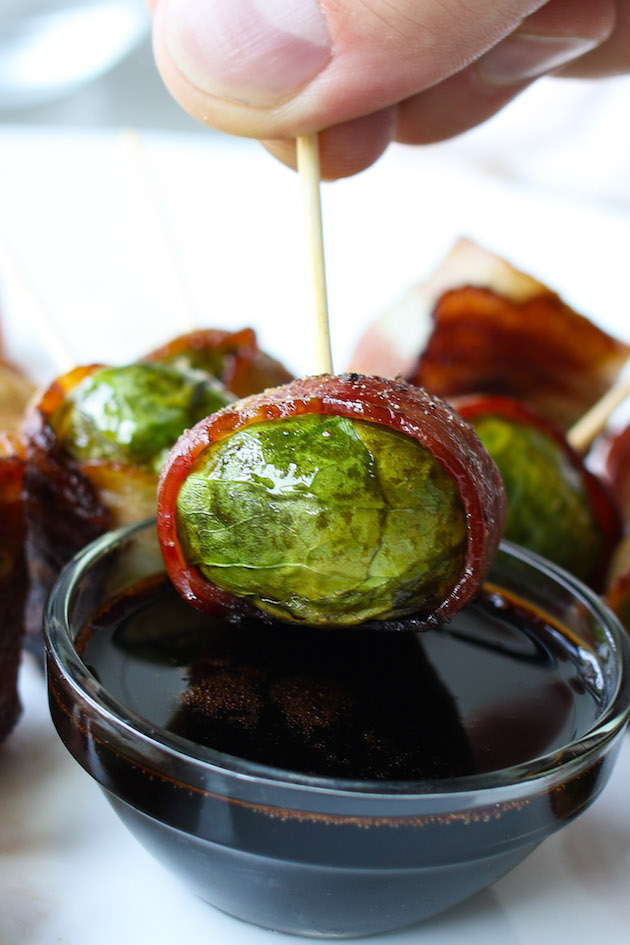 Are bacon wrapped Brussel sprouts keto?
Yes, Brussel sprouts are considered a low-carb vegetable along with bacon, so this dish is perfect for keto diets!
Bacon Wrapped Brussel Sprouts Recipe
Making these bacon wrapped Brussel sprouts is a cinch with the following ingredients:
Brussel sprouts: use fresh instead of frozen
Bacon: any flavor will work and you can use low-sodium for a healthier option
Pepper: freshly ground black pepper
While you can serve them on their own, it's fancier to include a dipping sauce on the side.
The secret is to get Brussel sprouts tender at the same time as the bacon becomes crispy. Baking in the upper half of the oven is helpful as is convection forced air if available.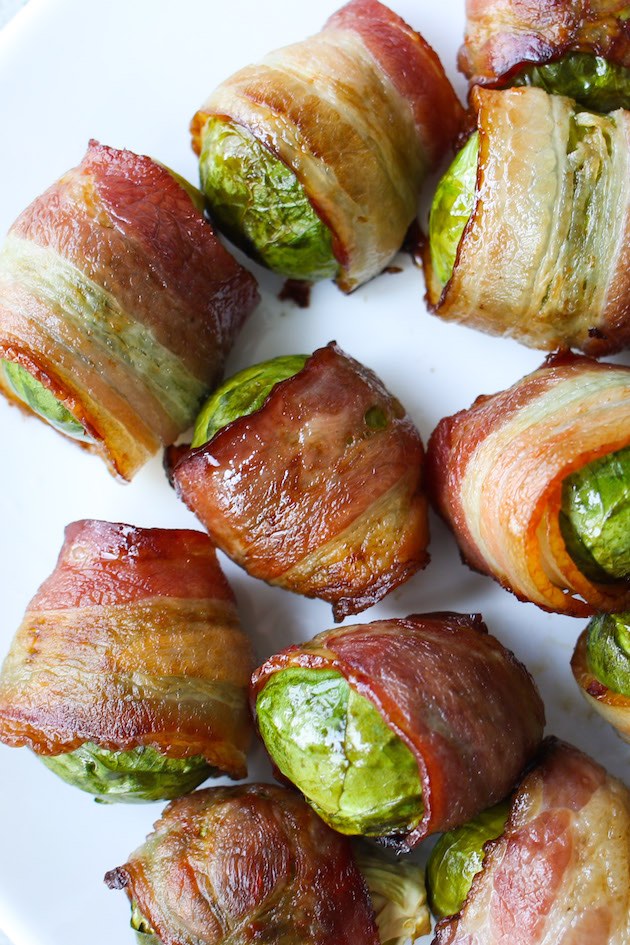 How to trim Brussel sprouts
Trimming the brown edges off the stem end will help the Brussel sprouts to cook evenly. Simply use a sharp paring knife to slice off 1/16-inch (1.5 mm).
You can also insert the knife tip 1/4-inch (6 mm) into the end in a criss-cross pattern to promote even cooking, although this step is optional
More Brussel sprouts recipes: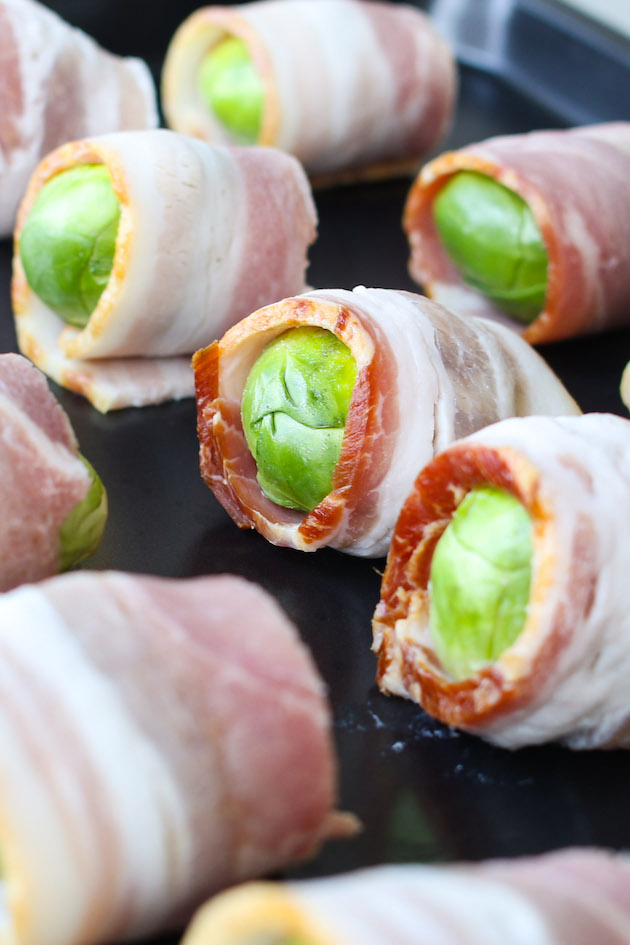 Bacon Wrapped Brussel Sprouts
Bacon Wrapped Brussel Sprouts are tender on the inside and crispy on the outside. Serve with maple syrup or a balsamic reduction for dipping!
Ingredients
2 lb Brussel sprouts, about 24-28
12  strips bacon, see note
black pepper, to taste
Instructions
Preheat oven to 400ºF (204ºC). Set the oven rack to upper middle position and turn on the convection fan if available.

Rinse Brussel sprouts and trim 18-inch (1 cm) off the bottoms using a paring knife. Set aside.

Place the bacon on a work surface and cut each strip into 5-inch (12 cm) long pieces. (You should have one piece for each Brussel sprout.)

Roll a Brussel sprout up in a piece of bacon and place seam-side down on a rimmed baking sheet. Repeat for remaining Brussel sprouts.

Bake for 20-30 minutes until bacon is crispy and Brussel sprouts are tender (see note).

Season with pepper and serve with optional maple syrup or balsamic reduction.
Notes
You can use any type of uncooked bacon, including maple-flavored, low-sodium, etc. Turkey bacon also works well.
Smaller Brussel sprouts cook faster than large ones. Start checking doneness after 20 minutes by piercing Brussel sprouts with a knife tip. As soon as they're tender, stop cooking.
Nutrition Facts
Bacon Wrapped Brussel Sprouts
Amount per Serving
% Daily Value*
* Percent Daily Values are based on a 2000 calorie diet.
Please read our nutrition disclaimer.
© TIPBUZZ. Images and text on this website are copyright protected. Please do not post or republish without permission. If you want to republish this recipe, please link back to this post. This post may contain affiliate links. Read the disclosure policy here.