Chocolate Covered Bacon
Chocolate Covered Bacon is an irresistible carnival inspired snack with sweet and salty flavors! All you need is bacon and chocolate plus some toppings. Make this chocolate bacon for a party or give it away as a gift!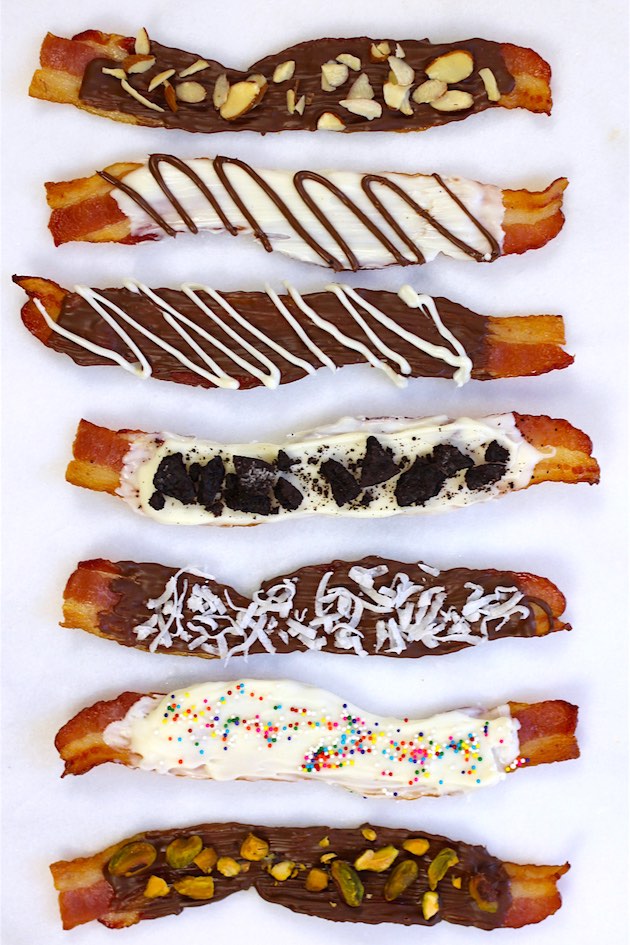 While it may sound strange, chocolate covered bacon-on-a-stick has made the rounds at State Fairs in Wisconsin and Minnesota again and again. When you can't wait for the State Fair, you've got to make your own!
There aren't many rules for this chocolate covered bacon recipe. As long as the bacon is crispy and the chocolate is melted, you're good to go. Needless to say, it's fabulous for parties and to give as gifts to the bacon lovers in your life.
How to Make Chocolate Covered Bacon
The first step is cooking the bacon, and any of the following methods work fine:
Frying: Fry the bacon in a large skillet over medium heat.
Oven: Broil the bacon on a wire rack placed over a baking sheet, or on a broiler pan.
Microwaving: Microwave over 80% power for 3-4 minutes with paper towels underneath and on top.
The key is to get the bacon crispy, but not brittle. Also, use paper towels to dab away leftover fat, which could prevent chocolate from adhering.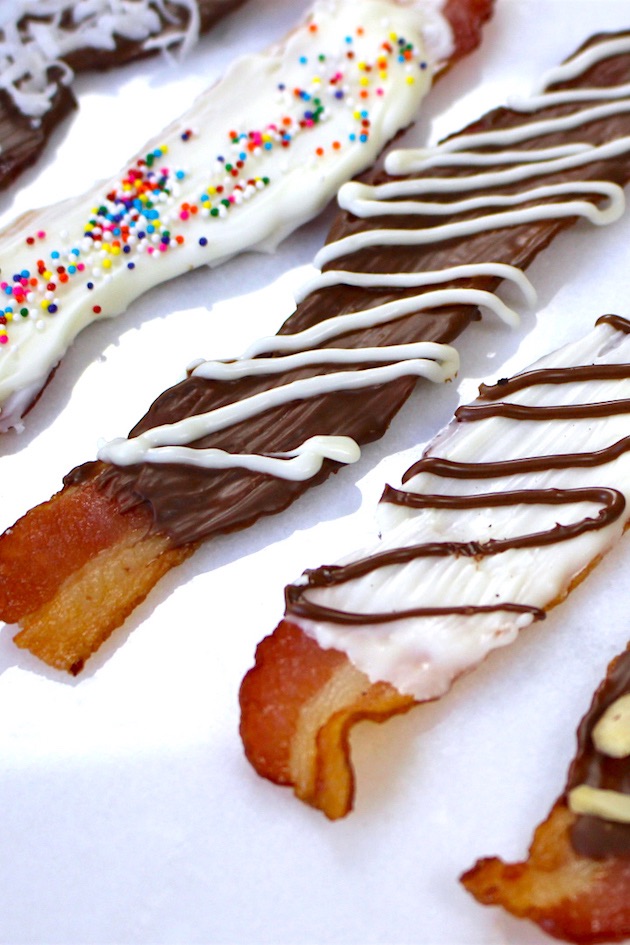 While the bacon is cooking, you can melt the chocolate. Here are two easy ways to do it:
Double boiler: Melt chocolate in a small saucepan over a tepid water bath.
Microwave: Place chocolate into a microwavable bowl and microwave at 50% power in 30-second intervals until melted, stirring in between each interval.
You can spoon the chocolate onto the bacon, but I find a brush is easiest. If you're doubling the recipe, you may find it easiest to make chocolate dipped bacon.
The last step is decorating. Some great topping choices are nuts like pistachios or almonds, sprinkle and crushed oreos. The possibilities are endless so you can get creative. When making this with kids, set up stations so they can decorate their own!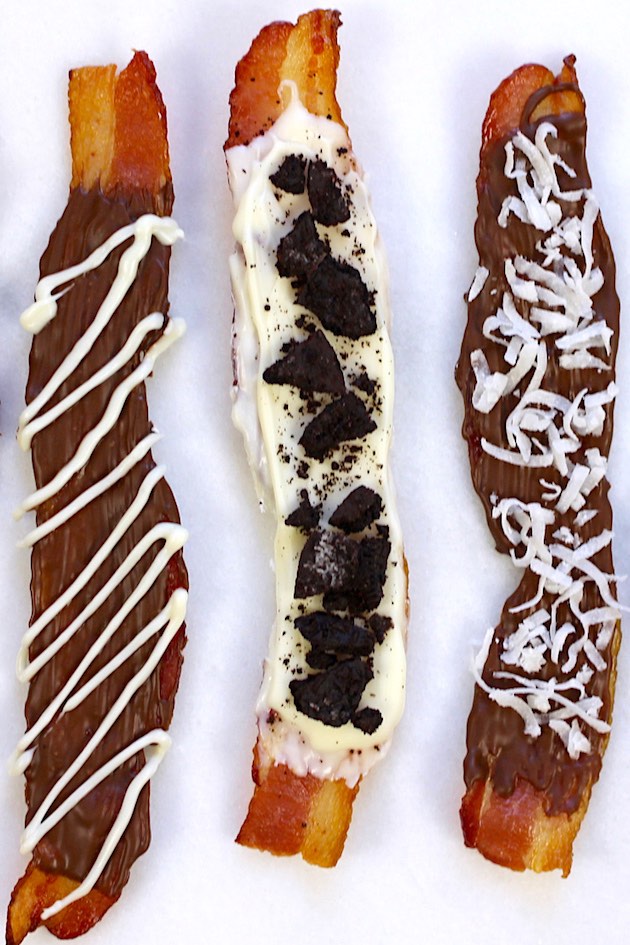 Can I make it ahead of time?
Yes! Store in an airtight container in the fridge for up to 3 days. Alternatively, you can freeze it for up to one month.
WATCH HOW TO MAKE CHOCOLATE COVERED BACON
This video tutorial shows you how to make chocolate covered bacon:
Chocolate Covered Bacon
Chocolate Covered Bacon is a carnival-inspired snack with irresistible sweet and salty flavors. All you need is bacon and chocolate plus some toppings. Perfect for a party or gift!
Ingredients
1 lb bacon, 12-16 slices
8 oz white chocolate, see note
8 oz semisweet chocolate, or milk chocolate
2 tbsp coconut oil, optional
Optional Toppings
shredded coconut
chopped almonds
pistachios
Oreo cookies, crumbled
sprinkles, rainbow, nonpareils etc.
Instructions
Cook bacon until crispy following package directions, i.e. using a skillet or in the oven or microwave.

Use paper towels to dab away excess fat from the bacon after cooking. Then set aside.

Place white chocolate and 1 tbsp coconut oil into a microwaveable bowl. Microwave at 50% power in 30-second intervals until melted, stirring each time.

Place semisweet or milk chocolate into a separate bowl and melt the same way.

Line a baking sheet with parchment or wax paper and place the bacon strips on top.

Brush or spoon one type of melted chocolate onto the bacon to cover. Then decorate with optional toppings and/or drizzle some of the other chocolate on top.

Place baking sheet in the fridge for 15 minutes to set and then serve.
Notes
Any type of bacon will work including turkey bacon.
Baking chocolate is ideal, as it'll be easier to apply to the bacon. Chocolate chips are also possible but can be thick, so add 1 tbsp coconut oil for spreadability.
You can also melt the chocolate in a double boiler instead of the microwave if you prefer.
Nutrition Facts
Chocolate Covered Bacon
Amount per Serving
% Daily Value*
* Percent Daily Values are based on a 2000 calorie diet.
Please read our nutrition disclaimer.
More recipes for carnival food:
Editor note: Published Oct 18, 2016 and updated June 24, 2019
© TIPBUZZ. Images and text on this website are copyright protected. Please do not post or republish without permission. If you want to republish this recipe, please link back to this post. This post may contain affiliate links. Read the disclosure policy here.