Slow Cooker Bacon Garlic Chicken Breast
Slow Cooker Bacon Garlic Chicken Breast makes a tender and juicy chicken dinner with just 4 ingredients and 15 minutes of prep! Boneless chicken breasts get wrapped with bacon so the chicken stays moist and absorbs delicious flavors during the long cooking time in the crock pot.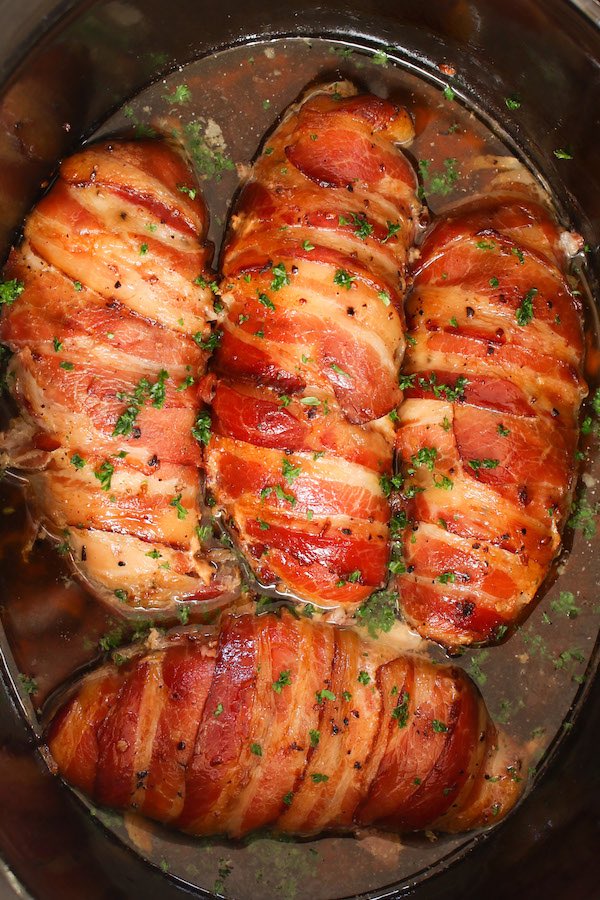 This slow cooker garlic chicken recipe is a simple meal that takes less than 15 minutes to prepare. Place the bacon wrapped chicken in a crock pot and cook for several hours until perfectly brown.
Serve it over rice with some green vegetables such as broccoli and bok choy to make a complete meal. It also goes great with a side dish like boiled corn.
After our popular Bacon Wrapped Chicken recipe, we perfected the art of wrapping chicken breasts with bacon to keep them moist and juicy. The magic combination of brown sugar and bacon creates an unforgetful flavor that everyone raves about. Now we are taking it to a new level by cooking them in the crock pot, adding even more amazing flavor to this chicken meal.
SLOW COOKER CHICKEN BREAST MADE WITH ONLY 4 INGREDIENTS
This slow cooker chicken breast (boneless) recipe calls for only 4 simple ingredients plus optional salt and pepper: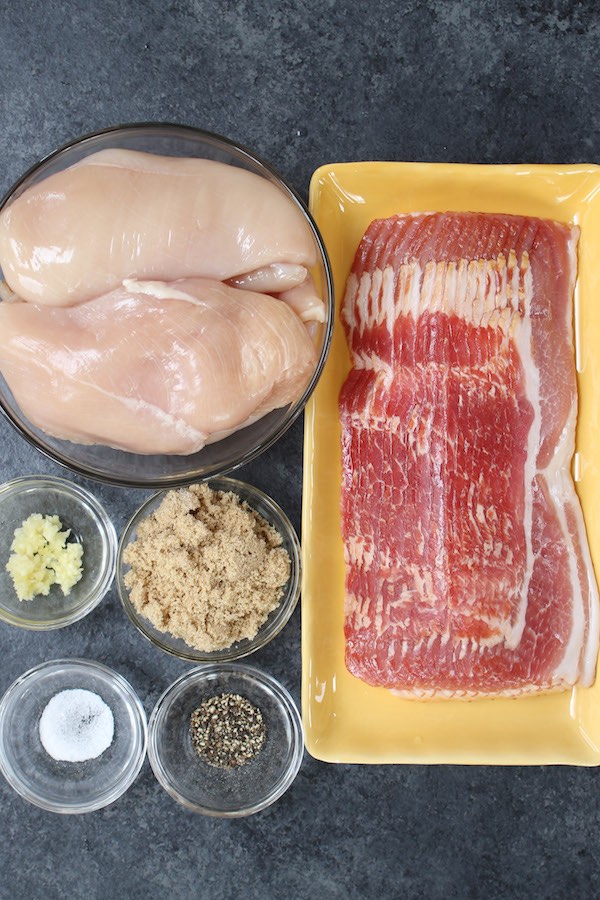 Chicken Breasts: I use boneless skinless chicken breasts for this recipe, and boneless chicken thighs work well too.
Thick-cut Bacon: It's important to use thick cut bacon, as it holds better during the lengthy cooking process.
Brown Sugar: You can use light brown sugar or dark brown sugar for amazing flavor
Garlic: It's best to use freshly minced garlic, but garlic powder will also work.
You'll find it easiest to lay all these ingredients out ahead of time in order to minimize handling once you start wrapping.
WRAP THE CHICKEN BREASTS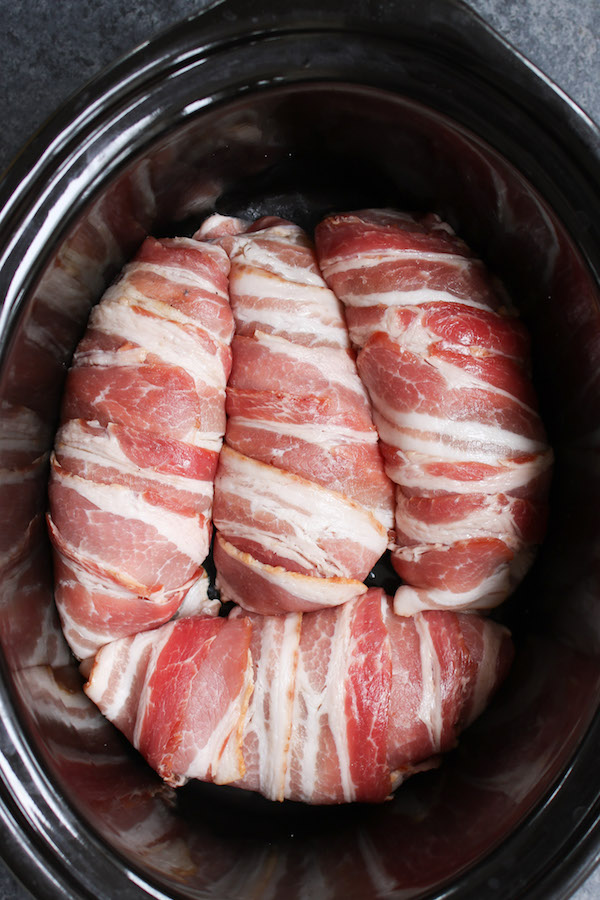 In a small bowl, combine brown sugar, minced garlic, salt and pepper. Then rub it all over the chicken breasts.
Wrap each chicken breast with 2 to 3 strips of bacon. The amount of bacon depends on the size of your chicken breasts and the length of the bacon strips. Tuck the ends of the bacon beneath the chicken breasts and secure with toothpicks if needed to avoid unraveling during cooking.
HOW TO MAKE CROCK POT CHICKEN BREAST
After you wrap the chicken breasts with bacon, place them in a single layer into the bottom of your crock pot, snuggling them in as evenly as you can. I usually find 4 pieces fit in my 6-quart slow cooker.
Sprinkle more brown sugar on top, and put the lid on. Set the slow cooker on low and cook for 3-4 hours. Note that you don't need to add liquids, as they'll release naturally from the meat during cooking.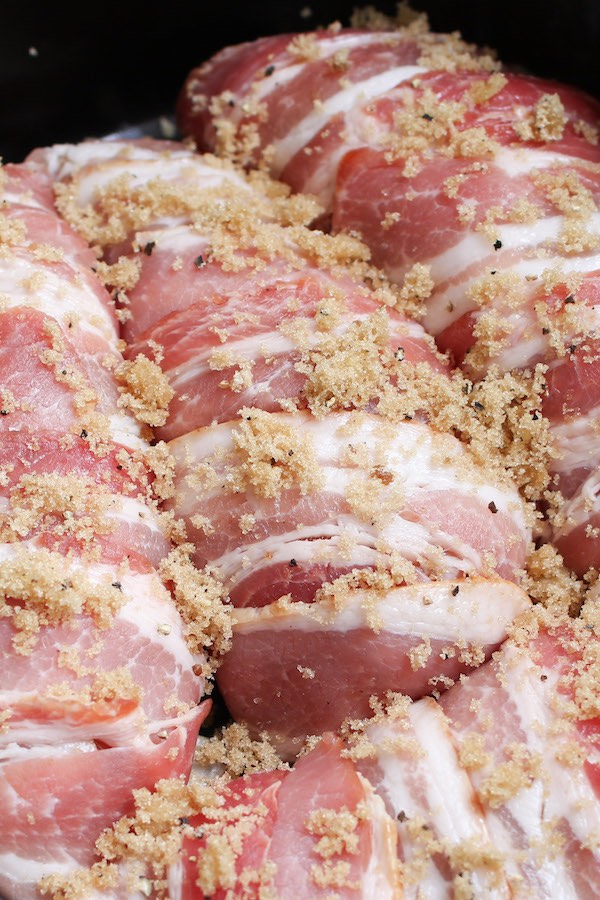 Note that you can add vegetables during the final hour of cooking. My favorite choices include green beans, onions and broccoli. When the chicken is cooked through, remove it from the slow cooker.
If you prefer a crispy texture on your bacon, then simply broil the bacon wrapped chicken for about 2-3 minutes after slow cooking. Watch the chicken constantly, as it can burn fairly quickly.
HOW LONG TO COOK BONELESS CHICKEN BREAST IN SLOW COOKER?
The cook time depends on the thickness of your chicken breasts and the brand of your crock pot. It usually takes about 3-4 hours on a low setting. So be sure to check your chicken after 3 hours the first time around. The chicken is fully cooked when an instant thermometer inserted in the middle reads 165°F (74°C).
CHICKEN BREASTS VS. CHICKEN THIGHS
I used boneless chicken breasts for this recipe. You can also use boneless chicken thighs by adjusting the cooking time to 5-7 hours on low.
Slow Cooker Bacon Garlic Chicken Breast
Slow Cooker Bacon Garlic Chicken Breast recipe makes the most tender, juicy and flavorful chicken meals of any other cooking methods with just 4 ingredients.
Ingredients
4  chicken breasts , boneless and skinless
12 slices  bacon , thick cut
1/2  cup  brown sugar
2  tsp  garlic , minced
salt and pepper to taste , optional
fresh parsley, optional garnish
Instructions
In a medium bowl, mix brown sugar, minced garlic, salt and pepper.

Place the chicken breasts on a plate and rub the mixture onto each.

Wrap each chicken breast all around with 2-3 bacon slices, starting and finishing on the bottom of each breast.

Place the wrapped chicken breasts into the crock pot in a single layer, snuggling them in as evenly as possible.

Sprinkle any remaining brown sugar mixture on top.

Cover with lid and cook on low for 3-4 hours or until an internal temperature of 165°F (74°C) is reached.

Optional: After cooking, place under the broiler (about 6 inches from the heating element) for 2-3 minutes to crispen up the bacon.

Garnish with optional parsley. Serve and enjoy!
Notes
Don't remove the lid during cooking, as this will lengthen cooking time.
Check doneness after 3 hours the first time around, as there can be some variations among crock pots.
Nutrition
Calories: 193kcal, Carbohydrates: 14g, Protein: 24g, Fat: 3g, Cholesterol: 73mg, Sodium: 145mg, Potassium: 442mg, Sugar: 14g, Vitamin A: 35IU, Vitamin C: 1.7mg, Calcium: 20mg, Iron: 0.5mg
EQUIPMENT FOR MAKING SLOW COOKER BACON WRAPPED CHICKEN BREAST
More slow cooker chicken recipes:
© TIPBUZZ. Images and text on this website are copyright protected. Please do not post or republish without permission. If you want to republish this recipe, please link back to this post. This post may contain affiliate links. Read the disclosure policy here.