Deviled Eggs With Bacon
Deviled Eggs with Bacon are one of our go-to appetizers featuring a smooth and creamy filling accentuated with crispy bacon. They're a total crowd-pleaser for brunch, parties, holidays, Game Day or anytime you're entertaining. You only need 20 minutes to make and are always a hit!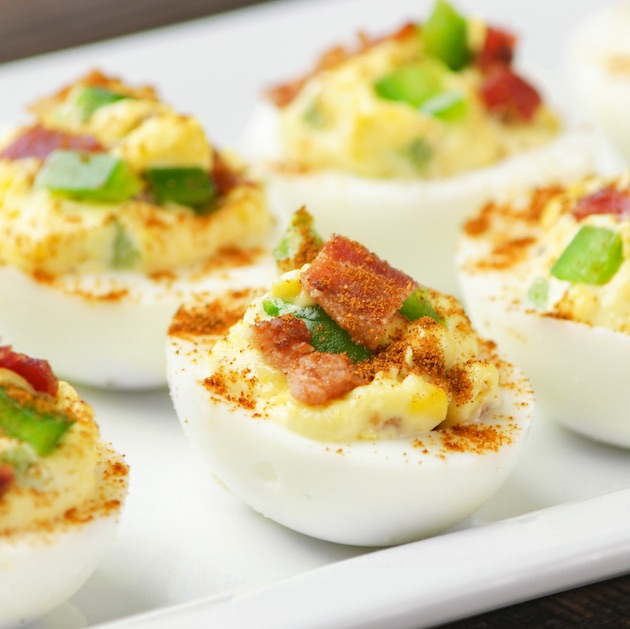 How do I love deviled eggs? Let me count the ways… Is it the smooth and creamy texture, the elegant look, the mild flavor, or just everything 🙂
Classic deviled eggs are made with mayonnaise, white vinegar, mustard, salt and pepper. Deviled eggs are fairly healthy without added fats or other complications. They're also gluten-free and suitable for low-carb and keto diets.
These Deviled Eggs with Bacon introduce bits of crispy bacon with jalapeño for a kick. They're so versatile that we've served them to rave reviews for everything from Christmas and Thanksgiving to Easter, Mother's Day, New Year's Eve and on Game Day. You can also make them for potlucks and picnics if you're pack them carefully for transport.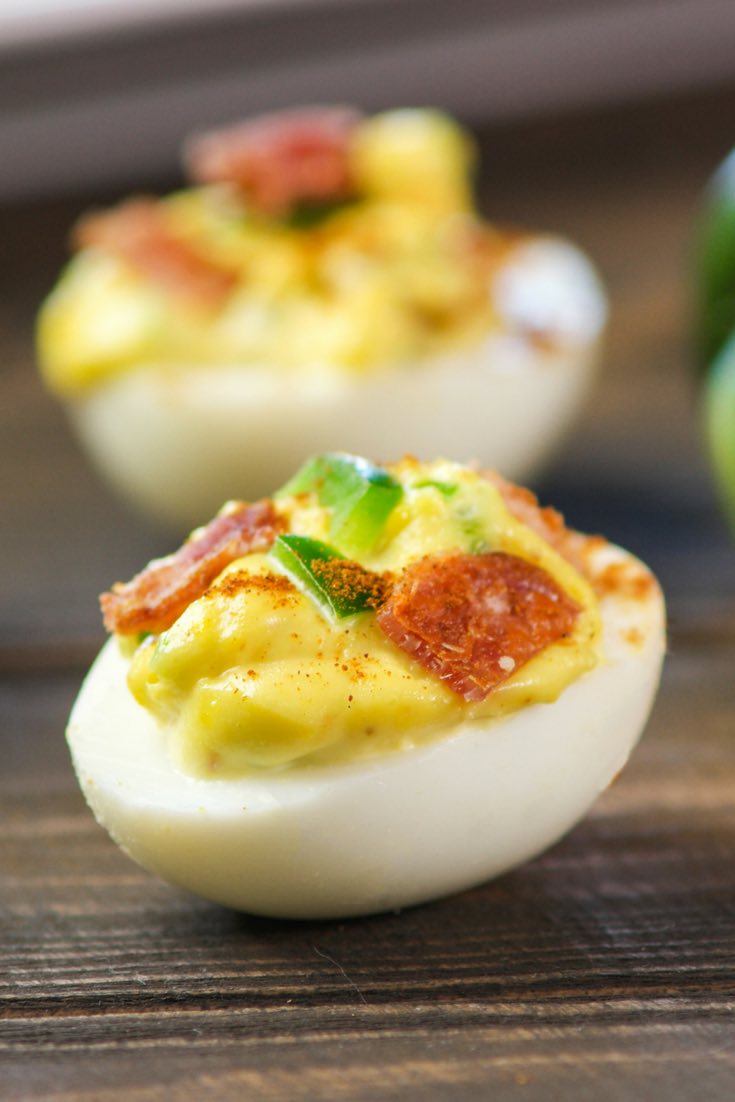 HOW TO MAKE DEVILED EGGS WITH BACON
One of the great things is that these deviled eggs with bacon are a snap to make! You only need a few simple ingredients:
Large eggs: the fresher the better
Mayonnaise: regular or light
Mustard: I prefer Dijon or mustard powder
Vinegar: white vinegar, rice vinegar or white wine vinegar will work
Sugar
Bacon: raw or pre-cooked if you want to save time
Jalapeno pepper, optional or 1 tbsp prepared horseradish as a substitute
Paprika
The most time-consuming part is boiling and peeling the eggs. The rest is quick and easy!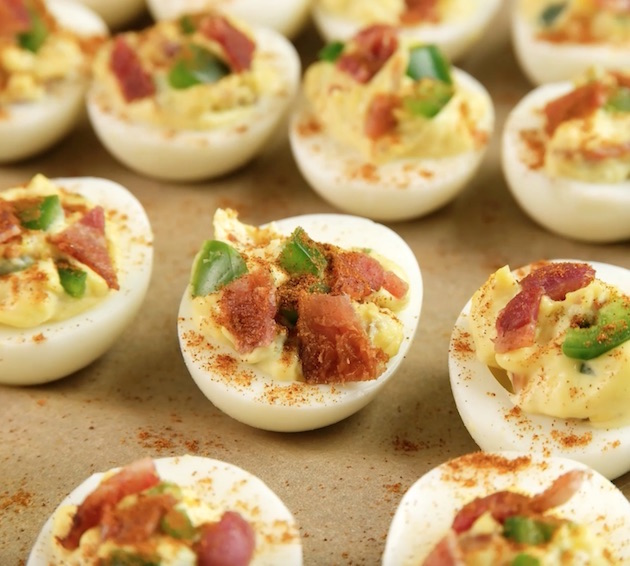 HOW DO I HARD BOIL THE EGGS?
To hard boil the eggs, place them in roomy medium saucepan filled halfway with boiling water. Ideally they're in one layer to avoid cracking.
Boil the eggs for 8 minutes, and a timer on your smartphone is helpful here. If they overcook, the yolks will turn grey on the outside and discolor the filling slightly.
When the eggs have finished cooking, place them immediately into a bowl full of ice water for several minutes. The temperature change will cause the shells to contract slightly, making them easier to peel.
HOW DO I PEEL BOILED EGGS?
Once the eggs have cooled slightly, it's time to peel them. One-by-one, dry each egg in paper towel and gently tap on a hard surface such as a counter or cutting board to crack the shell all over.
Then use your fingertips to flake off the shells while avoiding creating cracks in the egg whites. This is a good group activity if you have some friends or little helpers available.
MAKE AHEAD TIPS
Deviled eggs can be made up to a half-day ahead of time and stored in the fridge. I like to store them on a serving platter lightly covered in plastic wrap.
Don't store them longer than a half-day, as they'll lose some of their attractive bright yellow color. Also, never freeze deviled eggs.
WATCH HOW TO MAKE DEVILED EGGS:
Deviled Eggs With Bacon (Video)
Deviled Eggs with Bacon are a fancy party appetizer that's perfect for holidays such as Thanksgiving, Christmas, Easter, Mother's Day and Father's Day. Also a favorite for Game Day get-togethers and potlucks. You only need 20 minutes to make them, and they're always a hit. Plus video tutorial!
Ingredients
12 large eggs
1 cup mayonnaise
3/4 tsp mustard, or mustard powder
1 1/2 tsp white vinegar
1/2 tsp sugar
6 slices bacon, cooked and crumbled
1 jalapeño pepper, seeded and minced, optional
salt and pepper, to taste
paprika, optional (for serving)
Instructions
Hard boil the eggs by placing in a large pot of water and bringing to a boil for 8 minutes. Cook your bacon during this time if needed.

Drain the boiled eggs and cool in ice water for easy peeling.

On a work surface, peel the eggs by cracking gently and using your fingers to remove the shells.

Slice the peeled eggs in half lengthwise using a sharp paring knife.

Using a small spoon, remove yolks and add to a medium bowl.

Mash yolks with a fork, and add the mayonnaise, vinegar, mustard and sugar, mixing until combined.

Mix in the crumbled bacon and optional jalapeño peppers.

Spoon the yolk mixture in a large ziptop bag.

Cut a 1/4 inch hole in the corner of the bag. Gently squeeze the bag to fill the white halves.


Sprinkle with optional paprika. Serve and enjoy!
Notes
Plan on 2-3 pieces per person. So with a dozen eggs, you'll get 24 pieces or enough for 8-12 people.
For a lighter variation, use light mayonnaise and low-sodium bacon.
You can use 1 tbsp of prepared horseradish if you don't have jalapeno.
Keep refrigerated until serving.
Nutrition Facts
Deviled Eggs With Bacon (Video)
Amount per Serving
% Daily Value*
* Percent Daily Values are based on a 2000 calorie diet.
Please read our nutrition disclaimer.
Looking for more party appetizers?
© TIPBUZZ. Images and text on this website are copyright protected. Please do not post or republish without permission. If you want to republish this recipe, please link back to this post. This post may contain affiliate links. Read the disclosure policy here.