Four Seasons Pizza (Pizza Quattro Stagioni)
Four Seasons Pizza is divided into sections with different toppings representing the four seasons. This classic Italian recipe starts with homemade pizza dough and fresh ingredients for the best flavor. It's so much fun to make and eat!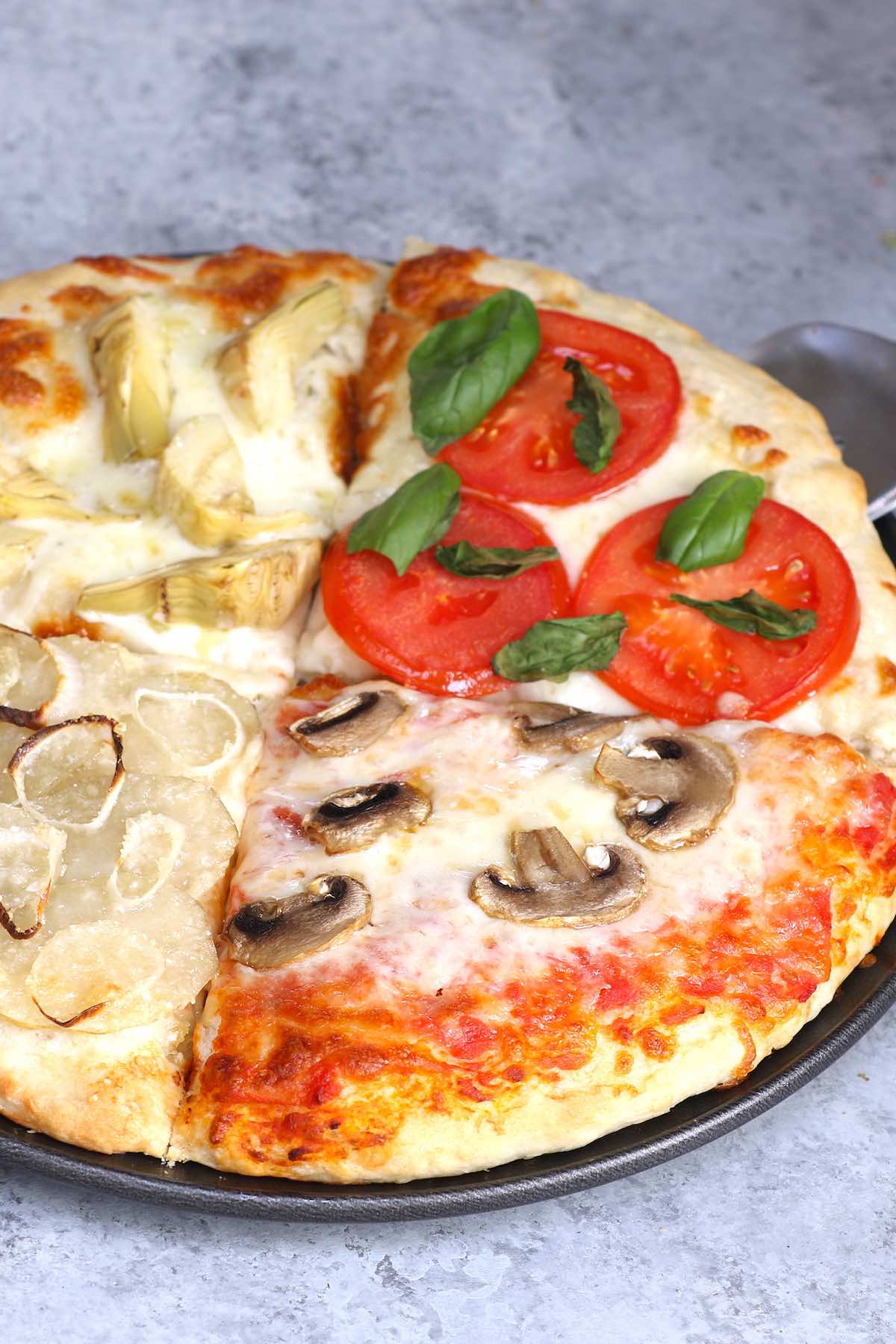 When you want to switch up your pizza routine, there's nothing better than making a 4 seasons pizza. This versatile recipe has a beautiful presentation with four distinct sections, so there's something for everyone!
While it may be more effort than your typical 3-topping pizza, it's a super-fun dish with Italian flair that will wow your friends and family!
What is a Four Seasons Pizza?
Four seasons pizza, or pizza quattro stagioni, originates in Italian cuisine, where it has stood the test of time as a classic dish that's still popular today. This all seasons pizza is divided into four quadrants with diverse ingredients representing fall, winter, spring and summer.
You sometimes see it compared to pizza capricciosa which uses similar ingredients including ham, mushroom, artichoke and tomato.
Ingredients for 4 Seasons Pizza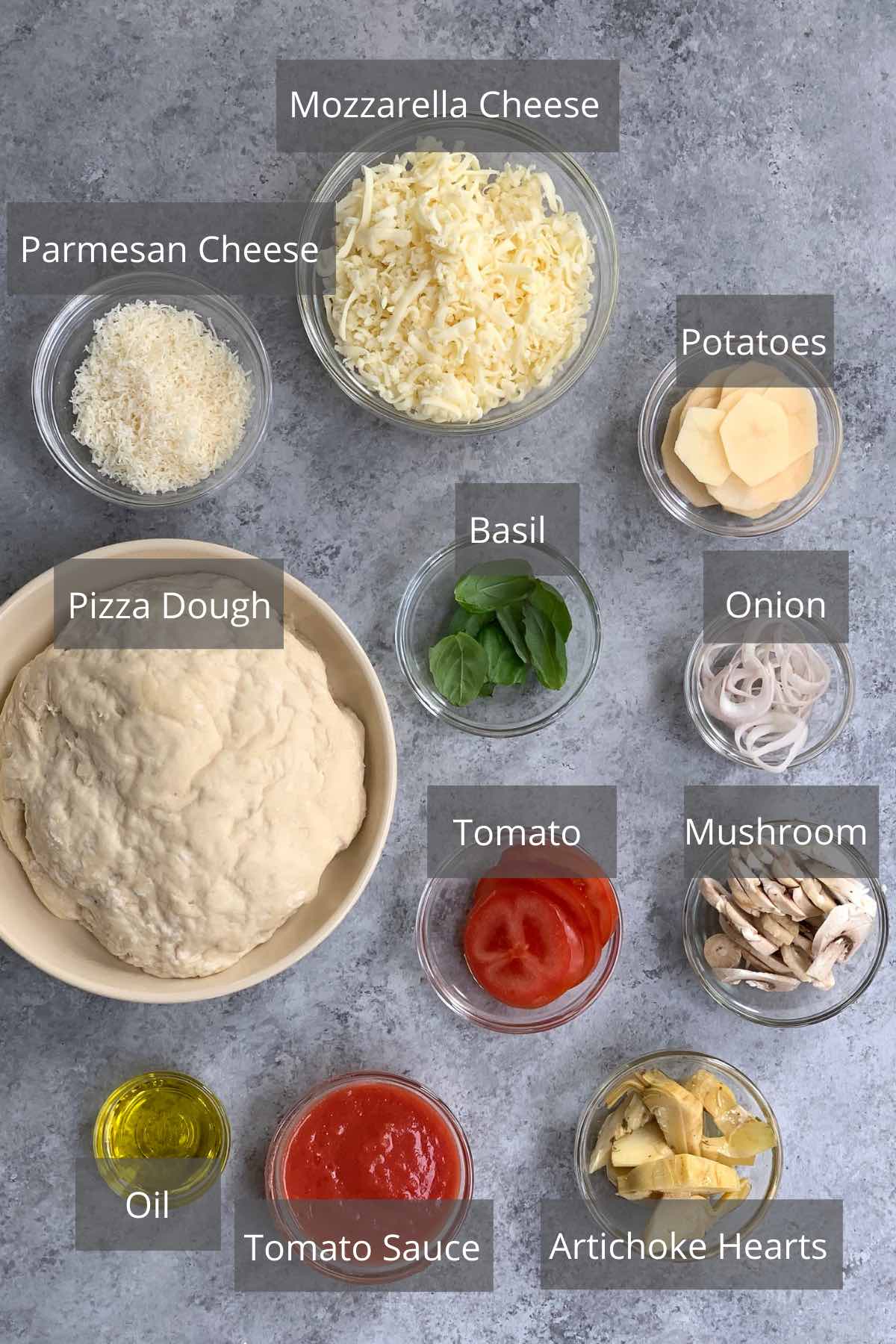 Pizza Dough – You can use store-bought or homemade pizza dough.
Mozzarella Cheese – Use high-quality mozzarella that's not packed in water. Pre-shredded mozzarella contains anti-caking agents that interfere with melting.
Olive oil – Any type of olive oil will work well.
Artichoke Hearts (Spring toppings) – Jarred artichoke hearts preserved in oil work perfectly.
Tomato & Basil (Summer toppings) –– Fresh basil leaves are ideal, but if you can't find any use basil pesto or dried basil.
Tomato Sauce & Mushrooms (Fall Toppings) – you can use pureed canned tomatoes mixed with pressed garlic and olive oil, or use a storebought pizza sauce or marinara sauce. For the mushroom, use fresh ones such as sliced button mushrooms, Portobello or others.
Potato, Onion, Ham, and Parmesan Cheese (Winter Toppings) – Thin slices of a waxy potato such as an Idaho or yellow (gold) variety. You can use yellow, white or red onions as you like. Sliced ham is an optional addition, but you can omit to keep it vegetarian.
Homemade Pizza Equipment Recommendations
For the pizza crust, you can make the homemade dough completely by hand or use a stand mixer if you prefer.
For baking, a pizza stone and pizza steel are ideal. Alternatively, use a regular pizza pan, baking sheet or even large cast iron skillet.
How to Make Four Season Pizza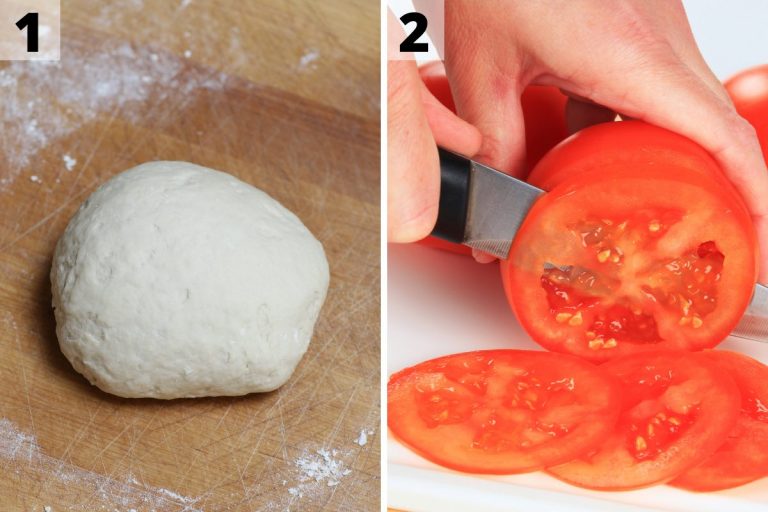 1. Make the Pizza Dough: Proof the yeast by combing sugar and water and letting it sit for 10 minutes. Once it has puffed up, mix in the flour and salt until a dough starts forming. Turn onto a floured surface and knead for 8-10 minutes or until soft and elastic. Then place in an oiled bowl to rise for 30 minutes.
2. Prepare the Toppings: While the dough is rising, you can preheat your oven to 450°F and get the other ingredients ready. Shred the mozzarella cheese. Get your pizza sauce ready. Slice the tomato, potato, onion, mushrooms and artichoke hearts. Remove the basil leaves from the stems.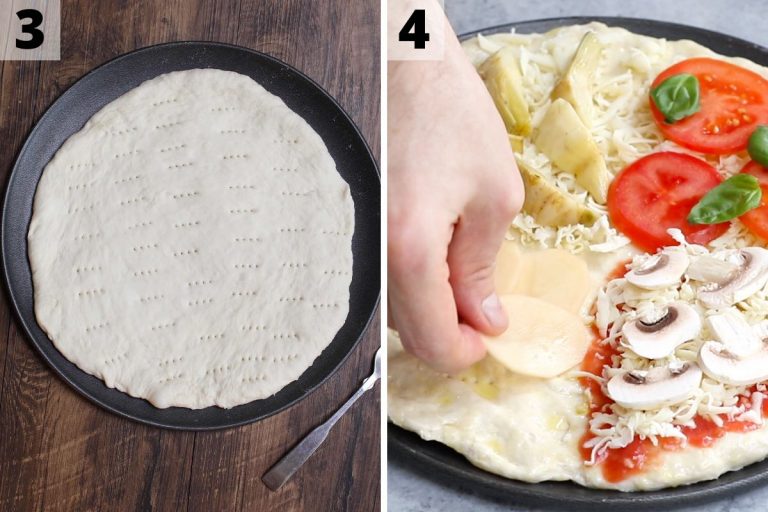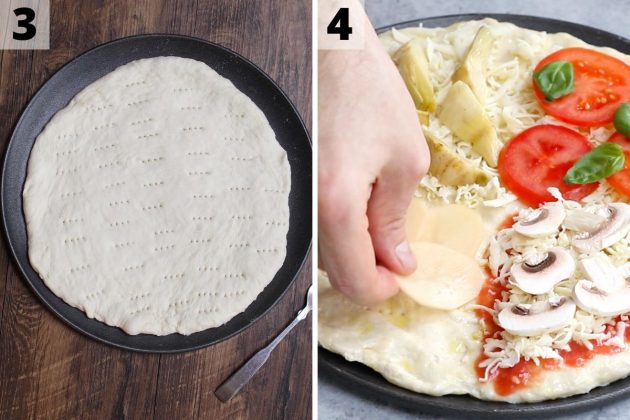 3. Make the Crust: Transfer the pizza dough to your pizza pan and stretch out into a 12-inch (30 cm) circle using your fingertips. Use a fork to poke holes across the surface.
4. Add the Toppings: Brush the crust with olive oil. Then add the toppings, arranging them on quarters of the pizza according to the recipe.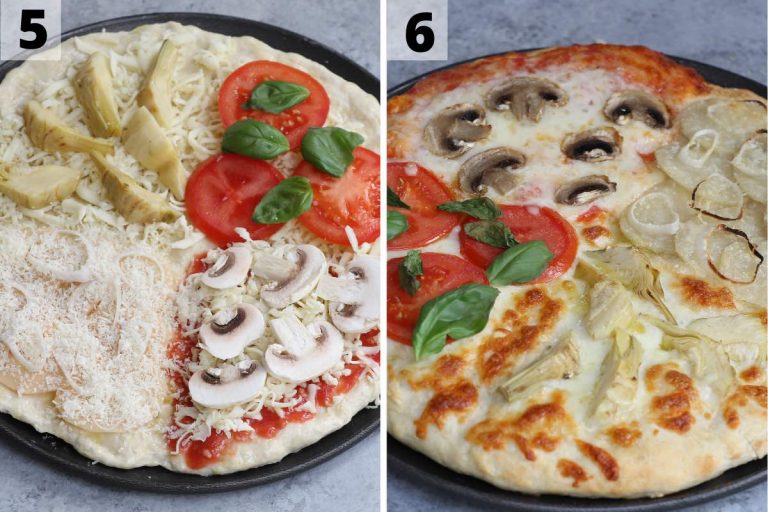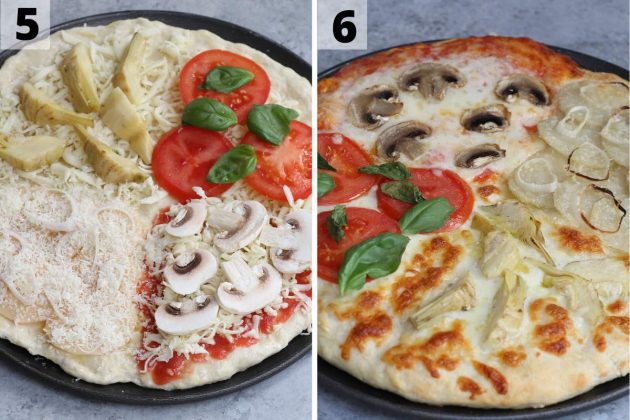 5. Bake the Pizza: Place in the upper half of the hot oven and bake for 12-14 minutes depending on the thickness of the crust.
6. Serve the Pizza: Remove from the oven and cool slightly before serving.
Be sure to read more about how to make homemade pizza dough if it's your first time.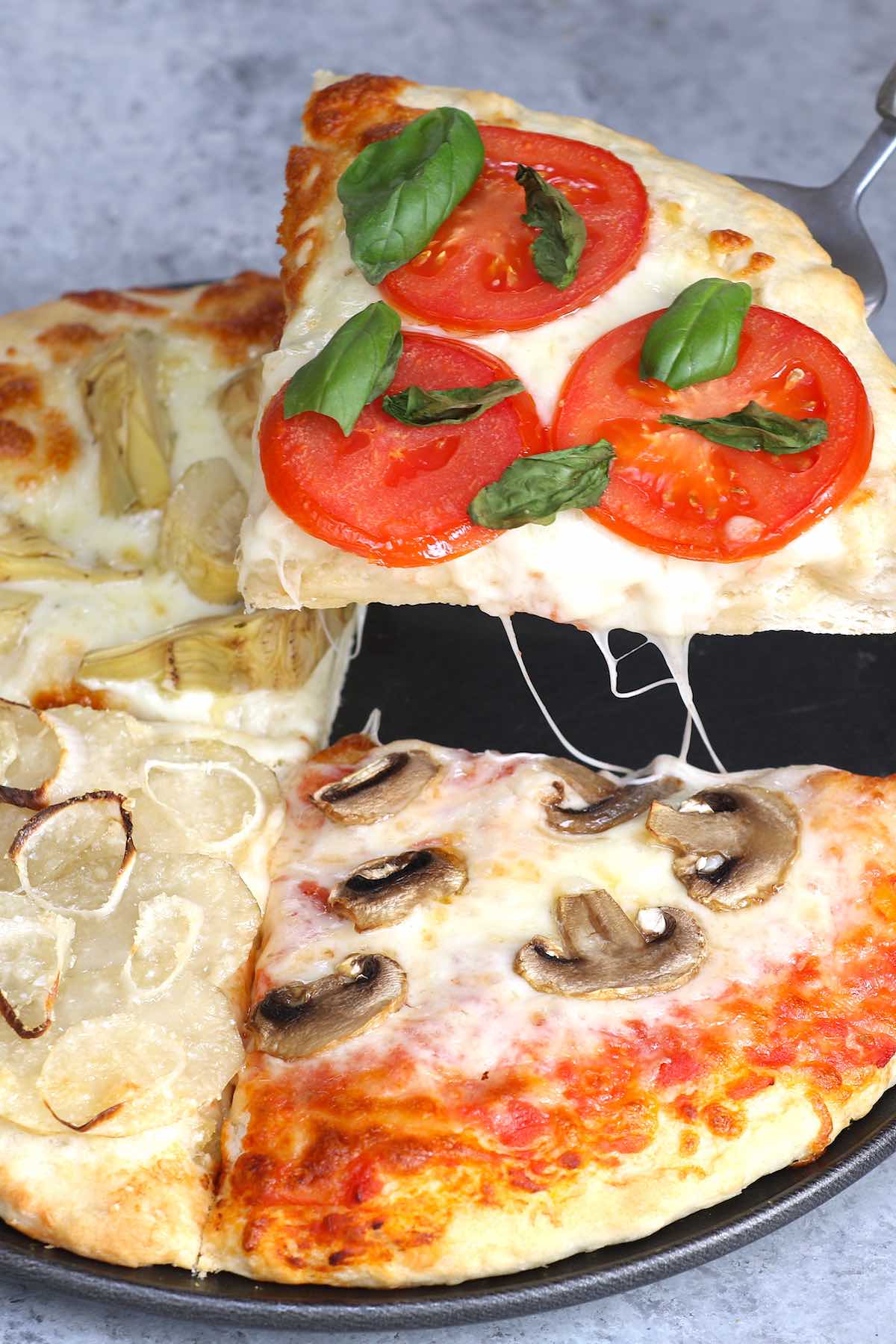 Tips for the Best 4 Seasons Pizza
You need smaller quantities of toppings, since they only go onto one quarter of the pizza. Half a medium tomato will suffice, as will 2-3 button mushrooms and one medium potato etc.
For a crispy crust, make sure the dough is thin going into the oven. For a fluffy crust, the dough should be thicker.
Use a hot oven. Set it to 450°F and give it at least 15 minutes to preheat. Turn on the convection or forced air if available on your oven. It should cook quickly in just 12-14 minutes at that temperature.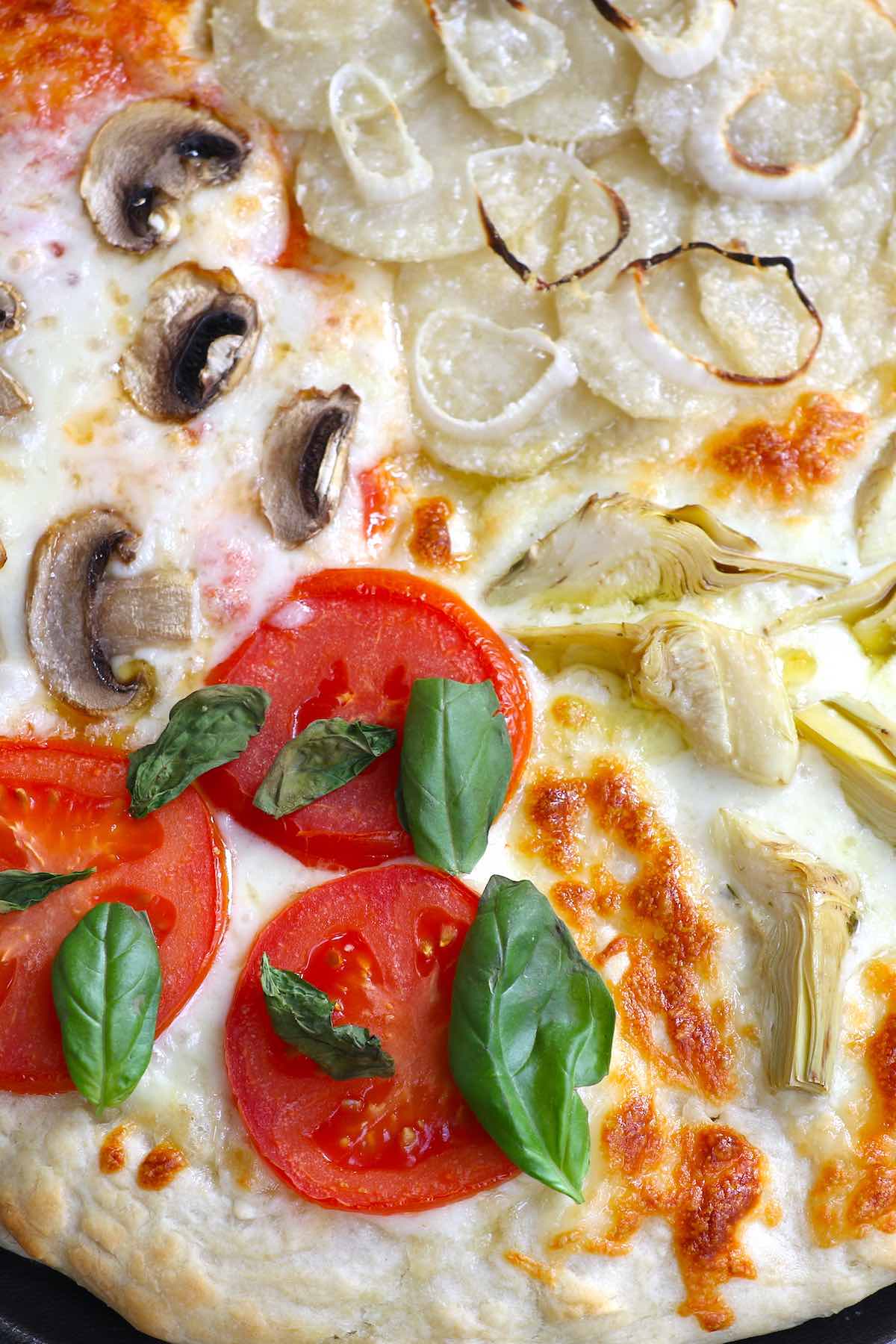 Four Seasons Pizza Toppings
In a 4 seasons pizza, the topping correspond to what's in season, i.e. artichokes for spring, tomatoes and basil in summer, wild mushrooms in fall and potatoes in winter. However, there are no hard-and-fast rules, so here are some substitutes you can consider too:
Spring Toppings: Asparagus, spinach, leeks
Summer Toppings: Black olives, pesto sauce
Fall Toppings: Roasted red peppers, pecans
Winter Toppings: Sweet potato, butternut squash, kale
More Easy Pizza Recipes:
View all pizza recipes
Four Seasons Pizza Recipe
Four Seasons Pizza is divided into sections with different toppings representing the four seasons. This classic Italian recipe starts with homemade pizza dough and fresh ingredients for the best flavor.
Ingredients
Pizza Dough
1 packet active dry yeast, (2 ¼ teaspoons)
1 cup warm water, 105-110°F
1 teaspoon sugar
2 ½ cups all-purpose flour
1/2 teaspoon salt
General Ingredients
1 tablespoon olive oil
1 cup mozzarella cheese, grated
Fall Toppings
1/4 cup tomato sauce, or sundried tomato paste, see note
1/4 cup mushrooms, sliced
Winter Toppings
1/2 medium potato, waxy variety preferred, sliced thin
1/4 cup onion, sliced thin
1/4 cup sliced ham, or prosciutto, optional
1 tablespoon grated parmesan cheese, optional, or pecorino
Spring Toppings
3/4 cup artichoke hearts, jarred or fresh, quartered
Summer Toppings
1/2 medium tomato, sliced
4 basil leaves, torn
Instructions
Homemade Pizza Dough
Activate Dry Yeast: In a small bowl combine yeast, sugar and lukewarm water that's approximately 105-110°F (40-43°C). Let it sit for 10 minutes until bubbly foam forms on the surface.

Prepare the Dough: In a large bowl mix together flour and salt. Then create a well in the middle.

Pour the yeast mixture into the well. Bring the flour in gradually from the sides with your hands to blend into the liquid.

When everything is slightly mixed, add the oil. (It's important to add oil last as this allows the flour to hydrate properly)

Knead the Dough: Keep mixing and when everything starts to come together, knead your dough by hand for about 10 minutes until smooth and elastic (You will need about 8 minutes if you use a mixer. See notes below). You need to knead until the dough is soft and elastic. If it slowly bounces back when you poke it with your finger, it is ready for the next step.

Let the Dough Rise: Grease another large bowl with olive oil. Place the dough into the bowl and rub with oil all over.

Cover with plastic wrap and let it rise at room temperature for 30 minutes or until the dough has doubled in size. (After rising, you can wrap and store it in the fridge or freezer for later use, or if you use it immediately, continue to the next step).

Preheat the Oven: When the dough almost finishes rising, this is the time to preheat the oven to 450°F (232°C). It usually takes about 15 minutes to heat up.

Shape the Dough: Place the dough on a floured surface and stretch the dough by gently flattening it into a 12-inch (30mm) circle with your fingers. Stretch it out to about 1/8-inch (3mm) thick for a thin crust, and 1/4-inch (6mm) thick for a thick crust. (Avoid kneading the dough at this stage)

Transfer it to a nonstick pizza pan or baking sheet lined with parchment paper.

Use a fork to poke holes across the surface of the dough, so it doesn't develop large bubbles while baking.
Pizza Assembly & Baking
Brush your crust lightly with olive oil all around.

Fall: Brush one quarter of the crust with tomato sauce. Sprinkle mozzarella cheese evenly on top and arrange the sliced mushrooms on the cheese.

Winter: Arrange the sliced potato to cover one quarter of the pizza. Add sliced onion on top followed by optional ham and parmesan.

Spring: On the next quarter of the pizza, sprinkle mozzarella cheese evenly. Then arrange the artichoke hearts on top.

Summer: On the final quarter, sprinkle mozzarella cheese evenly. Then add the tomato slices and half of the basil leaves.

Place the pizza in the preheated oven and bake for 12-14 minutes, or until puffy and golden.

Remove from the oven. Garnish the summer quarter with fresh basil and cool slightly before serving.
Notes
Cheese: You can use mozzarella on the entire pizza for simplicity, or different cheeses for each season. Some great options include provolone (spring), fontina (fall) and pecorino (winter)
Tomato Sauce: Here we've used it on the fall section only, but you can add it to spring and summer too if you wish. The sundried tomato paste will work as well.
Nutrition Facts
Four Seasons Pizza Recipe
Amount per Serving
% Daily Value*
* Percent Daily Values are based on a 2000 calorie diet.
Please read our nutrition disclaimer.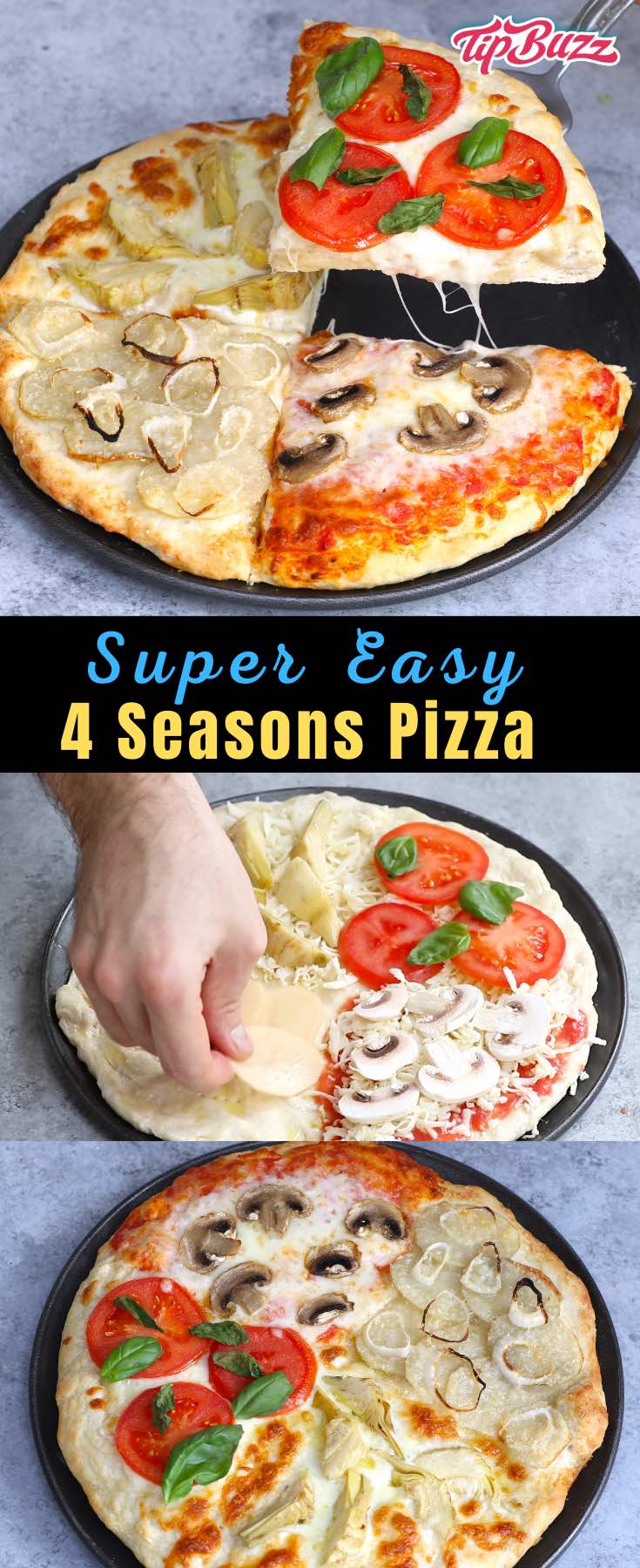 © TIPBUZZ. Images and text on this website are copyright protected. Please do not post or republish without permission. If you want to republish this recipe, please link back to this post. This post may contain affiliate links. Read the disclosure policy here.