How Long to Bake Chicken
Learn how long to bake chicken so it's perfectly tender and juicy every time! We cover the temperature for baking chicken breasts and how to check doneness along with tips to easily bake any kind of chicken.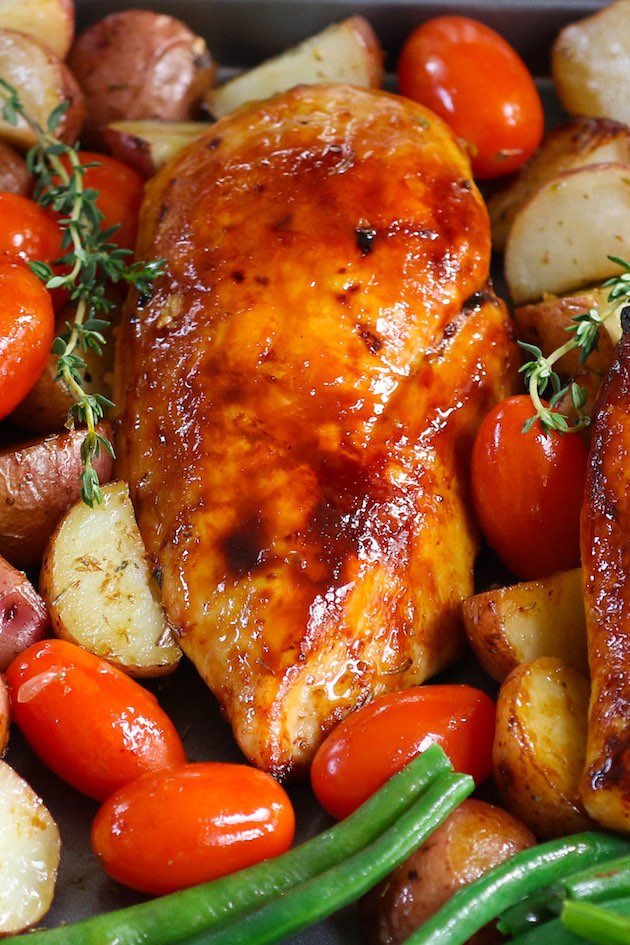 Baked chicken is not only delicious, but it happens to be healthier than deep frying or stir frying. However, if you overcook it and you'll get chewy, dry meat. On the other hand, undercooking it risks bacterial contamination.
So read on to find out how to get the best results each and every time!
How Long to Bake Chicken
Cooking times and temperatures will depend on the cut, weight, and recipe. The safe internal temperature for poultry is 165°F (74°C) and you should always check it using an instant-read thermometer. Also, you need to rest your chicken after baking to allow the juices to redistribute throughout the meat and keep it extra moist.
What Temperature to Bake Chicken?
There are two options for baking chicken:
Baking at 350°F: This is the traditional method whereby a 4-oz boneless, skinless chicken breast is roasted at 350°F (177˚C) for 20-30 minutes, according to the USDA.
Baking at 400°F: Baking for less time at a higher temperature is a great way to get juicier chicken! Try baking chicken breasts at 400°F for 22-25 minutes.
How Long to Bake Chicken at Different Temps: 350, 375, 400, 425, or 450
Cooking times for baked chicken depend on the cut and the oven temperature (and your oven's efficiency). Here are some guidelines to get you started:
| | | | |
| --- | --- | --- | --- |
| Oven Temp | How Long to Bake Chicken Breasts | How Long to Bake Chicken Thighs | How Long to Bake Chicken Legs |
| 350°F (177°C) | 25-30 minutes | 35-40 minutes | 45-50 minutes |
| 375°F (190°C) | 20-25 minutes | 30-35 minutes | 40-45 minutes |
| 400°F (204°C) | 15-20 minutes | 25-30 minutes | 35-40 minutes |
| 425°F (218°C) | 12-15 minutes | 20-25 minutes | 30-35 minutes |
| 450°F (232°C) | 10-12 minutes | 15-20 minutes | 25-30 minutes |
Turning on an oven's convection/forced air will usually reduce baking time by 5-10 minutes. Instead of relying on cooking time alone, always check doneness by using an instant-read thermometer.
Bone-in Chicken Breasts: Simply add 8-10 minutes to the bake times shown above.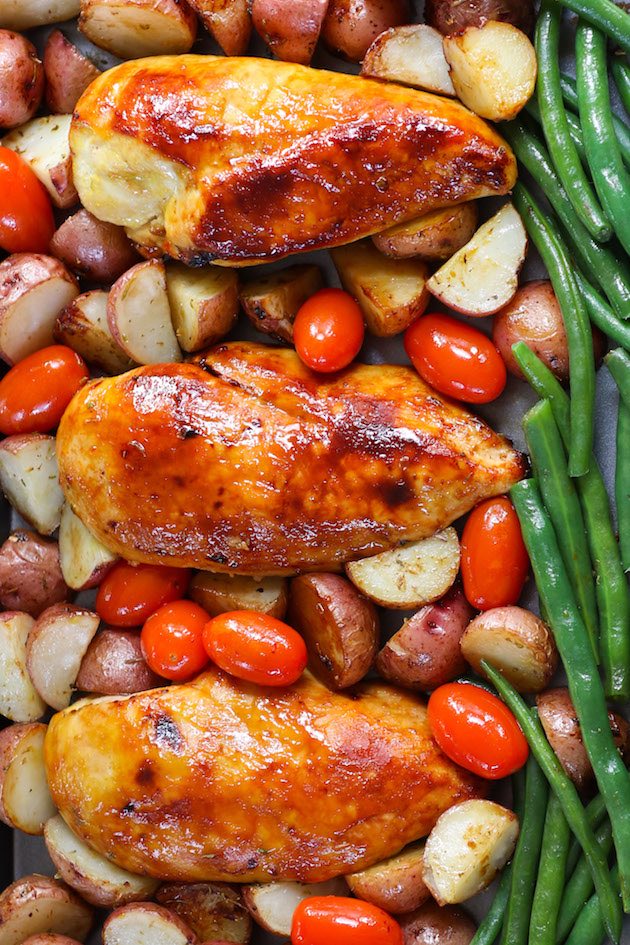 How Long to Bake Chicken Breasts
Bake boneless skinless chicken breasts for 25 to 30 minutes at 350°F. Note that this is for a typical 4-ounce breast, with larger ones taking longer and smaller ones taking less time.
Bake bone-in chicken breasts for an extra 10 to 15 minutes on average or until the internal temp reaches 165°F (74°C) when measured about a half-inch from the bone.
How Long to Bake Chicken Thighs
Bone-in Chicken Thighs: Bake at 400°F for 25-30 minutes until the internal temperature reaches 160-165°F. Similarly, chicken legs require a similar amount of baking time.
Bake boneless chicken thighs the same way, but for 10 minutes less, or about 15-20 minutes.
How Long to Bake Chicken Legs
To bake chicken legs or drumsticks, preheat the oven to 400°F (204°C) and place them on a greased baking sheet. Bake for 40 to 50 minutes or until the internal temperature of the chicken has reached 165°F (74°C).
How Long to Bake Chicken Wings
Chicken wings will take 20 to 25 minutes when baked at the recommended temperature of 425°F (218°C). When done, the wings should be crispy and golden, while also being easy to eat.
How Long to Bake a Whole Chicken
Unstuffed: A 4-pound whole chicken will take about 80-90 minutes at a temperature of 350°F, while a larger 7-pound chicken could take up to 2 hours and 20 minutes. In general, add 20 minutes for each additional pound.
Stuffed Chicken: Follow the guidance above, adding an extra 15-30 minutes of baking time in total.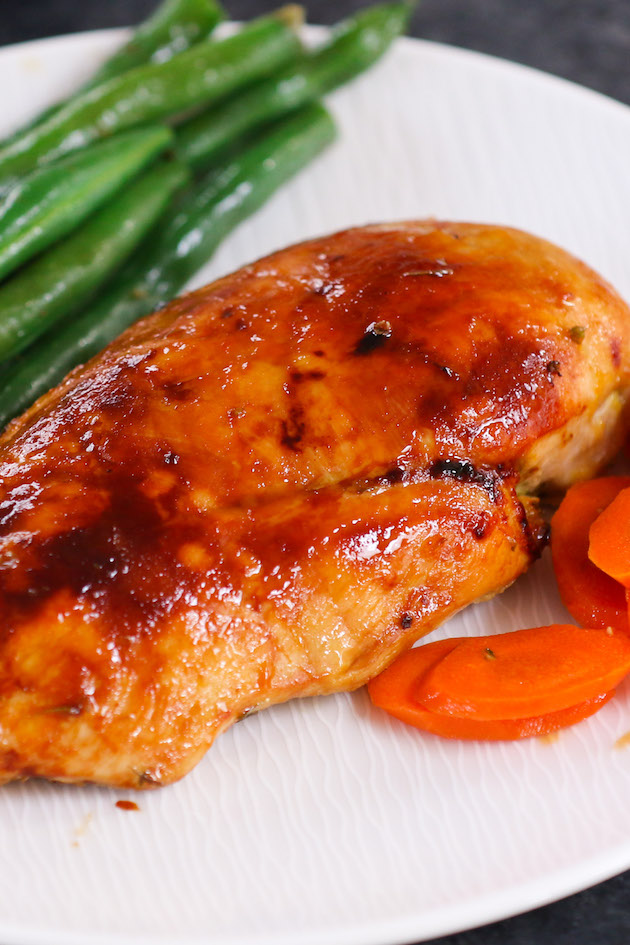 When is it Done?
While the safe temperature for chicken is 165°F according to the USDA, you can remove it from the oven at 160°F and the temperature will rise 5°F more while resting.
If you don't have a thermometer, look carefully at the juices coming out of chicken. They'll run perfectly clear when the meat is cooked. Any tinges of red or pink indicate the meat needs more time.
Tips For Making Juicy and Tender Oven Baked Chicken
While baking times and temperatures are important, there are a few other tips for juicy baked chicken:
Brine the chicken before baking to keep it moist.
Cover the chicken with foil for the first half of the baking time to prevent it from drying out (or burning when using high temperatures).
Baste the chicken with melted butter and a high smoke-point oil to add moisture.
Use a meat thermometer to check the internal temperature of the chicken.
Let the chicken rest for 5 to 10 minutes after baking to allow the juices to redistribute for more tender chicken.
Avoid cutting into chicken to check doneness, as valuable juices will escape causing the meat to dry out. Use a thermometer instead.
What to Serve with Baked Chicken
Baked chicken goes well with many side dishes including roasted or steamed vegetables, mashed potatoes, rice or a crisp salad. You can also put our condiments sauce such as barbecue sauce, ranch dressing or mustard.
How to Store Leftover Baked Chicken
First, let the chicken cool down to room temperature before refrigerating or freezing it. This prevents condensation that can promote bacterial growth.
Place the chicken in airtight containers or resealable plastic bags, removing as much air as possible to minimize freezer burn.
Consider freezing the chicken in portions, so you can defrost only what you need.
Best Baked Chicken Recipes
If you are looking for some delicious baked chicken recipes to try at home, here are some of our favorites:
FAQ
How Long Does Baked Chicken Last?
Baked chicken can last up to 4 days in the fridge or up to 6 months when frozen (although 3 months is optimal). At room temperature it only lasts 2 hours.
How Long to Reheat Leftover Chicken in the Oven?
To reheat leftover chicken in the oven, preheat it to 350°F and place the chicken on a baking sheet. Bake for 20-25 minutes or until the internal temperature reaches 165°F.
Is It Better to Bake Chicken at 350 or 400?
It depends on the recipe and the cut. Baking at 400°F is best when you want crispy skin and is well suited to dark meat cuts such as thighs, wings and drumsticks. Baking at 350°F is slower with more even heating that's best suited to a whole chicken. Chicken breasts can be cooked successfully at either temperature, with 400°F being a little faster.
How Long to Bake Chicken
Chicken breasts baked on a sheet pan with potatoes and green beans with Italian seasonings for an easy one-pan meal.
Ingredients
3-4 chicken breasts, boneless, skinless
1 lb baby red potatoes, halved
12 cherry tomatoes, or grape tomatoes
1 lemon, sliced into rings
4 tsp garlic, minced
1 tsp oregano
1 tsp thyme
4 tbsp olive oil
salt and pepper, to taste
1 tbsp butter
3 sprigs fresh rosemary, optional
3/4 lb green beans, trimmed
fresh parsley, for serving
Instructions
Preheat oven to 400°F and set your oven rack to the top half. Set aside a large baking sheet.

Scatter potatoes and tomatoes across the baking sheet. Add chicken breasts in the middle a few inches apart. Rub chicken breasts with 1 tablespoon oil.

Sprinkle minced garlic, oregano and thyme across pan. Add salt and pepper to taste.

Drizzle the rest of olive oil evenly across. Toss to mix well. Place several lemon slices on top of chicken.

Butter a piece of parchment paper, and cover the chicken and vegetables with buttered parchment paper (butter side facing down)

Bake for 22 to 25 minutes, adding green beans for the final 10 minutes. If the chicken looks pale, you can always put it under the broiler for the final 3 minutes.

Check doneness by inserting an instant-read thermometer into the middle of the chicken breast. Remove from the oven as soon as it reaches 160°F (71°C). Alternatively, as soon as clear juice starts to seep out of your chicken breasts, it means that they are cooked through.

Remove the chicken to a serving plate or carving board. Cover with foil and let it rest for 5-10 minutes to let the juices redistribute through the meat before serving.
Notes
Smaller chicken breasts (4 oz) need to be baked for 18-20 minutes, while larger chicken breasts (8-10 oz) will take 25-30 minutes to bake.
Add 8-10 minutes of additional baking time if you use bone-in chicken breasts.
Remove chicken from the oven when the internal temperature reaches 160°F, as the temperature will rise a few degrees during resting.
Use leftover baked chicken to make Chicken Avocado Rollups, Chicken Noodle Soup and Chicken Fried Rice. Cooked chicken lasts 3-4 days in the fridge.
Nutrition Facts
How Long to Bake Chicken
Amount per Serving
% Daily Value*
* Percent Daily Values are based on a 2000 calorie diet.
Please read our nutrition disclaimer.
© TIPBUZZ. Images and text on this website are copyright protected. Please do not post or republish without permission. If you want to republish this recipe, please link back to this post. This post may contain affiliate links. Read the disclosure policy here.