Learn How Long to Bake Chicken with tips and tricks for making the most flavorful, tender and juicy baked chicken. If cooked too long, chicken will turn out dry and tasteless while posing the risk of bacterial contamination. Here we show you how to get the best results every time!
Chicken is a staple in cuisines from around the world. It's delicious, comforting and easy to make. Baking chicken is a healthier way to cook chicken than stir-frying or deep frying. And if you bake chicken on a sheet pan, clean-up is a breeze. The key to getting great results is knowing how long to bake chicken.
How Long Do You Bake Chicken
The cooking time and temperature for baking chicken depend on the chicken cut, its weight and the recipe.
MY LATEST VIDEOS
Baking Boneless, Skinless Chicken Breasts
Traditional Method: According to the U.S. Department of Agriculture (USDA), a 4-ounce chicken breast should be roasted at 350°F (177˚C) for 25 to 30 minutes.
High Temperature Method: Baking at a high temperature for a shorter time is the secret for getting juicy chicken! Baking your chicken breast at 450°F for 18-20 minutes will yield tasty chicken breasts.
Baking Bone-in Chicken Breasts
Baking bone-in chicken breasts is similar to baking boneless chicken breasts. You just need to add 8-10 minutes of additional cooking time.
Baking Bone-in, Skin-on Chicken Thighs
Bake bone-in, skin-on chicken thighs at 400°F for 35-40 minutes until internal temperature reaches 165°F.
Roasting a Whole Chicken
If a whole chicken (unstuffed) that weighs 4 lbs is baked at a temperature of 350°F, it will take about 80-90 minutes to cook.
If the chicken weighs 7 lbs, it can take as long as 2 hours and 20 minutes. You generally want to add 20 minutes of cooking time for each additional pound.
Also, allow an additional 15 to 30 minutes baking time for stuffed chicken.
How to Bake Chicken
Step 1: Brine the Chicken
Brining is a traditional process of marinating meat in salt water for a short period of time, allowing the salt to break down muscle proteins in the meat. Brining chicken makes the meat extra tender and juicy, just like with turkey. Occasionally store-bought chicken is sold pre-brined, but otherwise follow the steps below.
To brine chicken, dissolve ¼ cup salt in two quarts of water in a large pot. Then add in the chicken, immersing it completely in the solution. Let it sit.
Whole chicken needs to be brined at least 4 hours or overnight, whereas chicken pieces need only 1-2 hours. Chicken breasts can be taken out after 15 minutes if you are in a rush, but no longer than 6 hours. Before baking the chicken, rinse with cold water and pat dry with paper towels.
Step 2: Rub with Oil or Butter
Rub your chicken with oil or butter before baking. It will add moisture to the chicken, as well as making the seasoning stick to the chicken.
Step 3: Bake the Chicken
Bake your chicken following the baking time guidance provided above.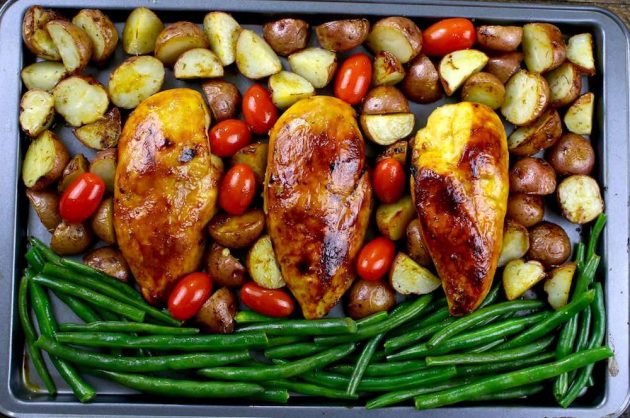 Step 4: Allow Chicken to Rest
This final step only takes 5-10 minutes, but makes big difference. Don't cut into your chicken right away, as juices will be lost and the chicken will dry out.
Instead, after removing the chicken from the oven, cover loosely with aluminium foil to keep warm. Let the chicken rest for about 5 to 10 minutes and your chicken will be ready to be served.
Secrets for Making Flavorful, Tender and Juicy Chicken
Brine your chicken makes your chicken extra tender and juicy following the steps above.
Rub your chicken with oil or butter before baking to help keep the chicken moist.
Make sure to let your chicken rest for 5-10 minutes after it's baked.
How to Tell When the Chicken is Done
According to the USDA, chicken has to be cooked to an internal temperature of 165°F.
For Chicken Breasts
When a knife tip or meat thermometer is inserted, clear juices should just seep out of your chicken breasts indicating it's cooked through. If the juices are red at all, the meat is not cooked.
It's best to check 5 minutes before the total bake time (peek through the oven door without opening the oven). You will notice a little pool of clear juice coming out from the chicken breasts, and the pool will get bigger and start to sizzle. Then you need to take the chicken out immediately.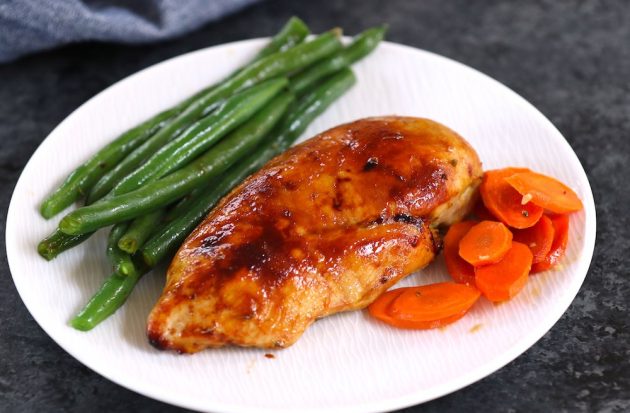 For a Whole Chicken
Insert a meat thermometer into the inner thigh and avoid touching the bone to get an accurate reading:
If it reads 165°F, it means that the chicken is done
If it is slightly below this temperature, you may wish to wait a few minutes to see whether the temperature approaches 165°F, as the chicken keeps cooking even after you remove it from the oven (this is called carryover cooking).
When checking whether your chicken is done, try to avoid cutting into the chicken, as the flavor will be lost by doing so.
Leftover Chicken Recipes
There are some mouthwatering recipes to make use of your leftover chicken after a holiday or dinner party, so don't let it go to waste. You can find more information on how long cooked chicken last in the fridge.
You can make sandwiches like Chicken Avocado Rollups or Chicken Sliders or some delicious Chicken Noodle Soup. Chicken Fried Rice is another great option.
If you can't decide, then you can put your cooked chicken into a ziplock bag, seal and freeze for later use.
Kitchen Tools for Baking Chicken
A sheet pan or roasting pan is ideal for flavorful baking chicken. To test doneness, an instant meat thermometer is extremely helpful. Just insert the tip of the probe into the center of the chicken and check it reads the safe temperature of 165°F.
Watch Video: How To Bake Chicken
How Long To Bake Chicken (with Video)
It doesn't get tastier or healthier than tender and juicy Baked Chicken with Potatoes and Green Beans. It's a simple one-pan wonder dish seasoned with Italian spices and roasted to perfection. Easy to prepare with quick cleanup, it's guaranteed to please!
Ingredients
3-4

chicken breasts

boneless, skinless

1

lb

small red potatoes

halved

12

cherry or grape tomatoes

1

lemon

sliced into rings

4

tsp

garlic

minced

1

tsp

oregano

1

tsp

thyme

4

tbsp

olive oil

salt and pepper to taste

1

tbsp

butter

3

sprigs

fresh rosemary

optional

3/4

lb

green beans

trimmed

fresh parsley

for serving
Instructions
Preheat oven to 450°F and set your oven rack to the top half. Set aside a large baking sheet.

Scatter potatoes and tomatoes across baking sheet. Add chicken breasts in the middle a few inches apart. Rub chicken breasts with 1 tablespoon oil.

Sprinkle minced garlic, oregano and thyme across pan. Add salt and pepper to taste.

Drizzle the rest of olive oil evenly across. Toss to mix well. Place several lemon slices on top of chicken.

Butter a piece of parchment paper, and cover the chicken and vegetables with buttered parchment paper (butter side facing down)

Bake for 18 to 20 minutes (add green beans during the last 10 minutes).

As soon as clear juice starts to seep out of your chicken breasts, it means that they are cooked through. If chicken looks pale, broil for the last 5 minutes.

Let your chicken rest for 5 to 10 minutes before serving. Cover with aluminum foil while resting. Serve and enjoy!
Nutrition Facts
How Long To Bake Chicken (with Video)
Amount Per Serving
Calories 230
Calories from Fat 99
% Daily Value*
Total Fat 11g 17%
Cholesterol 42mg 14%
Sodium 126mg 5%
Potassium 236mg 7%
Total Carbohydrates 21g 7%
Protein 16g 32%
* Percent Daily Values are based on a 2000 calorie diet.
Looking for baked chicken recipes?
Looking for more chicken recipes?
Editor note: Published Feb 6, 2018 and updated June 13, 2018 with details and recipes.

© TIPBUZZ. Images and text on this website are copyright protected. Please do not post or republish without permission. If you want to republish this recipe, please link back to this post.
This post may contain affiliate links. Read the disclosure policy here