Pineapple Teriyaki Chicken
This Pineapple Teriyaki Chicken is a must-try for all teriyaki fans. Delicious homemade teriyaki chicken is served with rice in a pineapple boat for a festive and stunning presentation! The best part? This easy recipe is ready in 15 minutes. Plus recipe video tutorial!
Get ready for a burst of delicious teriyaki chicken flavor in a beautiful pineapple boat. Perfect for birthdays, parties and other special occasions when you want to make a great impression.
This Teriyaki Chicken recipe is a variation of traditional Japanese Chicken Teriyaki using easy-to-find ingredients. You can also make this dish with General Tso's Chicken, Honey Garlic Shrimp, Sweet and Sour Chicken and Honey Garlic Chicken for some fun variations.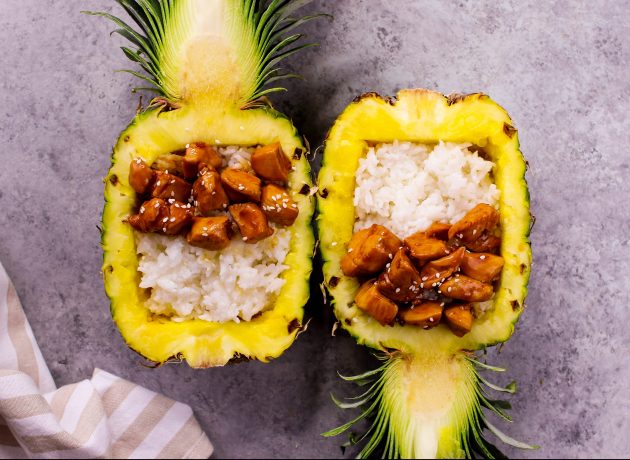 How to Make Pinepple Teriyaki Chicken
This recipe is so quick that you might wish to start cooking the rice and vegetable first. That way everything will be ready at the same time. Broccoli is a great choice for a vegetable, and other alternatives include snap peas or Chinese broccoli.
Step 1: Make Homemade Teriyaki Sauce
Homemade Teriyaki Sauce is easy to make and so much better than the store-bought bottles. It's sweet and savory with fresh ingredients. There are two ways to make Teriyaki Sauce. Traditional authentic Teriyaki sauce is made of Mirin, Sake, soy sauce and sugar. Americanized alternative uses soy sauce, honey (or sugar), vinegar, ginger, garlic and cornstarch.  In this recipe I use the latter: In a small mixing bowl, add all Teriyaki Sauce ingredients and mix well.
Step 2: Sauté the Chicken
Cut your chicken into 1-inch pieces. Place a skillet like this one or a wok over medium-high heat.  Add oil, and then place the cubed chicken in the pan and cook 2-3 minutes per side, just enough to lightly brown the pieces and create some caramelized flavor. Leave some space between the pieces to brown quickly.
Note: I recommend using a large 14-inch skillet so that it's not too crowded for your chicken. If your pan is not large enough, you can cook in two batches.
Step 3: Add Teriyaki Sauce
Once the pieces have browned after several minutes, you can add the Teriyaki Sauce. The cornstarch in the sauce will make it thicken within minutes, so stir constantly to avoid getting clumps.
Once the teriyaki sauce is fully thickened, it will have fully coated the chicken and the spoon! Immediately remove the pan from the heat.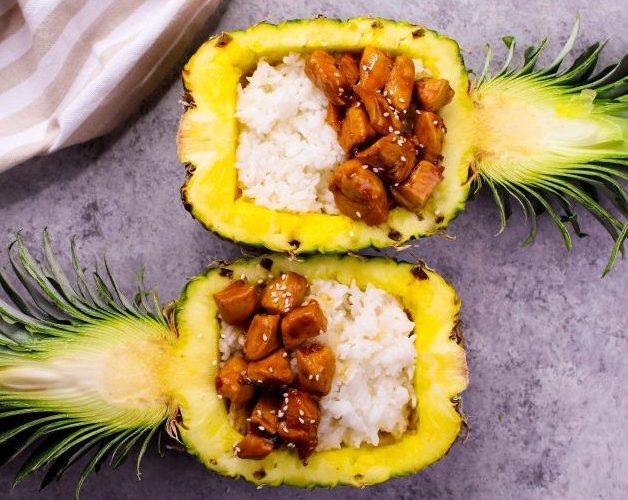 Tips and Secrets for Making the Best Pineapple Teriyaki Chicken
You can use either chicken thighs or chicken breast for this recipe, but chicken thighs will work better as they have more moisture than chicken breasts
Make sure to cut your chicken into small cubes (about 1 inch), allowing for quicker cooking and easy browning.
If you have extra time, you can make extra teriyaki sauce to marinate your chicken. This process will produce extra tender and more flavorful chicken.
Start with medium heat to sauté your chicken, and make sure not to overcrowd your pan. If your pan is not big enough, fry the chicken pieces in two batches for less crowding and better browning
Add sauce immediately as soon as your chicken turns brown. Avoid over-cooking your chicken. Turn the heat up after you add in teriyaki sauce so that it thickens fast.
For the healthiest Pineapple Teriyaki Chicken possible:
Use low-sodium soy sauce
Halve the amount of honey to reduce sugar content
Serve with brown rice or another whole grain
Watch How to Make Pineapple Teriyaki Chicken:
Pineapple Teriyaki Chicken (with Video)
This Pineapple Teriyaki Chicken is a must-try for all teriyaki fans. Delicious teriyaki chicken is served with rice in a pineapple boat for a stunning presentation! It'll be ready in 15 minutes. Plus recipe video tutorial!
Ingredients
1 1/2 lbs boneless skinless chicken breasts, cubed
1/4 cup honey,
1/4 cup soy sauce
2 tbsp apple cider vinegar
1/2 tsp ginger powder, or minced fresh ginger
2 cloves garlic, minced
1 tbsp cornstarch
salt and pepper to taste
Serving
2 medium pineapples, halved
2 cups steamed rice
sesame seeds
Instructions
Start cooking rice. Cut pineapples in half and scoop out the flesh to make boats and set aside.

In a small bowl, whisk together honey, soy sauce, ginger powder, garlic, vinegar and cornstarch.

Place a large skillet on medium-high heat. Add 1-2 tsp oil and cubed chicken.

Fry 2-3 minutes per side until nicely browned. If not browning, increase heat and continue for another minute.

Add sauce mixture to chicken and stir continuously until it thickens to coat the chicken. Remove from heat.

Fill pineapple boats with rice and teriyaki chicken.

Garnish with sesame seeds. Serve and enjoy!
Notes
-For the chicken to brown properly, there should be a bit of space between the pieces in the pan. Fry in batches if your pan is small or you're doubling the recipe.
Nutrition
Calories: 381kcal, Carbohydrates: 43g, Protein: 39g, Fat: 4g, Saturated Fat: 1g, Cholesterol: 108mg, Sodium: 731mg, Potassium: 696mg, Sugar: 17g, Vitamin A: 50IU, Vitamin C: 2.7mg, Calcium: 22mg, Iron: 1.2mg
© TIPBUZZ. Images and text on this website are copyright protected. Please do not post or republish without permission. If you want to republish this recipe, please link back to this post. This post may contain affiliate links. Read the disclosure policy here.