Pineapple Teriyaki Chicken
Pineapple Teriyaki Chicken has delicious chunks of chicken breast covered in a homemade teriyaki sauce and served with fresh pineapple. This easy dish is ready in just 15 minutes!
When you want a delicious weeknight dinner idea everyone will love, look no further than pineapple teriyaki chicken. it's savory and sweet with teriyaki flavors that will make your mouth water.
For this recipe, we opted to serve it in a half pineapple for a beautiful tropical presentation that's perfect for a party. You can also combine chicken and pineapple chunks directly on a serving plate for something simpler and just as tasty!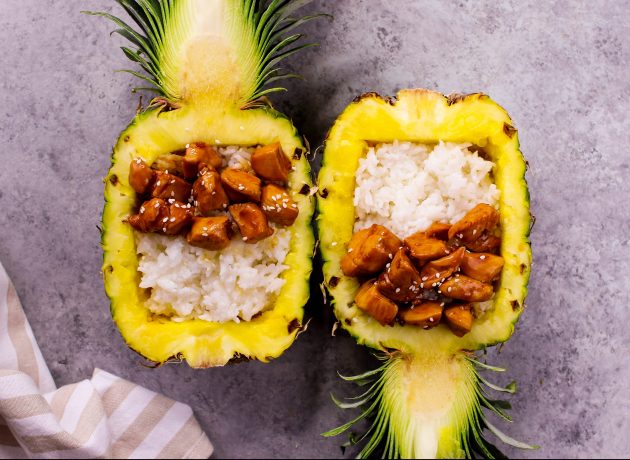 How to Make Pineapple Teriyaki Chicken
Step 1: Make the Teriyaki Sauce: Teriyaki sauce is easy to make and so much better than bottled varieties. While authentic teriyaki uses mirin and sake, we're making an American-style version with soy sauce, honey, vinegar, ginger, garlic and cornstarch. Simply whisk these ingredients in a small bowl to combine.
Step 2: Sauté the Chicken: Cut chicken breasts into 1-inch cubes. Place a skillet or wok over medium-high heat. When hot, add the oil and cubed chicken, taking care not to crowd the pan. (If you can't fit easily into a single layer, then fry in batches). Sauté for 2-3 minutes per side until lightly brown.
Step 3: Combine the Two: Once the chicken pieces have browned, you can add the teriyaki sauce. The cornstarch in the sauce will make it thicken in a minute or two, so stir constantly to avoid lumps. Once the sauce has started coating the chicken, remove from the heat.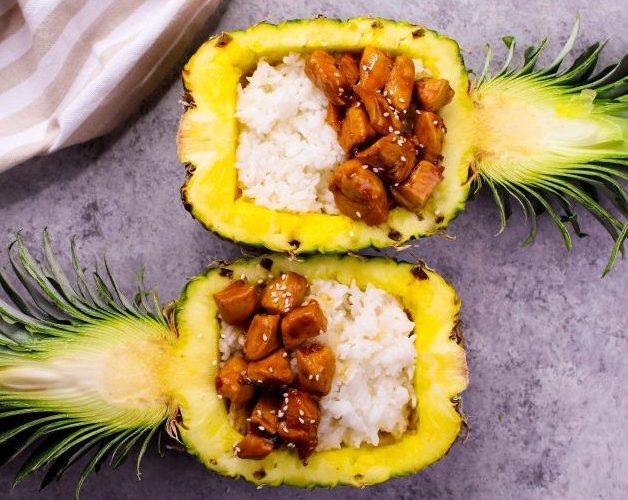 Preparation Tips
Chicken thighs are moister and more flavorful in this recipe, but chicken breasts are leaner and healthier. It's your choice.
If you prefer a saucier dish, you can simply double the teriyaki sauce ingredients.
Make sure not to overcrowd your pan, as it'll prevent the chicken from browning properly and be less flavorful. Fry in batches if needed to accommodate the chicken easily in a single layer.
You can make pineapple teriyaki chicken healthier with a few substitutions: using low-sodium soy sauce, halving the honey and serving with brown rice.
Watch Recipe Video:
What to Serve with Pineapple Teriyaki Chicken:
More chicken and pineapple recipes:
View all chicken recipes
Pineapple Teriyaki Chicken
Delicious teriyaki chicken is served with rice in a pineapple boat for a stunning presentation!
Ingredients
1 1/2 lbs boneless skinless chicken breasts, cubed
2 teaspoons canola oil, or similar
salt and pepper, to taste
Teriyaki Sauce
1/4 cup honey,
1/4 cup soy sauce
2 tbsp apple cider vinegar
1/2 tsp ginger powder, or minced fresh ginger
2 cloves garlic, minced
1 tbsp cornstarch
Serving
2 medium pineapples, halved
2 cups steamed rice
sesame seeds
Instructions
Start cooking rice. Cut pineapples in half and scoop out the flesh to make boats and set aside.

In a small bowl, whisk together honey, soy sauce, ginger powder, garlic, vinegar and cornstarch. Set aside.

Season the cubed chicken with salt and pepper. Then place a large skillet over medium-high heat. When hot add the oil followed by the cubed chicken.

Fry 2-3 minutes per side until nicely browned. If not browning, increase heat and continue for another minute.

Add sauce mixture to chicken and stir continuously until it thickens to coat the chicken. Remove from heat.

Fill pineapple boats with rice and teriyaki chicken.

Garnish with sesame seeds and serve immediately.
Notes
For the chicken to brown properly, there should be a bit of space between the pieces in the pan. Fry in batches if your pan is small or you're doubling the recipe.
Make it gluten-free: Use gluten-free soy sauce or coconut aminos instead of regular soy sauce.
Nutrition Facts
Pineapple Teriyaki Chicken
Amount per Serving
% Daily Value*
* Percent Daily Values are based on a 2000 calorie diet.
Please read our nutrition disclaimer.
Recipe Equipment:
| | | |
| --- | --- | --- |
| | | |
| Skillet | Mixing bowl | Cutting board |
© TIPBUZZ. Images and text on this website are copyright protected. Please do not post or republish without permission. If you want to republish this recipe, please link back to this post. This post may contain affiliate links. Read the disclosure policy here.