Perfect T-Bone Steak
T-bone Steak is one of the best steak cuts and includes a T-shaped bone with meat on each side. Searing in the pan at high temperature and finishing in the oven produces a caramelized crust with juicy meat in the middle. T-bone is a quick and flavorful steak dinner with no marinating required!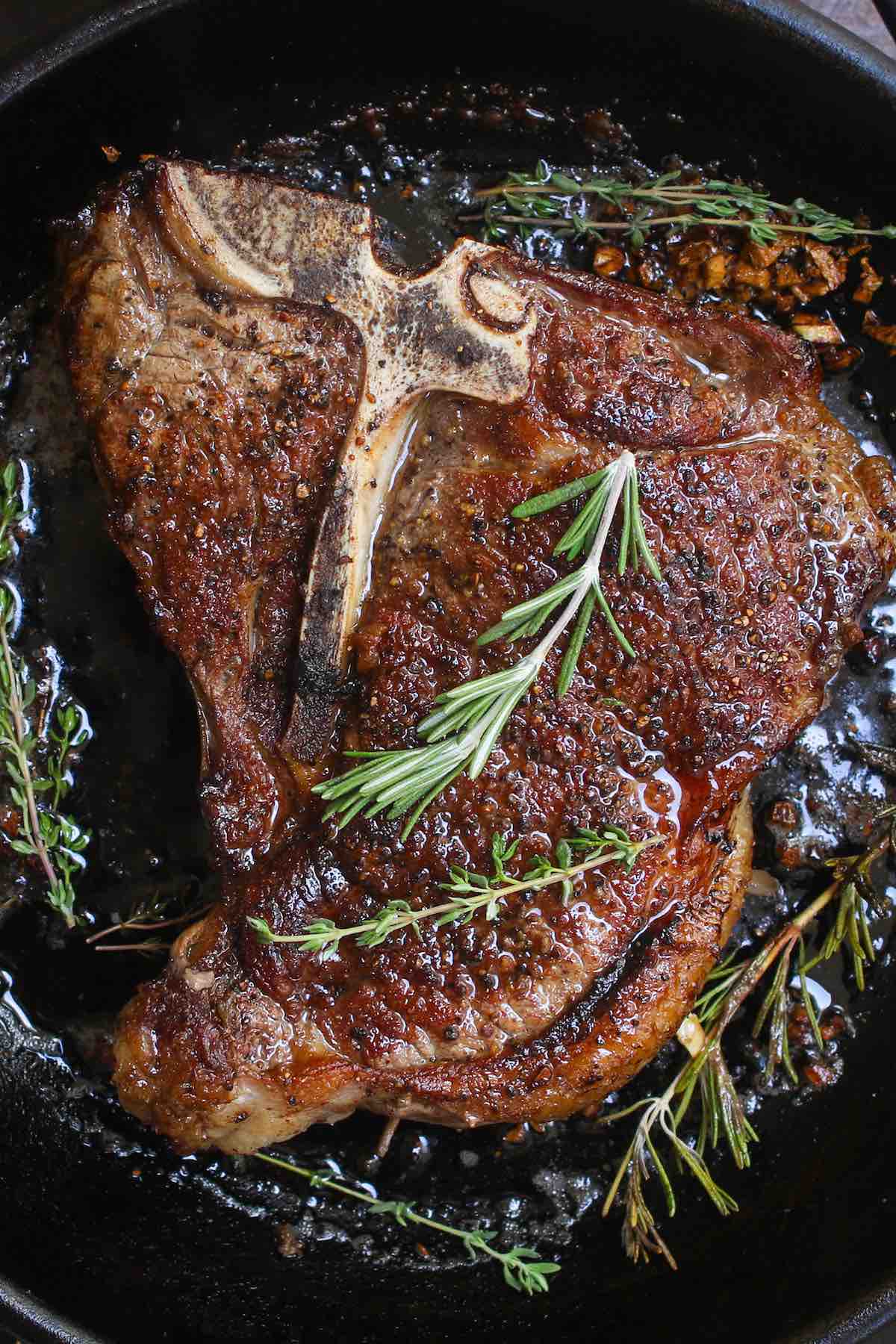 Perfect T-bone steak recipe
When I'm looking for a special entrée, T-bone is one of my top choices. Made with simple ingredients like garlic, butter, and fresh rosemary, this T-bone steak is a meat lover's dream come true. So skip the steakhouse and make this delicious meal yourself. This quick and easy family favorite is ready in less than 15 minutes!
After lots of experimentation, I've concluded that pan searing with an oven finish yields the best results. Here are my top tips to guarantee restaurant quality and make a perfect t-bone steak every time!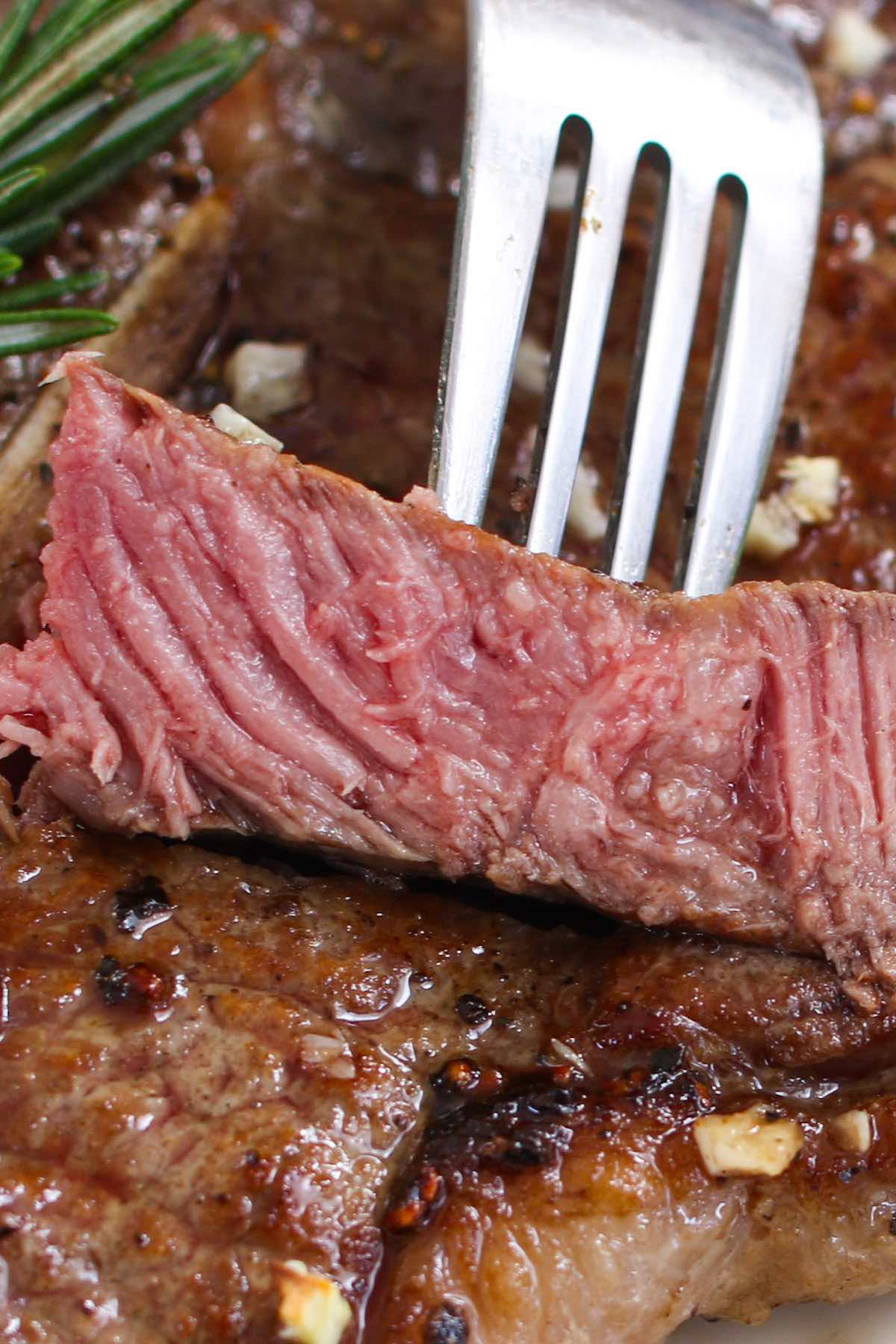 What is T-bone steak?
The T-bone steak is a crosscut from the front of the short loin and contains a strip of top loin (New York strip) and a smaller chunk of tenderloin (filet mignon).
Considered one of the highest quality steaks, the T-bone commands a premium price. It has moderate marbling with the fat keeping the meat moist and tender during cooking, while the bone imparts additional flavor to the meat. According to the USDA it has 420 calories per 6 oz, which is higher than most types of steak.
Porterhouse vs. Tbone
People often use the terms interchangeably, since T-bones and porterhouse steaks both come from the short loin and include a T-shaped bone with a striploin on one side and tenderloin on the other.
T-bone
Porterhouse
As you can see in the photos above, the T-bone's tenderloin on the left side of the bone is much smaller than the porterhouse's tenderloin. That's because the T-bone is cut closer to the front of the short loin, while the porterhouse comes from the larger rear of the short loin. For this reason, the porterhouse is a slightly larger steak, although they can be cooked the same way in recipes.
How to cook T-bone steak
Let steak sit at room temperature for 30-60 minutes before cooking.
Pat dry the steaks with paper towels.
Rub the steak with oil, and then season with salt and pepper on both sides.
Heat a cast-iron skillet over high heat.
Add oil to the hot skillet and add steak when it begins to smoke.
Sear the steak for 2 minutes for the first side. Flip and sear 2 minutes.
Add minced garlic, butter and fresh rosemary.
Transfer the steak to a preheated oven at 425°F (218°C).
Cook until it reaches the desired doneness.
Transfer steak to a plate or cutting board and let it rest for 5 minutes.
Cut steak from the bone to serve.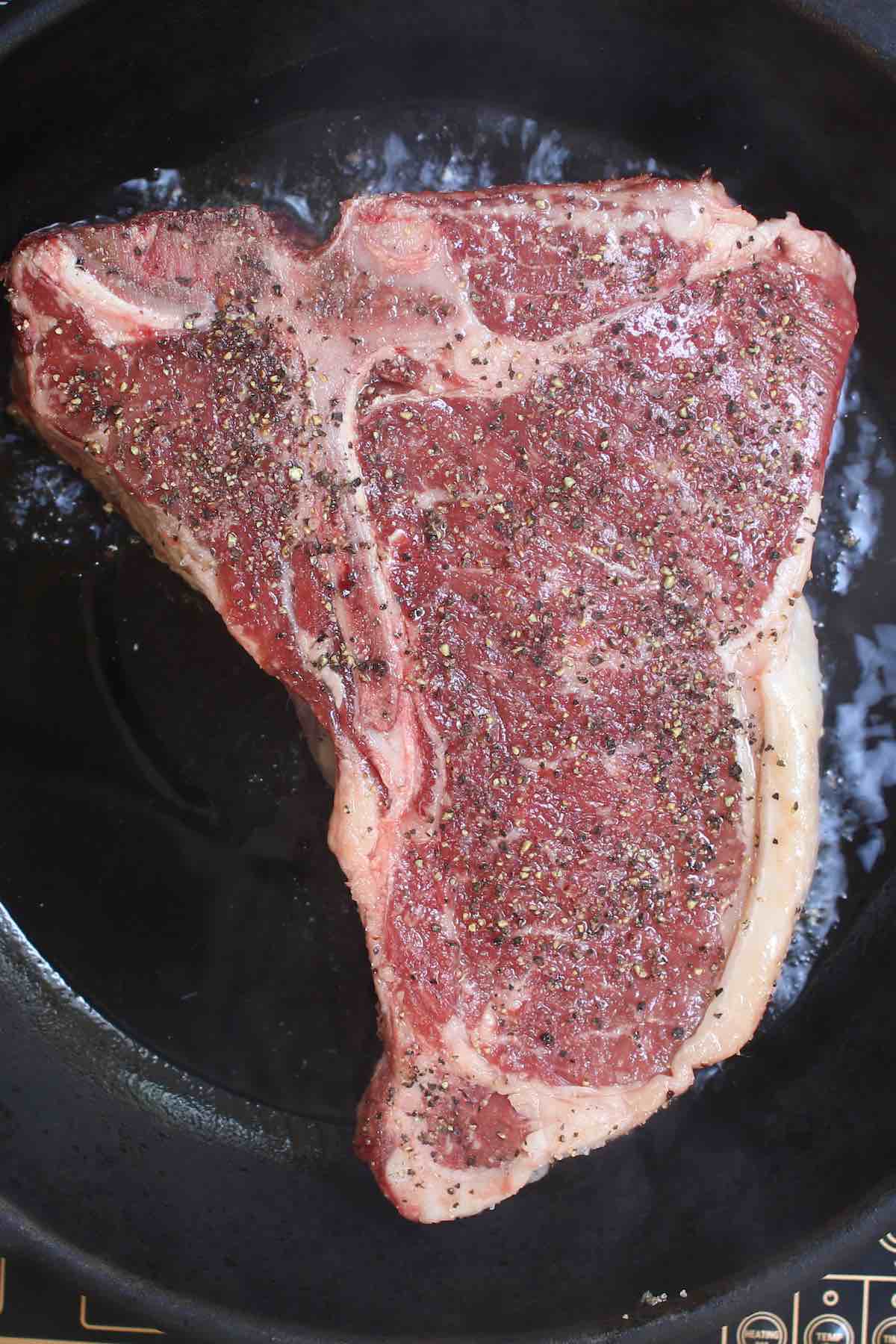 Do you need to marinate a T-bone?
Normally marinating is used to tenderize tougher cuts such as flank steak or sirloin tip. As T-bone is already a tender cut, I use simple seasonings instead of a marinade.
Just pat dry with paper towel, rub with olive oil and season generously with salt and pepper. This simple seasoning won't overpower the steak's natural flavors!
Searing T-bone steak in a frying pan
A cast-iron skillet is my favorite tool for cooking steak, as it retains heat well for a deep-brown sear and is ovenproof. It takes about 2 minutes PER SIDE to sear a T-bone on the stovetop.
It's important to first pat dry the steak so that the moisture won't interfere with the searing. The key to a beautifully caramelized crust is searing in a very hot skillet, and it takes 5-10 minutes to heat up a cast-iron pan on high heat. The steak should sizzle as soon as you place it into the pan!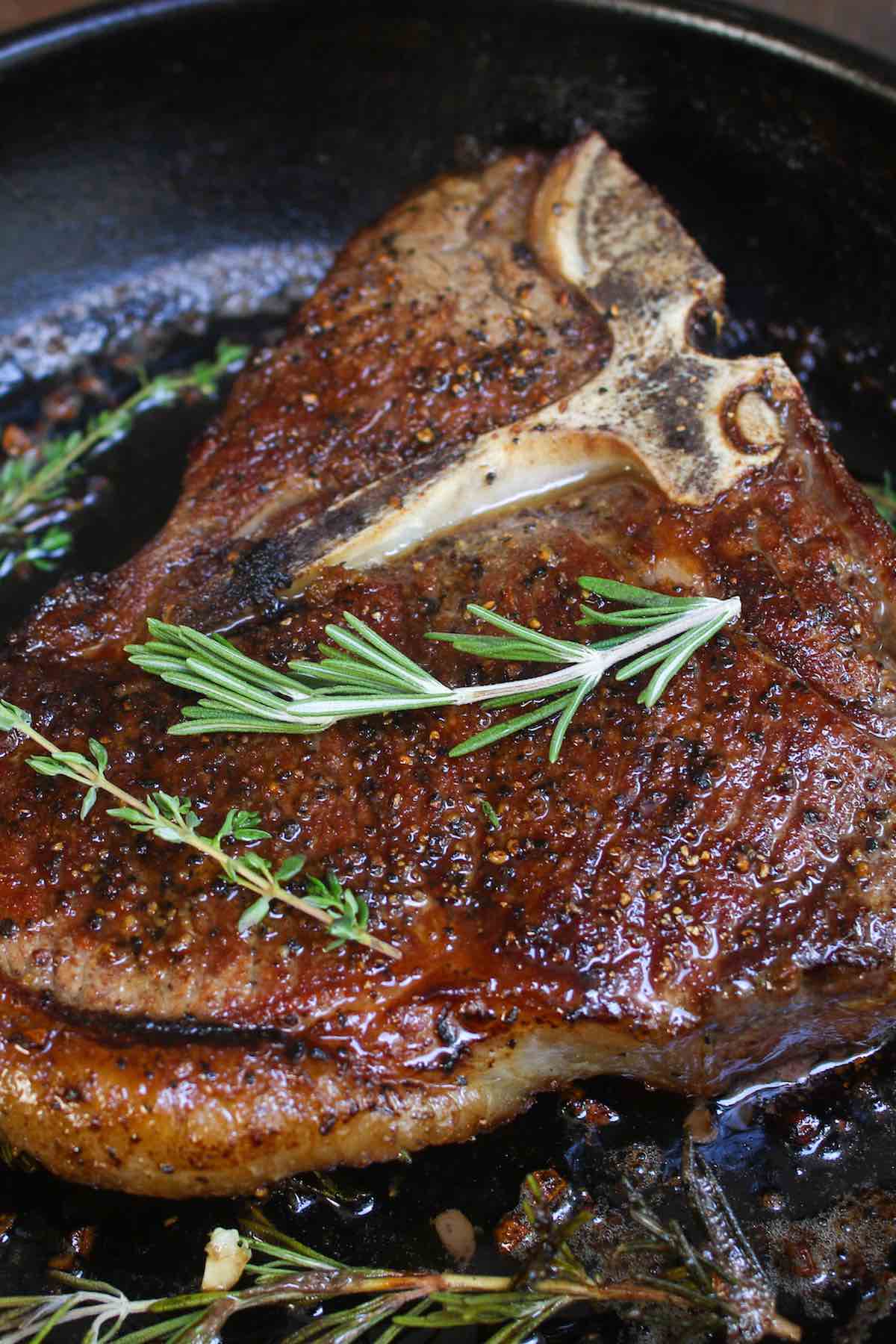 Finish in the oven
After searing, toss in the minced garlic, butter, and herbs. Then transfer the steak to a preheated oven at 425°F (218°C) until it reaches the desired doneness. This step cooks the steak using indirect heat from the oven to avoid burning and drying out the exterior before the center gets properly cooked.
The result? Tender and juicy steak that's full of flavor.
How long do you cook T-bone steak?
Cook time depends on the thickness and your desired doneness. In addition to the 4-minute searing in a skillet (2 minutes per side), you'll need to bake in the oven at 425°F (218°C) using the following guidelines for a 1-inch thick steak:
| | |
| --- | --- |
| T-bone Steak Doneness (1-inch) | Oven Bake Time |
| Rare | 1-2 minutes |
| Medium rare | 2-3 minutes |
| Medium | 3-4 minutes |
| Well-done | 5-6 minutes |
You will need to add 2-3 more minutes for each additional 1/2 inch thickness.
Note: As kitchen equipment may vary in the amount of heat produced, it's best to verify doneness using a thermometer instead of relying on time alone.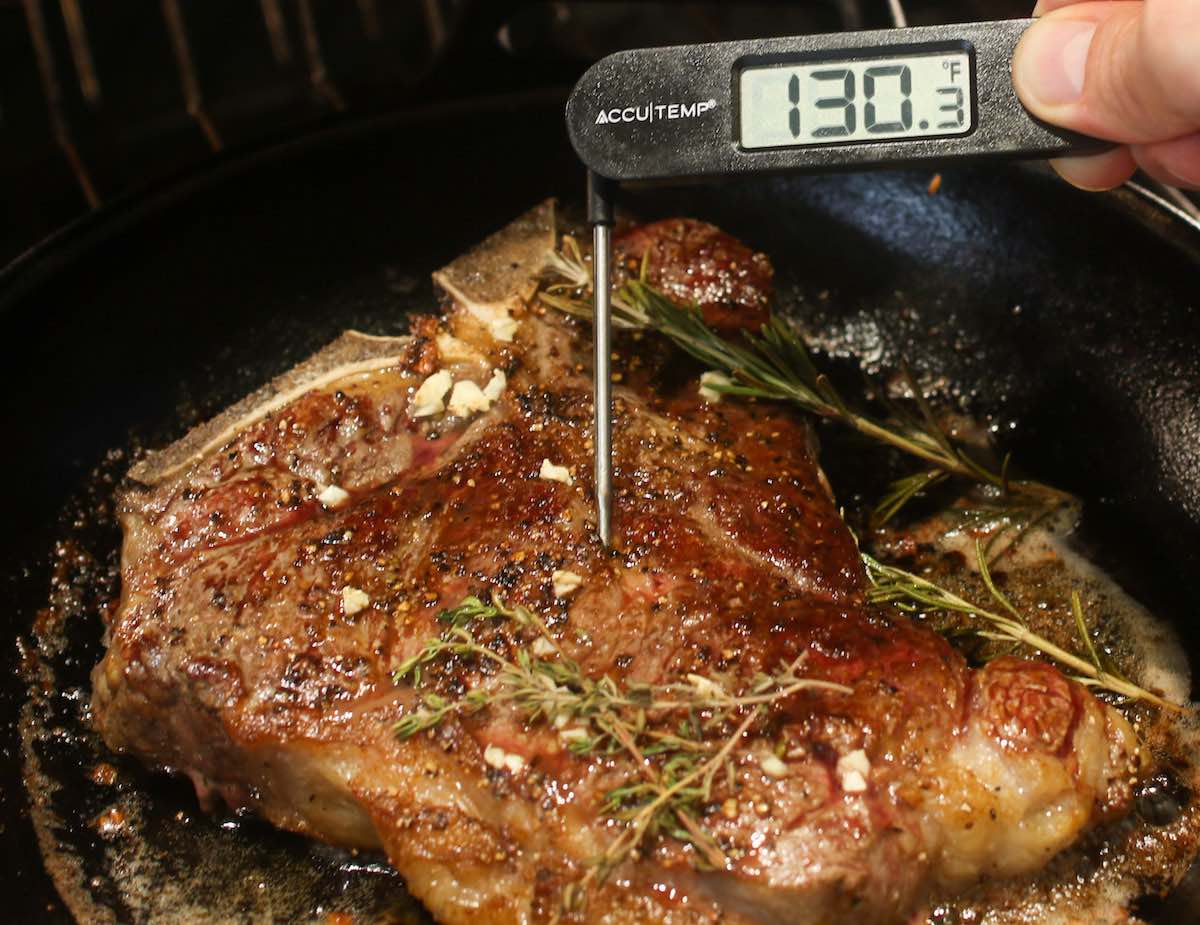 How do you know when your T-bone is done?
Because steak gets firmer as it's cooked, experienced chefs can test meat by touch. However, as doneness corresponds directly to the internal temperature of the meat, using an instant-read thermometer is the most reliable way to know if it's done:
| | | | |
| --- | --- | --- | --- |
|   | Description | Remove from heat | Final temperature |
| Rare | Cool red center | 120°F (49°C) | 125°F (52°C) |
| Medium rare | Warn red center | 130°F (54°C) | 135°F (56°C) |
| Medium | Warm pink center | 140°F (60°C) | 145°F (63°C) |
| Medium well | Slightly pink center | 145°F (63°C) | 150°F (66°C) |
| Well done | Little or no pink | 155°F (68°C) | 160°F (71°C) |
Note: the temperature rises an additional 5°F while resting due to carryover cooking.
Where to measure? The larger striploin side of the T-bone cooks more slowly, so measure in the strip about an inch from the bone. A wireless probe thermometer will allow you to conveniently check temperatures without opening the oven (or grill)!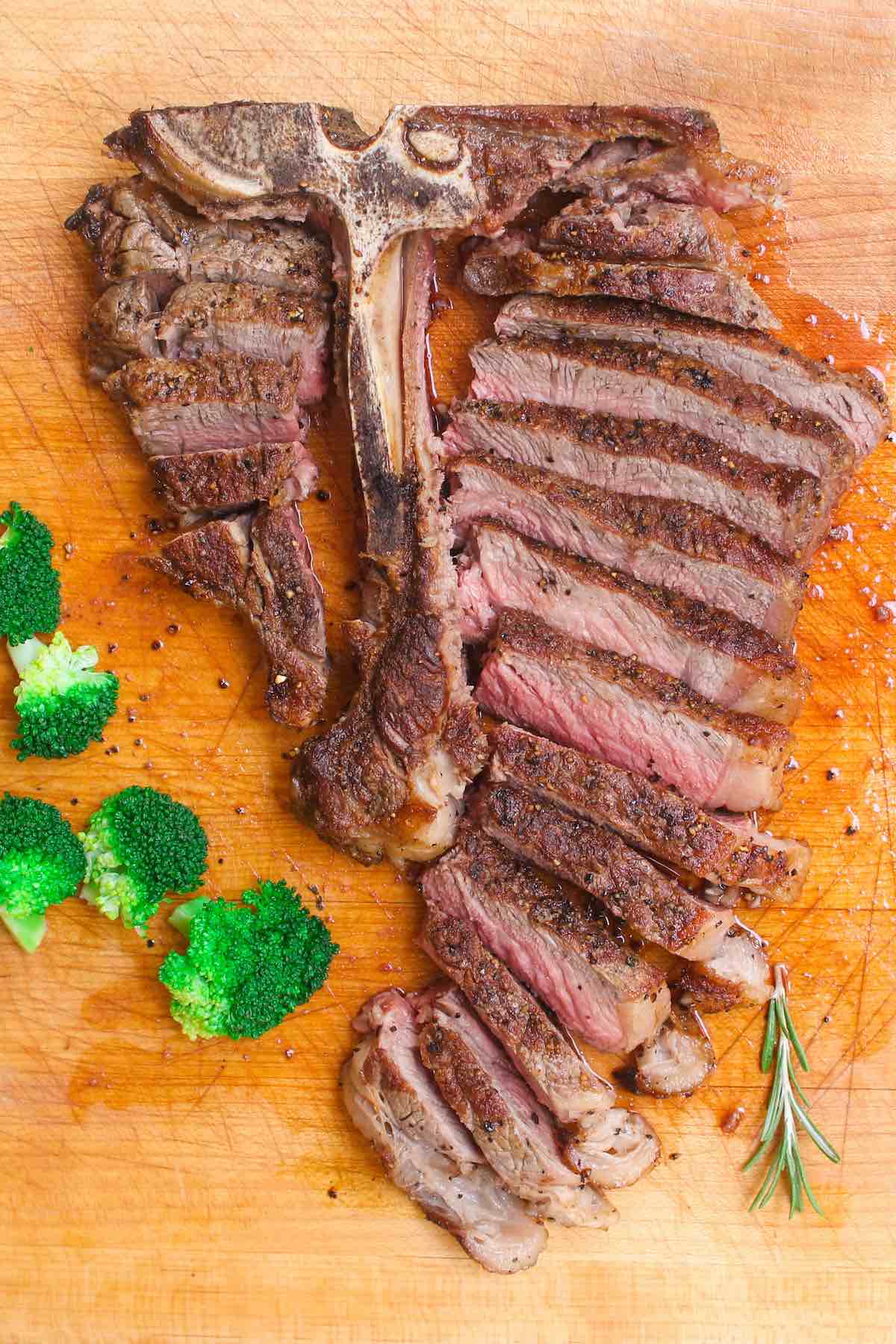 How to serve T-bone steak
You can serve T-bone by cutting the strip and filet away from the bone and slicing into pieces. Don't hesitate to pick up the bone, as the leftover bits of meat are very tasty!
Classic T-bone pairings are potatoes, mushrooms and vegetables such as steamed broccoli and boiled corn. Also consider making homemade steak sauce for dipping.
More steak recipes: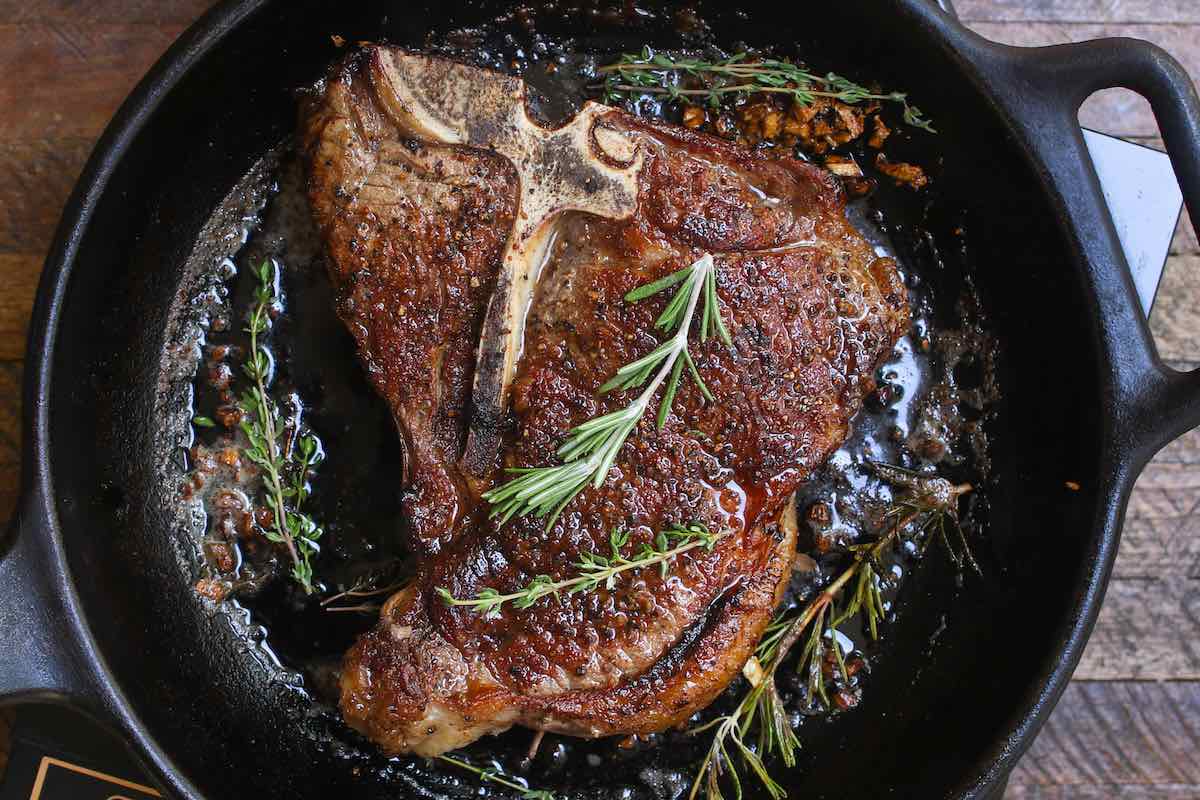 Watch Recipe Video
T-Bone Steak Recipe (with Video)
T-bone Steak seared to caramelized perfection on the outside and juicy in the middle. It's full of flavor with no marinating required!
Ingredients
1 1/2 pounds T-bone steak , about 1-inch (2.5 cm) thick*
2 tablespoons olive oil**
1 teaspoon coarse salt, or to taste
1 teaspoon black pepper, freshly ground, or to taste
2 cloves garlic, minced (2 teaspoons)
1 tablespoon unsalted butter
fresh rosemary, optional
Instructions
Remove the steak from refrigerator 30-60 minutes before cooking, so they can reach room temperature for even cooking.

Position the oven rack in the middle and preheat oven to 425°F (218°C).

Place a large cast-iron skillet over high heat and allow to heat for 5 minutes until very hot. (You can also place in the preheated oven for 15 minutes.)

Remove any bits of bone and pat dry the steak with paper towels to remove excess moisture that could interfere with searing.

Rub on all sides with 1 tablespoon of olive oil.

Season both sides with salt and pepper.

Add the remaining 1 tablespoon oil to the pan and swirl to coat.

Carefully place the steak in the pan using kitchen tongs, laying them away from you to avoid splatter.

Sear the first side for 2 minutes.

Flip using kitchen tongs and sear the other side for 2 minutes.

Add garlic, butter and rosemary and then immediately transfer the pan to the oven.

Bake for 2-3 minutes without flipping for medium-rare steaks (130°F/54°C), checking doneness by inserting an instant-read meat thermometer (see recipe notes for other donenesses***).

Remove steak to a plate or cutting board covered with aluminum foil to rest for 5 minutes so the juices can retreat back into the meat.

To serve, cut the meat away from the bone and slice across the grain into strips.
Notes
*T-bone steaks that are at least 1-inch (2.5cm) thick are juicier and less likely to be overcooked. The instructions above are for a 1-inch thick t-bone. Add 2-3 minutes of baking time for every additional ½ inch.
** Regular refined olive oil is recommended, as it has a higher smoke point than extra virgin olive oil and will be less likely to burn.
***The large strip section cooks more slowly and the area next to the bone will be rarer. Therefore, insert the thermometer into the strip section about 1-inch from the bone: 120°F/49°C is rare, 130°F/54°C is medium-rare, 140°F/60°C is medium, 150°F/66°C is medium-well and 160°F/71°C is well-done.
To grill T-bone steak: Heat your grill to 400°F/204°C and oil the grates. Then grill for 1 minute on the first side. Flip and sear 1 minutes on the second side. Flip every minute until reaching the desired doneness.
Leftover t-bone steak will last 3-4 days in the refrigerator and can be reheated for 2-3 minutes in a skillet. It's also delicious in Steak Sandwiches, Steak Tacos and Steak Salad.
Nutrition Facts
T-Bone Steak Recipe (with Video)
Amount per Serving
% Daily Value*
* Percent Daily Values are based on a 2000 calorie diet.
Please read our nutrition disclaimer.
More Popular Main Dishes

Editor note: Originally published Feb 13, 2019 and updated Sept 20, 2019.
© TIPBUZZ. Images and text on this website are copyright protected. Please do not post or republish without permission. If you want to republish this recipe, please link back to this post. This post may contain affiliate links. Read the disclosure policy here.