Mississippi Chicken Crock Pot
Mississippi Chicken is a mouthwatering dish featuring slow-cooked chicken breasts with seasonings and pepperoncini peppers. This Mississippi Chicken crock pot recipe couldn't be easier to make. Simply shred and serve for a juicy and flavorful dinner!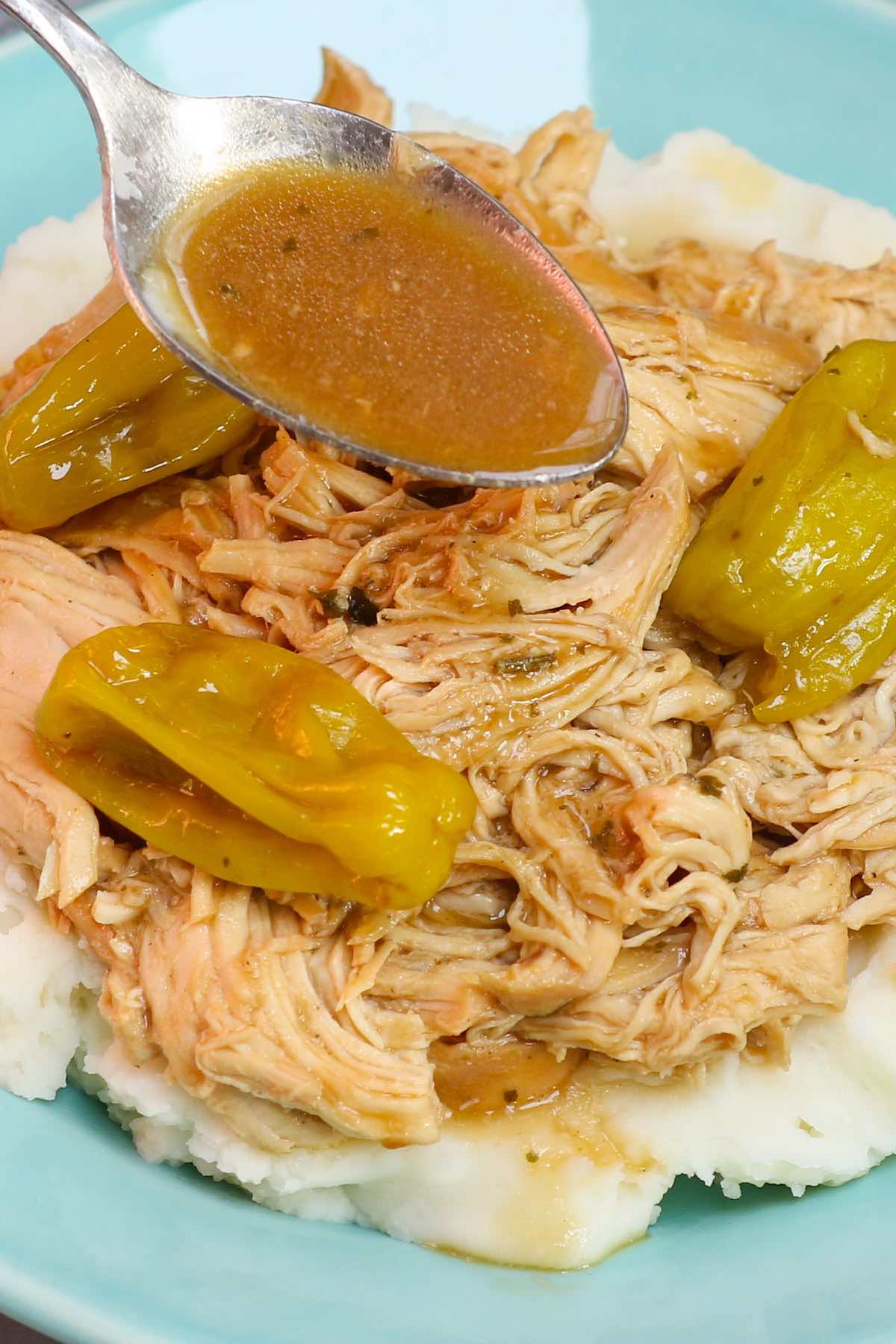 Here is an amazing dump-and-go recipe that makes a relaxed weeknight dinner idea that also works well when you've got company. Made from chicken breasts, it's lighter tasting than pulled pork or a pot roast. Plus, it's low carb and easy to make gluten-free if you wish!
Serve Mississippi Chicken on hamburger buns to make sandwiches, or add sides like mashed potatoes and veggies for a complete dinner. If you're in a hurry, you can even make it in the Instant Pot!
What is Mississippi Chicken?
Mississippi Chicken is an offshoot of modern Southern dish Mississippi Pot Roast created by Robin Chapman.
The concept is the same: slow-cooking the meat until tender with au jus and ranch mix, pepperoncini peppers and some butter. Once cooked, the meat is shredded before serving.
What Does Mississippi Chicken Taste Like?
Mississippi Chicken tastes a bit like roast chicken enhanced with gravy and ranch flavors, but punctuated with a slight kick from the pepperoncini peppers. This result is a dish that's juicy and tangy, while also being lighter-tasting than pulled pork or pot roast.
Ingredients
Here are the 5 ingredients you'll need to make it:
Chicken breasts: Boneless skinless chicken breasts are ideal. You can also substitute boneless chicken thighs for a flavorful, budget-friendly option.
Au jus gravy mix: This is the packaged mix available in most supermarkets. You can use brown gravy mix in a pinch. I recommend organic au jus mix, which is usually less salty and more flavorful.
Ranch mix: This is the mix you use to make a ranch dip, and I recommend Simply Organic for this recipe. You can use bottled ranch dressing in a pinch.
Pepperoncini peppers: These are pickled yellow peppers that are mildly spicy. Use sliced banana peppers if you can't find any.
Butter: A knob of butter is an optional addition for extra flavor. You can use unsalted or salted as you like.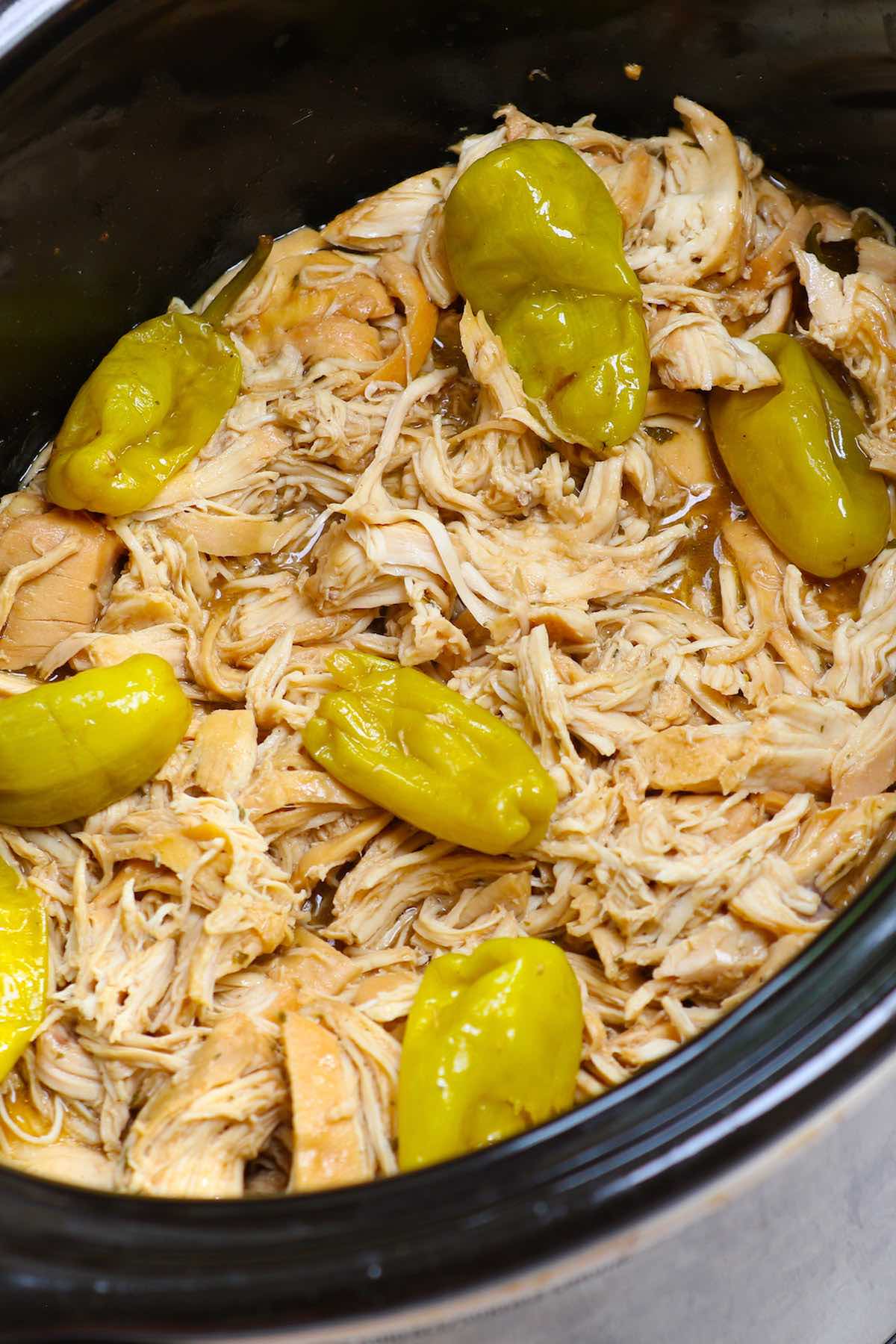 How to Make Mississippi Chicken
To make it, simply put all the ingredients in the crock pot, seal the lid and set to "Low" heat for 3-4 hours or "High" for 2-3 hours. Use the shorter end of the time range for small chicken breasts, and the longer end for large chicken breasts.
Above all, avoid overcooking as the meat can dry out and become chewy. Once it's ready, you can easily shred the meat by using two forks to pull it apart. Voilà! Dinner is served!
If you want to keep it warm for a party, it will stay tender for several hours on the "Warm" setting. You can also make it several days ahead and store in the fridge or freeze for up to 3 months.
Mississippi Chicken in Oven
It's also possible to make Mississippi Chicken in the oven. The ingredients are the same, but the meat does not shred easily like the crock pot version. This is a consideration if you want to make sandwiches.
To make it, preheat the oven to 400°F (200°C). Place the chicken breasts in a greased 13×9 inch rectangular baking pan. Stir the gravy mix and ranch mix together in a bowl and rub evenly on all sides of the chicken. Add the butter and pepperoncini on top of the chicken.
Bake 30 to 40 minutes or until the center of the chicken reaches an internal temp of 165°F. Remove to a serving plate to rest for 5 minutes to allow the juices to redistribute before serving.
Mississippi Chicken Instant Pot
You can also make this dish in the Instant Pot! The texture is slightly inferior to the slow cooked version, but you can't beat having dinner ready in under a half hour.
Place the recipe ingredients into the Instant Pot and add 1/2 cup water or chicken broth. Set to Manual High pressure for 8 minutes for small breasts or 10 minutes or larger breasts. Then proceed with a natural pressure release, which takes about 5 minutes more.
Carefully open the Instant Pot. Shred the chicken and serve.
Tips for the Best Mississippi Chicken
Use the freshest chicken for the best flavor. Avoid using any chicken that is approaching its sell-by date or has a sour smell.
A 6-quart or 4-quart slow cooker gives the best results. An 8-quart crock pot should only be used when doubling the recipe.
Try using organic au jus mix and ranch mix products to avoid getting an overly salty dish. Besides, they tend to taste better and the price difference is minimal.
Customize the spiciness by adjusting the number of pepperoncini peppers. Using 3 to 4 will produce a milder dish, while using 10 or more will make it spicier. It all comes down to personal preference.
Avoid overcooking especially when using chicken breasts, which are lean and can dry out. The crock pot is more forgiving than other cooking methods, but respect the cooking times nonetheless.
If you use chicken thighs, a gravy separator is handy to remove the excess fat from the juices.
Store leftovers in an airtight container in the fridge for 3 to 4 days. Reheat gently over medium heat on the stovetop to minimize texture loss.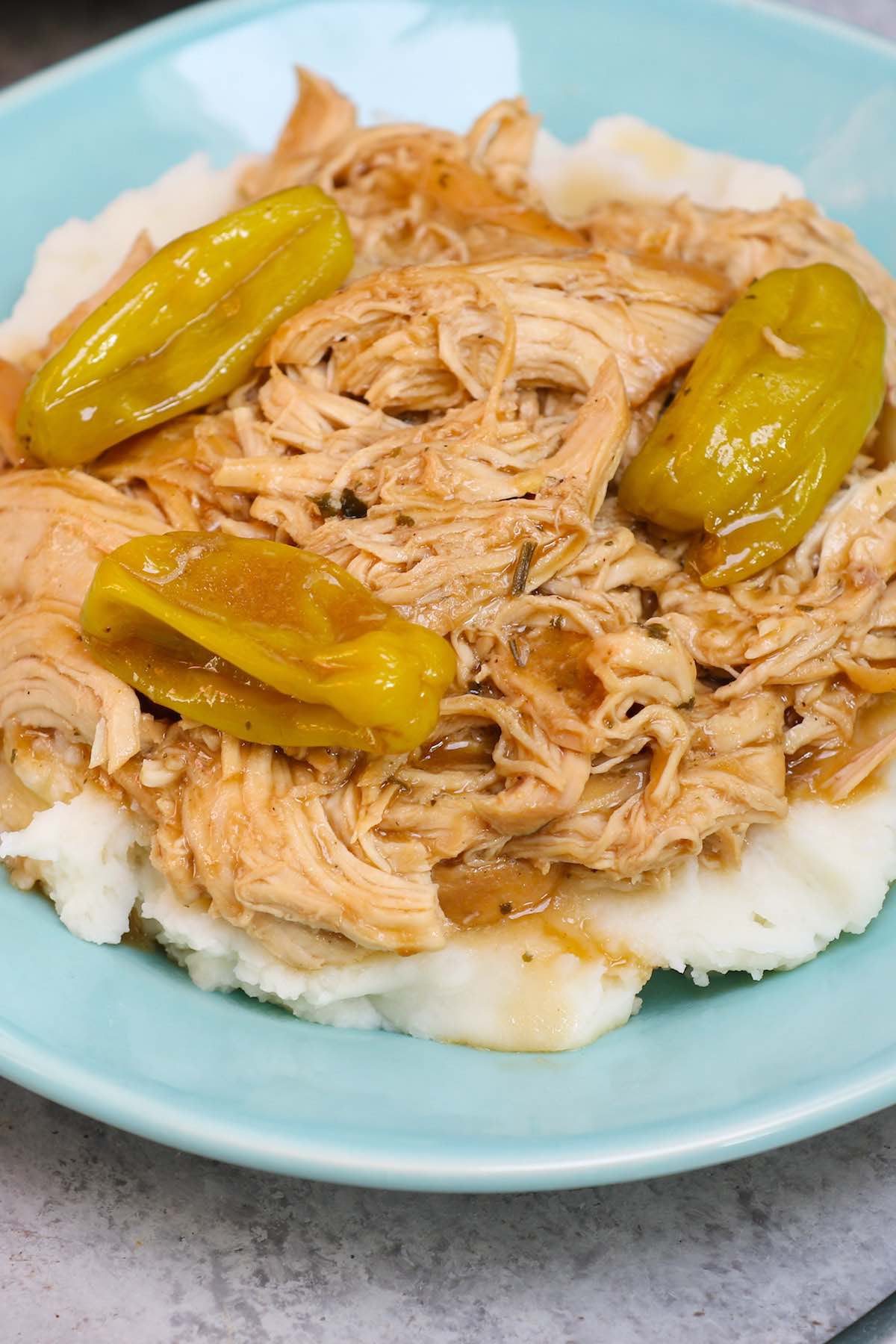 What to Eat With Mississippi Chicken
You can eat Mississippi Chicken on hamburger buns (or brioche buns) for a casual BBQ-style lunch or dinner. You can also put out shredded lettuce and sliced cheese if you wish. Guests love assembling their own sandwich with chicken straight out of the crockpot!
Another option is a homestyle dinner by pairing with mashed potatoes, steamed rice or noodles to soak up the juices. You can add your favorite veggies or a crisp green salad for sides.
For a low-carb or keto meal, think about side dishes like cauliflower rice, spinach, asparagus, mushrooms etc.
How to Serve Mississippi Chicken
There are few different ways to serve Mississippi Chicken:
Casual: Keep the slow cooker on the Warm setting and let people serve themselves directly from the crock pot. Perfect for summertime entertaining.
Formal: Turn the chicken onto a medium-size serving platter, placing the pepperoncini peppers on top. For a more attractive presentation, garnish with finely chopped green onions or parsley.
The good news? This dish pairs well with most side dishes, so go ahead and pick your favorites!
FAQ
Is Mississippi Chicken Keto-friendly?
Yes, Mississippi Chicken is keto-friendly with about 5 grams of net carbs in a 5-ounce serving.
How Long to Cook Mississippi Chicken in the Crock Pot?
The rule of thumb for Crock Pot Mississippi Chicken is 4 hours on "Low" or 2 hours on "High". Large breasts may take a bit longer, but always check at these times to avoid overcooking. As soon as the meat shreds easily, it's done!
Can I Make Mississippi Chicken from Frozen?
Putting frozen chicken in the crock pot is not recommended according to the USDA, as the meat could spoil before cooking gets started. Instead, thaw it in the fridge overnight and then proceed with the recipe.
You may also like:
Mississippi Chicken Crock Pot
This mouthwatering Mississippi Chicken is so juicy and full of flavor. It's easy to prepare in the crock pot with just 5 ingredients and 5 minutes of prep!
Ingredients
3 pounds boneless skinless chicken breasts, about 6-8 breasts (see note)
1 oz au jus mix, 1 packet or 2 tablespoons, or brown gravy mix
1 oz ranch dressing mix, 1 packet or 2 tablespoons
1/4 cup butter, 4 tablespoons (optional)
Instructions
Place the chicken breasts in the crock pot.

Sprinkle the au jus mix and the ranch dressing mix onto the chicken. Then add the pepperoncini peppers and optional butter.

Cover and seal the lid. Cook on "Low" for 4 hours or "High" for 2 hours. Note that large chicken breasts will take 30 minutes more. No liquid is required, as the chicken will release its own juices during cooking.

Remove the lid and inspect the chicken. It's done as soon as the flesh pulls apart easily using two forks.

Using forks or meat shredding claws, shred the chicken breasts one-by-one, taking care to preserve the pepperoncini peppers.

Serve warm with juices drizzled on top.
Notes
Make it Gluten-free: Use gluten-free gravy mix and ranch mix to ensure this dish is gluten-free.
Chicken: You can use chicken thighs instead of breasts, although they require one more hour or cooking time to shred. You may also wish to omit the butter since the fat content of thighs is higher.
Storage: Store leftovers in the refrigerator for up to 3 days in an airtight container, or freeze for up to 3 months.
Nutrition Facts
Mississippi Chicken Crock Pot
Amount per Serving
% Daily Value*
* Percent Daily Values are based on a 2000 calorie diet.
Please read our nutrition disclaimer.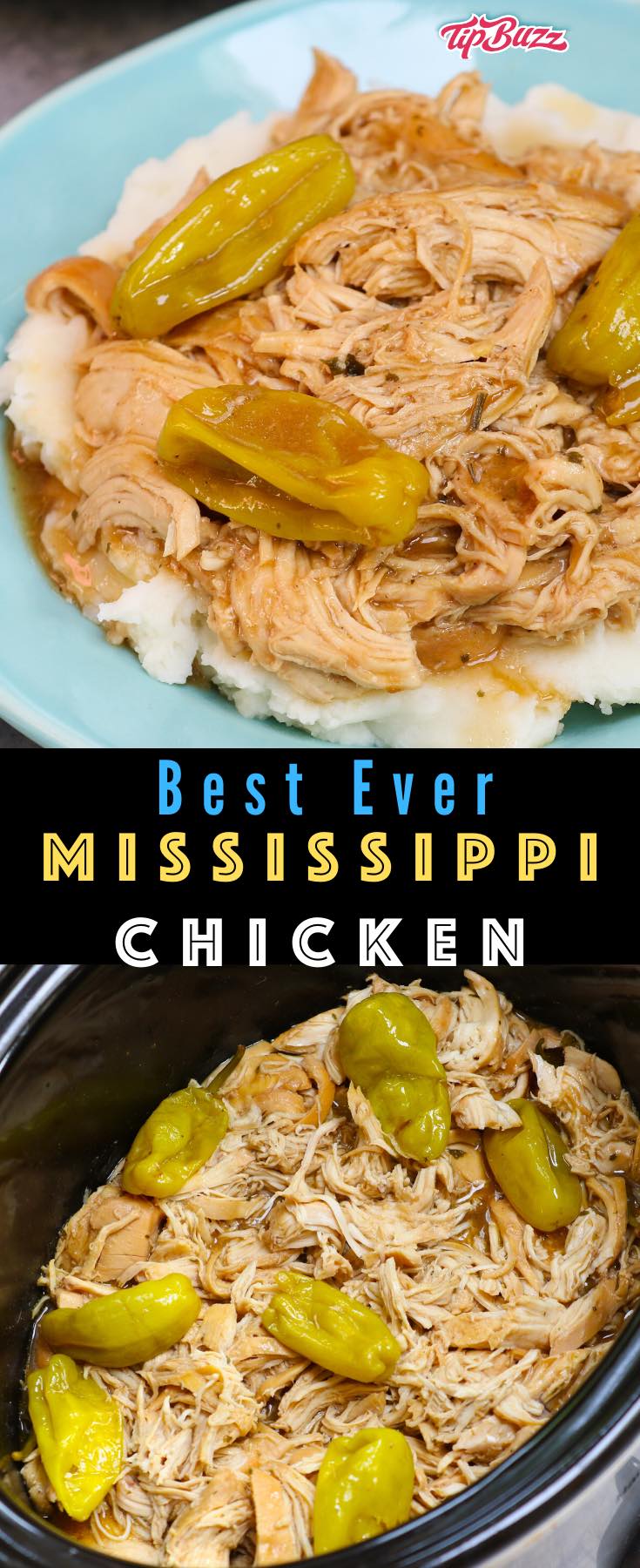 © TIPBUZZ. Images and text on this website are copyright protected. Please do not post or republish without permission. If you want to republish this recipe, please link back to this post. This post may contain affiliate links. Read the disclosure policy here.