Best Flank Steak Marinade
The Best Flank Steak Marinade that makes super juicy and flavorful flank steak every time! This marinade recipe is flavored with soy sauce, honey, lime, and garlic, tenderizing the meat while adding mouth-watering flavors. Marinated flank steak is easy to prepare and perfect for grilling, pan-frying, or broiling in the oven.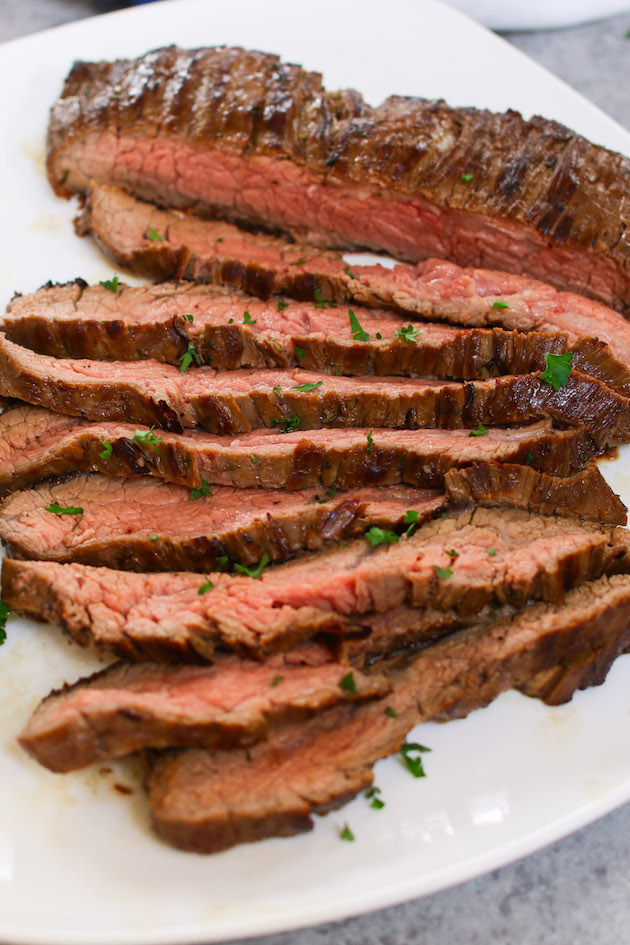 Best marinated flank steak recipe
Flank steak is a flavorful and budget-friendly cut that's also lean and tough. It therefore benefits from marinating to tenderize the meat before grilling. I've tested many marinades and this version produces incredibly tender steak while adding the most amazingly sweet, tangy and savory flavors. Marinated flank steak is ideal for making fajitas, tacos, sandwiches, and salads.
If the weather's not suitable for grilling, you can just as easily broil flank steak in the oven or pan-fry it in a cast-iron skillet or grill pan. This recipe works for both flank steak and skirt steak.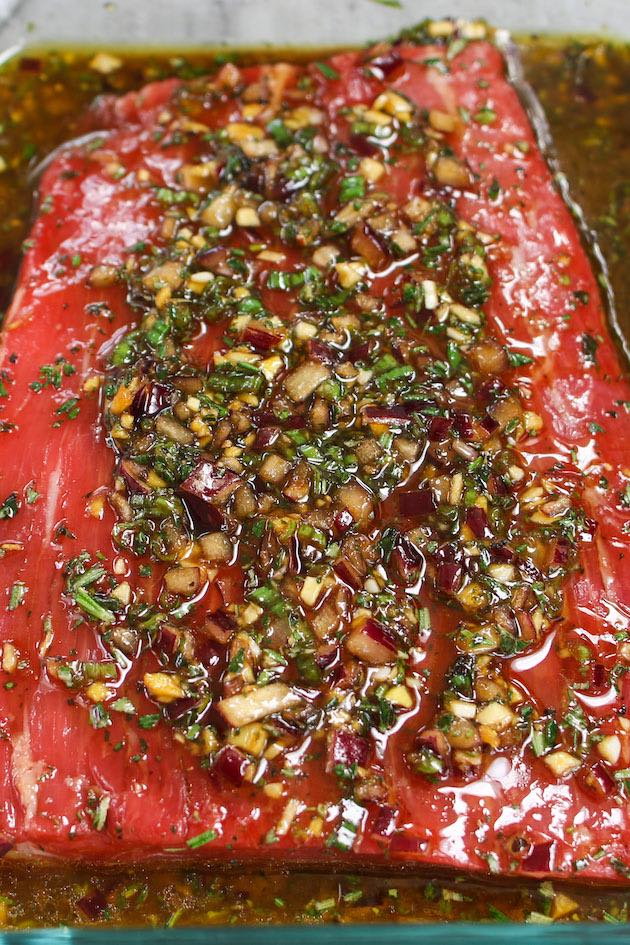 What ingredients go into flank steak marinade?
Soy Sauce– acts as a brine to tenderize the meat while adding savory flavor.
Olive Oil– also helps to make the meat tender. Note: AVOID extra virgin olive oil because it has a low smoke point. Regular refined olive oil works best!
Lime Juice – the acid in lime juice helps to break down proteins, tenderizing the meat. You can substitute red wine vinegar or balsamic vinegar.
Honey – this key ingredient balances out the acidity of the lime juice while helping to create a caramelized crust on the grill. You can substitute sugar if you prefer.
Worchestershire Sauce – its umami taste makes it great for marinades.
Garlic – use freshly minced garlic for the best taste.
Onions – fresh is better than onion powder.
Green Onions – cut into small chunks.
Italian Seasoning – you can substitute fresh thyme or rosemary.
Ground Black Pepper – freshly grounded is the best.
Salt – helps to bring out the best flavor of the steak.
How to make flank steak marinade?
Combine all of the marinade ingredients in a mixing bowl. Whisk until blended well.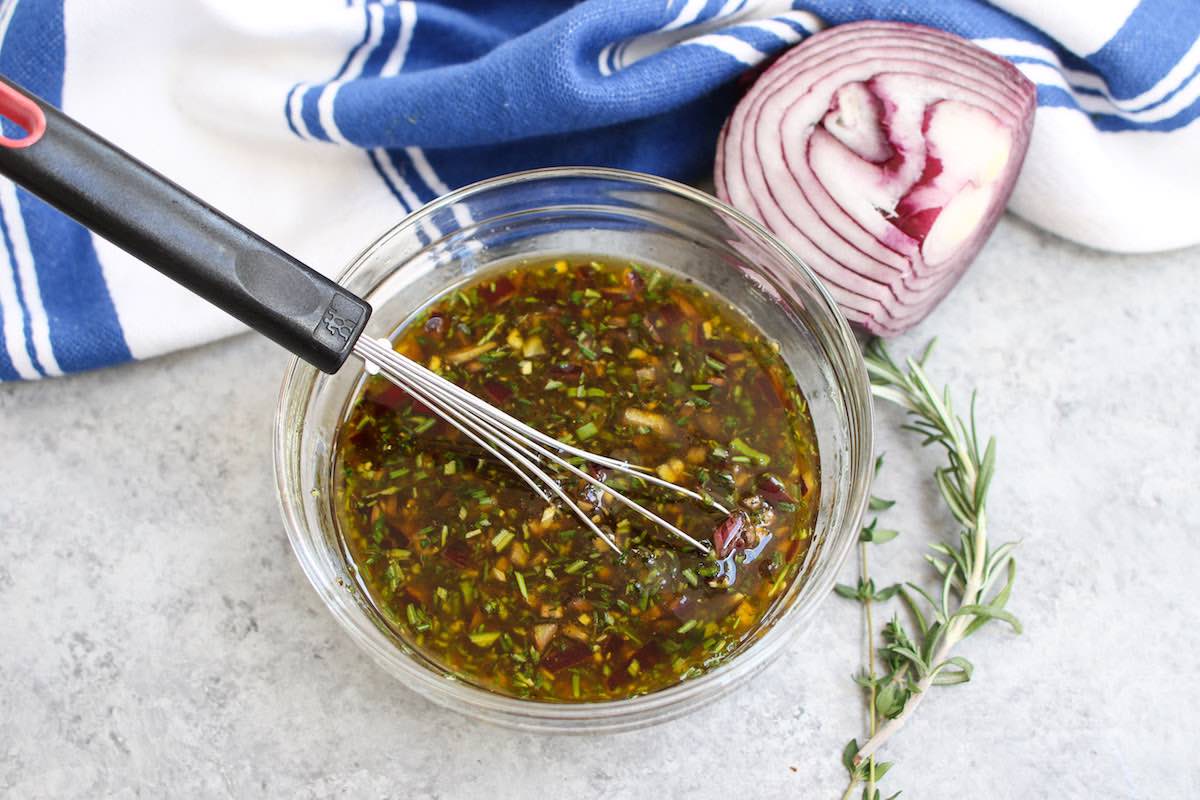 Pierce the flank steak all over with a fork and then place it in a large bowl or container.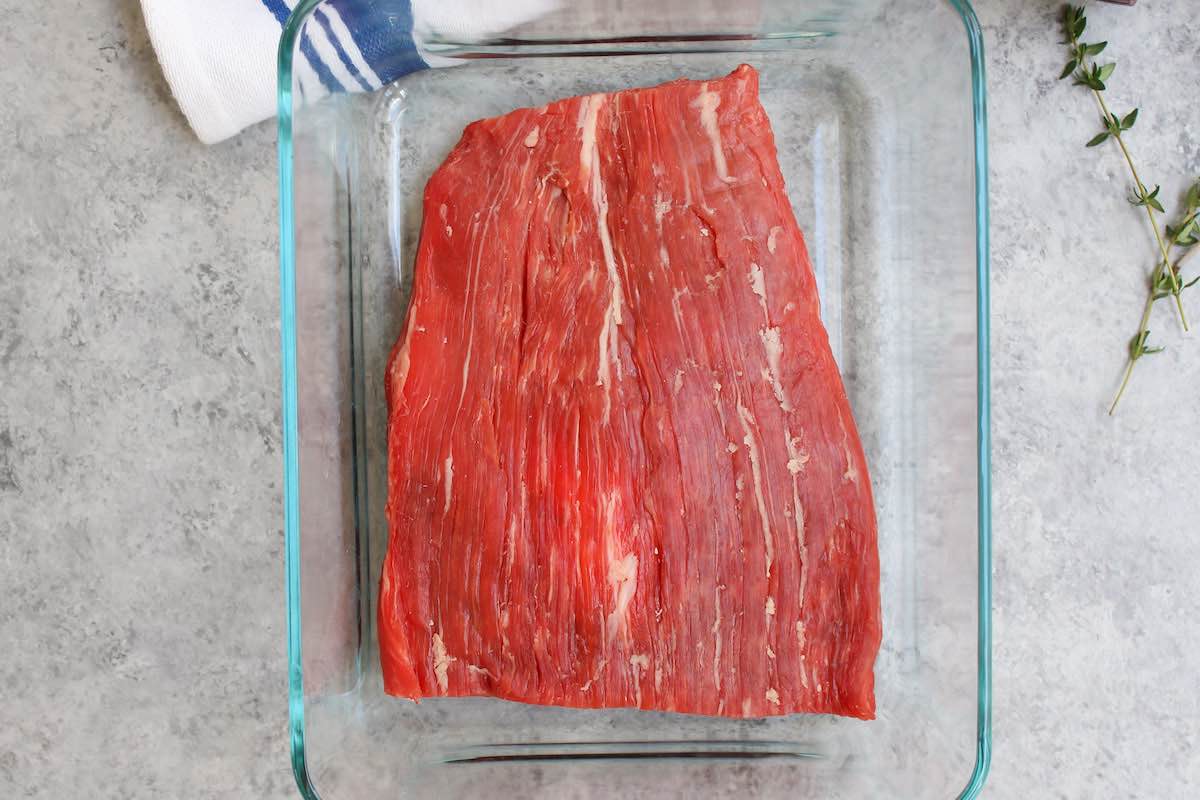 Add in the marinade, turning several times to coat all sides thoroughly. Cover with plastic wrap.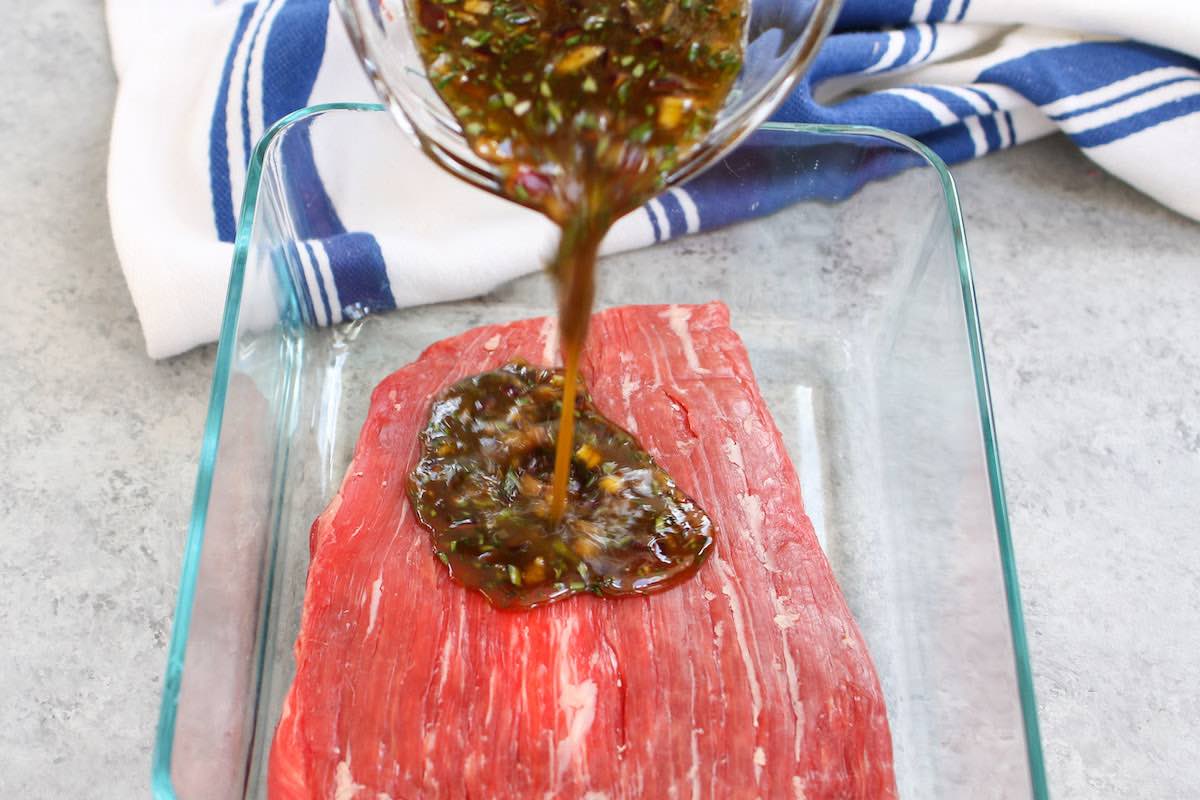 Let marinate in the refrigerator.
How long do you marinate flank steak?
Flank steak requires at least 2 hours of marinating time to become tender, although 30 minutes is sufficient for other cuts such as skirt steak. The maximum is 24 hours to avoid the meat becoming mushy.
Place the steak marinade in the fridge to keep the meat fresh. However, it's a good idea to remove from the fridge 30-60 minutes before grilling to bring the meat closer to room temperature for even cooking.
Grilled flank steak
Now that your flank steak is marinated, remove it from the bag and wipe off excess marinade. Heat your grill to medium-high (400°F / 204°C) and oil the grill grates. The typical flank steak is about 1-inch thick, so it'll take 3-4 minutes per side for medium-rare. Flip every minute for the best results.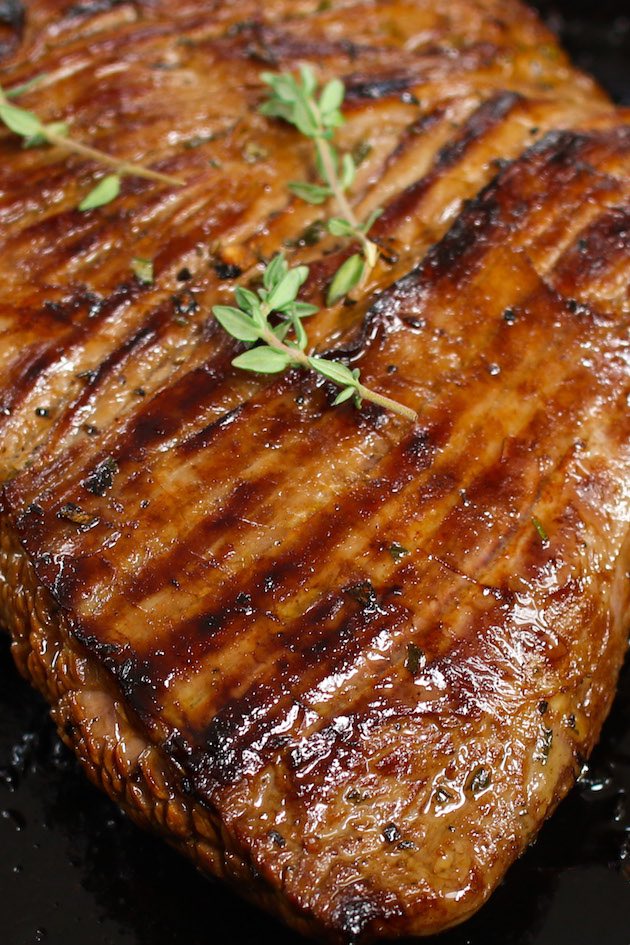 Cooking flank steak in the oven
If you decide to broil it in the oven, preheat oven broiler to high. Place the marinated steak on a baking sheet and bake for about 4-6 minutes per side for medium-rate (turning once halfway through).
How can I tell when the flank steak is done?
For a tough cut like flank steak, it's best to cook it to rare or medium-rare for maximum tenderness. DO NOT cook it beyond medium.
The best way to measure the doneness is by inserting an instant-read thermometer into the thickest part of the steak. Remove the steak from the heat when it's 5°F or 3°C below the target temperature, as the temperature will rise several degrees more while resting. For example, if you target medium-rare, remove the steak from the grill when the thermometer reads 130°F (54°C), as the final temperature will reach 135°F (57°C) during resting.
Let it rest covered with aluminum foil for 5-10 minutes, allowing the juices to flow back in.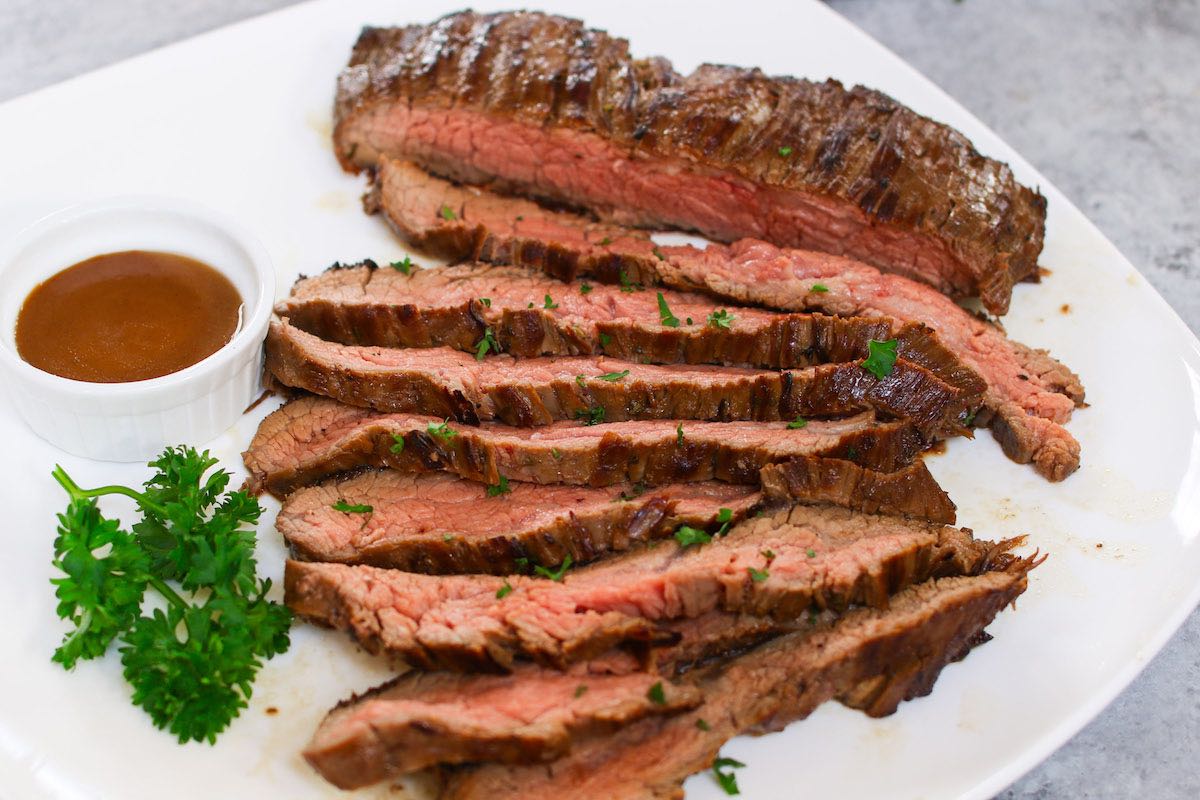 What to serve with flank steak?
Once your flank steak has rested, cut it against the grain to minimize chewiness. Flank steak goes great with potatoes or pasta. You can drizzle with Chimichurri Sauce or Steak Sauce. Sides I'd pair with:
Difference between flank steak and skirt steak 
Flank steak is sometimes confused with skirt steak. In spite of some common features, there are significant differences between the two. Both are long, oblong tough cuts of steak with strong beefy flavor.
Flank steak is wider and thicker than skirt steak. It's also more tender with less tough fibers than skirt steak. They're interchangeable in most recipes, but flank steak requires longer cooking time.
More delicious budget-friendly steak recipes:
Best Flank Steak Marinade
The Best Flank Steak Marinade makes super juicy and flavorful flank steak every time! Easy to prepare and perfect for grilling, pan-frying, or broiling in the oven.

Ingredients
1/3 cup soy sauce
½ cup olive oil
2 tablespoons honey
2 tablespoons Worchestershire sauce
1 tablespoon lime juice, or red wine vinegar / balsamic vinegar
½ small onion, small chunks
3 cloves garlic, minced (1 tablespoon minced garlic)
2 tablespoons green onions, minced
1 tablespoon Italian seasoning, or fresh thyme and rosemary
½ teaspoon black pepper
½ teaspoon salt
2 pounds flank steak, (907g)
Instructions
Add all ingredients except the steak to a mixing bowl. Whisk together until fully combined.

Pierce the flank steak with a fork all over, and then place in the bowl*.

Turn the steak several times to coat thoroughly.

Cover the bowl with plastic wrap and place in the fridge for 2-24 hours.

Remove from the fridge 30 minutes before grilling. Take the steak out of the marinade and remove excess moisture with paper towels. Discard the marinade**.

Preheat grill for medium-high heat, about 400°F (204°C).

Spray the grill grates with cooking oil spray.

When hot, place flank steak on the grill.

Grill the first side for 1 minute to sear. Then flip the steak and grill 1 minute on the other side.

Continue cooking for 2-3 minutes per PER SIDE to desired doneness***, flipping every minute for even cooking.

Remove to a cutting board and let the steak rest covered with aluminum foil for 5 minutes (this is so the juices retreat into the meat).

Slice thinly against the grain to serve.
Notes
*You can also marinate flank steak in a large zip-top bag instead of a bowl.
**Leftover marinade should be discarded since it has bacteria from the raw meat.
***Flank steak is best cooked medium-rare to medium; measure with an instant-read thermometer: remove from heat at 125°F (52°C) for rare, 130°F (54°C) for medium-rare and 140°F (63°C) for medium. The temperature will rise several more degrees while resting.
Avoid piercing/cutting into the steak during cooking, as juices will escape making the meat drier.
Nutrition Facts
Best Flank Steak Marinade
Amount per Serving
% Daily Value*
* Percent Daily Values are based on a 2000 calorie diet.
Please read our nutrition disclaimer.
Cooking Tools:

© TIPBUZZ. Images and text on this website are copyright protected. Please do not post or republish without permission. If you want to republish this recipe, please link back to this post. This post may contain affiliate links. Read the disclosure policy here.