Easy Flank Steak Marinade
This flank steak marinade makes super juicy and flavorful grilled flank steak! Soy sauce, lime juice and vinegar come together to tenderize the meat while adding mouthwatering flavors. This flank steak recipe will create lasting memories during grilling season!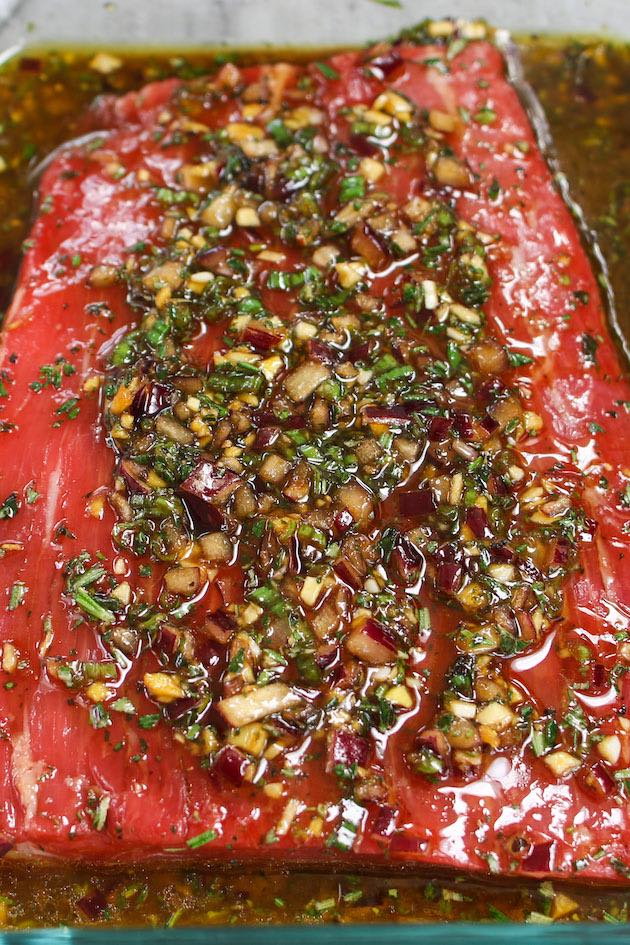 Nothing compares to flank steak when grilling season arrives! This quick flank steak marinade introduces mouthwatering flavors while tenderizing the meat at the same time. Everyone loves this flank steak recipe, including kids and picky eaters!
If the weather's not suitable for grilling, you can just as easily broil flank steak in the oven or pan fry it in a cast iron skillet or grill pan.
WHAT IS FLANK STEAK?
Flank steak is a thin cut of beef coming from the belly of the steer. It's lean and flavorful meat that's one of the more budget-friendly cuts of beef. The only catch is that it needs marinating to become tender.
Flank steak is typically grilled at high heat to medium rare doneness and then sliced thinly across the grain. You can eat flank steak on its own, with steak tacos and steak fajitas being some other popular flank steak recipes.
HOW TO MARINATE STEAK
The best steak marinade will include acidic ingredients such as lemon/lime juice, vinegar, soy sauce and/or red wine to break down the muscle fibers in the meat. You'll also need seasonings like garlic, herbs and honey to build a delicious flavor contrast.
Combine the marinade ingredients in a bowl large enough to accommodate your steaks easily. Whisk together and add the steaks, turning several times to coat all sides thoroughly. Cover the bowl with plastic wrap and refrigerate until ready for use.
When it's time to cook, remove the steak and let the excess marinade drip off before cooking. Otherwise, the marinade will cause the outside of the flank steak to char.
Leftover marinade should be discarded, since it has bacteria from the raw meat. However, it is possible to make a delicious sauce with it by boiling for several minutes in a saucepan before serving.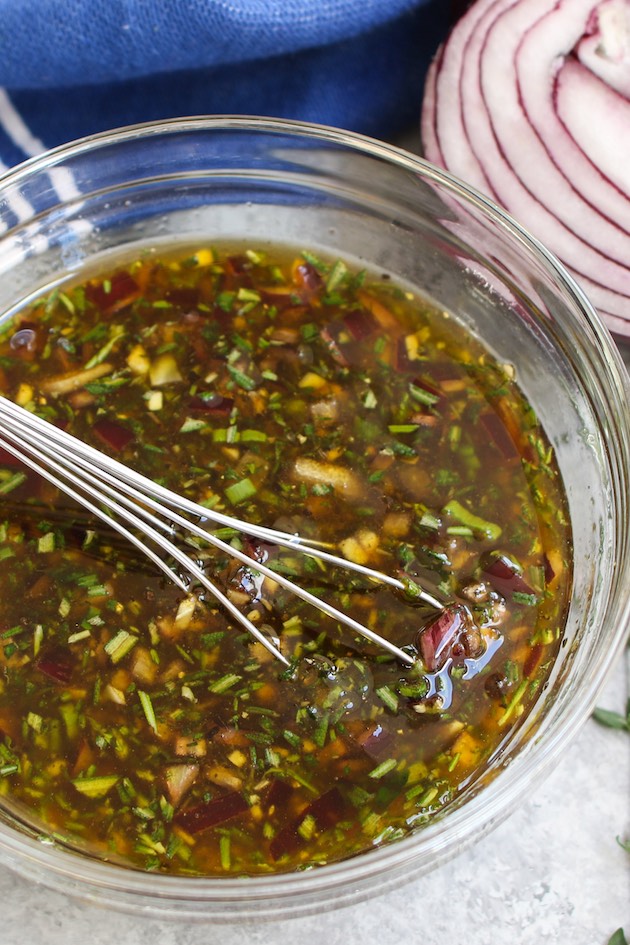 HOW LONG TO MARINATE STEAK
Flank steak requires at least 2 hours of marinating to become tender, although 30 minutes is sufficient for other cuts such as sirloin. The maximum is 24 hours to avoid the meat losing its texture.
Place the marinating steaks in the fridge to keep the meat fresh. However, it's a good idea to remove from the fridge 30-60 minutes before grilling to bring the meat closer to room temperature for even cooking on the grill.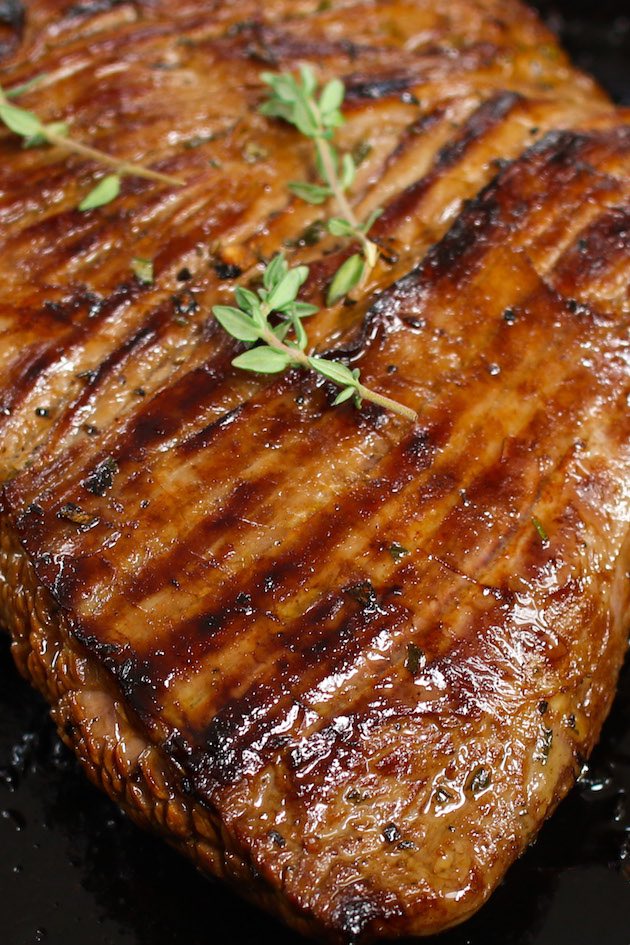 OTHER STEAK MARINADES
While this recipe is essentially an Asian flank steak marinade based on soy sauce, you can experiment with these variations as well:
Flank Steak Marinade Lime flavored: Follow the master recipe, but omit soy sauce and Worchestershire sauce, replacing with 1/3 cup lime juice (freshly squeezed) and 1/2 cup chopped fresh cilantro.
Mexican Flank Steak Marinade: Follow the master recipe, but omit Italian seasoning and Worcestershire sauce and add 1 tbsp cumin, 1/4 cup tbsp chopped fresh cilantro and red pepper flakes (or cayenne) to taste.
Balsamic Flank Steak Marinade: Follow the master recipe, but replace soy sauce with balsamic vinegar and replace lime juice with 2 tbsp soy sauce. Note: this is also a lower-sodium recipe.
Flank Steak Marinade
This flank steak marinade makes the juiciest and most flavorful grilled flank steak! This flank steak recipe uses soy sauce and other ingredients to tenderize the meat and produce an unforgettable meal.
Ingredients
1/3 cup soy sauce
½ cup olive oil
2 tbsp Worchestershire sauce
¼ minced onion
2 tbsp honey
2 tbsp green onions, minced
3 large cloves garlic, minced
1 tbsp Italian seasoning, or fresh thyme and rosemary
½ tsp black pepper
½ tsp salt
1 tbsp lime juice, or red wine vinegar
2-4 lb flank steak
Instructions
Add all ingredients except the steak to a large bowl. Whisk together until fully combined.

Add the steak to the bowl and turn several times to coat thoroughly.

Cover the bowl in plastic wrap and place in the fridge for 2-24 hours.

Remove the steak from the fridge. Preheat grill for medium-high heat, about 400°F (204°C).

Spray the grill grates with cooking oil spray.

Place flank steak on the grill, discarding the marinade or boiling it down in a saucepan to make sauce.

Grill for 2 minutes to sear. Then flip the steak and grill 2 minutes more on the other side.

Lower the heat to low and continue cooking for 2-3 more minutes to desired doneness (see note).

Remove to a cutting board and let the steak rest covered for 5 minutes (this is so the juices retreat into the meat)

10. Slice thinly across the grain and serve.
Notes
You can also marinate the flank steak in a large ziptop bag instead of a bowl.
Preheat the grill so the grates are hot before putting the steak on in order to get a good sear.
Flank steak is best cooked medium rare to medium; measure with an instant-read thermometer: 125°F (52°C) for rare, 130°F (54°C) for medium rare and 140°F (63°C) for medium. The temperature will rise several more degrees while resting.
Avoid piercing/cutting into the steak while cooking, as the juices will escape causing the meat to dry out.
Slice flank steak easily using a sharp carving knife or a large serrated knife.
Nutrition Facts
Flank Steak Marinade
Amount Per Serving
Calories 270 Calories from Fat 99
% Daily Value*
Fat 11g17%
Saturated Fat 3g15%
Cholesterol 90mg30%
Sodium 444mg19%
Potassium 562mg16%
Carbohydrates 8g3%
Sugar 6g7%
Protein 32g64%
Vitamin A 35IU1%
Vitamin C 1.2mg1%
Calcium 51mg5%
Iron 2.9mg16%
* Percent Daily Values are based on a 2000 calorie diet.
Please read our nutrition disclaimer.
EQUIPMENT FOR MAKING FLANK STEAK
More steak recipes:
View all steak recipes
© TIPBUZZ. Images and text on this website are copyright protected. Please do not post or republish without permission. If you want to republish this recipe, please link back to this post. This post may contain affiliate links. Read the disclosure policy here.