Easy Pan Seared Rib Eye Steak
Rib Eye Steak that's pan-seared to perfection is unparalleled with its rich flavors and beautiful marbling. Rib eyes are easy to make in 20 minutes for a quick weeknight dinner or a festive occasion, so skip the steakhouse and make your own delicious steak!
Rib eye steaks are right up there with filet mignon, T-bone and porterhouse as one of the finest steaks you can buy. The best part? Rib eyes are easy to find and will literally melt in your mouth!
Rib-eye is the same meat used for prime rib, but cut as a steak. It's one of the most expensive cuts, but also the most flavorful. Consider a sirloin steak if you want a less expensive option that still has lots of flavor.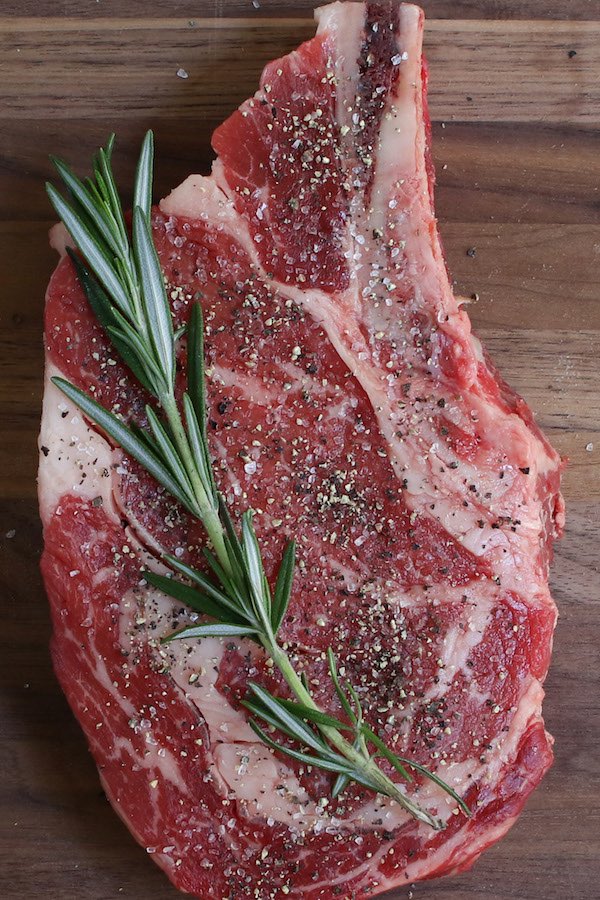 How to Buy Rib Eye Steak
You can use either a bone-in rib eye or boneless rib-eye steaks, also called a Demonico steak.
You can usually find rib eyes at most meat counters, but it's still a good idea to order ahead to get exactly what you want. A 1 ¼ – 1 ½ inch thick rib eye steak is ideal.
For an impressive rib eye for a party, there's the tomahawk steak, which is cut from the fore-rib with an entire bone left to make it look like an axe (hence the name). Tomahawks are 2-3 inches thick with 2-3 lbs of meat, and will usually cost upwards of $50!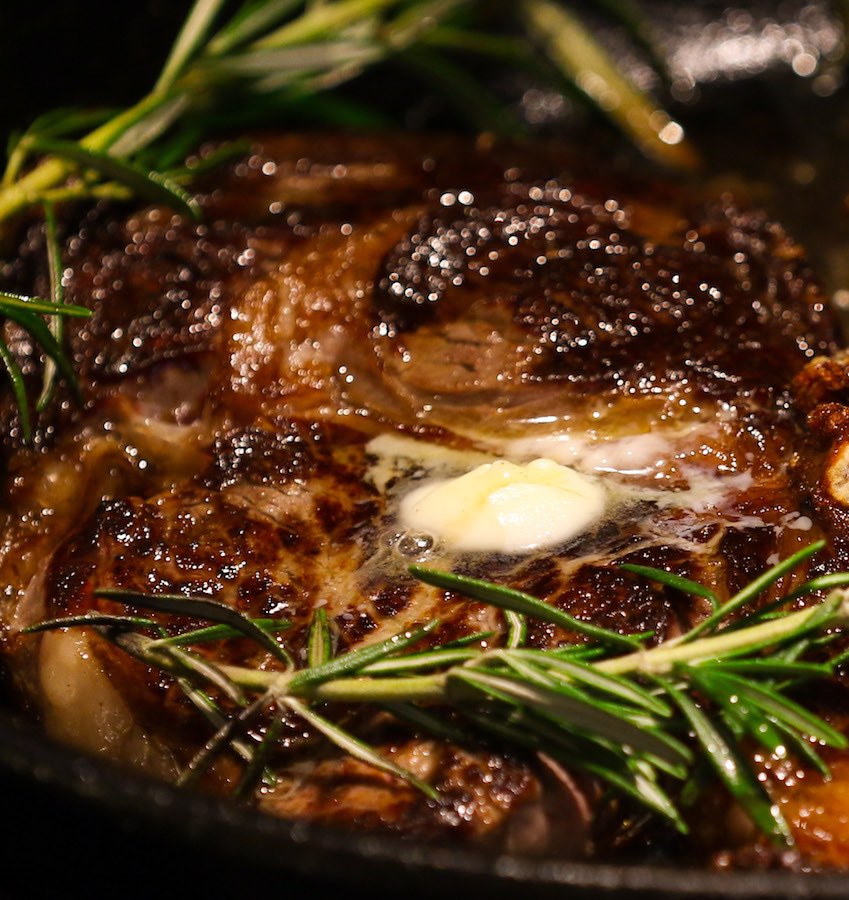 Tips and Secrets for Cooking Rib Eye Steak
Remove the steaks from the fridge 30 minutes before cooking. This steps allows the meat to warm up slightly for more tender meat, and is especially important for rare steaks.
Be sure to season with salt before cooking. You don't need a lot of salt, but just some to get the most tender meat.
The safe internal temperature for beef according to the FDA is 145°F, which is about medium doneness. It's best to use an instant meat thermometer to avoid losing juices from cutting into the meat.
After cooking, let the steaks rest for 5 minutes before serving to allow the juices to retreat back into the meat.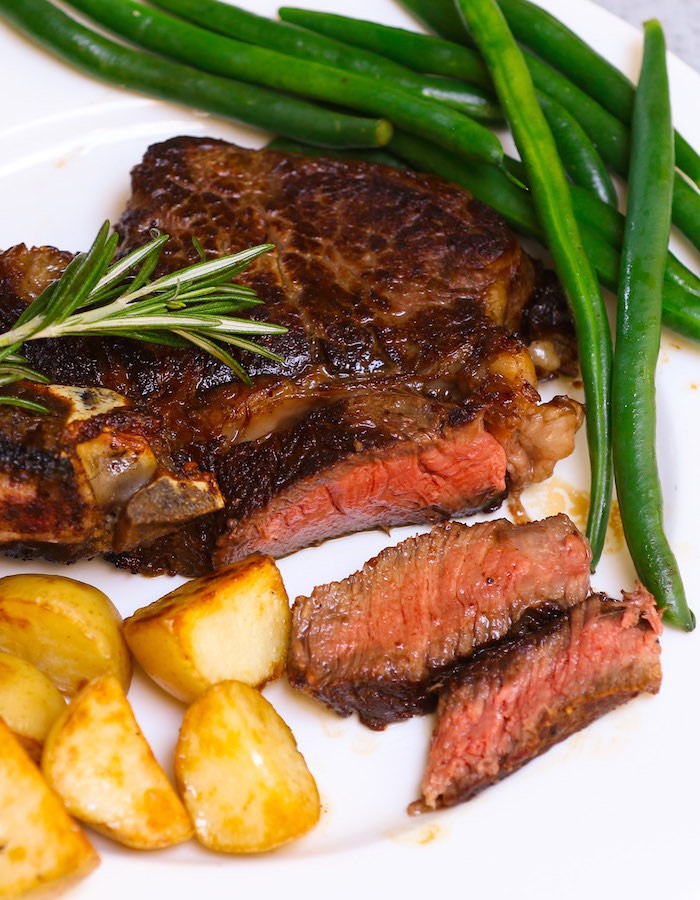 Easy Pan Seared Rib Eye Steak
Pan Seared Rib Eye Steak is unparalleled with its beautiful marbling and bold flavors. Rib eyes are easy to make in 20 minutes for a quick weeknight dinner or a festive occasion, so skip the steakhouse and make your own delicious steak!
Ingredients
2 rib eye steaks, bone-in or boneless, cut 1 ¼ - 1 ½ inch thick
1 tsp coarse salt
black pepper, to taste
1 tbsp olive oil
1 tbsp unsalted butter
fresh rosemary or thyme, garnish - optional
Instructions
Place steaks on a work surface and pat dry with paper towels.

Sprinkle salt and pepper onto both sides of the steak, and rub it in with your hands.

Set aside for up to 30 minutes (see note), and prepare the rest of your meal in the meantime.

Place a cast iron skillet over medium-high heat. When hot, add the oil and the steaks.

Cook for 3-4 minutes. Flip the steaks and add the butter on top along with the optional fresh herbs. Cook another 3-4 minutes.

Remove to a plate and cover lightly with foil to rest for 5 minutes. Serve and enjoy!
Notes
Letting the beef warm up slightly will produce a juicier steak, since less cooking time is required to reach your desired doneness.
Nutrition
Calories: 235kcal, Protein: 24g, Fat: 14g, Saturated Fat: 6g, Cholesterol: 84mg, Sodium: 65mg, Potassium: 386mg, Vitamin A: 3.5%, Vitamin C: 0.3%, Calcium: 3.2%, Iron: 10.2%
More steak recipes?
View all steak recipes
© TIPBUZZ. Images and text on this website are copyright protected. Please do not post or republish without permission. If you want to republish this recipe, please link back to this post. This post may contain affiliate links. Read the disclosure policy here.