How to Cook Crab Legs
Learn how to cook crab legs for a delicious meal bursting with fresh seafood flavors! The techniques are the same whether you're cooking king crab or snow crab legs. Preparation only takes less than 15 minutes whether you're boiling, steaming or baking. Serve with melted butter for dipping!
I didn't really appreciate crab legs until visiting Seattle's Pike Place market, which has enormous displays of king crab beckoning passersby. When I stopped to take a look, the fishmonger told me I'd love them and oh he was so right! Real crab is in a class of its own that imitation crab cannot match.
Crab legs have delicate, sweet meat that's unparalleled. They're perfect for special occasions like birthdays, anniversaries or date nights. The best part? They're surprisingly easy to make. If you're looking for a more budget-friendly alternative, try making a shrimp boil instead.
Serve crab legs with lemon wedges and melted butter or clarified butter for dipping and side dishes like rice (or cauliflower rice for a low-carb option) or broccoli.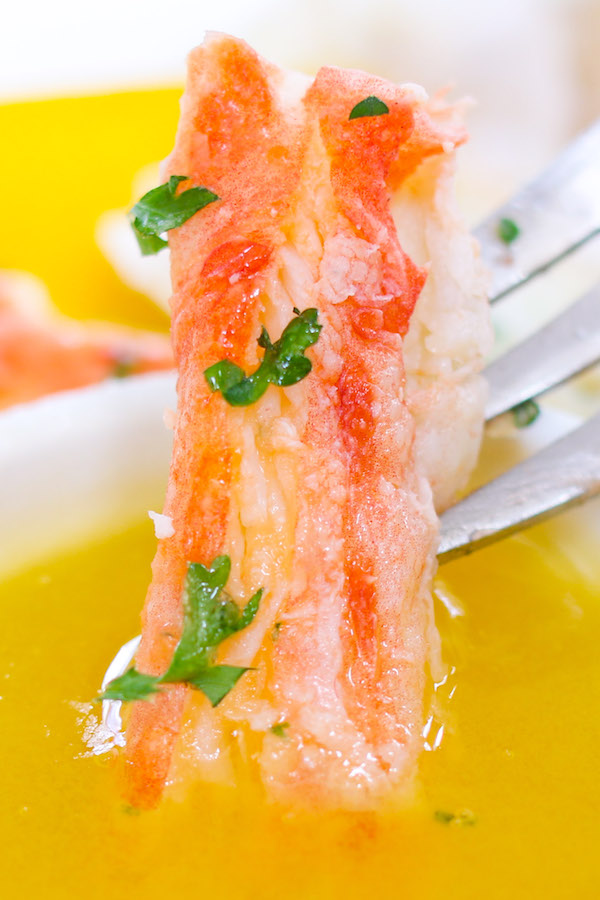 WHAT CRAB LEGS ARE THE BEST?
There are two options when you go shopping:
King Crab Legs: These giant crabs produce the largest, meatiest legs that are the most expensive and sought-after! American king crab comes exclusively from Alaska with other catches coming from Russia and Argentina. The legs are jumbo sized and sold in 1 lb (450 gram) packages or individually at seafood markets.
Snow Crab Legs: Snow crabs are what you'll find on the menu at restaurants like Red Lobster. They're very flavorful yet smaller than king crab and less expensive. Typically they're available in clusters with some body meat attached to legs and claws.
Of all the types of crab legs king crab has the best flavor and texture with large chunks of meat that come out the shells easily! Snow crab meat tends to shred, so you have to sometimes pick at it even though the flavor is fabulous.
HOW MANY CRAB LEGS SHOULD I BUY?
Plan on buying about 3/4 lb (340 grams) of crab legs per person, or 3-5 medium-size legs each. That means 3 lb (1.4 kg) is enough for 4 people as a main course.  You may wish to increase that amount if you're entertaining or decrease if you're serving other dishes with it.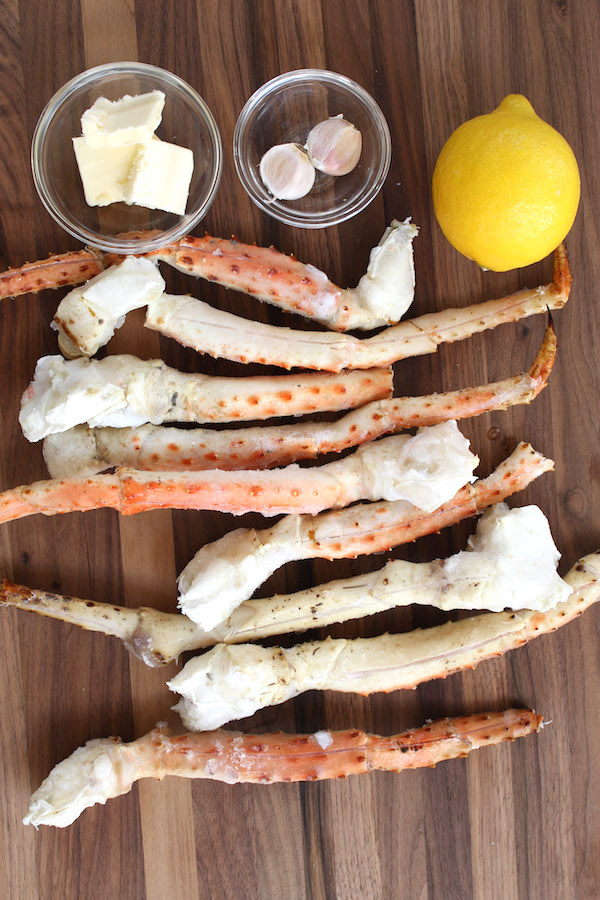 HOW TO COOK FROZEN CRAB LEGS
Most crab legs you'll find have been caught, cooked and flash frozen on the fishing boat to preserve their delicate flavors. That means you're simply thawing and reheating them to get them ready to serve.
Here's how to reheat crab legs using three different methods:
Boiling crab legs
This is the most common method used in restaurants, and it's very simple. Just fill a 16-quart stock pot halfway with cold water and bring to a boil. Add the crab legs and boil gently for approximately 5 minutes depending on size.
If you're wondering about how to season crab legs, you can always add some crab boil seasoning to the pot for extra flavor.
Steaming crab legs
Some people feel the juices are better retained by not immersing the crab legs in water and prefer steaming. You'll need a large steamer basket fitted into a large pot. Add the crab legs and steam for 4-5 minutes depending on size.
Baking crab legs
When you want to introduce other flavors like garlic butter into the cooking process, baking is the best choice. It's also the best option if you don't have the large stockpot required for boiling or steaming.
Slice the crab legs in half, brush with flavors or sauces, and bake on a sheet pan for 7-8 minutes.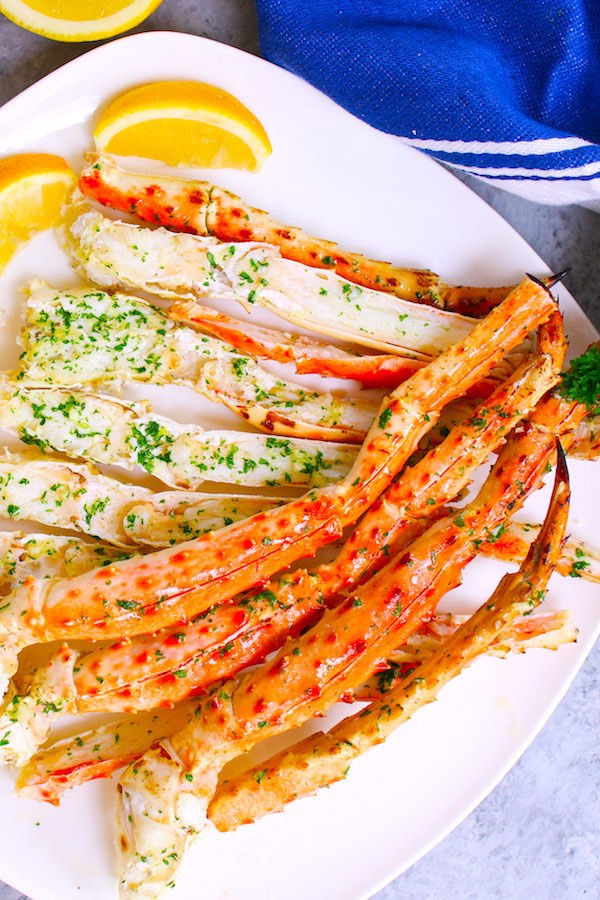 If you're wondering about how to cook crab legs by grilling or sautéeing, I find it's easy to overcook them and get a chewy texture. So I recommend using one of the methods above.
TIPS FOR COOKING CRAB LEGS
When shopping look for crab legs without excess ice crystals inside the package, which may be an indication of thawing and refreezing.
Ensure the crab legs are thawed completely before use. Thaw frozen crab legs for 3-4 hours at room temperature or in the fridge overnight. Use them promptly after thawing for the best flavor.
When boiling, you want to use a large 12-16 quart (12-16 liter) stockpot to comfortably accommodate 2-3 lbs (1-1.5 kg) of crab legs. They should be fully immersed in order to heat evenly. If the crab legs don't fit comfortably into one pot, you may need to cook in batches.
Try to consume all the crab legs in one sitting, as the meat dries out as it stands. Store leftovers in an airtight container in the fridge for up to 2 days to use in a seafood salad or sandwiches.
Garlic Butter Crab Legs
Learn how to cook crab legs with this easy garlic butter crab legs recipe baked to perfection in just 15 minutes. The perfect fancy dinner for a special occasion like an anniversary, birthday or date night!
Ingredients
3 lbs crab legs, king crab or snow crab
1/4 cup unsalted butter, melted (see note)
1 lemon, cut into wedges
fresh parsley, minced – optional
Instructions
Ensure your crab legs are thawed completely before use (see note).

Preheat oven to 375°F (191°C). Set aside a large baking sheet.

Using a pair of kitchen shears, cut the crab legs in half to expose the flesh.

Place the crab legs halves on the baking sheet with flesh facing up.

Brush the crab legs with melted butter if you wish.

Bake for 10 minutes or until fragrant.

Remove from oven and garnish with optional parsley.

Serve with lemon wedges and enjoy!
Notes
To quickly thaw crab legs, immerse in a large pot of room temperature water for 30-60 minutes.
For extra flavor, consider using clarified butter or garlic butter for brushing/dipping instead of melted butter. I recommend using unsalted butter, since the crab legs are already quite high in sodium.
Nutrition
Calories: 180kcal, Carbohydrates: 2g, Protein: 15g, Fat: 12g, Saturated Fat: 7g, Cholesterol: 66mg, Sodium: 713mg, Potassium: 210mg, Vitamin A: 375IU, Vitamin C: 20.3mg, Calcium: 50mg, Iron: 0.7mg
EQUIPMENT FOR COOKING CRAB LEGS
© TIPBUZZ. Images and text on this website are copyright protected. Please do not post or republish without permission. If you want to republish this recipe, please link back to this post. This post may contain affiliate links. Read the disclosure policy here.