Pan Seared Filet Mignon
This is the perfect filet mignon pan-seared in a cast iron skillet with an oven finish. You can skip the grill because this foolproof recipe produces incredibly tender meat with a beautiful caramelized crust in just 15 minutes!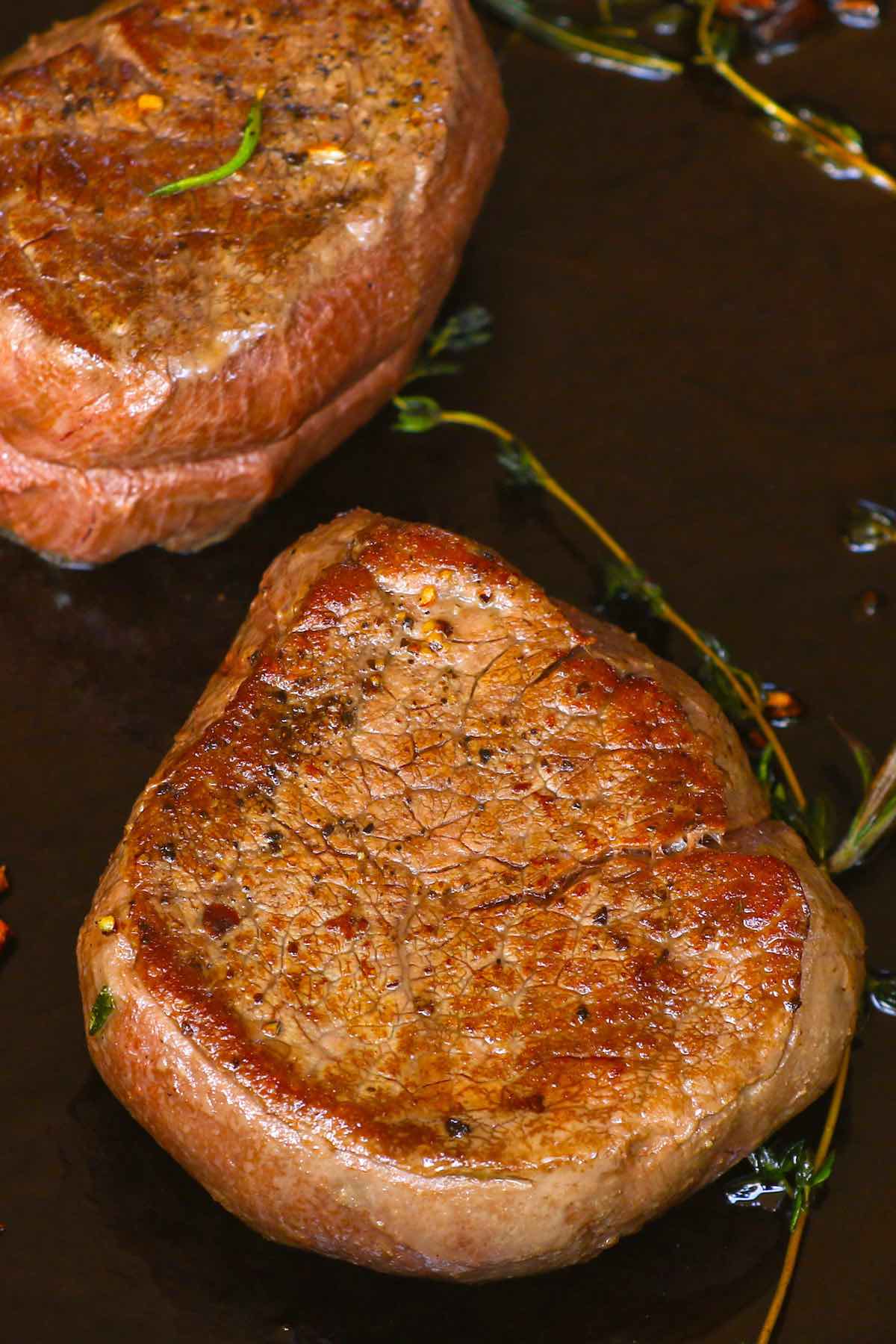 Nothing says celebration like a filet mignon, the most tender of all beef cuts! It makes a perfect meal for two on special occasions like birthdays, date nights, Valentine's Day and more.
We're preparing it just like in steakhouses, using a simple seasoning of coarse salt and freshly ground pepper to bring out the delicate flavors of the meat. Then we're pan searing at high temperature with an oven finish so the meat literally melts in your mouth.
What is Filet Mignon?
Filet mignon is the most tender steak available, and its name means "dainty fillet" in French. It comes from the tenderloin in the steer's loin section, sometimes being called a tenderloin steak or a chateaubriand when cut from the center.
The taste is more delicate than the rich, beefy flavors found in a ribeye or T-bone. According to the USDA a 6-oz filet mignon has 405 calories, similar to other high-end steaks.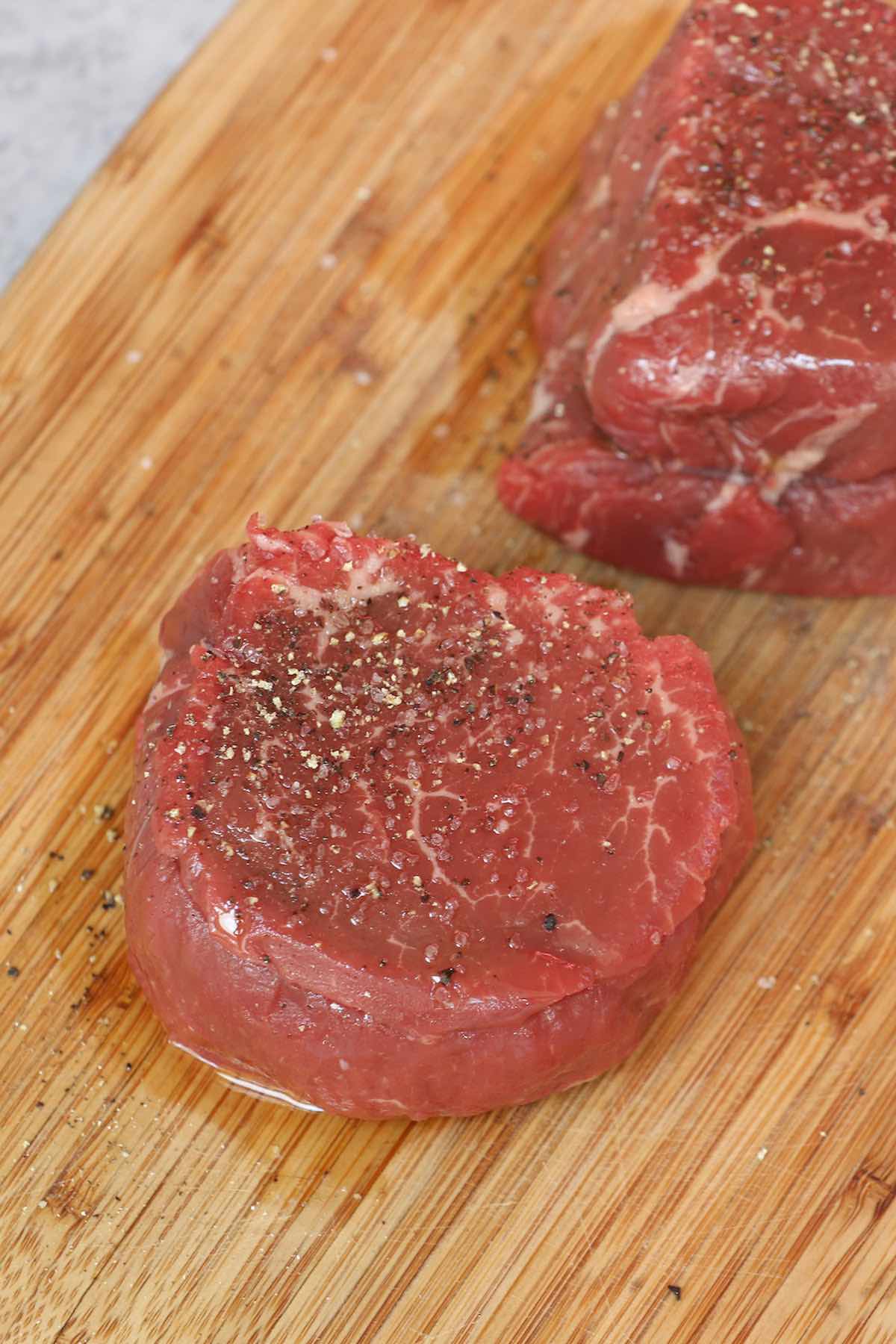 How to Cook the Perfect Filet Mignon
Before starting, I recommend taking the filet out of the oven 30-60 minutes ahead of time. With the meat closer to room temperature, it will cook more evenly for the most tender results.
Now preheat your oven to 425°F and place a cast iron pan over high heat on the stovetop for 5-10 minutes until blazing hot. Make sure your ventilation exhaust fan on, as it can get a little smokey!
During this time, pat dry the filet mignon with paper towels to remove moisture that could interfere with searing. Rub the meat with oil followed by coarse salt and pepper.
Place the filet mignon in the hot pan to sear undisturbed for 2 minutes per side. Then add butter and optional herbs and transfer to the oven to finish cooking, about 4-5 minutes for medium rare (see details below).
Remove the meat to a plate to rest for 5 minutes tented with foil to keep warm. The temperature will rise 5-10°F more while the juices retreat back into the meat for maximum tenderness. Don't skip this step!
How Long to Cook Filet Mignon in Oven
Cooking time depends on the thickness of the filet mignon and your desired doneness. The best way to check is by measuring the internal temperature with an instant-read thermometer, and here are guidelines for a 1 ½ inch thick filet mignon:
| | | | |
| --- | --- | --- | --- |
| Doneness | Time in Oven | Remove from Oven | Final Temp After Resting |
| Rare (cool red center) | 2-3 minutes | 120-125°F | 130°F |
| Medium rare (warm red center) | 4-5 minutes | 125-130°F | 135°F |
| Medium (warm pink center) | 5-6 minutes | 130-135°F | 140°F |
| Well done (no pink) | 8-10 minutes | 150-155°F | 160°F |
Note that you will need to add 2-3 more minutes for each additional 1/2 inch thickness. Also, the USDA states the safe final temperature is 145°F, although it's not always observed.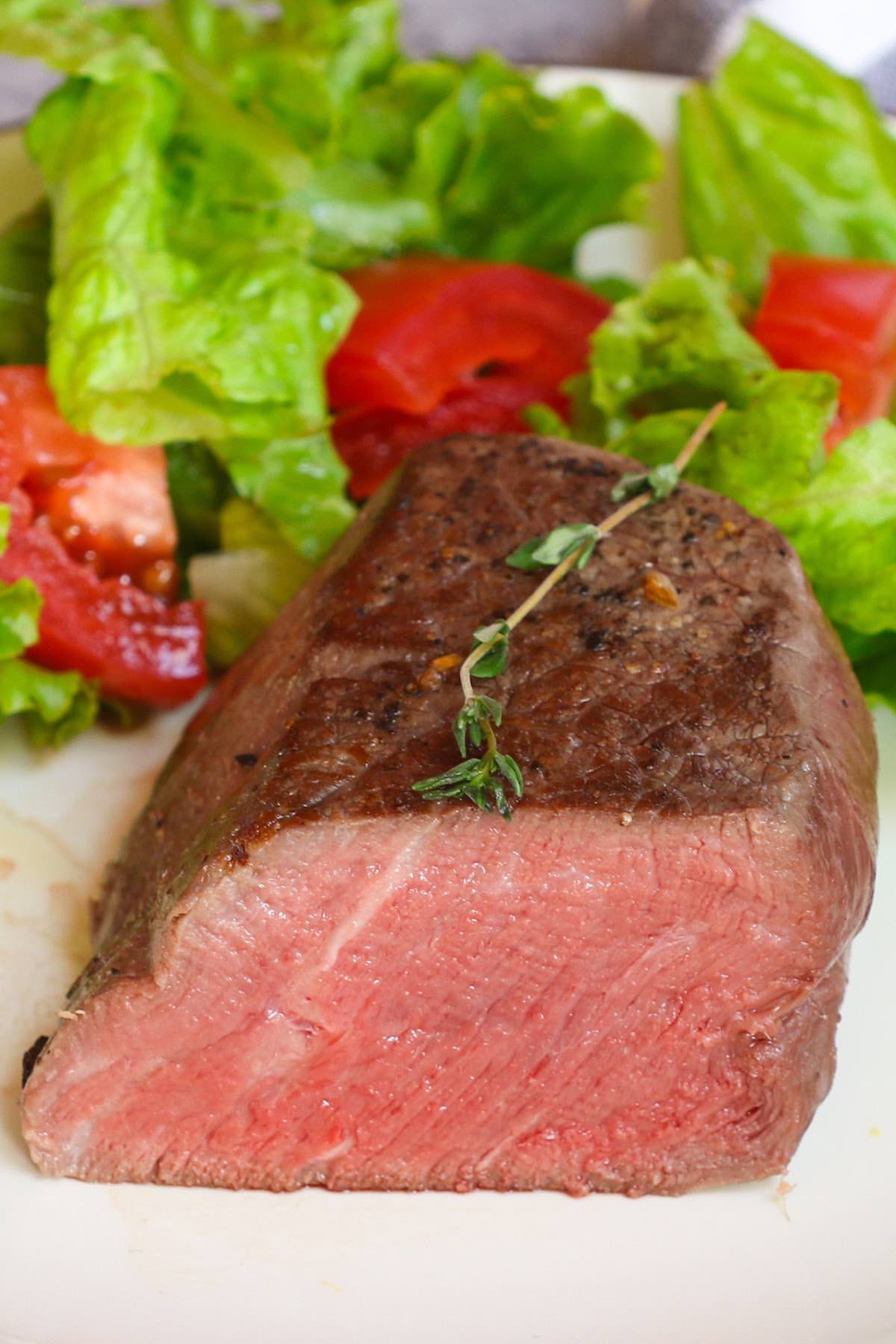 Do I Need to Use a Cast Iron Skillet?
The reason for a cast iron skillet is it can withstand high heat and go between the stovetop and into the oven. If you don't have one, just use another ovenproof skillet (no plastic handle).
What to Serve with Filet Mignon
This fancy cut is best served with sides such as boiled potatoes, mashed potatoes, baby carrots, broccoli or a garden salad.
More Steak Recipes:
View all steak recipes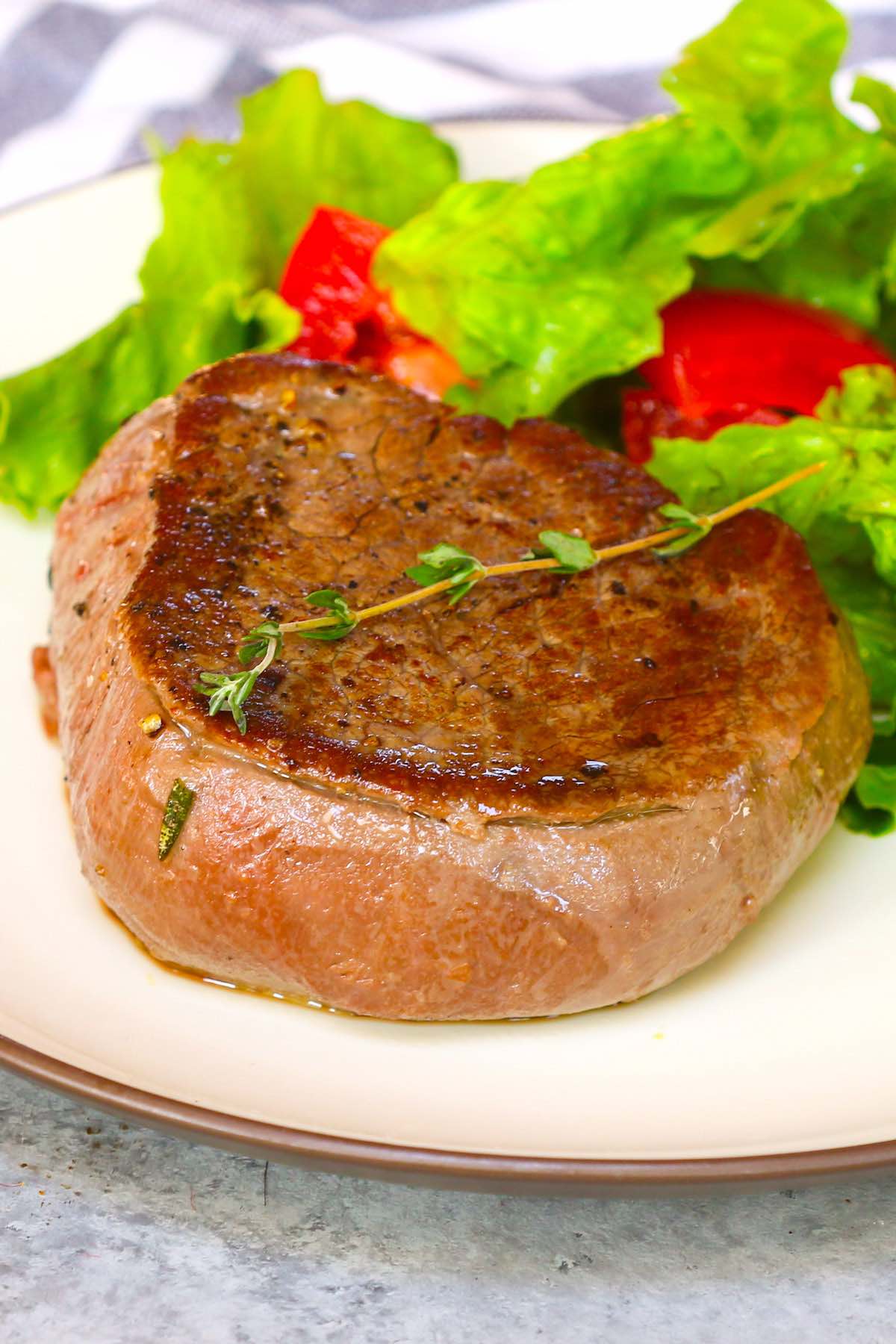 Cast Iron Filet Mignon
Filet mignon pan-seared at high temperature with an oven finish for a tender steak with a beautiful caramelized crust!
Ingredients
1 1/2 pounds filet mignon, four 6-oz filets, 1 1/2 inches thick or similar
2 tablespoons canola oil, see note
1 teaspoon coarse salt, or to taste
1 teaspoon black pepper, freshly ground, or to taste
2 cloves garlic, minced (2 teaspoons)
1 tablespoon unsalted butter
fresh rosemary, or thyme (optional)
Instructions
Remove the filet mignon from the refrigerator 30-60 minutes ahead of time, so they can reach room temperature for more even cooking.

Preheat your oven to 425°F, putting the rack in the middle position.

Place a large cast-iron skillet over high heat and allow to heat for 5 minutes until very hot, using oven mitts at all times.

Pat dry the steak with paper towels to remove excess moisture. Then rub on all sides with 1 tablespoon of oil followed by the salt and pepper.

Add the remaining 1 tablespoon oil to the pan and swirl to coat.

Carefully place the filet mignons in the pan using tongs. Sear the first side for 2 minutes undisturbed. Then flip and sear the other side for 2 minutes more.

Add the garlic, butter and optional rosemary to the pan. Then transfer to the oven.

Bake for without flipping for about 2-10 minutes depending on your desired doneness, measuring the internal temperature using an instant-read thermometer. Medium rare will measure 125-130°F and take 4-5 minutes although times vary by thickness (see note).

Let the filet rest for 5 minutes on a plate tented with foil to keep warm. This step allows the juices to retreat back in to the meat for maximum tenderness before serving.
Notes
Filets: Cuts range in thickness from 1 inch to 2 inches. You can use any thickness you like, but note each additional 1/2 inch will add 2-3 minutes to the time in the oven.
Oil: Any high-temperature oil will work, including canola, sunflower and refined olive oil (not extra virgin). 
Doneness: Rare is 120-125°F, Medium rare is 125-130°F, Medium is 130-135°F, Medium-well is 140°F and Well-done is 150°F. The temperature will rise 5-10°F more from these levels while resting.
Nutrition Facts
Cast Iron Filet Mignon
Amount per Serving
% Daily Value*
* Percent Daily Values are based on a 2000 calorie diet.
Please read our nutrition disclaimer.
Recipe tools: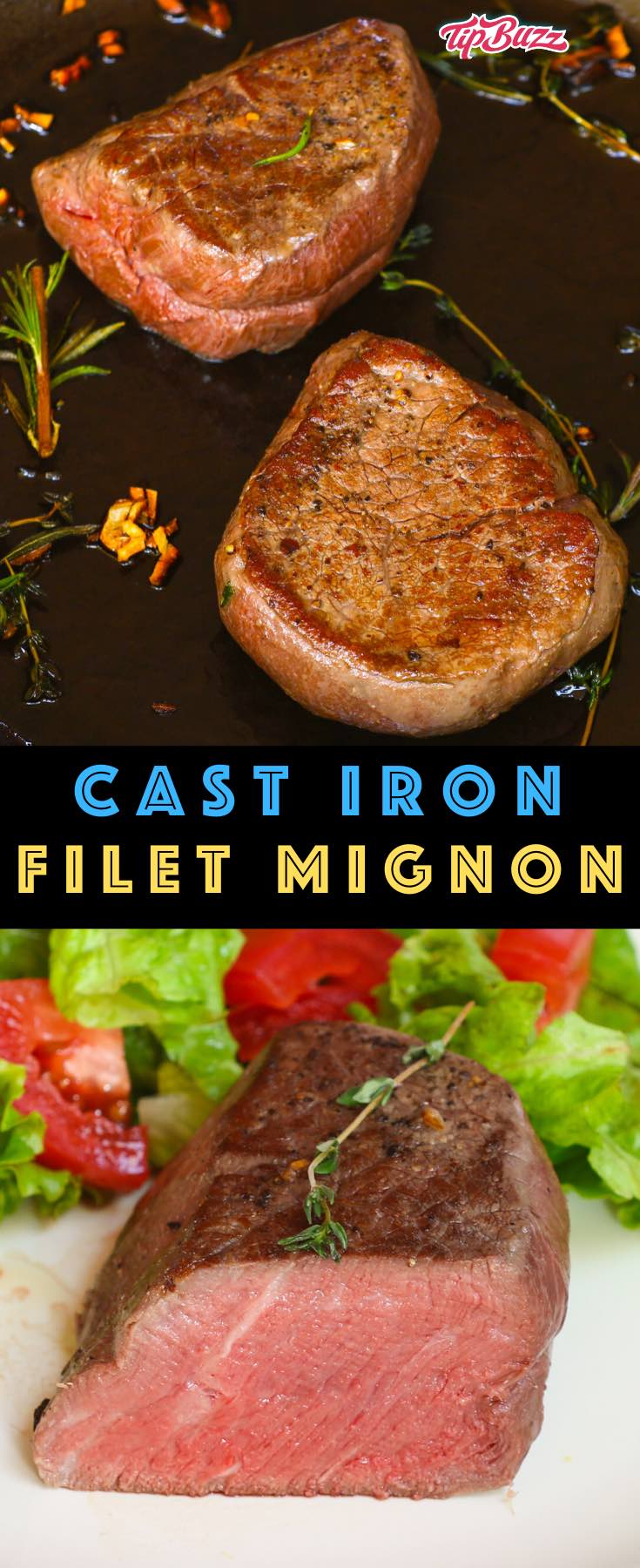 © TIPBUZZ. Images and text on this website are copyright protected. Please do not post or republish without permission. If you want to republish this recipe, please link back to this post. This post may contain affiliate links. Read the disclosure policy here.