Steak Sandwich
Steak Sandwich is loaded with tender steak thinly-sliced, caramelized onions, greens and mustard, served on lightly toasted bread. It's a hearty and flavorful sandwich that's perfect when you feel like a casual lunch or dinner idea!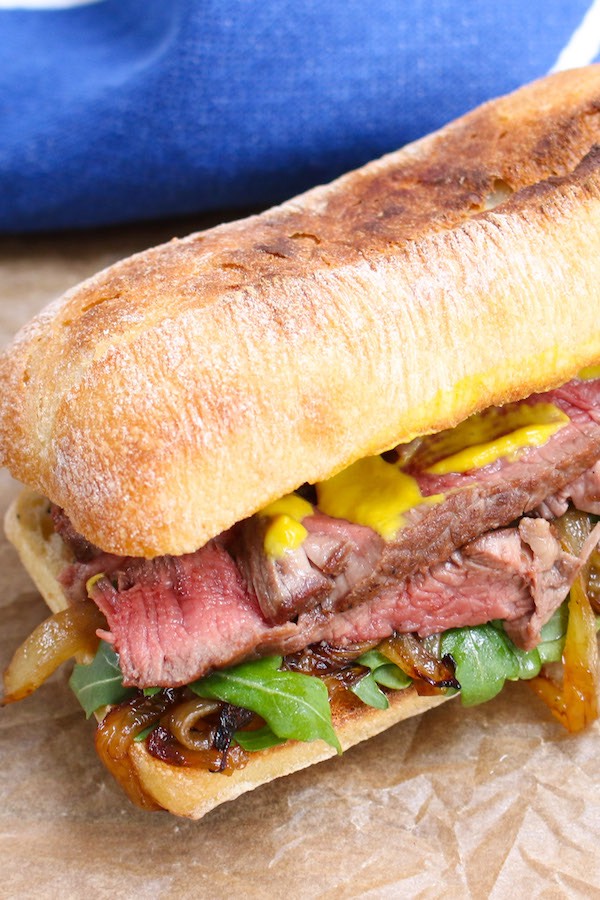 I've been really into sandwiches lately. Something like a Pulled Pork Sandwich or this steak sandwich works great, where there is a good mix of protein, vegetables and dressing piled between carbs.
This steak sandwich recipe involves pan-seared steak, caramelized onions, arugula and mustard. I like to make it as a quick lunch or dinner entree that's ready in 15 minutes. Totally satisfying and hard to beat!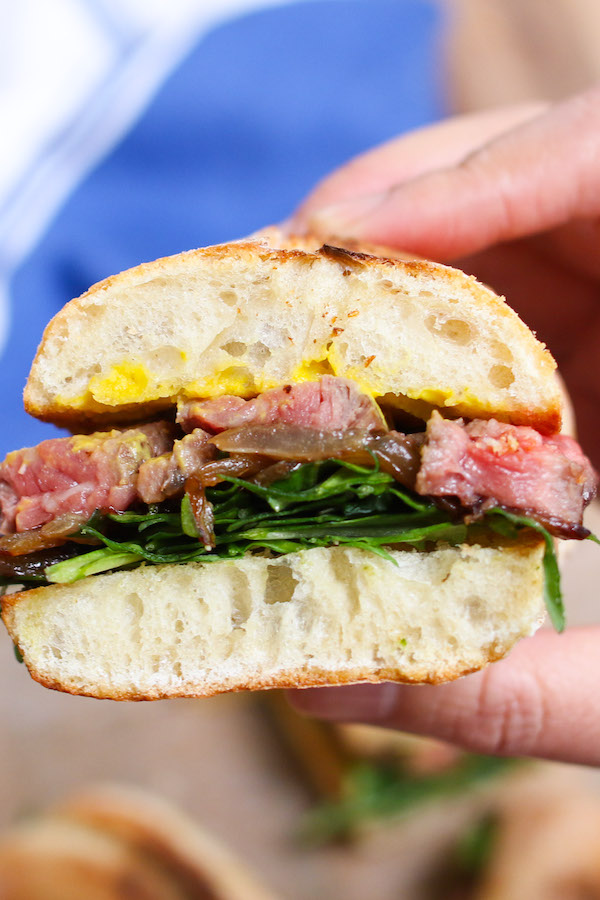 Feel free to swap out the arugula for any of your favorite greens. But do not skip out on the caramelized onions, as they're the secret to getting a rich and sweet flavor in your steak sandwich!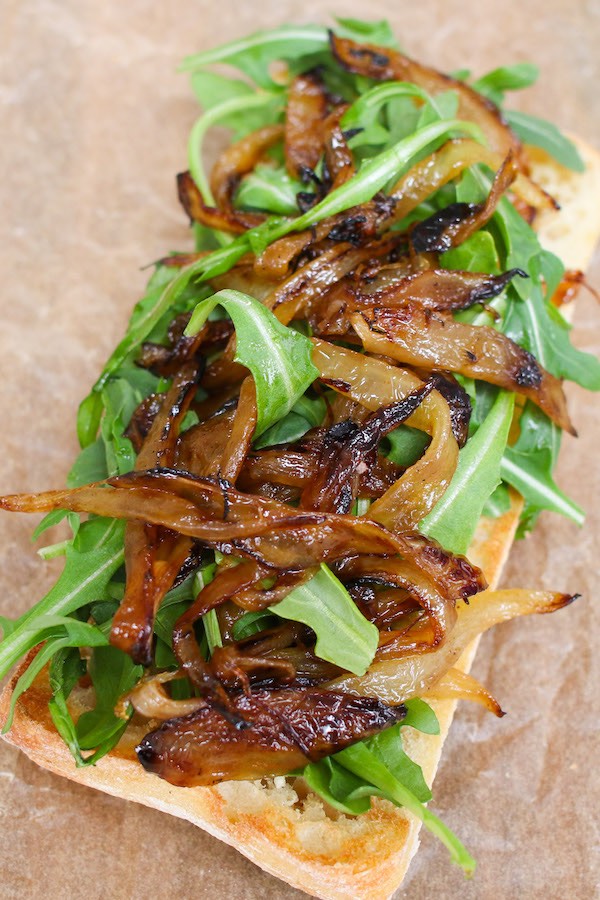 WHAT STEAK TO USE FOR STEAK SANDWICH
It's best to use a tender cut for this recipe. Rib eye, sirloin steak, T-bone steak and strip steak are all great options. My personal favorite is sirloin steak for its rich flavor, plus it's a budget-friendly option.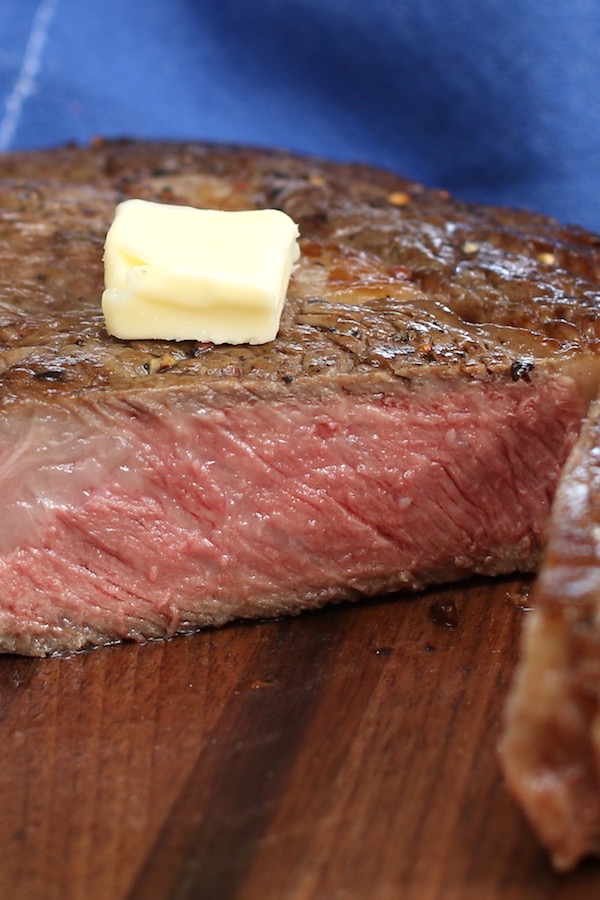 You can simply pan sear the steak with salt and pepper, following the complete instructions in my Pan Seared Sirloin Steak post. I like to cook the steak medium-rare with a temperature of 130°F (54°C). Be sure to let the seared steak rest for 5 minutes for maximum juiciness.
Cut it thinly against the grain, and don't worry if the meat shreds somewhat as it'll be super-delicious inside the sandwich!
WHAT KIND OF BREAD TO USE FOR THIS RECIPE
My favorite bread for this steak sandwich recipe is ciabatta, but you can use other crusty breads like French bread (baguette), sourdough, Turkish bread or even hoagies. I like to toast the bread with butter for extra flavor.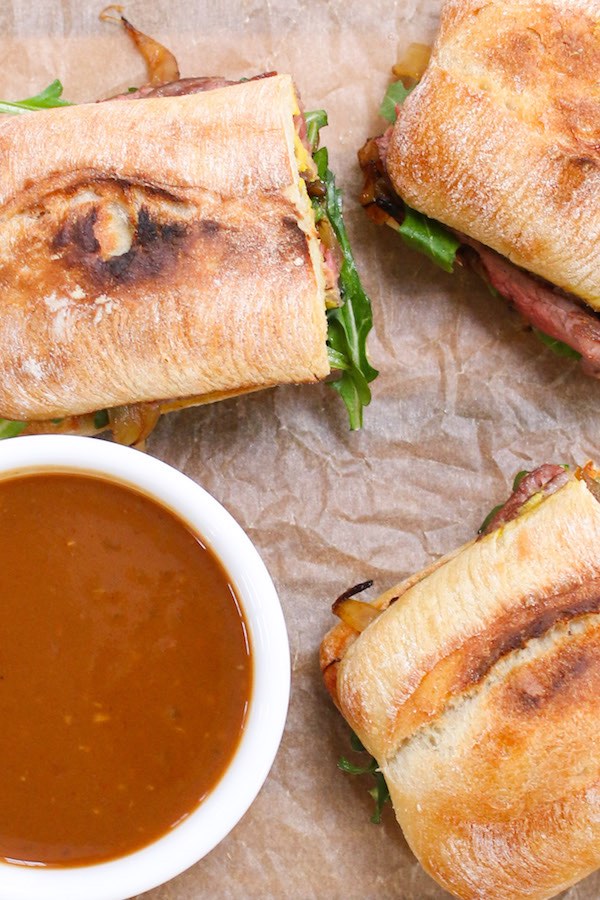 Then it's just a matter of assembling the sandwich! It has absolutely incredible flavor and really easy to make, so enjoy!
Steak Sandwich
Steak Sandwich is a hearty and flavorful sandwich loaded with tender and thinly-sliced steak, green vegetables, caramelized onions and mustard, along with toasted buns
Ingredients
1 ½ pound sirloin steak
salt and pepper , to taste
2 tablespoons vegetable oil
3 large onions, peeled and sliced
4 ounces arugula , or other greens
Mustard
4 Ciabatta bread
Butter
Instructions
Seared Steak
Start by seasoning the steak generously with salt and pepper. Heat up a large cast iron skillet over high heat for 1 minute.

Add 1 tablespoon oil and wait until it's shimmering before adding the steak.

Fry for 2 minutes and then flip over. Fry on the other side for 3 more minutes until the steak mostly browned on the outside and rare in the middle.

Remove steak to a cooling rack and let rest for 5 minutes, then slice thinly.
Caramelized Onions
Heat 1 tablespoon of the oil in a large skillet over medium heat.

Add onions and cook for about 10 minutes, until deep golden and softened, stirring frequently. Transfer to a plate and set aside.
Steak Sandwiches
Lightly butter the bread and toast until golden.

Remove from oven and top the bottom half of bread with arugula and caramelized onions.

Place a layer of the thin steak slices on top, and spread mustard on top.

Season with more salt and pepper if necessary.

Cover the sandwiches with the top half of the bread.
Notes
Let the steak rest at room temperature for 30 minutes before cooking for the best results
Make sure to let the steak rest for about 5 minutes so that the juice can redistribute before cutting.
Cut the steak against the grain into thin slices.
To caramelize onions properly, make sure to have a single layer of onion slices in the pan so they don't steam. The onions should be very soft with golden brown color, yet not mushy.
Nutrition Facts
Steak Sandwich
Amount per Serving
% Daily Value*
* Percent Daily Values are based on a 2000 calorie diet.
Please read our nutrition disclaimer.
EQUIPMENT FOR MAKING STEAK SANDWICH
MORE SANDWICH RECIPES
© TIPBUZZ. Images and text on this website are copyright protected. Please do not post or republish without permission. If you want to republish this recipe, please link back to this post. This post may contain affiliate links. Read the disclosure policy here.