Best Porterhouse Steak
This Porterhouse Steak rivals that of your favorite steakhouse restaurant! For this expensive cut, you'll want it to come out tender, juicy and flavorful. Here you'll find everything you need to make a perfect porterhouse every time!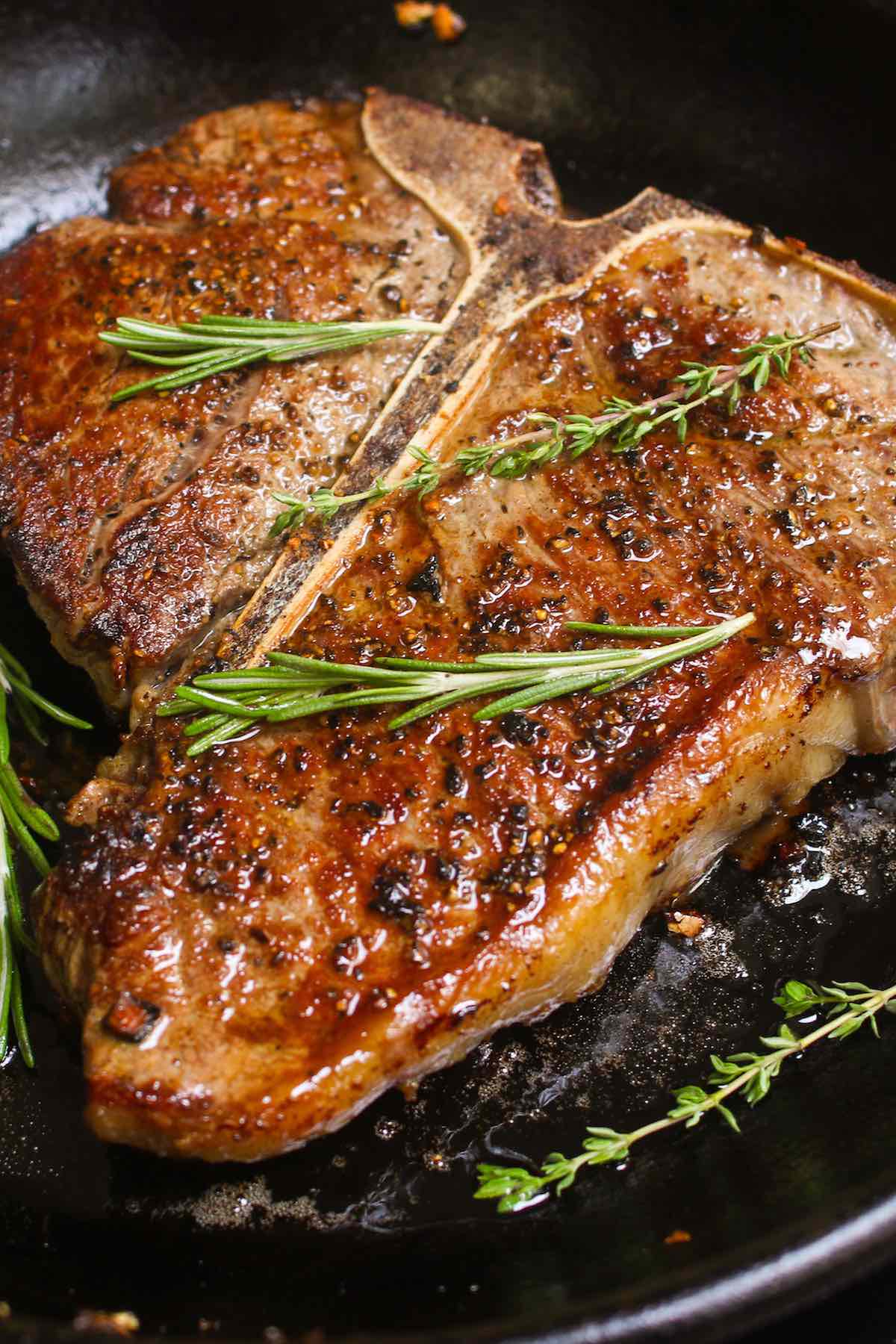 Perfect porterhouse steak recipe
A porterhouse is often called the king of steaks for sumptuous flavor and tender meat. There's a filet mignon (tenderloin) on one side of the bone and a New York strip (striploin) on the other, making for an exquisite steak dinner!
Since the porterhouse is usually a thick cut, the best way to cook it is pan-searing at high temperature before finishing in the oven. This "stove to oven" method helps to lock in the moisture for juicy steak. Other options include grilling or broiling.
Difference between porterhouse and T-bone
There's often confusion about the difference between a porterhouse and t-bone. Both cuts come from the short loin and include a T-shaped bone with New York strip (striploin) on one side and filet mignon (tenderloin) on the other.
If the filet measures more than 1 1/4 inches at the widest section, it's classified as porterhouse by the USDA (although definitions vary in other countries). The porterhouse steak price is also priced higher than t-bone, making it among the most expensive steak cuts along with ribeye and New York Strip. Porterhouse has 420 calories per 6oz according to the USDA.
How to cook porterhouse steak (pan sear + oven finish)
Let the porterhouse sit at room temperature for 30-60 minutes before cooking.
Pat dry with paper towels.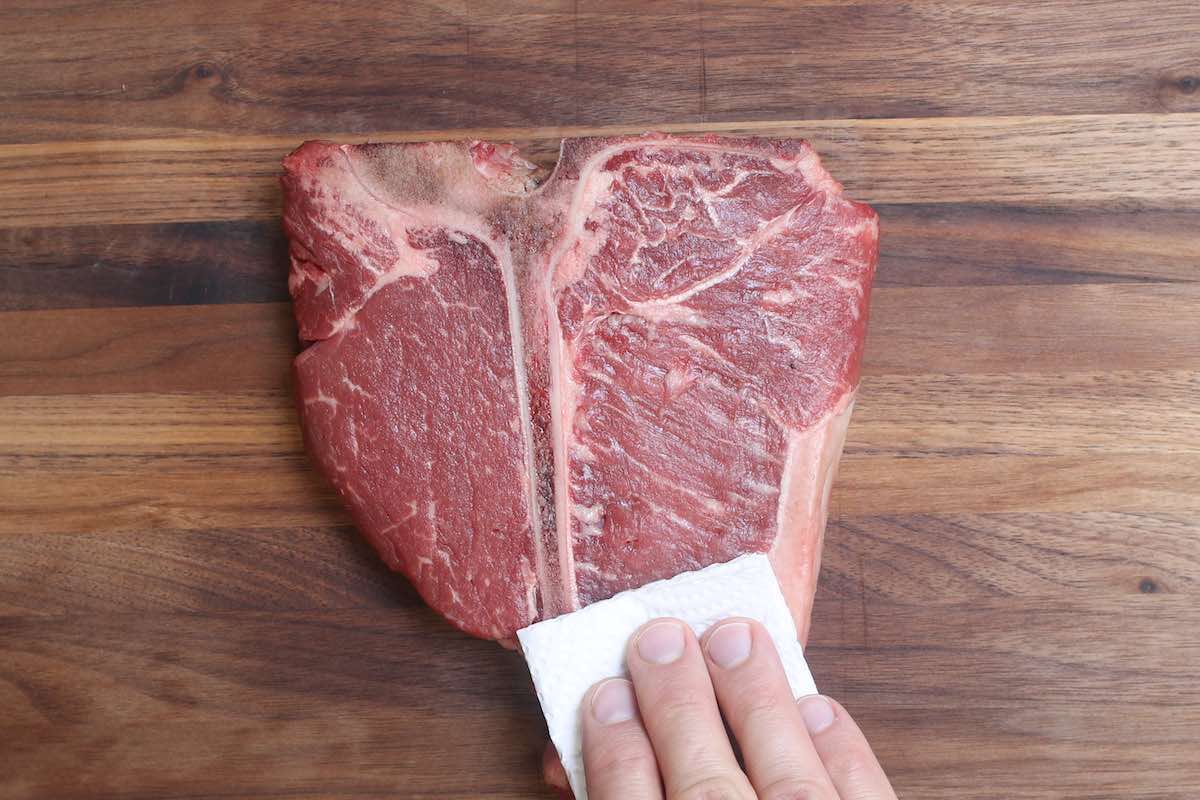 Rub the steak with oil and season with salt and pepper on both sides.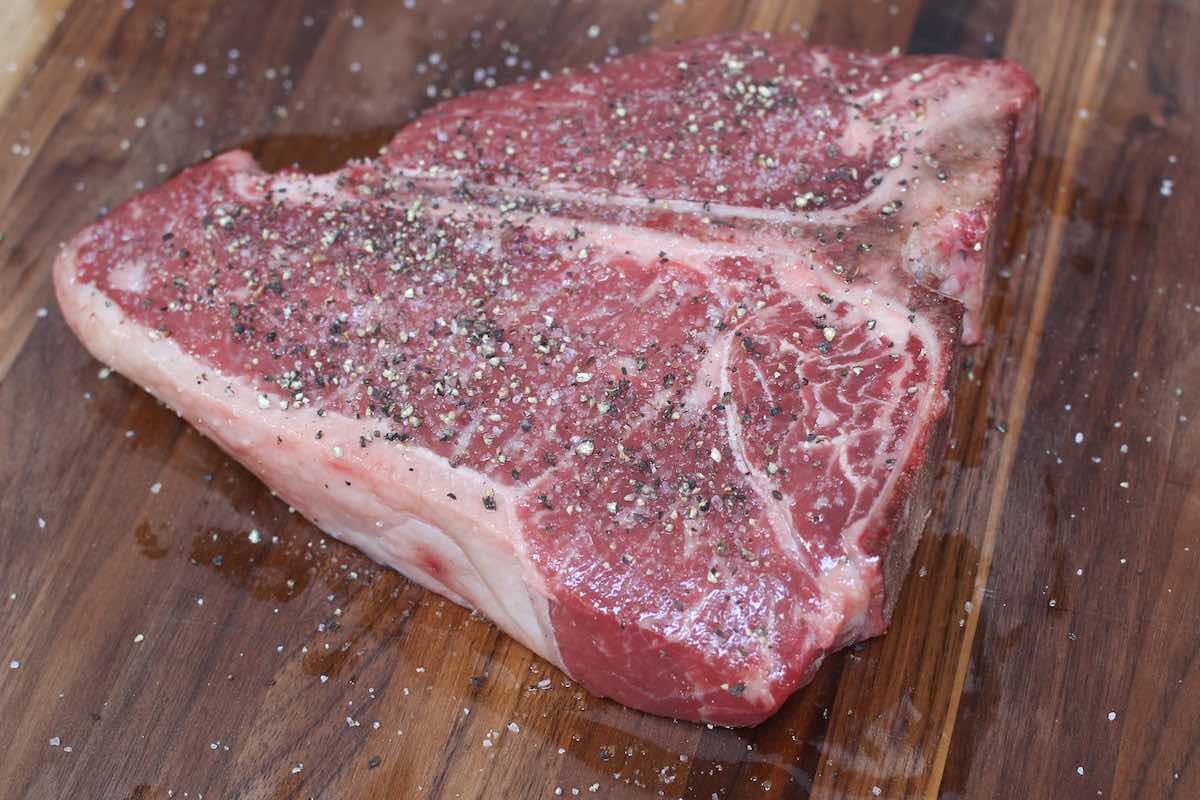 Heat a cast-iron skillet over high heat.
Add oil to the hot skillet and add steak when it begins to smoke.
Sear the steak for 2 minutes for the first side.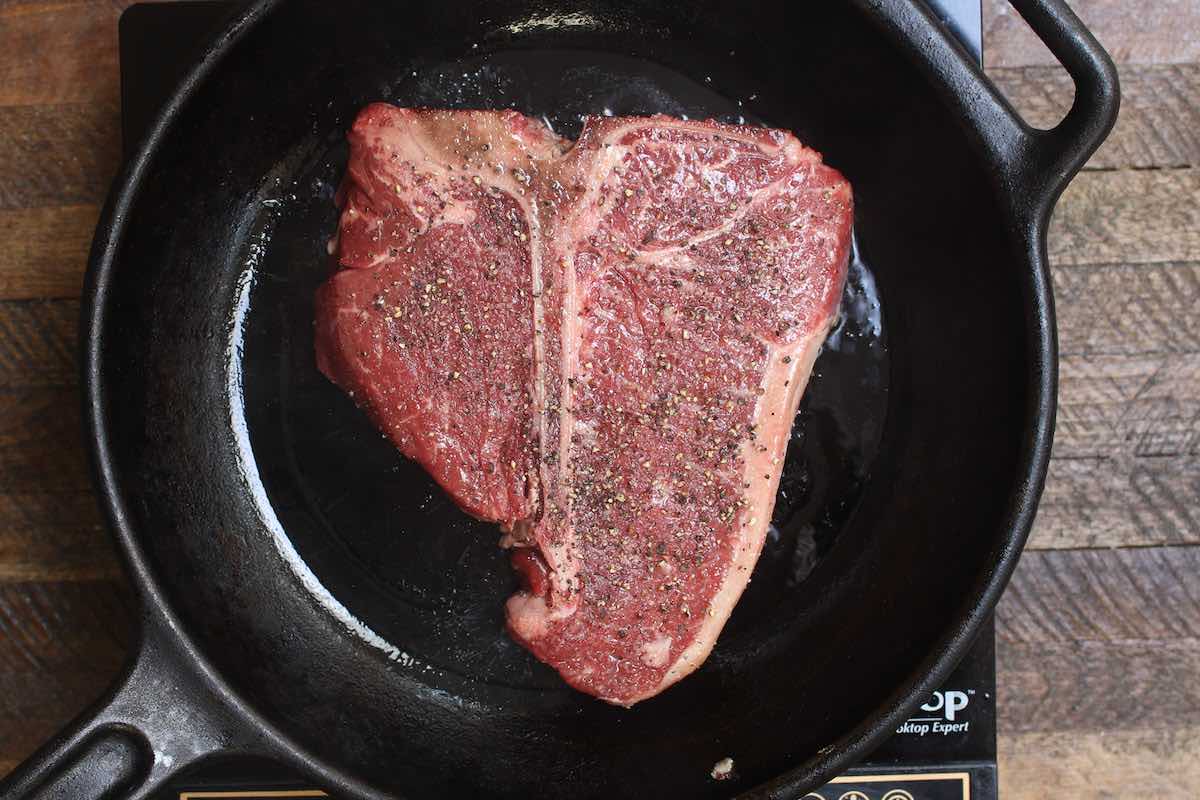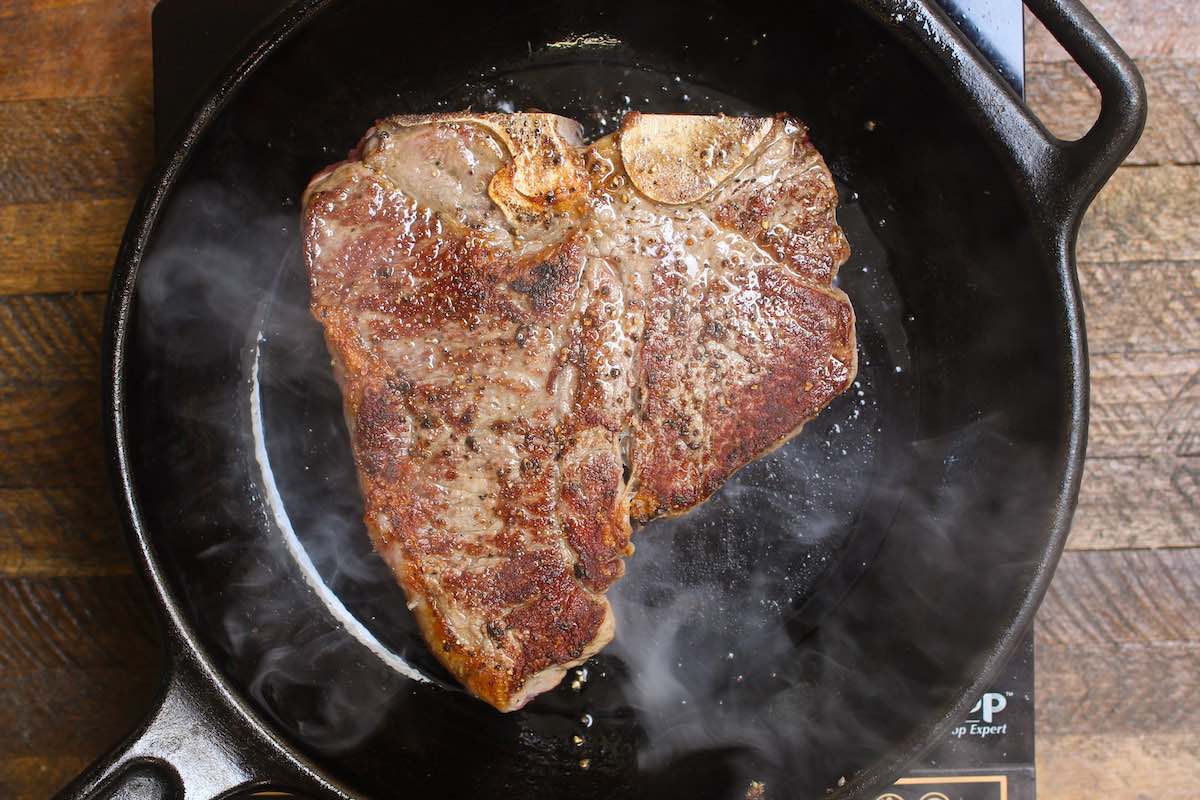 Add minced garlic, butter, and fresh herbs.
Transfer the steak to a 425°F (218°C) oven.
Cook until it reaches the desired doneness.
Remove from the oven and rest for 5 minutes.
Cut steak from the bone to serve.
Seasonings for porterhouse steak
Since porterhouse is already a flavorful steak, it doesn't really need marinating or heavy seasoning. For this particular cut, simple is the best. In this recipe, I use salt, pepper, garlic along with fresh rosemary and thyme. Adding some butter towards the end further enhances the rich flavors of the steak.
Benefits of an oven finish
There's nothing quite like an oven finish on a porterhouse after pan searing. The oven's indirect heat helps to seal in the steak's juices for an extra-tender, melt-in-your-mouth texture.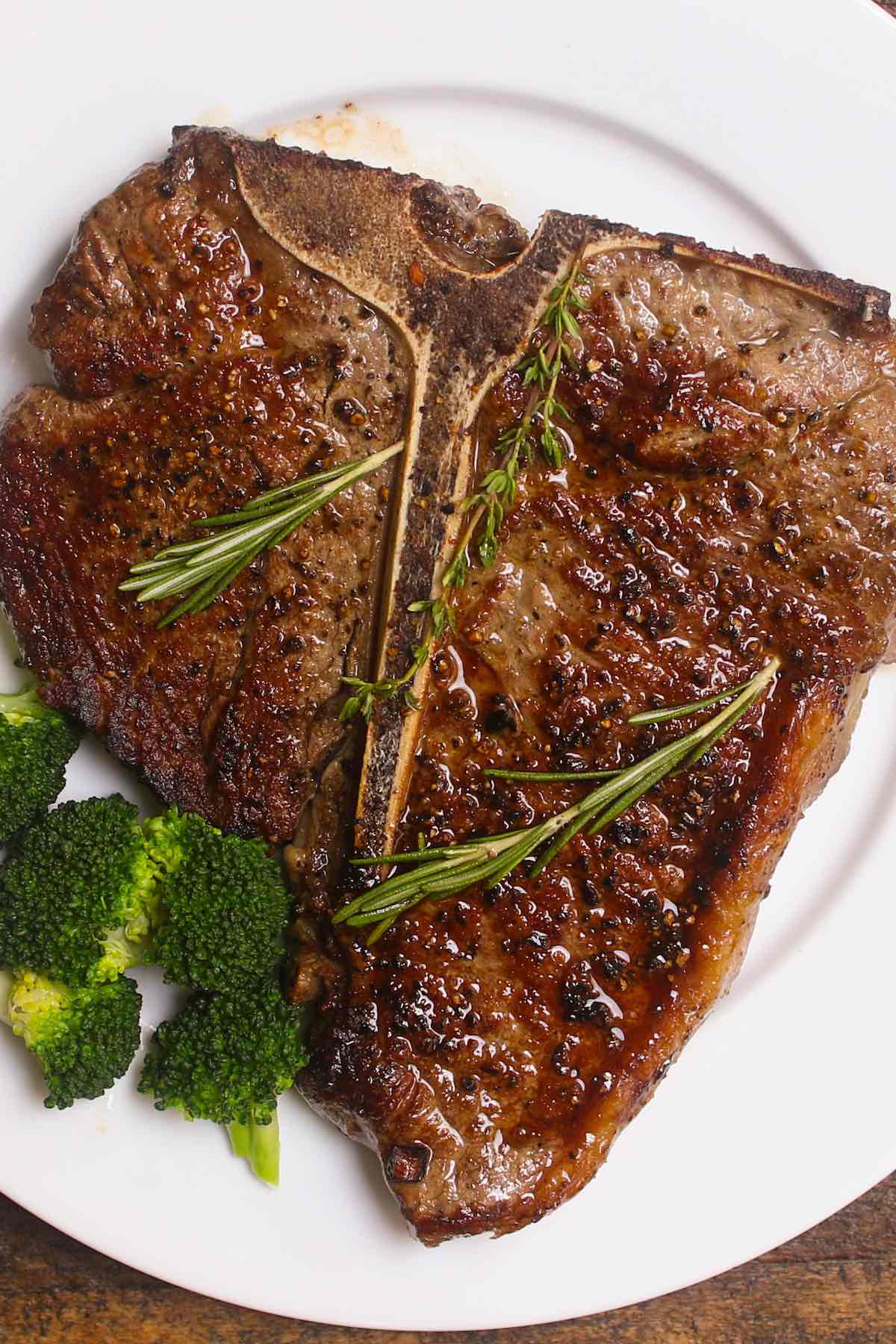 How do you know when it's done?
Steak cook time depends on the thickness and your target doneness. Below are guidelines based on a 1-inch (2.5cm) thick porterhouse and a 425°F (218°C) oven:
Rare (125°F/52°C): 2 minutes per side in skillet + 1-2 minutes in oven
Medium rare (130°F/54°C): 2 minutes per side in skillet + 2-3 minutes in oven
Medium (140°F/60°C): 2 minutes per side in skillet + 3-4 minutes in oven
Well done (160°F/71°C): 2 minutes per side in skillet + 5-6 minutes in oven
For thicker steaks, add 2-3 minutes more in the oven for each additional ½-inch of thickness.
Note: As kitchen equipment may vary in the amount of heat produced, it's best to check doneness using an instant-read thermometer rather than relying on time alone.
How to grill porterhouse steak
Another great option is grilled porterhouse steak. The preparation is the same, but the cooking method is different. You want to let the steak reach room temperature, pat dry with paper towels and rub with oil + seasonings.
Preheat the grill to high heat or 500°F / 260°C. When the grill is hot, clean and lightly oil the grates. Grill the steak for one minute per side, flipping every minute for even cooking. It'll take 6-10 minutes to cook a 1-inch (2.5 cm) porterhouse medium-rare depending on the efficiency of the grill.
What to serve with porterhouse steak: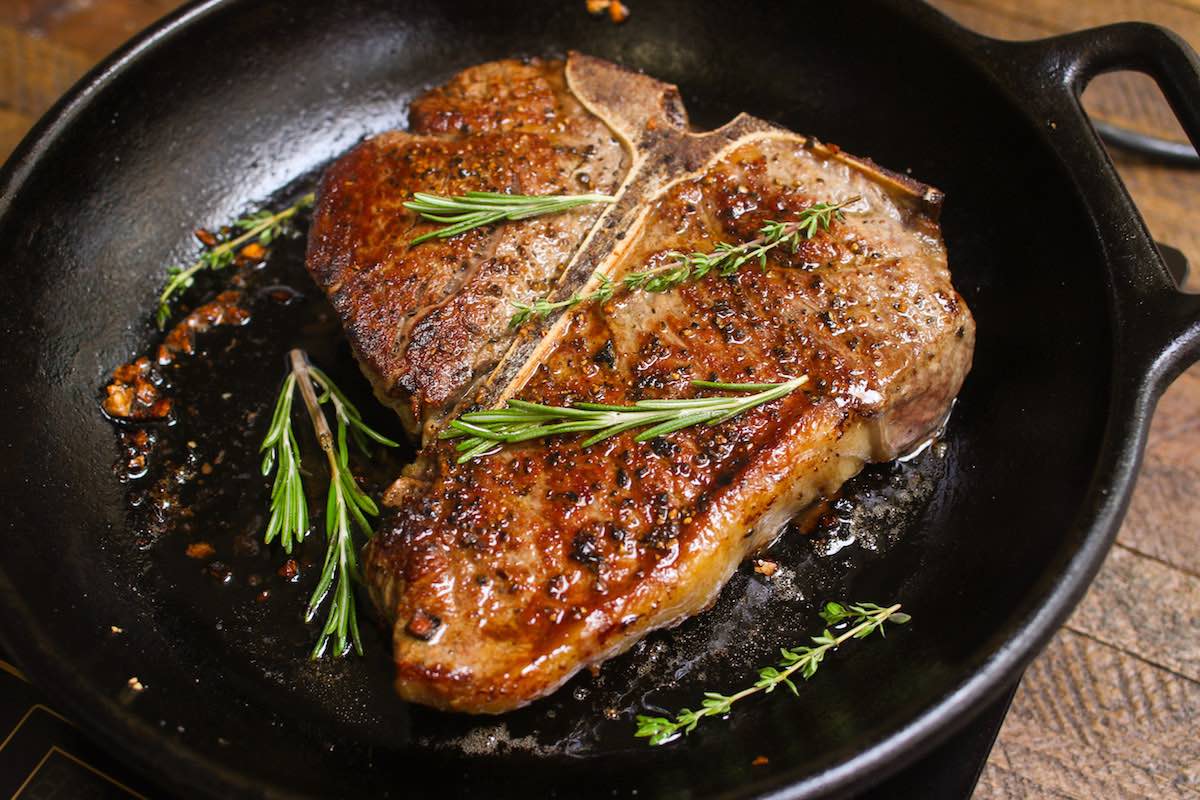 More Steak Recipes:
Porterhouse Steak Recipe
This Porterhouse Steak rivals that of your favorite steakhouse restaurant! Here you'll learn everything you need to know to make a perfect porterhouse every time.
Ingredients
1 1/2 pounds porterhouse steak,  about 1-inch (2.5cm) thick*
2 tablespoons olive oil, divided**
1 teaspoon coarse salt,  or to taste
1 teaspoon black pepper,  freshly ground, or to taste
2 cloves garlic,  minced (2 teaspoons)
1 tablespoon  unsalted butter
fresh herbs, such as rosemary and thyme, optional
Instructions
Remove the porterhouse steak from refrigerator 30-60 minutes before cooking to let it reach room temperature. This promotes even cooking for the juiciest steak.

Position the oven rack in the middle and preheat oven to 425°F (218°C).

Place a large cast-iron skillet over high heat and allow to heat for 5 minutes until extremely hot. (You can also place in the preheated oven for 15 minutes.)

Pat dry the steak with paper towels to remove excess moisture that could interfere with searing.

Rub 1 tablespoon of olive oil on both sides.

Season both sides with salt and pepper.

Add the remaining 1 tablespoon oil to the pan and swirl to coat.

Carefully place the porterhouse in the pan using kitchen tongs, laying it away from you to avoid splatter.

Sear the first side for 2 minutes.

Flip using kitchen tongs and sear the other side for 2 minutes.

Add garlic, butter and fresh herbs to the pan. Then immediately transfer the skillet to the oven.

Bake without flipping the steak according to your desired doneness: 1-2 minutes for rare, 2-3 minutes for medium-rare, 3-4 minutes for medium, and 5-6 minutes for well-done. Check doneness using an instant-read thermometer***.

Remove steak to a plate or cutting board covered with aluminum foil to rest for 5 minutes so the juices can retreat back into the meat.

To serve, cut the meat away from the bone and slice across the grain into strips.
Notes
*Porterhouse steaks that are at least 1-inch (2.5cm) thick are juicier and less likely to be overcooked.
** Regular refined olive oil works best, as it has a higher smoke point than extra virgin olive oil.
***Insert the thermometer into the strip section about 1-inch from the bone: 120°F/49°C is rare, 130°F/54°C is medium-rare, 140°F/60°C is medium, 150°F/66°C is medium-well and 160°F/71°C is well-done. (Note that the temperature will continue rise several degrees more after cooking.) For thicker porterhouse steaks, you'll need 2-3 minutes of extra baking time per additional 1/2-inch.
Nutrition Facts
Porterhouse Steak Recipe
Amount per Serving
% Daily Value*
* Percent Daily Values are based on a 2000 calorie diet.
Please read our nutrition disclaimer.
More Low Carb Recipes
Cooking Tools:
© TIPBUZZ. Images and text on this website are copyright protected. Please do not post or republish without permission. If you want to republish this recipe, please link back to this post. This post may contain affiliate links. Read the disclosure policy here.