Sirloin Tip Roast
This Sirloin Tip Roast is tender and juicy with delicious beefy flavors. Some simple seasonings and slow roasting to produce an easy dinner. Serve au jus with pan juices drizzled on top!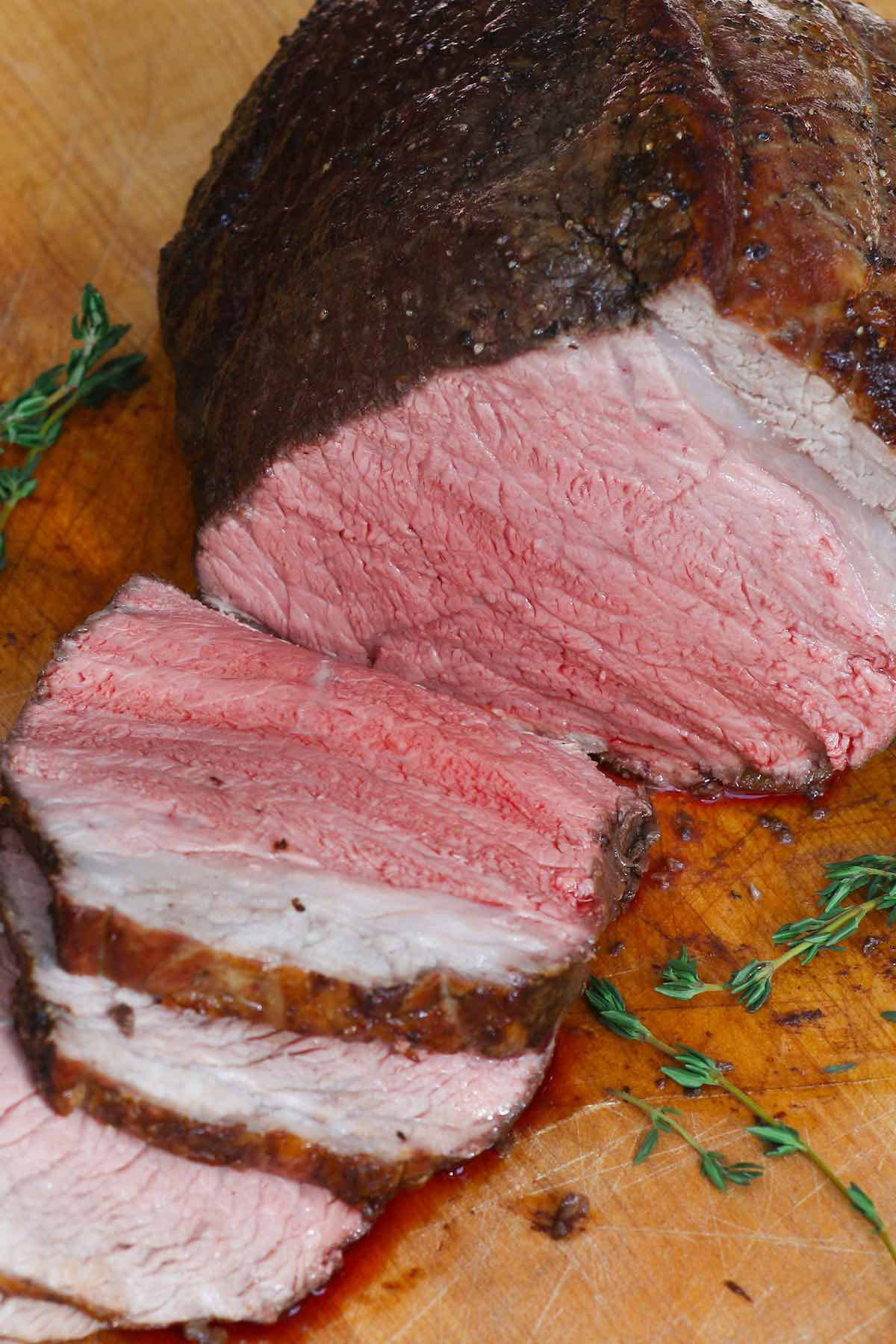 Sirloin tip is one of my favorite cuts of beef. It's full of delicious beefy flavor when cooked in the oven. With a low price tag, it's economical enough to add to your weekly rotation if you like. Plus, it makes fabulous leftovers you can use for roast beef sandwiches, beef vegetable soup and other dishes.
Since sirloin tip is leaner than other beef cuts, it has less than 150 calories per 3 oz serving according to the USDA, much less than a prime rib.
This sirloin tip roast recipe is very easy when cooked low and slow in the oven. You can serve it with pan juices drizzled on top and roasted vegetables on the side.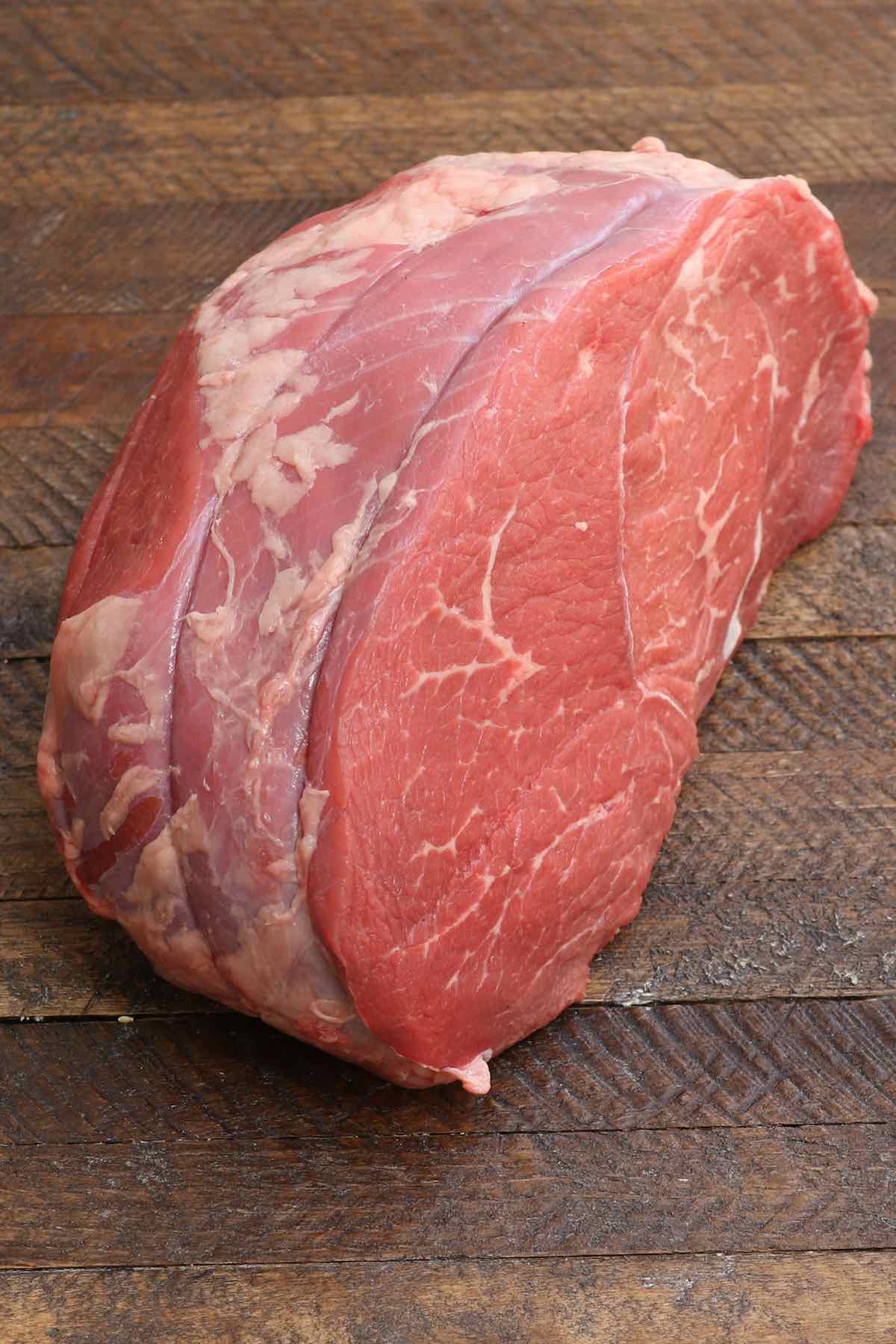 What is a Sirloin Tip Roast
Contrary to what the name suggests, a beef sirloin tip roast is not a sirloin roast. Rather, it comes from the round primal next to the sirloin, being cut from the hindquarters. It's sometimes called a round tip or tip round roast.
As this muscle gets lots of exercise, the meat is lean and flavorful. While it's tougher than a top sirloin roast, it's more tender than eye of round and inside round. It's also used for sirloin tip steak.
How to Cook a Sirloin Tip Roast

To prepare a sirloin tip for roasting, remove it from the fridge 1-2 hours ahead of time to approach room temperature (this will help reduce cooking time).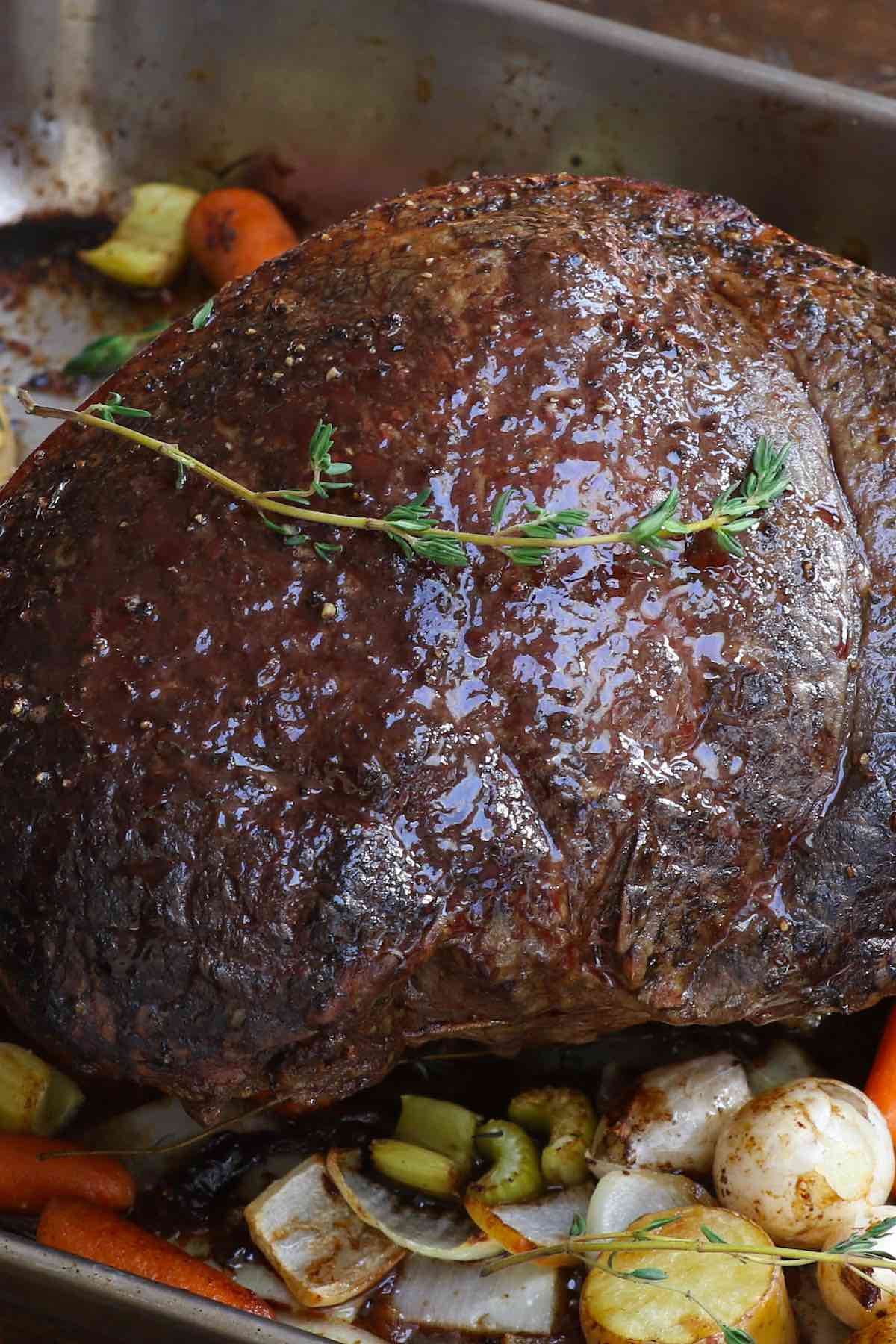 You'll need a shallow roasting pan that can hold the roast with a wire rack in the middle. If you don't have a rack, you can put vegetables or thick onion slices underneath the meat instead.
Preheat the oven to 450°F. Rub the meat with oil, salt, pepper and seasonings. Then place it into your prepared pan.
Sirloin tip roast is best cooked low and slow in the oven to tenderize the meat. Start it off at 450°F to sear the meat and lock in the juices. Then lower the heat to 325°F for another 60-90 minutes in total or 20 minutes per pound. Note: the exact time will depend on the roast shape and size as well as your oven.
When Is It Done?

Sirloin tip is best cooked medium rare since it's a leaner cut. That mean the center should have an internal temperature of 125°F, with that number rising another 5°F or more during resting. Note: At this temperature, sirloin tip typically has a warm-pink center that looks more like medium doneness.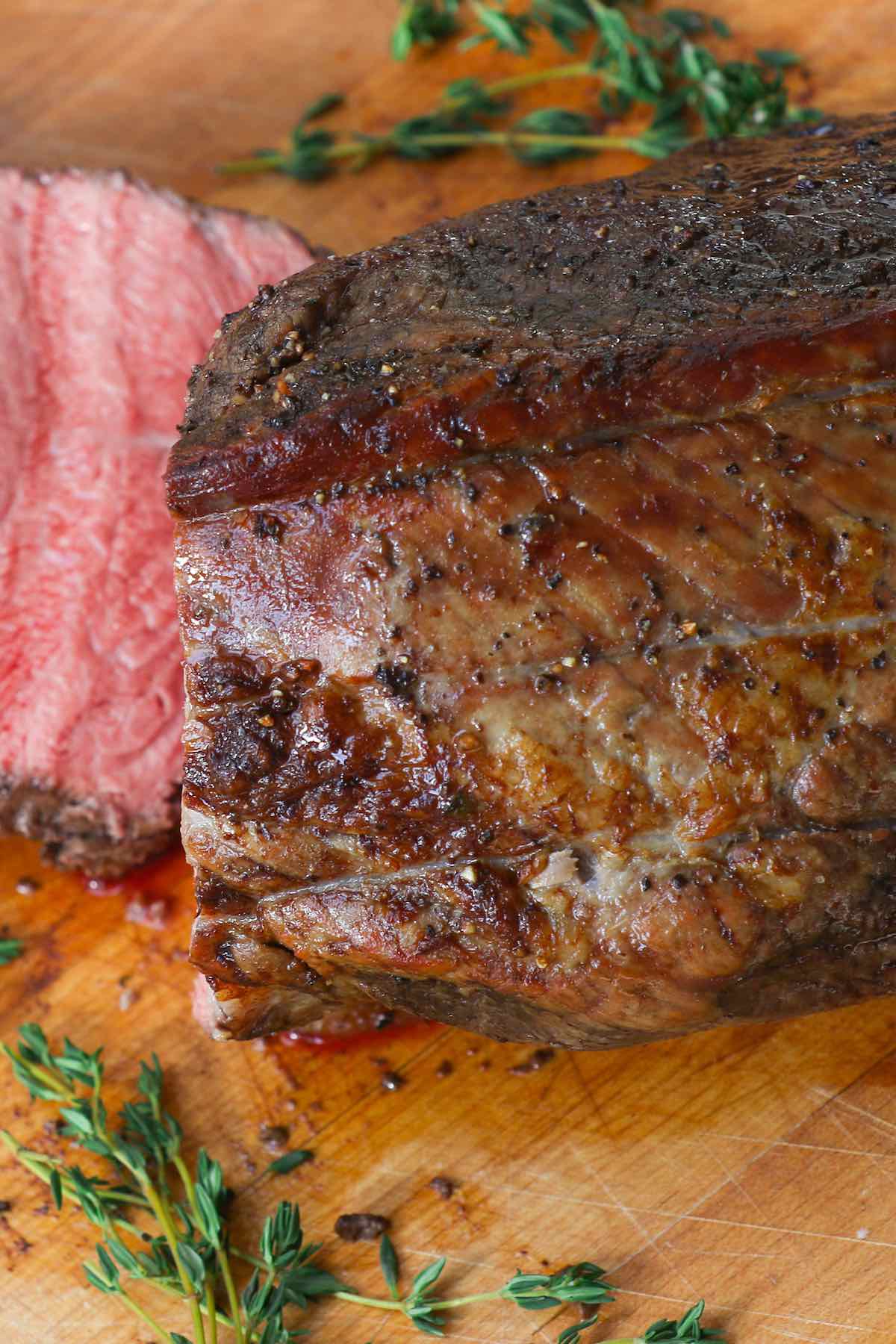 Tips for a Tender Sirloin Tip Roast 
A few simple tips will help to ensure you to get a tender and juicy sirloin tip:
Take the roast out of the fridge 1-2 hours before cooking. This allows the meat to approach room temperature for a shorter cooking time.
Cook it medium-rare or medium, as this cut usually becomes tough with longer cooking.
Always use an instant thermometer to check doneness.
Don't cut into the meat during cooking or resting, as juices will escape causing the meat to dry out.
Let the meat rest for 15 minutes out of the oven covered in tented aluminum foil. This gives time for the juices to redistribute before carving.
Slice thinly against the grain to serve.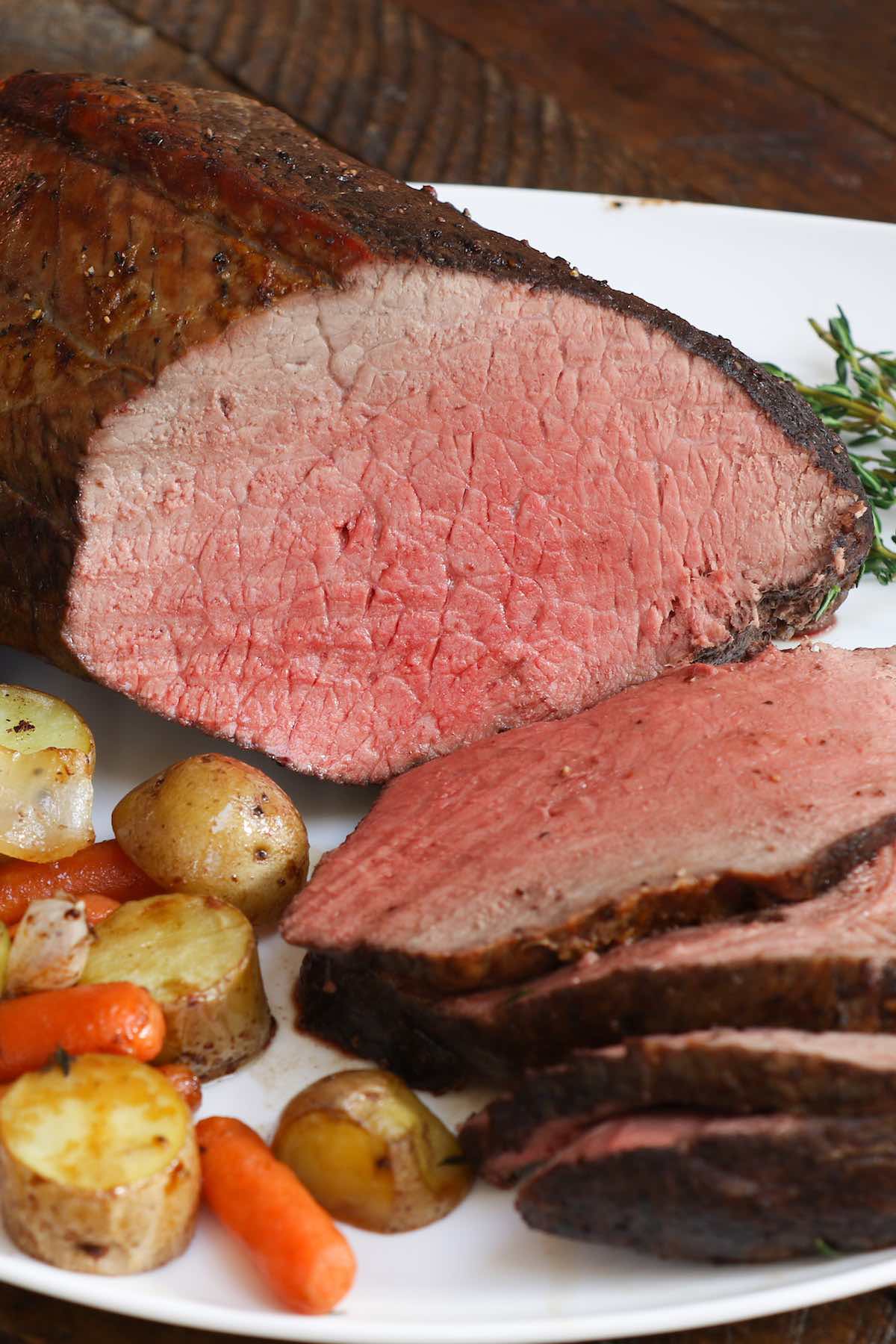 Serving Ideas
Sirloin tip is delicious served with au jus. Simply collect the pan juices and drizzle on top of the meat, or make them into homemade gravy.
Great side dishes include roast vegetables including potatoes, carrots and parsnips. A crisp green salad also goes well, and other classic pairings include mashed potatoes, rice or cauliflower rice and even broccoli.
More beef roast recipes:
View all beef recipes
Sirloin Tip Roast
This Sirloin Tip Roast is tender and juicy with mouthwatering beefy flavors. All it takes is simple seasoning and slow roasting to make this easy dinner.
Ingredients
3-4 pounds sirloin tip roast
1 tablespoon oil, canola, sunflower, refined olive oil etc.
1 teaspoon salt
1 teaspoon black pepper, freshly ground
Optional Flavorings
thyme sprigs, or rosemary sprigs (or 1 teaspoon dried thyme or rosemary)
1/2 large onion
2 large carrots, cut into 1/2-inch chunks
Instructions
Remove the beef from the fridge 1-2 hours ahead of time to let it approach room temperature for even cooking.

Preheat oven to 450°F. Set aside a roasting pan with a wire rack. (If you don't have a rack, you can strew thick cut onion and carrots underneath the meat instead.)

Pat dry the beef with paper towels to remove excess moisture. Then rub with oil on all sides followed by the salt, pepper and optional herbs. Optional: insert wireless thermometer (see note).

Put the beef in the prepared roasting pan with optional carrots and onions. Then roast for 15 minutes at 450°F.

Reduce heat to 325°F and continue cooking for 60-90 minutes more, or about 20 minutes per pound. It's done when the internal temperature reaches 125°F as measured with an instant or wireless thermometer.

Optional: Halfway through cooking, baste the meat by spooning pan juices on top. (If there aren't many juices, add 1/2 cup of water or broth to the pan.)

Remove the roast from the oven. Tent with aluminum foil to keep warm and rest for 15 minutes to let the juices redistribute through the meat.

Slice thinly crosswise against the grain to serve. Save the pan juices for gravy or serve au jus.
Notes
Doneness: A wireless dual-probe thermometer is the best way to monitor the temperature during cooking. Insert it into the middle of the meat before placing in the oven. If you don't have one, you can also check periodically using an instant-read thermometer.
Leftovers: are delicious reheated within 3-4 days or use them to make roast beef sandwiches, beef vegetable soup, steak salad.
Sirloin Tip Roast Crock Pot: To make it in the slow cooker, substitute it for chuck roast in Mississippi Pot Roast and cook on low for 7-8 hours.
Nutrition Facts
Sirloin Tip Roast
Amount per Serving
% Daily Value*
* Percent Daily Values are based on a 2000 calorie diet.
Please read our nutrition disclaimer.
Recipe tools:

© TIPBUZZ. Images and text on this website are copyright protected. Please do not post or republish without permission. If you want to republish this recipe, please link back to this post. This post may contain affiliate links. Read the disclosure policy here.