Tri Tip in the Oven
Tri Tip in the Oven is juicy and tender with the Santa Maria seasoning rub creating a beautiful caramelized crust. This triangle-shaped bottom sirloin cut is perfect for a weekend meal or holiday feast!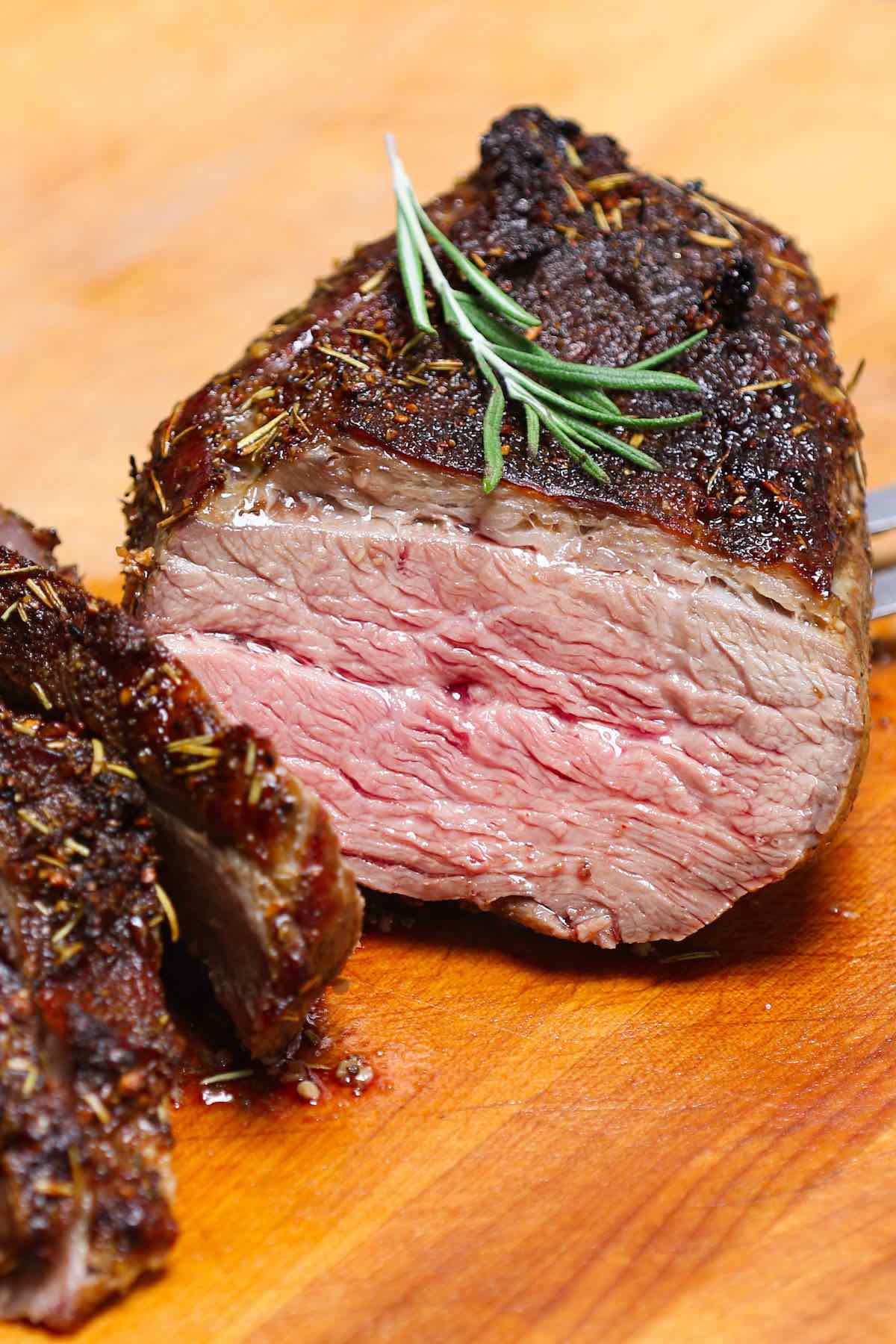 Tri tip is one of the real hidden gems when it comes to beef roasts, being tender and juicy like Prime Rib but with even richer flavors. Plus, it's one of the more affordable cuts, so you can enjoy it more often.
We love to roast it in the oven, but it's equally good grilled or smoked. Try making it for a barbecue, holiday or just a relaxed weekend meal. It's always a hit!
What is Tri Tip
Tri tip is a triangular-shaped boneless cut of beef from the lowest part of the bottom sirloin subprimal. At just 2 to 3 inches thick, it's considered part steak and part roast with names including triangle steak, triangle roast, bottom sirloin and Santa Maria steak. Hailing from the Santa Maria barbecue scene in California, it's becoming popular coast-to-coast.
This affordable cut is juicy and flavorful with a layer of fat on top. Each roast typically weighs 2 ½ to 4 pounds and can serve 4 to 6 people depending on appetites. There are 316 calories in a 6-oz serving according to the USDA, so it's leaner than most other types of steak.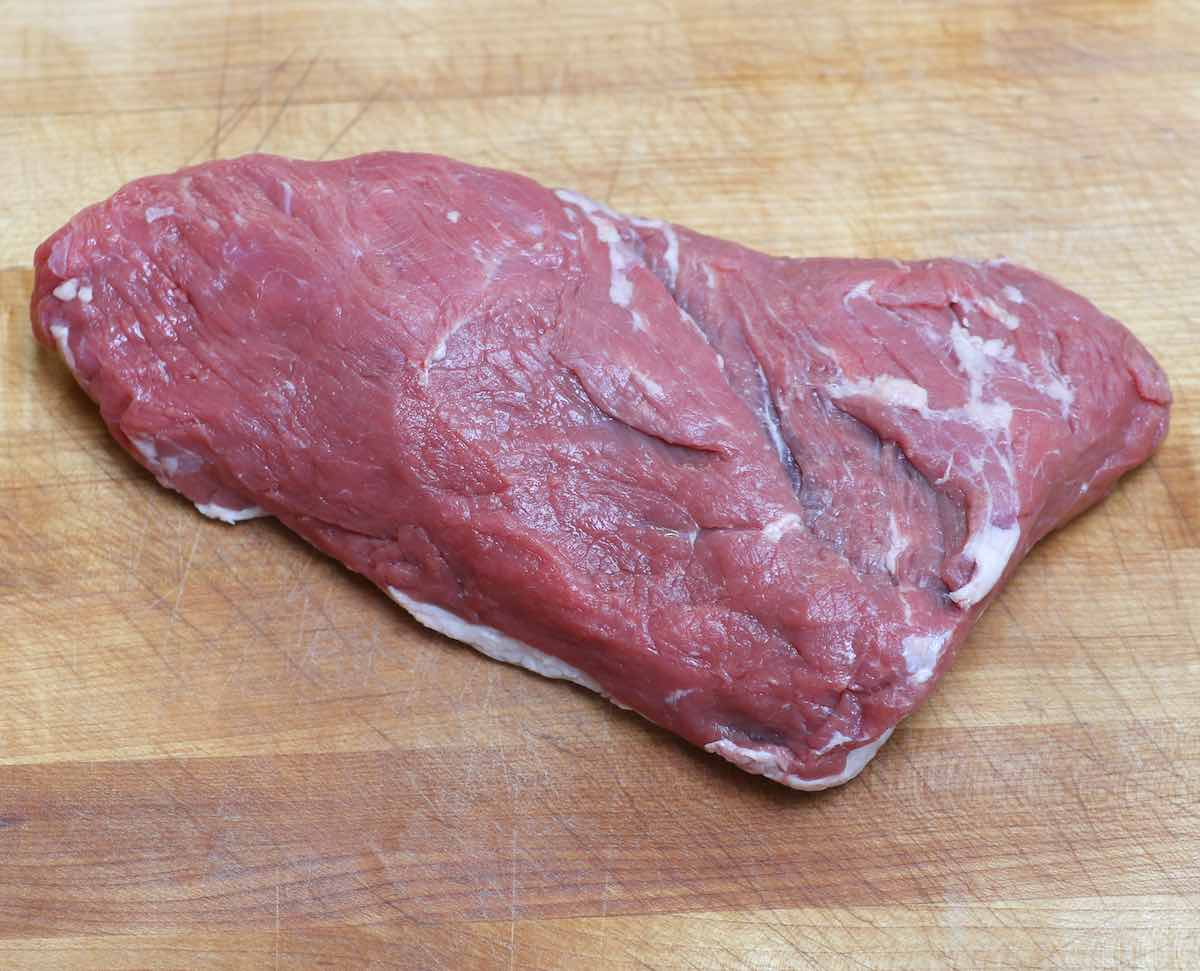 Since there are only two tri tips per steer, availability can be limited. You can sometimes find it at Costco, but if not ask your butcher to bring it in for you. If you can't find tri tip, try substituting london broil or sirloin steak.
Tri Tip Rub
The classic seasoning is a Santa Maria dry rub made with garlic powder, onion powder, dried oregano, dried rosemary, cayenne, salt and pepper.
Simply mix the spices in a bowl and rub all over the meat. Let it rest for at least 30 minutes or up to 2 days for extra flavor.
Tri Tip Marinade: Add 1/2 cup red wine vinegar and 1/2 cup olive oil to the seasonings. Then marinate the beef in a sealed container or ziptop bag in the fridge for several hours to overnight.
How to Cook Tri Tip in Oven
Remove the seasoned tri tip from the fridge 30-60 minutes ahead of time for even cooking. You'll see it usually comes with a layer of fat on top. While you can always trim it off, it does keep the meat extra moist during cooking.
Heat a cast iron pan over high heat for 5 minutes until it's very hot (it will cool down quickly once the meat goes in). Add oil and then sear the tri tip with fat-side facing down for 4 minutes to sear the meat. Then flip and transfer to the oven.
If you don't have a cast iron pan, you can skip this step and start roasting directly with the fat side up.
How Long to Cook Tri Tip
Cooking time depends on your equipment and oven efficiency, but count on 10-15 minutes per pound overall. Cooking it medium-rare or medium produces the most tender meat.
Therefore, always use an instant-read thermometer to check doneness about 10 minutes before you expect it to be done:
| | |
| --- | --- |
| Steak Doneness | Remove from heat |
| Rare | 120°F |
| Medium rare | 130°F |
| Medium | 135°F |
| Medium well | 145°F |
| Well done | 155°F |
Note these temperatures will rise another 5°F out of the oven.
Serving Ideas
Oven roasted tri tip is delicious for mashed potatoes, boiled potatoes, Brussel sprouts, broccoli or a green salad. Plus, don't forget some horseradish or steak sauce!
Leftovers reheat nicely or can be transformed into beef barley soup or roast beef dip sandwiches.
More oven roasts: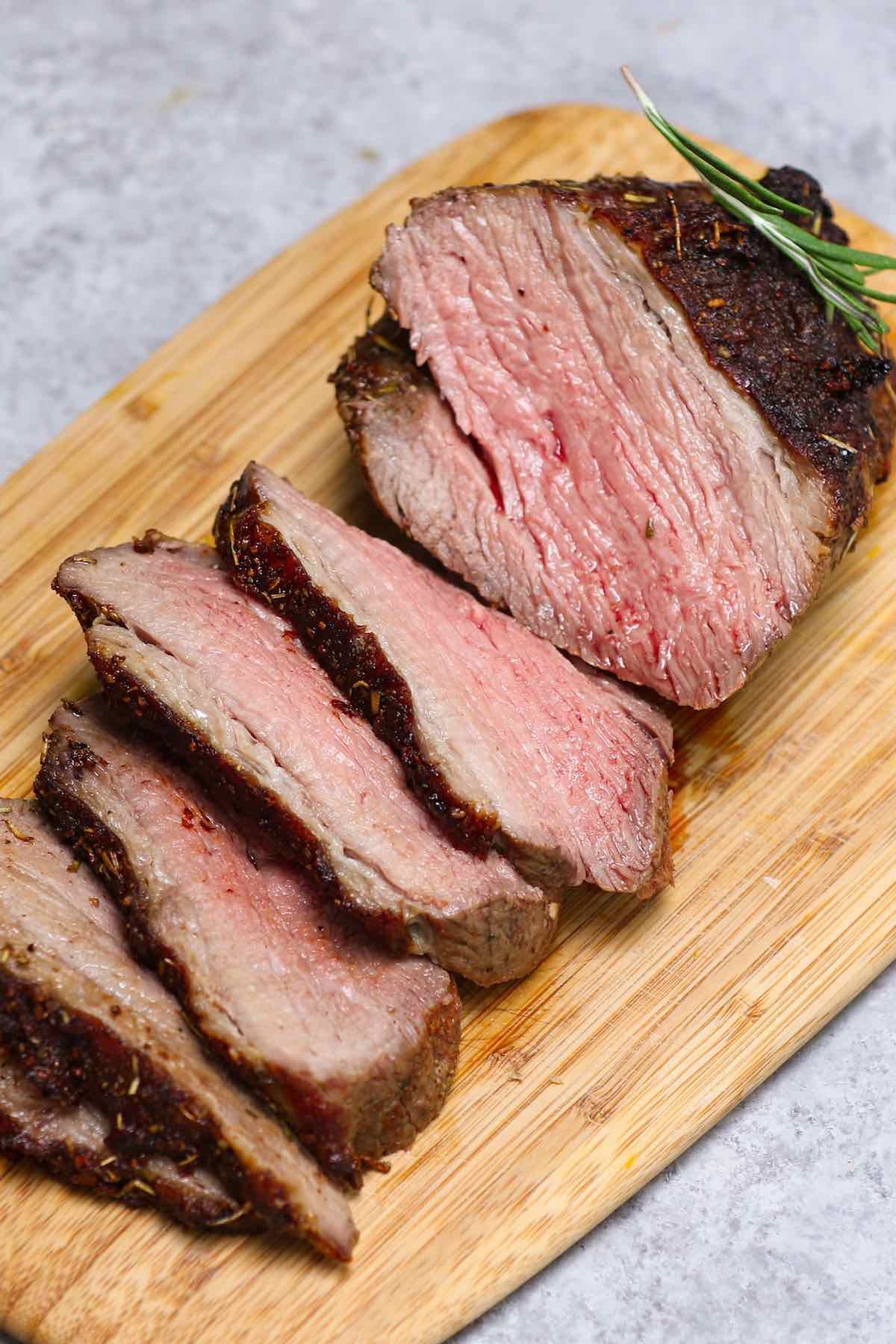 Oven Roasted Tri Tip
Tri Tip in the Oven is juicy and tender beef roast with a beautiful crust thanks to the Santa Maria seasoning rub. This triangle-shaped bottom sirloin cut is perfect for a budget-friendly meal or holiday feast!
Ingredients
2 1/2 pound tri tip, see note
1 tablespoon canola oil, see note
Santa Maria Seasoning
2 teaspoons garlic powder, or granulated garlic
2 teaspoons onion powder, or granulated onion
2 teaspoons paprika, or 1 teaspoon cayenne
2 teaspoons dried rosemary, or 1 tablespoon fresh rosemary chopped
2 teaspoons dried oregano
1 tablespoon kosher salt
1 tablespoon black pepper
Instructions
Mix the seasonings in a small bowl. Rub all over the beef and let it rest at room temperature for 30-60 minutes (or in the fridge overnight).

Place the oven rack to the middle position and preheat to 425°F.

Place a cast iron skillet over high heat and preheat for 5-7 minutes until very hot. Add the oil and swirl to coat. Then add the tri tip fat-side facing down. Sear for 4 minutes without moving. Then flip and transfer to the oven.

Roast for 20-40 minutes (see note). Start checking doneness after 20 minutes by inserting an instant-read thermometer into the middle: 120°F for rare, 130°F for medium rare, 135°F for medium and 145°F for medium well and 155°F for well done.

Remove the tri tip to a carving board or plate. Tent with foil to keep warm and let the meat rest for 5-10 minutes undisturbed. Then slice widthwise against the grain to serve.
Notes
Tri Tip: Other names for this cut include triangle steak, triangle roast, Santa Maria steak and California cut. The closest substitutes are bottom sirloin and London broil.
Oil: You can use any high-temperature oil including canola, sunflower, safflower and refined olive oil. Avoid extra virgin olive oil, which will smoke.
Pan: If you don't have an ovenproof skillet, then skip the stovetop searing and place the tri tip directly into a roasting pan fitted with a rack instead. Turn on the convection or forced air function if available.
Roasting Time is 10-15 minutes per pound depending on your desired doneness. Because of the triangular shape, the thicker section will be more rare than the thinner section.
Nutrition Facts
Oven Roasted Tri Tip
Amount per Serving
% Daily Value*
* Percent Daily Values are based on a 2000 calorie diet.
Please read our nutrition disclaimer.
Recipe tools: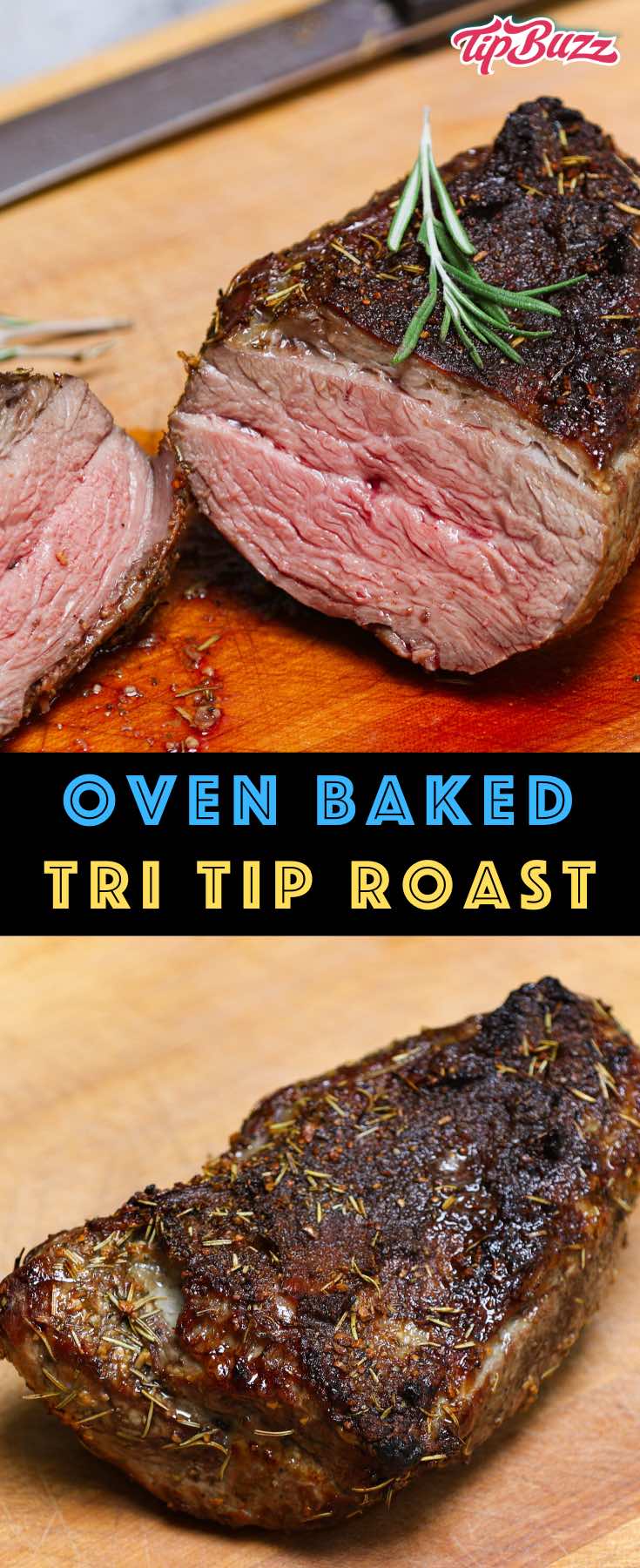 © TIPBUZZ. Images and text on this website are copyright protected. Please do not post or republish without permission. If you want to republish this recipe, please link back to this post. This post may contain affiliate links. Read the disclosure policy here.