Eye of Round Roast
An Eye of Round Roast is a economical cut of beef that, with careful preparation, makes a delicious dinner. Learn how to cook eye of round successfully in the crock pot or oven.
While eye of round may not be the most glamorous cut, it's very flavorful and costs about half as much as a rib roast! Plus, the lean meat has far fewer calories that many other cuts of beef.
While it's a notoriously tough cut, this dump-and-go recipe in the crock pot breaks down the connective tissue to make it nice and tender!
Beef Eye of Round Roast
The eye of round comes from the round primal on the backside of the cow, along with the top round, bottom round and sirloin tip. The muscles get lots of exercise, producing a very lean yet flavorful cut of beef.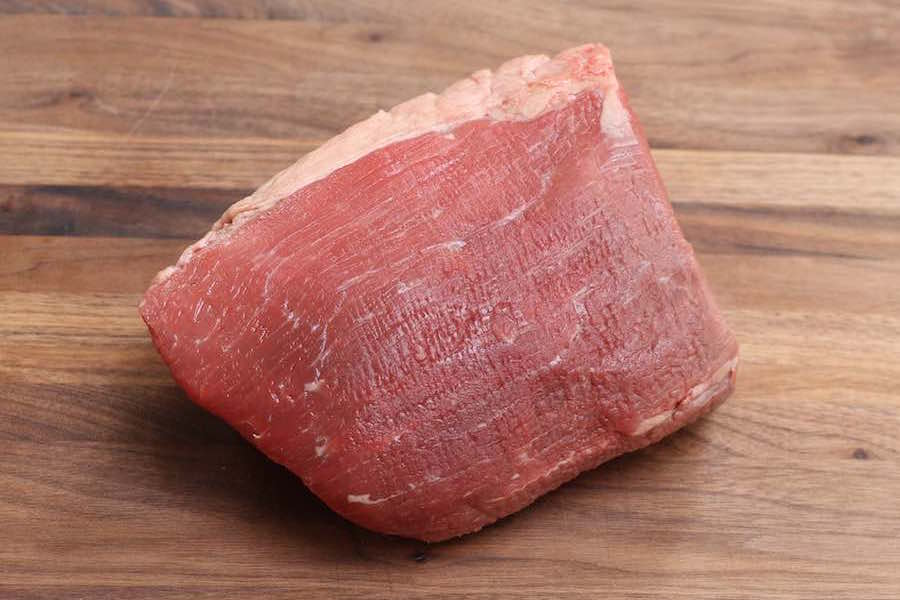 Eye of round roast is the meat most commonly used for roast beef sold at deli counters. It's also used for steak cuts such as cube steak , minute steak and eye of round steak.
How to Cook Eye of Round Roast
Grilling or roasting eye of round at high-temperature does not really work, even with marinating. Dry roasting at a lower temperature like 325°F produces at best borderline tender meat even when you do everything right.
The best way to cook eye of round is low and slow in the crock pot. The steam circulation creates moist heat that braises the meat while slowly breaking down the tough connective tissue. Plus, you get juices to serve with the roast or make into gravy.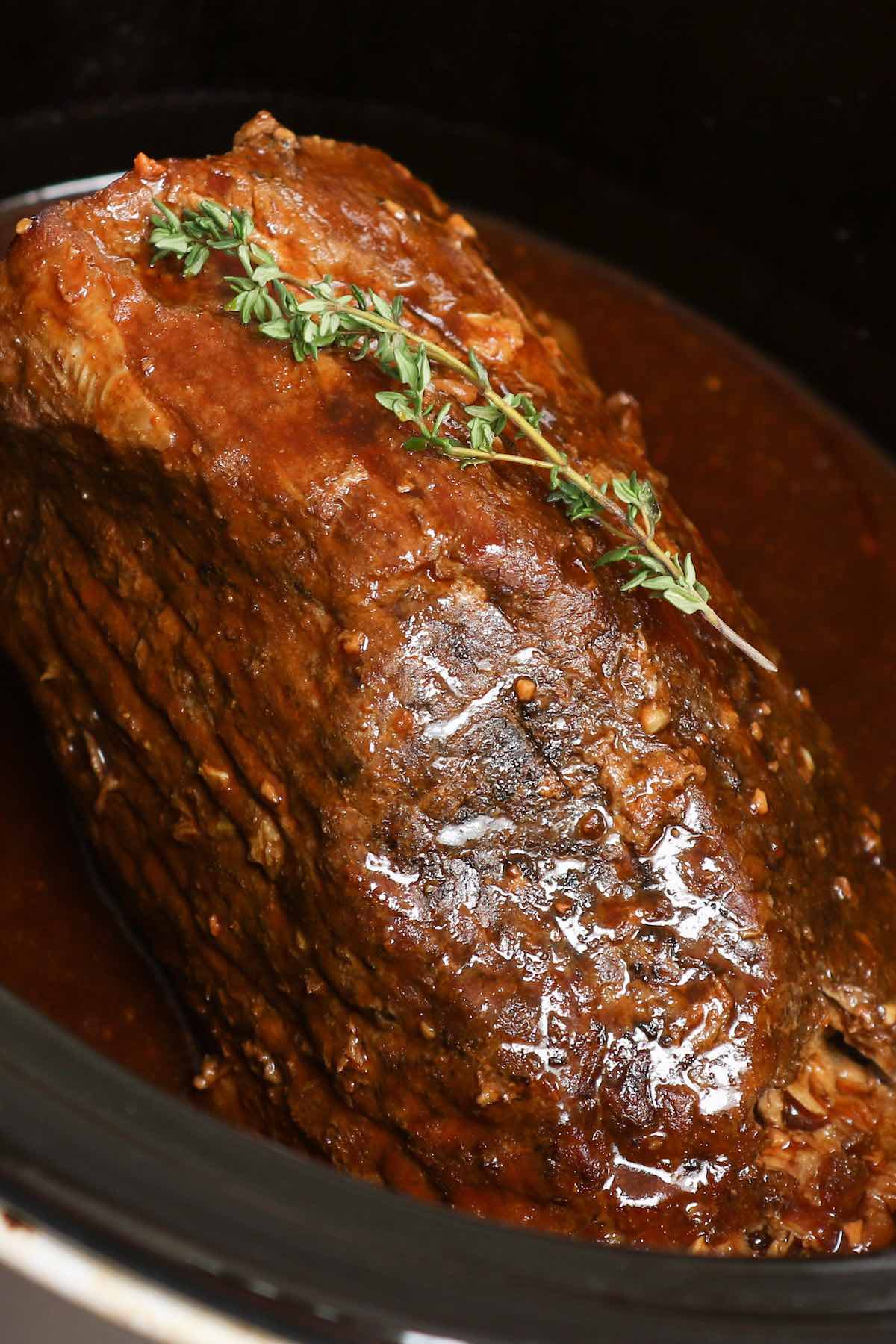 Crock Pot: Place the roast into the slow cooker with the other ingredients. Cook on High for 6-7 hours (recommended) or on Low for 8-10 hours. For additional flavor, try browning the roast on all sides in a skillet on high heat for 4-5 minutes before slow cooking.
Oven: If you don't have a slow cooker, you can cook it as a pot roast in the oven using a Dutch oven. Start it off at 350°F for 20 minutes, then reduce to 225°F for 6-7 hours more until tender. Check the liquid level halfway through and add more if needed.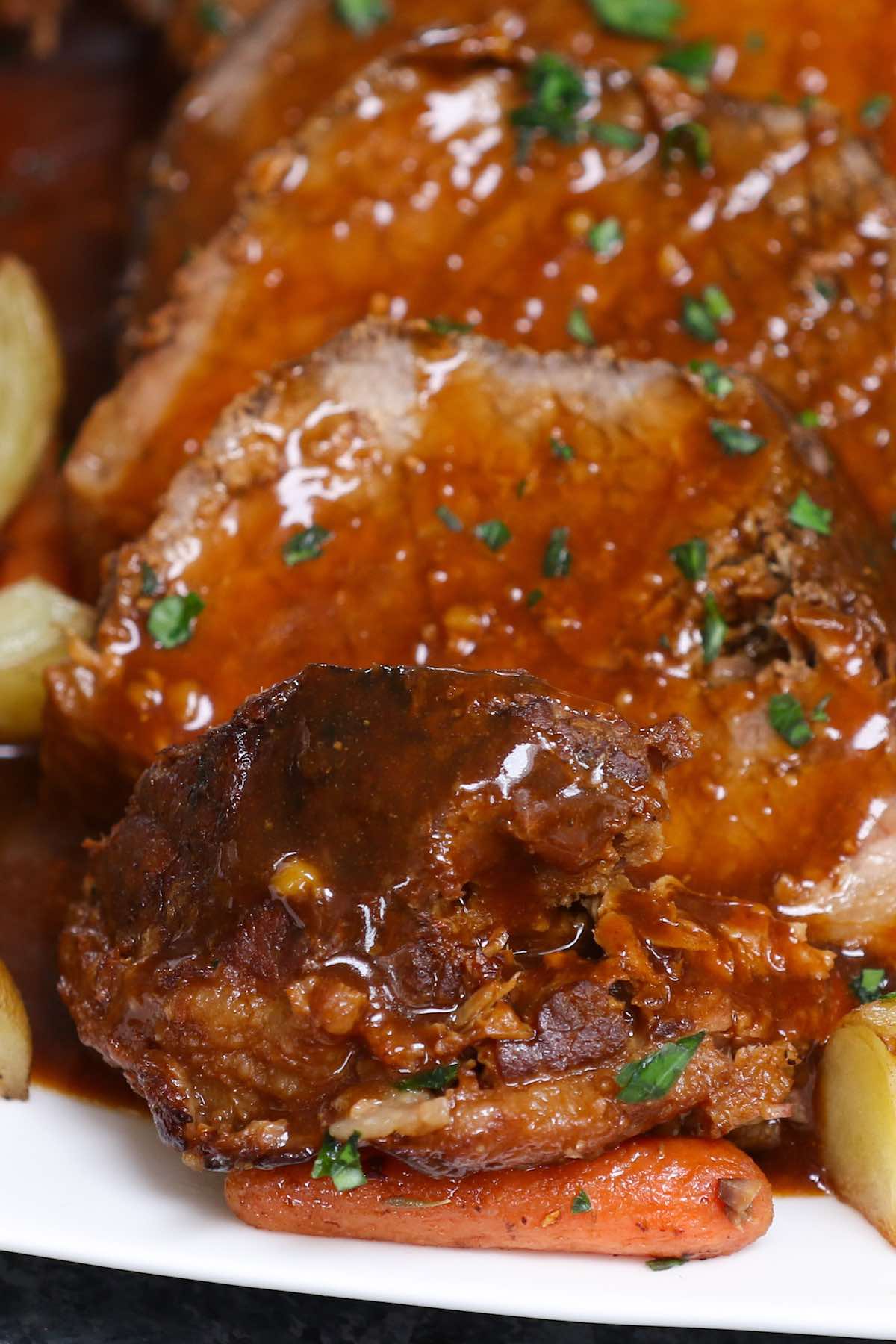 What to Serve with Eye of Round
Classic pairings for an eye of round roast include potatoes, mashed potatoes or rice, plus a vegetable such as carrots, broccoli or green beans. Another option is simply a green salad.
More beef round recipes:
More beef recipes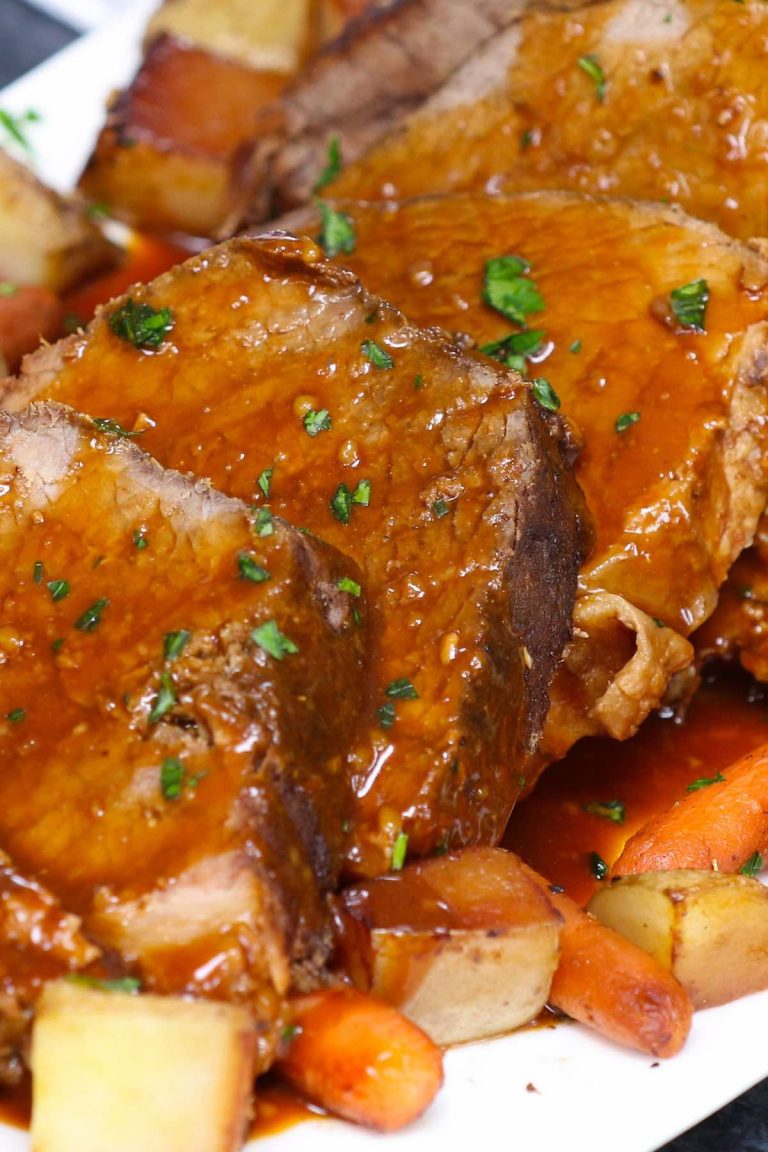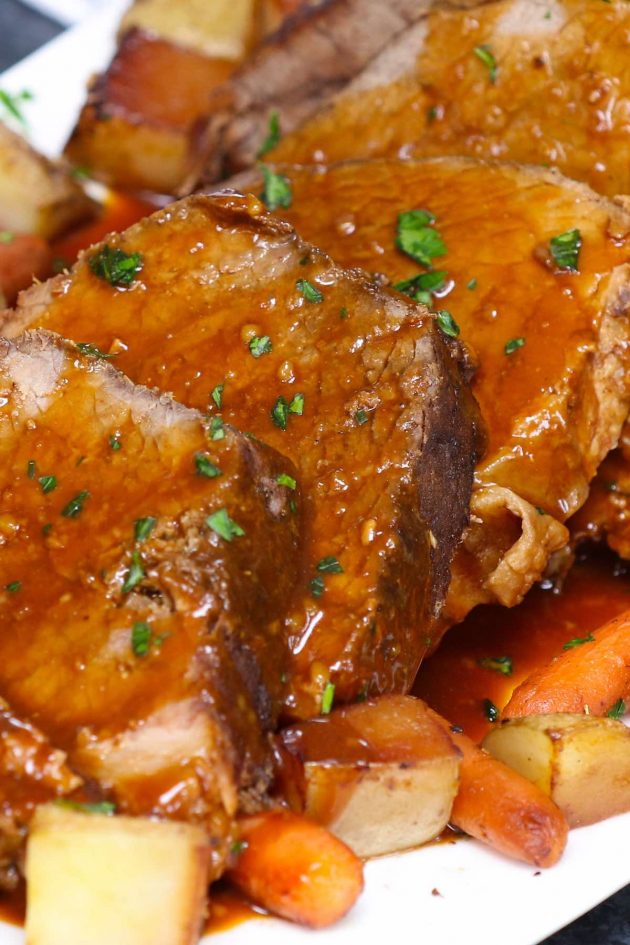 Eye of Round Roast Crock Pot
A budget-friendly cut of meat that makes a delicious dinner when braised in a crock pot or Dutch oven.
Ingredients
3 pound eye of round roast
½ cup beef broth, or water
¼ cup soy sauce, low-sodium recommended
2 tablespoons Worcestershire sauce
1 tablespoon honey
4 large cloves garlic, minced, or 2 teaspoons garlic powder
2 tablespoons cornstarch, mixed with 2 tablespoons water
Instructions
Optional for extra flavor: Place a cast iron skillet on high heat. When hot, add 1 tablespoon of vegetable oil and the roast. Fry for 5 minutes, turning regularly using kitchen tongs for even browning.

Place the roast and other ingredients into the crock pot.

Set the crock pot to cook on High for 6-7 hours or Low for 8-10 hours until tender (see note).

Optional gravy: Pour the juices from the crock pot into a saucepan on medium-high heat. Add the cornstarch-water slurry and let it bubble for several minutes stirring constantly until thick enough to coat the back of a spoon. Remove from heat.

Slice the roast crosswise against the grain and serve with the juices or gravy drizzled on top.
Notes
You can add vegetables to the crock pot for the final hour or so. Chopped potatoes and carrots will need 60 minutes, while green beans need about 30 minutes.
Make Ahead: This cut it not suitable for making ahead of time, as it risks toughening up during reheating.
Use leftovers to make roast beef sandwiches or beef vegetable soup.
Nutrition Facts
Eye of Round Roast Crock Pot
Amount per Serving
% Daily Value*
* Percent Daily Values are based on a 2000 calorie diet.
Please read our nutrition disclaimer.
Recipe tools:


© TIPBUZZ. Images and text on this website are copyright protected. Please do not post or republish without permission. If you want to republish this recipe, please link back to this post. This post may contain affiliate links. Read the disclosure policy here.