The Best Skillet Shepherd's Pie
This Skillet Shepherd's Pie has delicious and flavorful beef, onions, carrots and corn topped with buttery and creamy mashed potatoes with parmesan cheese. Baked to golden perfection in a skillet for a satisfying dinner.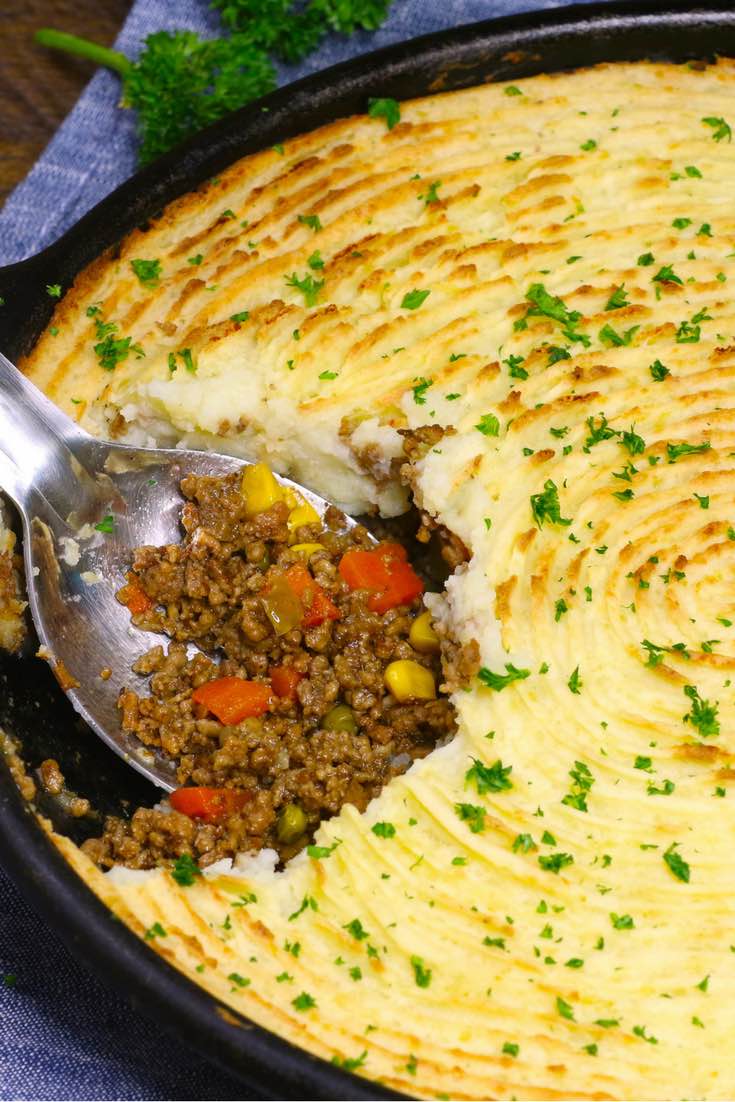 Shepherd's Pie is comfort food at its best. In its simplest form, it's a savory pie consisting of minced meat and onions on the bottom and whipped mashed potatoes on top, baked in the oven until golden.
This recipe is a family favorite for lunch or dinner, and it makes enough to serve a crowd if you're entertaining. We love that it's a hearty and satisfying meal with protein, starch and veggies in every bite! It's one of my family's favorite beef recipes, along with Slow Cooker Beef Stew, Taco Casserole, Philly Cheese Steak Sloppy Joes, Party Sloppy Joes, Taco Pasta, Party Lasagna and Mini Lasagna Cups.
Shepherd's Pie vs Cottage Pie
Like so many classic dishes, this popular British invention was created by peasants as a way to use up leftover roast beef. The name was cottage pie, a name that is still commonly used today especially in the UK.
Shepherd's later adapted the recipe to use minced lamb instead of beef, and called it shepherd's pie. The name shepherd's pie stuck in America along with herdsman's pie in ranch country, but we won't go there!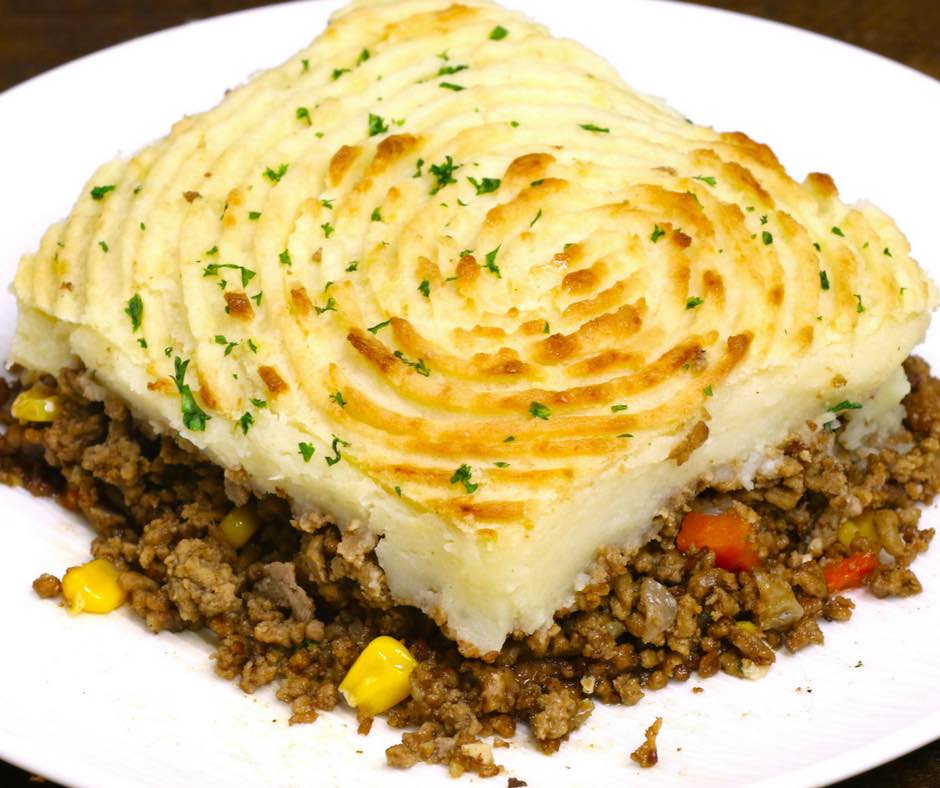 One of the secret ingredients in shepherd's pie is Worchestershire sauce, which was invented around the same time. It's a potent mix of vinegar, molasses, tamarind, onions and garlic that seasons and tenderizes the meat beautifully.
How to make skillet shepherd's pie
We've streamlined this recipe to be as easy as possible. The first key tip is to start with the right potatoes, which are baking potatoes or russets. Because they have a floury texture, they mash easily without lumps that are hard to get rid of!
You can boil the potatoes, but we find it's faster to microwave them on full power until soft.
The second tip is to use an ovenproof skillet, which means one without a plastic handle and that fits in your oven. If you don't have one, then simply use a square 8-9 inch baking pan.
Once the potatoes are cooking, you can cook the meat. We've called for ground beef, and you can substitute ground lamb if you prefer. If you have leftover beef roast, mince it up a food processor and use it instead of ground beef.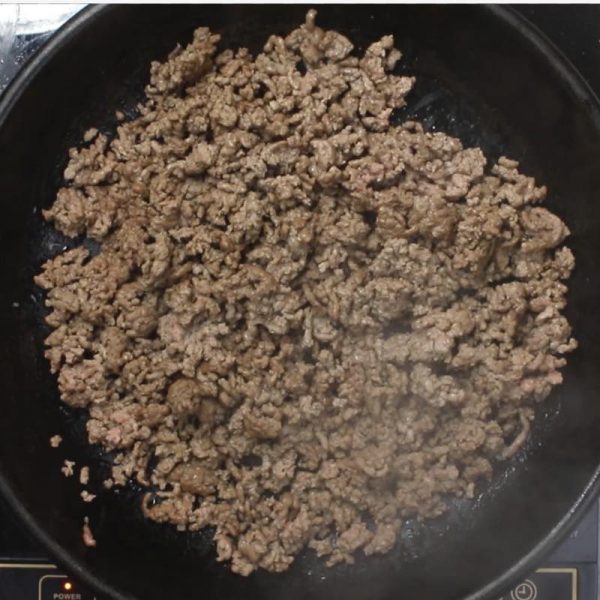 Browning the beef is important for a flavorful pie, so fry it over medium-high heat for several minutes. Then you can add in the onions and garlic and remaining ingredients.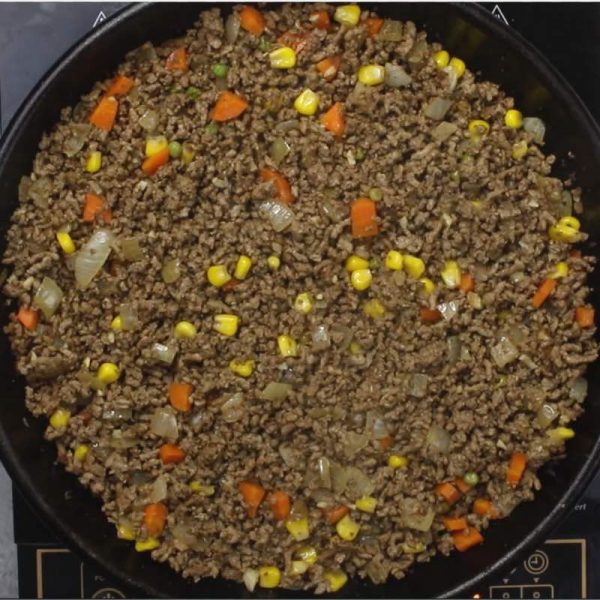 Watch How to Make Skillet Shepherd's Pie:
The Best Skillet Shepherd's Pie (With Video)
This Skillet Shepherd's Pie is packed with flavorful beef and vegetables before being covered with fluffy mashed potatoes and baked to golden perfection in the oven!
Ingredients
Meat
1 tbsp oil
1 1/2 lb ground beef, or ground lamb
2 cloves garlic, crushed
1 large onion, diced
3 tbsp Worcestershire sauce
1 cup beef broth
2 cups frozen vegetables, eg. carrots, peas and corn
salt and pepper to taste
Potatoes
2 lb baking potatoes, eg. russets
4 tbsp butter, softened
1 cup milk
1/4 cup parmesan cheese, grated
salt and pepper to taste
1 tbsp fresh parsley, chopped, optional
Instructions
Wash the potatoes. Using a skewer or cake tester, poke 6-8 holes an inch deep into each.

Place potatoes on a plate and microwave on full power for 15-20 minutes until soft. Meanwhile, prepare the meat...

Place a large ovenproof skillet over medium-high heat.

Add the oil and then the ground beef, stirring for 3-5 minutes until starting to brown. Drain off any excess fat.

Add the onion and garlic and cook several minutes more until translucent and the meat is browning more.

Add the Worcestershire sauce, beef broth, vegetables, salt and pepper. Stir for several minutes to boil off excess liquid and remove from heat.

Preheat the oven to 375°F.

Remove the cooked potatoes from the microwave. Dip in cold water to cool, and peel off the skins if desired.

In a medium bowl, add potatoes and butter and mash for a minute until fairly smooth. Then add milk, parmesan, salt and pepper and mash again.

Spoon the mashed potatoes over the meat in the skillet and spread evenly. Use a fork to make your favorite pattern on the top of the potatoes.

Bake for 25 minutes in the top third of the oven until golden.

Remove from the oven and garnish with optional parsley. Serve and enjoy!
Notes
-We have suggested microwaving the potatoes, but they can also be boiled/steamed for about 30 minutes if you prefer.
Nutrition Facts
The Best Skillet Shepherd's Pie (With Video)
Amount per Serving
% Daily Value*
* Percent Daily Values are based on a 2000 calorie diet.
Please read our nutrition disclaimer.
Looking for more dinner recipes?
© TIPBUZZ. Images and text on this website are copyright protected. Please do not post or republish without permission. If you want to republish this recipe, please link back to this post. This post may contain affiliate links. Read the disclosure policy here.