Roasted Parsnips
Roasted Parsnips are a very simple but delicious vegetable side dish that's sweet and tender. This recipe makes perfect parsnips with a caramelized surface that enhances the natural flavor. The best way to prevent them from drying out is to roast parsnips with foil covering them first and then expose them to the oven's heat.
These would be the perfect side to Crock Pot Chicken Breast or Pan Fried Pork Chops.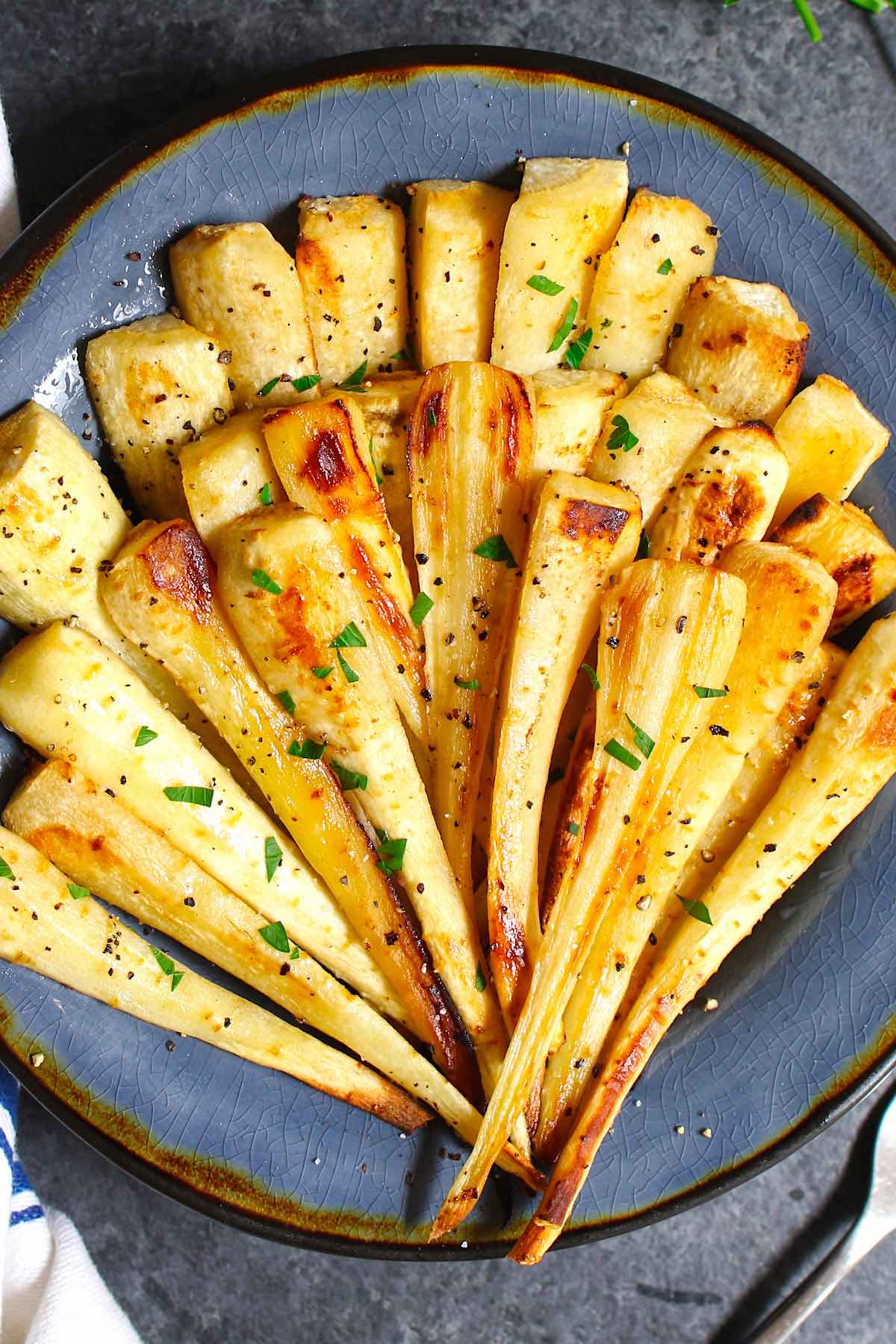 What is a Parsnip?
The parsnip is a delicious and nutritious root vegetable closely related to the carrot. They look like white carrots with the long and tuberous root. Usually, they have cream-colored skin and are bigger than carrots.
Raw parsnips taste like a cross between carrots and potatoes, and smell like fresh parsley. They are not quite as sweet as carrots and have an earthy and nutty flavor. Raw parsnips can also be slightly bitter and spicy.
According to USDA, parsnips are a good source of vitamin C and dietary fiber. They also contain high levels of minerals such as calcium and potassium. The best way to prepare them is to roast in the oven as it produces a crisp-tender texture and brings out the natural sweet taste. You don't need to add in sugar as my simple techniques will help develop caramel notes with heat. There are many other ways to cook them such as parsnip soup, puree, fries, mashes, and even parsnip chips.
Parsnip Selection
High-quality and fresh parsnips taste best. You will want to pick the whiter, smaller and firm parsnips at the store.
The whiter the flesh, the sweeter the parsnip. Yellowish parsnips are likely to be old.
Smaller parsnips are generally sweeter, tender and less woody. Large ones are tougher and more fibrous.
Choose firm parsnips with tops intact.
The parsnips in the picture above are very fresh with white skin and beautiful tops.
The key for perfectly roasted parsnips is to keep the size uniform for even cooking. The best is 1/2 to 1-inch in width. If you use a larger variety, peel and cut them into similarly sized sticks.
Do You Have to Peel Parsnip Before Roasting
Yes, as the skin is usually tough and woody with a bitter taste. If you are able to get some small baby parsnips, you could leave the skin on, but make sure the skin is thoroughly washed and scrubbed of any dirt.
How to Cut Parsnips into Uniform Sticks
If you use larger parsnips, you need to cut them into smaller and uniform sticks.
First cut the parsnip in half crosswise, so that the larger top part and smaller bottom part are separated.
Then quarter the largest parts lengthwise, and halve the smaller parts. You will get the relatively even thickness this way.
How to Roast Parsnips in the Oven
Roasting parsnips is super simple. You'll need a rimmed baking sheet, parsnip, butter and seasonings.
Toss the peeled parsnips with melted butter and seasonings.
Spread evenly on a baking sheet in one layer.
Cover with aluminum foil and bake for 15 minutes at 425 degrees F to tenderize the parsnip.
Then remove the foil and roast for another 15-18 minutes to finish off. The exposure to high heat will caramelize the surface.
This two-step process ensures parsnips get cooked perfectly. You can substitute butter with olive oil or clarified butter.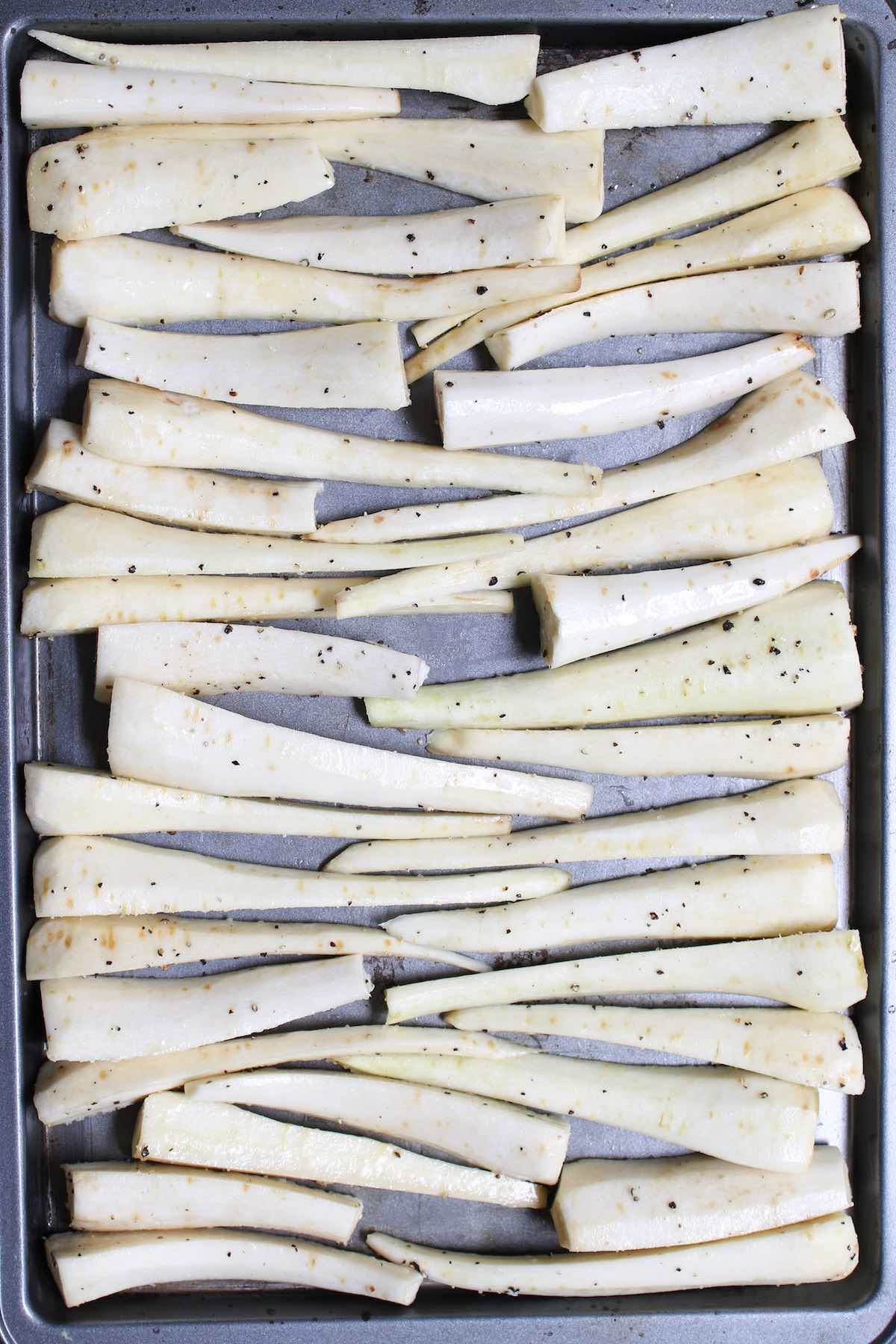 How Long to Roast Parsnips
It depends on the size of your parsnips and how tender you want them to be. I like mine tender but not mushy, so for this recipe, I roasted them for about 30-35 minutes at 425 degrees F in total (covered with foil for the first 15 minutes to prevent parsnips from drying out).  I find a higher temperature give the best results for a crispy exterior and a tender interior.
Depending on the size of your parsnips, a few additional minutes may be needed. The goal is to have fork tender but not mushy interiors with a golden brown surface.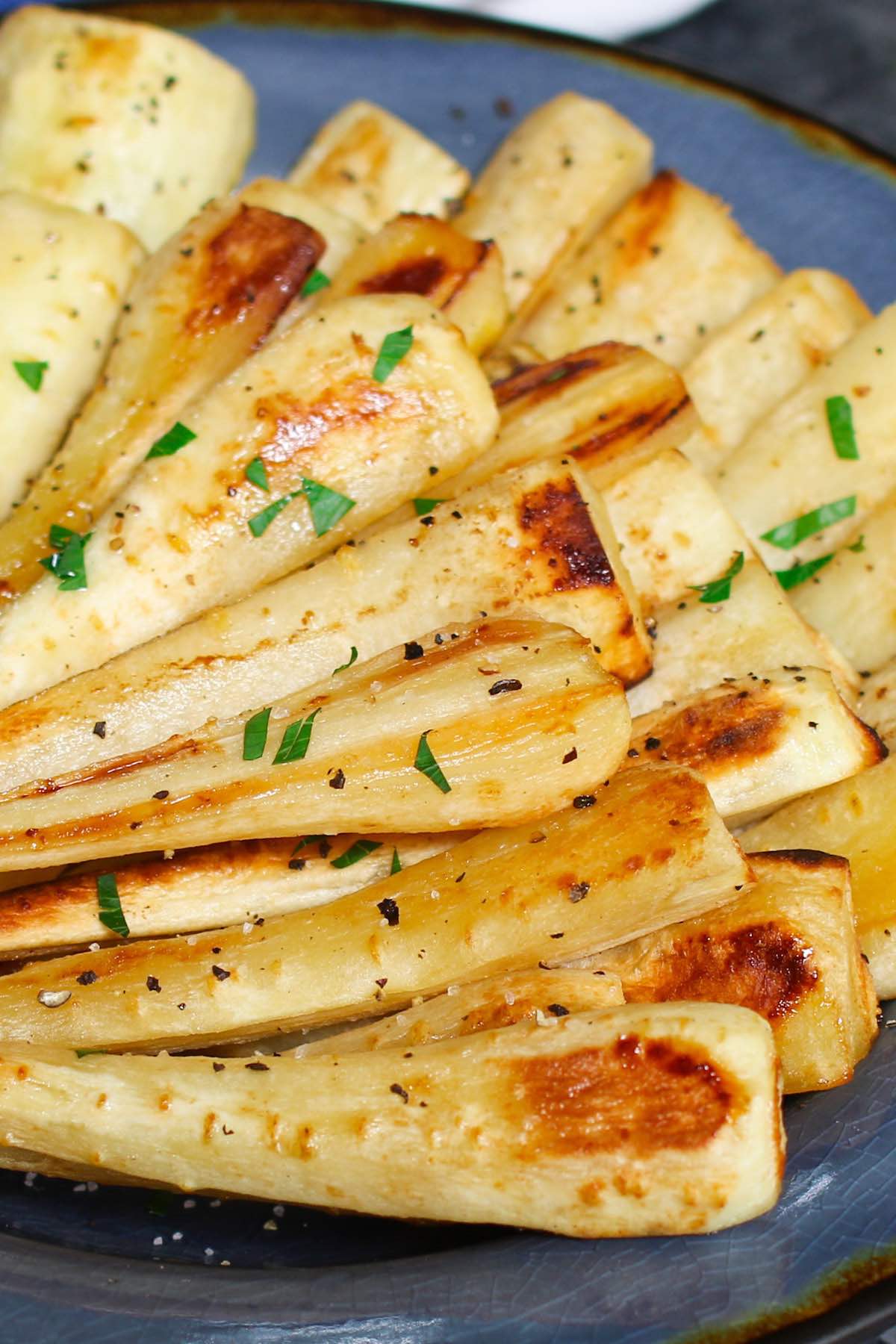 Other Seasonings for Roasted Parsnips
Simply roasting them with butter, salt and pepper brings out the natural sweetness of parsnips. However, you can add maple syrup for a sweeter flavor, or cayenne pepper for a little heat.
Other herbs and spices like thyme, rosemary, clove, garlic powder, nutmeg and basil are great too. Once you've got the basic roasting technique down, you can be creative with the seasoning on these parsnips as they'll go great with pretty much anything!
Can You Freeze Roast Parsnips
Yes! While parsnips aren't something you'd think of freezing, they actually freeze well. Place the cooked parsnips in a freezer bag and store them in the freezer. They can last for up to 1 month. Reheat either in the oven or a frying pan on the stove.
More Side Dish Recipes You'll Love
Roasted Parsnips
Learn how to roast parsnips properly and prevent them from drying out. This parsnip recipe is the best and makes a sweet and tender side dish.
Ingredients
2 pounds parsnips
3 tablespoons unsalted butter, melted
3/4 teaspoon kosher salt
1/2 teaspoon black pepper
2 teaspoons chopped parsley, optional for serving
Instructions
Preheat oven to 425ºF (218ºC). Place oven rack to the center position.

Wash and peel parsnips. If using large varieties, cut them into uniform pieces between 1/2 to 1-inch wide and about 4-inch long.

In a large bowl, toss parsnips with melted butter, salt and pepper.

Spread out the parsnips and distribute evenly on the baking sheet.

Cover tightly with foil and cook for 15 minutes.

Remove the top piece of foil and roast parsnips for an additional 15-18 minutes or until fork tender.

Season with more salt and pepper. Sprinkle with chopped parsley and serve warm.
Notes
Make it Vegan, Dairy-Free, and Paleo: Use olive oil instead of butter.
Make it Whole30: Use extra-virgin olive oil instead of butter and use sea salt. 
Nutrition Facts
Roasted Parsnips
Amount per Serving
% Daily Value*
* Percent Daily Values are based on a 2000 calorie diet.
Please read our nutrition disclaimer.
© TIPBUZZ. Images and text on this website are copyright protected. Please do not post or republish without permission. If you want to republish this recipe, please link back to this post. This post may contain affiliate links. Read the disclosure policy here.