Pomelo Fruit and How to Eat Pomelo
Pomelo is a large citrus fruit with a refreshing sweet and mild taste. Here we explain what is a pomelo, some of its health benefits and how it compares to grapefruit. We also explain different ways you can eat this delicious fruit!
One of my favorite exotic fruits is the pomelo, along with dragon fruit and pomegranate of course! It has a pleasant mild flavor and meaty texture. Plus, it makes a mess-free snack on-the-go, since it's not juicy like grapefruit. Just peel and enjoy!
What is a Pomelo?
Pomelo is a largest of all citrus fruit at up to one foot in diameter. It goes by many names including pummelo, shaddock and Chinese grapefruit as well as its scientific names citrus maxima and citrus grandis. In Hawaii, it's called jadong.
As the main ancestor to the common grapefruit, this species is native to Southeast Asia where pomelo trees have been cultivated for thousands of years. There are three main varieties: white, pink and red.
Pomelo vs Grapefruit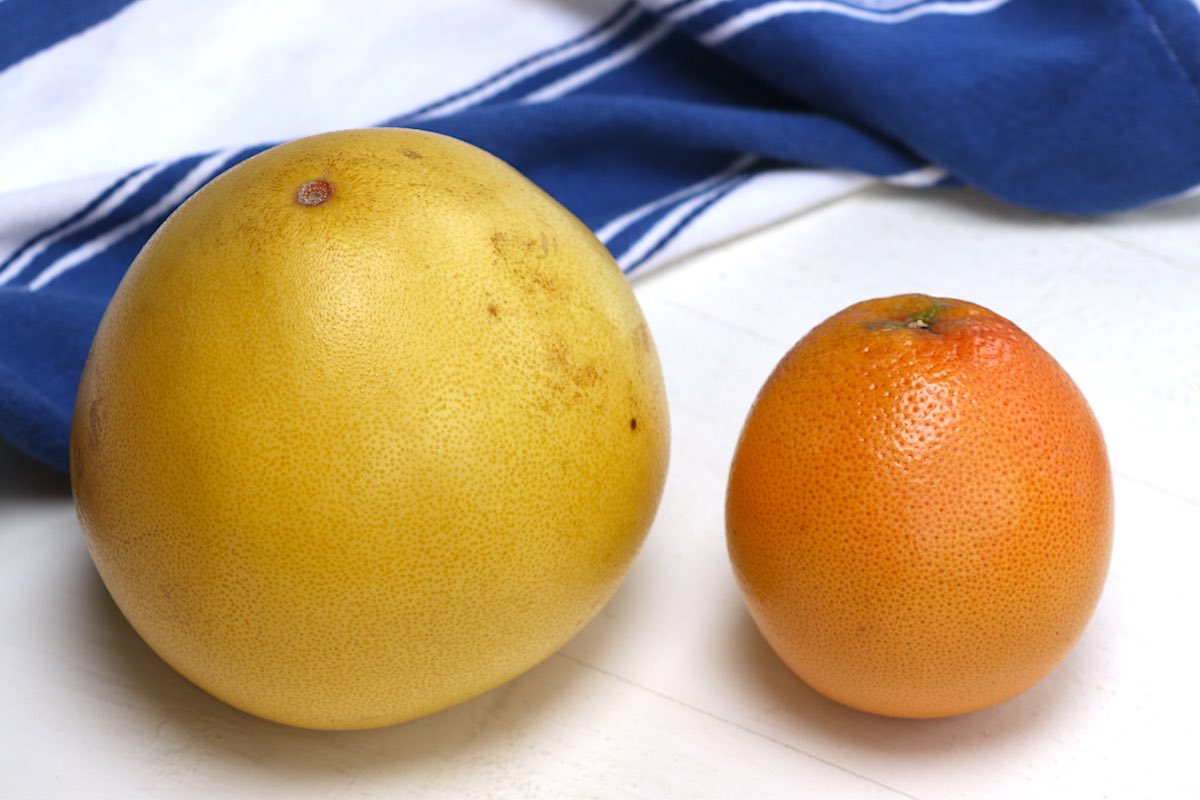 While these two citrus fruits bear many similarities, they each have their own distinct character. Here are some of the differences:
| | | |
| --- | --- | --- |
| | Pomelo | Grapefruit |
| Skin | Yellow or pale green with a thick rind | Yellow or pink with a thinner rind |
| Shape | Slightly oblong | Round |
| Typical weight | 2 – 4 pounds | ½ – 2 pounds |
| Taste | Mild and sweet | Tart or bitter |
| Juice | Not juicy | Juicy |
Just like with grapefruit, a pomelo's flesh can be white, yellow or ruby-colored depending on the variety.
How to Open Pomelo Fruit?
As with grapefruit, you can open pomelo fruit with a knife. You can remove the rind with your fingers on the go, although it's slightly more effort.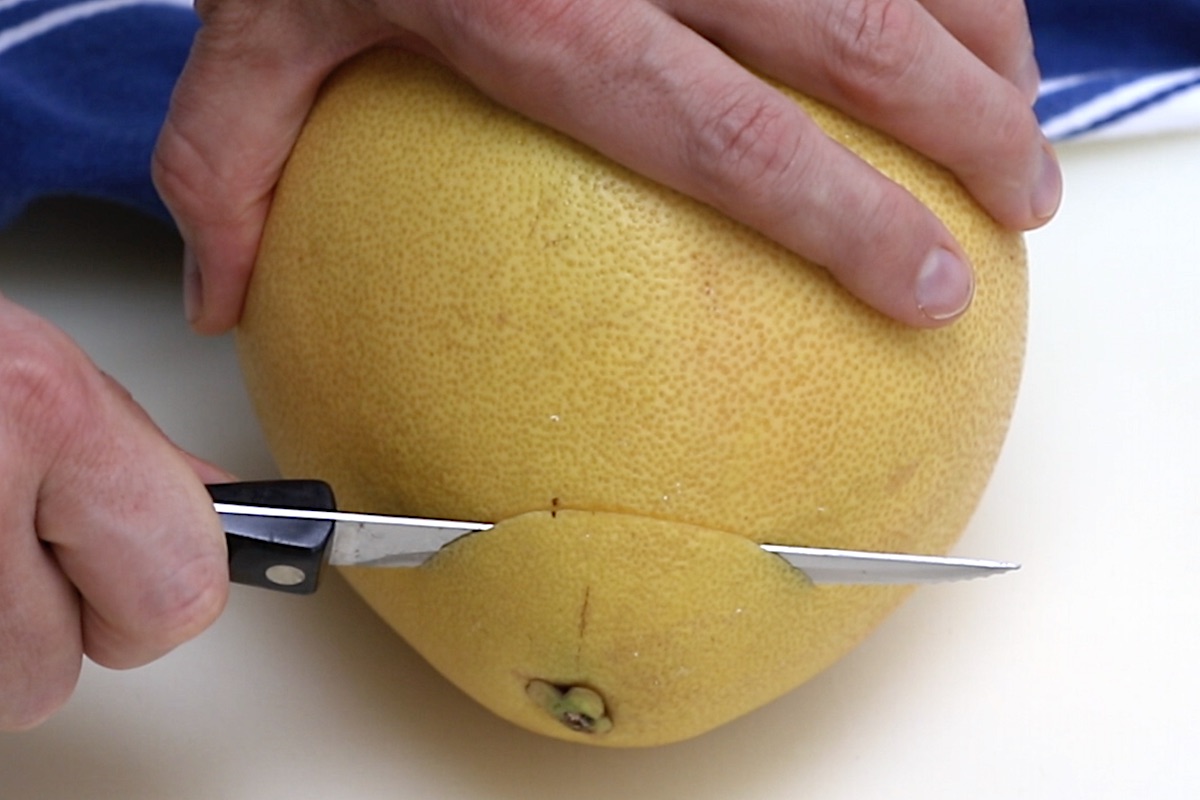 Start by slicing an inch off the top, or the narrower end. The rind is very thick, so don't worry about cutting into the flesh just yet.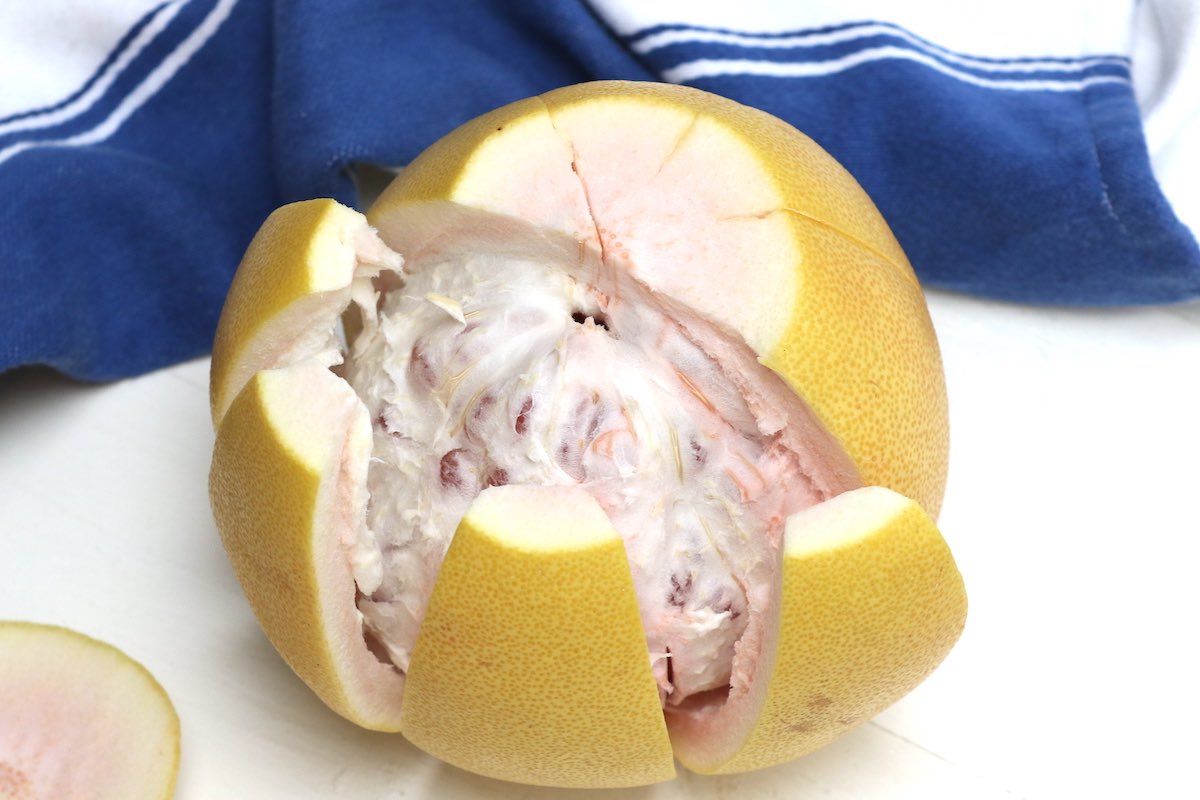 Next, score the peel about a half-inch deep from top to bottom, creating 6 to 8 sections. Using your fingertips, separate the peel sections from the flesh.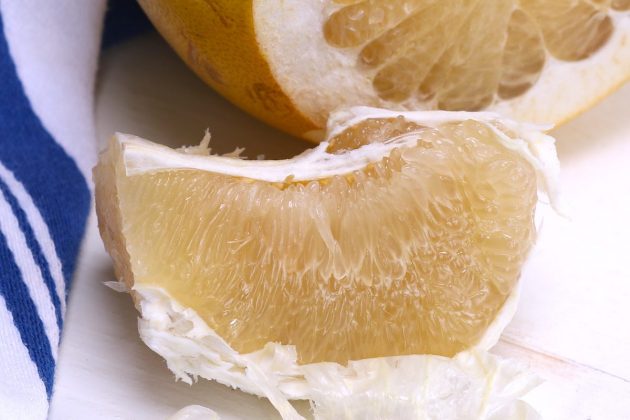 Now you can easily pull apart the flesh into sections or pieces. Since it is not juicy, you don't need to avoid squirts of juice like with grapefruit.
Eating a Pomelo
It's easy to eat this fruit as a snack. Simply peel it and remove the pith to expose the flesh. You'll find it easy to break into pieces with minimal mess since it's not juicy.
There are other delicious ways to use pomelo too:
Salad: Add pieces of pomelo to a fruit salad or other salads. It's particularly delicious in a spinach salad with nuts and feta.
Marmalade: You can make marmalade with pomelos instead of oranges.
Juice: Add pieces of flesh to a blender and then blend with extra water.
Sparkling water: Add it to flavor sparkling water.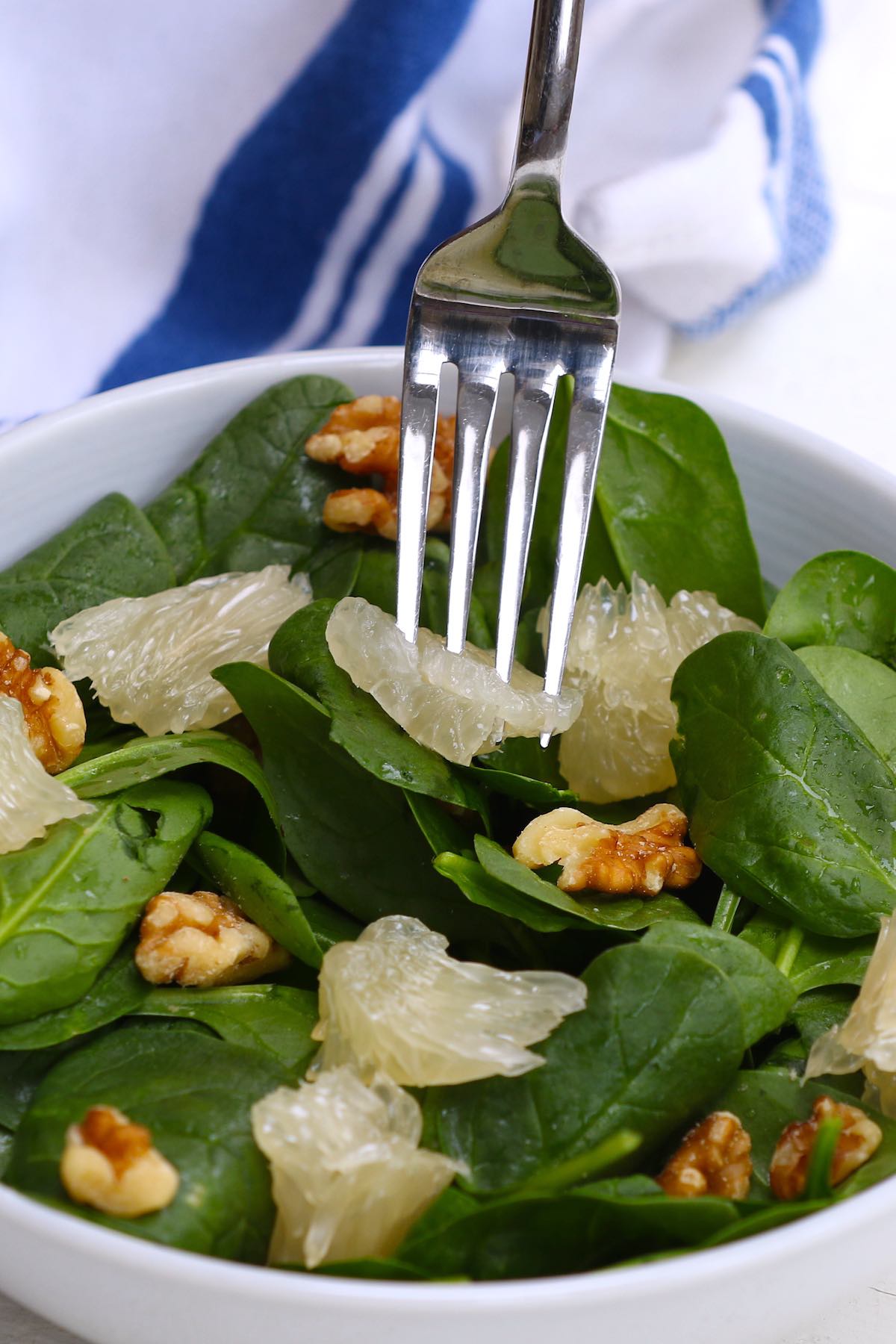 What Does a Pomelo Taste Like?
It has a pleasant flavor that's sweet and mild without the bitterness of grapefruit. The flesh is also firm and easy to break into pieces with your hands.
Note that pomelos become drier and sour-tasting as they age. If you have that experience, try buying at a different store to get a fresher supply.
Health Benefits
Are pomelos good for you? According to Healthline, pomelo is a nutritious and low-calorie food with benefits related to heart health, digestion and disease prevention.
One medium-sized pomelo has 231 calories and contains more than 400% of the daily value of Vitamin C and 6 grams or 24% of daily fiber. It also contains beneficial antioxidants such as riboflavin, thiamine, copper, potassium and lycopene. Note, however, that pomelos are not keto.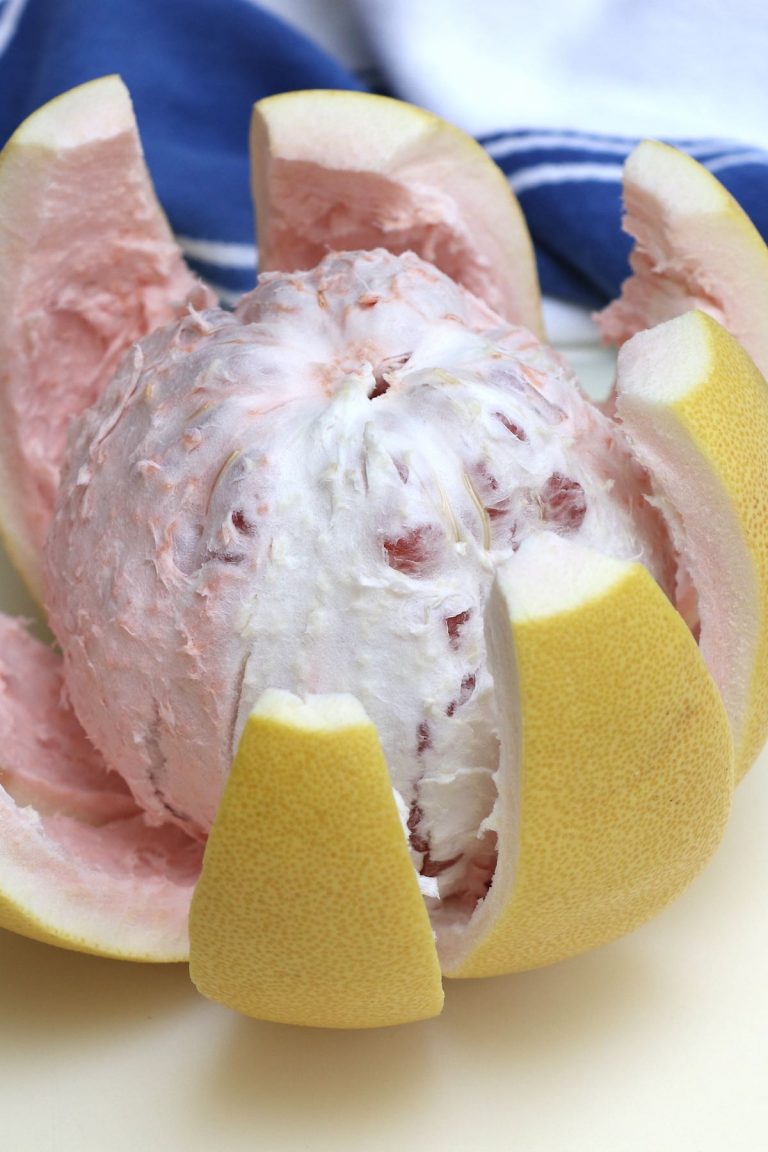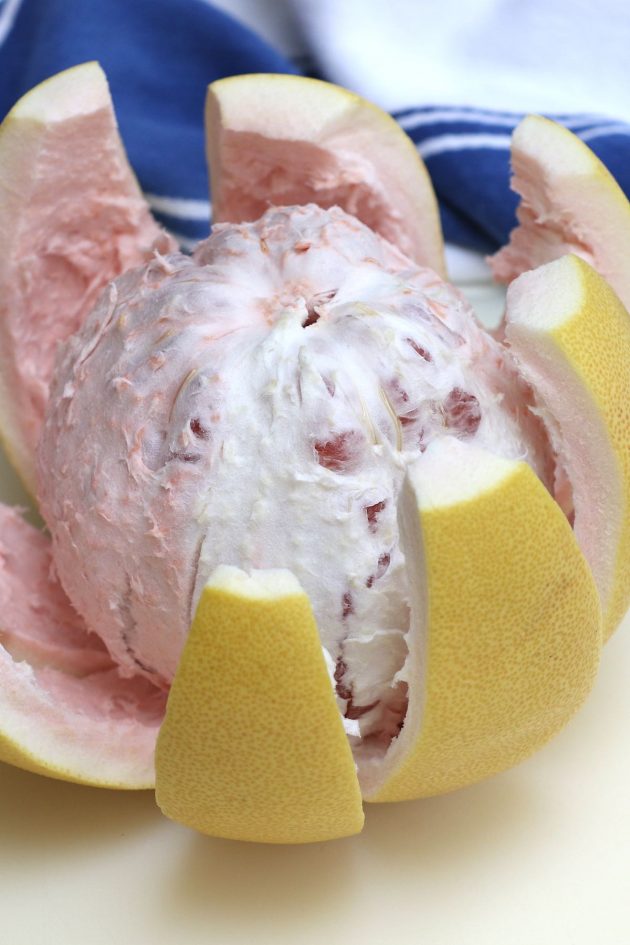 Where to Buy Pomelos?
Years ago you could usually only find pomelos at Asian grocers, as this fruit is common in Chinese and Japanese diets. Today they're more widely available at stores like Walmart, Whole Foods and other major supermarkets.
Pomelos are grown in the Pacific rim, Latin America and the Caribbean as well as Florida and California. The American growing season lasts from November through March, the best time to buy them.
When shopping, the skin will either be bright yellow or pale green. It will feel firm to the touch and heavy for its size when fresh. A few blemishes are no problem, but watch out for any signs of squishiness or softness.
You can store a fresh pomelo for a week or two at room temperature or even longer under refrigeration albeit with some loss of flavor.
More Exotic Fruits You May Like: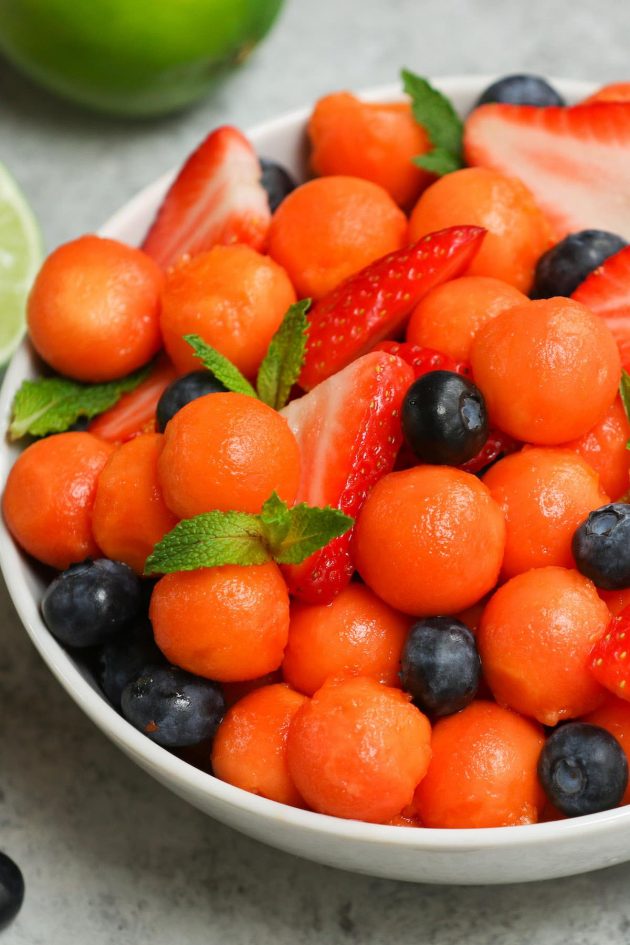 How to Eat Pomelo
Learn how to cut a pomelo quickly and how to make pomelo salad with this step-by-step guide.
Ingredients
Pomelo Spinach Salad (optional)
3 cups baby spinach leaves, packed
1/2 cup walnuts, or pecans
1/4 cup crumbled cheese, blue, feta, cheddar or other
1/4 cup balsamic vinaigrette, see note
Instructions
Cut and Peel the Pomelo
Slicing an inch off the top of the pomelo.

Score the peel about a half-inch deep from top to bottom, creating 6 to 8 sections.

Separate the peel sections from the flesh using your fingertips. Then remove the pith to expose the flesh.

Break the flesh into 1-inch pieces and reserve.
Make the Salad (optional)
Rinse the spinach leaves thoroughly. Dry using a salad spinner or paper towels.

In a salad bowl, add the spinach, walnuts and cheese.

Drizzle the balsamic vinaigrette on top and toss until it coats the ingredients are evenly coated.

Garnish the salad with the pomelo pieces before serving.
Notes
Vinaigrette: To make your own balsamic vinaigrette, combine 2 tablespoons balsamic vinegar with 2 tablespoons olive oil.
Storage: The pomelo will last for up to 2 days in an airtight container in the fridge. You can store the undressed salad for the same period of time.
Nutrition Facts
How to Eat Pomelo
Amount per Serving
% Daily Value*
* Percent Daily Values are based on a 2000 calorie diet.
Please read our nutrition disclaimer.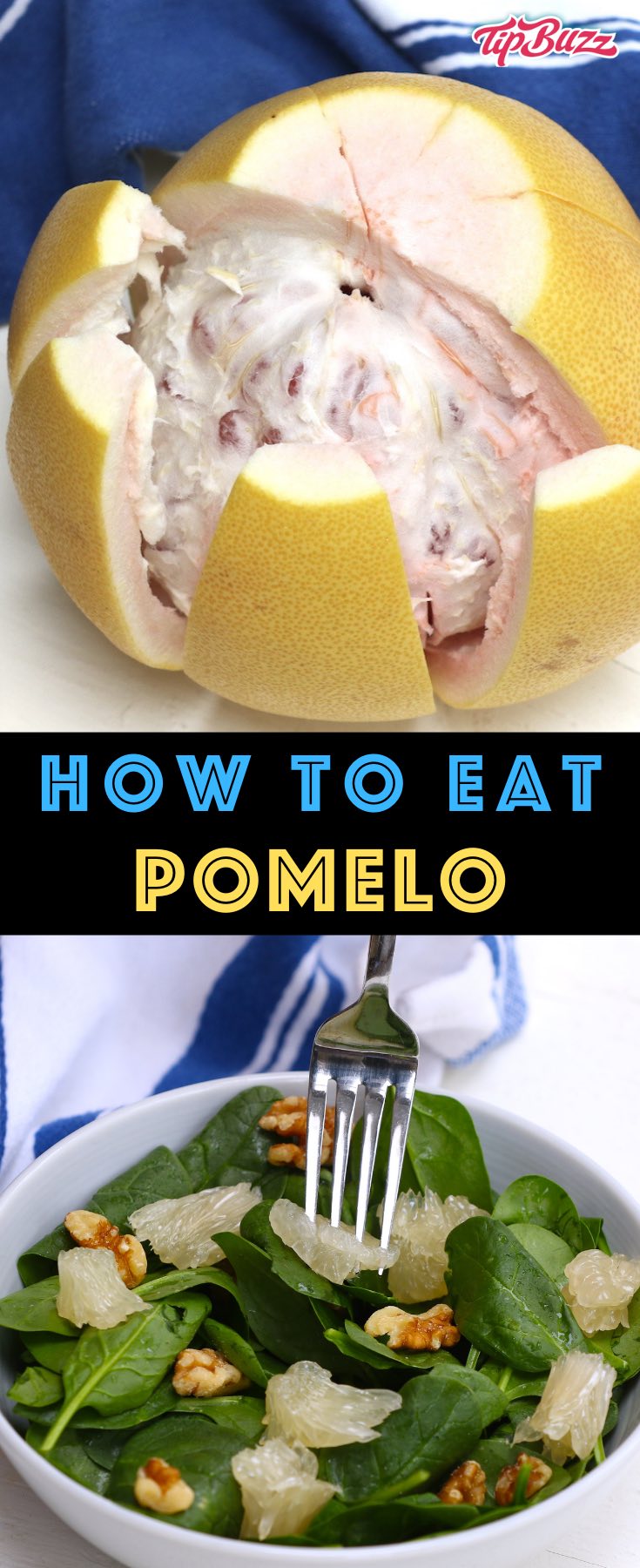 © TIPBUZZ. Images and text on this website are copyright protected. Please do not post or republish without permission. If you want to republish this recipe, please link back to this post. This post may contain affiliate links. Read the disclosure policy here.