Homemade Garlic Butter
Garlic butter is a versatile kitchen staple with even the smallest amount adding so much flavor to a dish, whether meat, seafood, vegetables, mashed potatoes, pasta and more. It only takes 5 minutes to make using butter, garlic cloves, parsley, lemon juice and salt! Plus video tutorial!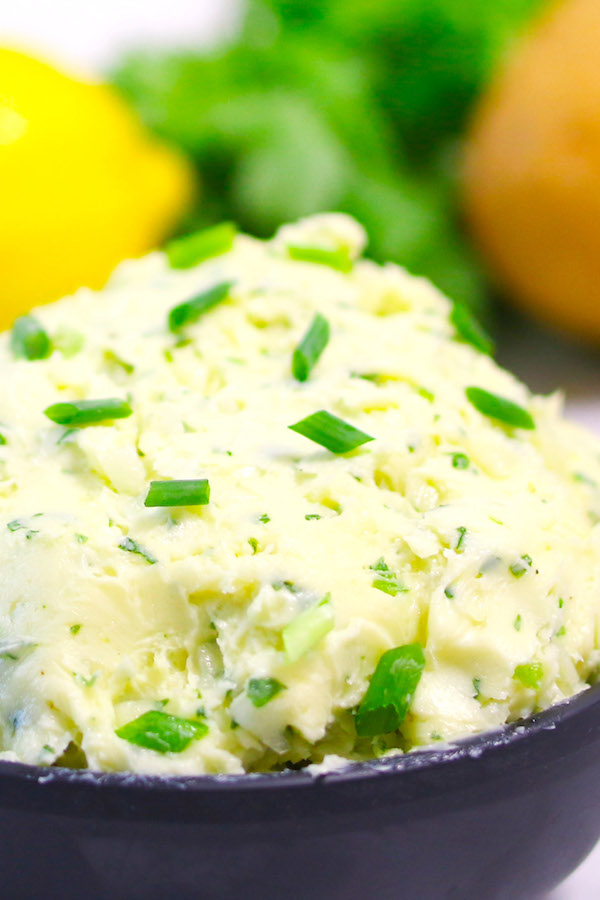 There's no need to settle for bland storebought spreads when you can whip up this inexpensive homemade garlic butter in minutes! The best part? You can make it ahead of time, as it'll keep nicely in the fridge or freezer for later use. You'll want to keep some on-hand to add amazing flavor to dishes as we cook!
Combining butter with garlic is a simple creation hailing from France, where it's called Burgundy Butter or beurre a la bourgignonne. The secret to this recipe is pureeing the garlic, which only takes 5 minutes on a cutting board with a knife and some salt.
HOW TO USE GARLIC BUTTER
I've used homemade garlic butter for years, and always find even a small amount tantalizes the taste buds! You can serve it with baked potatoes, mashed potatoes, vegetables, corn on the cob, steak, chops, roast chicken and the list goes on. Rave reviews will follow, and my kids beg for it all the time too.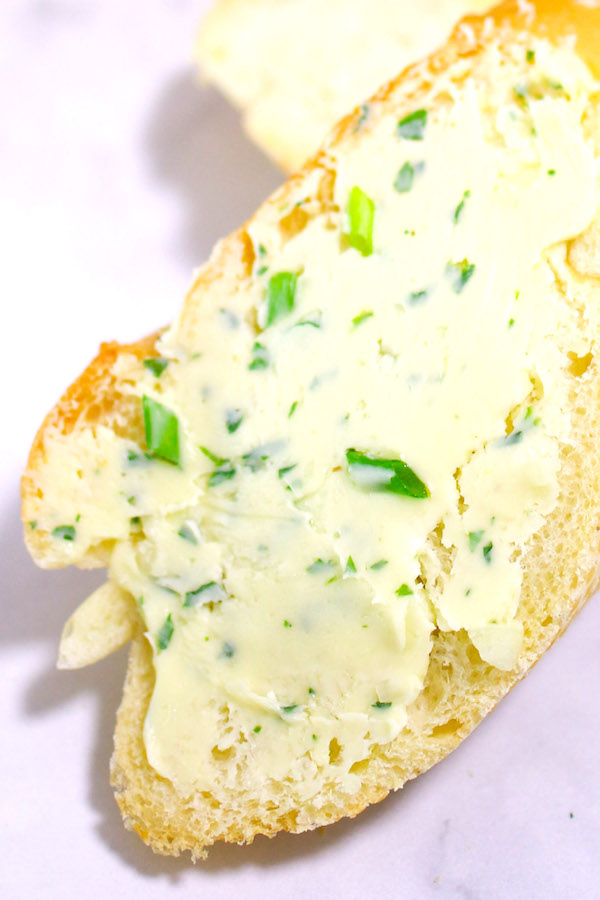 Also think about making garlic bread, garlic butter pasta (with parmesan), garlic butter shrimp or lobster/crab, all so good! Last but not least, you can make garlic butter sauce with it. So many possibilities!
HOW TO MAKE GARLIC BUTTER
You only need these 5 simple ingredients to make it:
Unsalted butter
Fresh garlic cloves
Salt
Fresh parsley
Lemon juice (optional)
While fresh garlic gives the best flavor, in a pinch you can substitute garlic powder or minced garlic from a jar. Some optional additions include black pepper or cayenne pepper for a kick. Some people also like to blend in parmesan cheese, although I prefer to add it separately to a dish only when needed.
For the garlic I recommend mincing it with some salt, which will make it into a paste. The flavor even better, plus you won't be biting into chunks of raw garlic in the butter.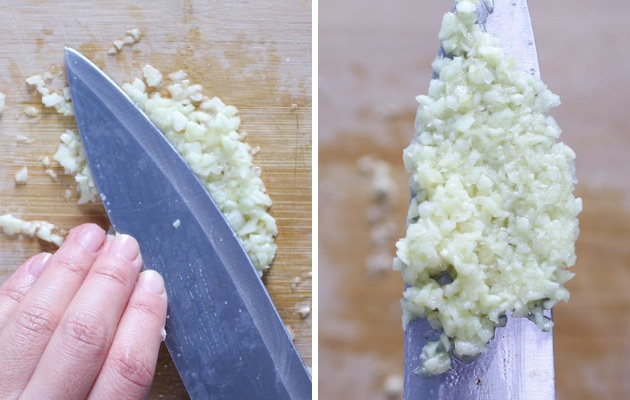 It's easiest to take the butter out of the fridge to soften several hours before using for easy blending. If you didn't, cut it into chunks and microwave on low power in 20-second intervals seconds until soft.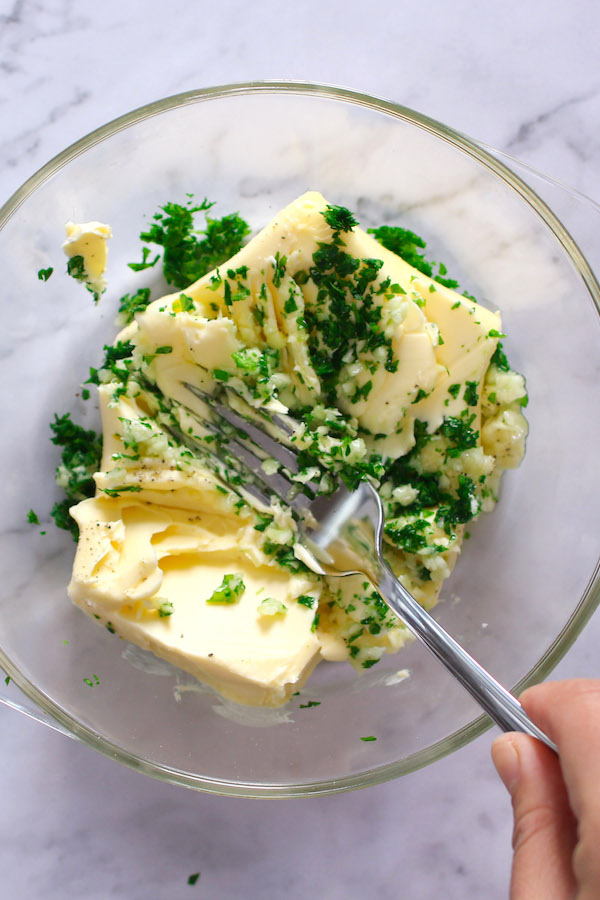 TIPS FOR MAKING THE BEST GARLIC BUTTER
You can use salted butter in a pinch, although the flavor is slightly inferior and it's difficult to control the saltiness
Fresh garlic will produce the best flavor, although you can substitute garlic powder ¼ teaspoon per medium clove as a backup option. Garlic salt is not recommended as it will produce a salty taste.
Avoid putting parsley into the food processor, as the action often causes it to lose its attractive green luster. Instead, mince it on a cutting board and blend in by hand.
You can store garlic butter in an airtight container in the fridge for up to 1 week, or in the freezer for up to 2 months.
Shape garlic butter into rolls using some parchment/wax paper for easy serving out of the freezer later on.
WATCH HOW TO MAKE GARLIC BUTTER:
Homemade Garlic Butter
Garlic butter is a versatile kitchen staple with even the smallest amount bringing lots of flavor to a dish. It's simple to make with 5 minutes of prep by using butter, garlic cloves, parsley, lemon juice and salt.
Ingredients
1 cup unsalted butter, softened (2 sticks)
2 medium cloves garlic, or 1/2 tsp garlic powder
1/2 tsp salt
1 tsp lemon juice, freshly squeezed
2 tbsp fresh parsley, minced
Instructions
On a cutting board, mince the garlic with the salt to make a chunky paste.

In a medium bowl, combine the butter with the garlic paste, lemon juice and parsley.

Mix with a spoon until blended evenly. Serve with your favorite dishes and enjoy!
Notes
If you use salted butter, you may wish to reduce the added salt or omit.
You can increase or decrease the amount of garlic according to your taste.
Nutrition Facts
Homemade Garlic Butter
Amount per Serving
% Daily Value*
* Percent Daily Values are based on a 2000 calorie diet.
Please read our nutrition disclaimer.
© TIPBUZZ. Images and text on this website are copyright protected. Please do not post or republish without permission. If you want to republish this recipe, please link back to this post. This post may contain affiliate links. Read the disclosure policy here.