Where to start with blooming onion cravings? I used to splurge in college at Outback, of course with no regard for calories. Now I make this memorable dish at home, and it's just as good as the restaurant version.
A blooming onion is an appetizer consisting of one large onion that's cut to look like a flower. Then it's seasoned, battered and deep fried to crispy perfection. Think crispy on the outside, soft on the inside. To eat it, you just break off a piece with your fingers and dip in the special blooming onion sauce.
It never fails to impress with its presentation or taste! The struggle is real!
Origin of the Blooming Onion
We have great memories of sharing Bloomin Onions with friends at Outback Steakhouse, which introduced it back in 1988. It's unclear who invented the blooming onion, whether it was Outback or someone else. However, the restaurant Chili's also served a variation called the Awesome Blossom, and they discontinued it more than 10 years ago. Why!?
You sometimes hear it called an onion blossom or a bloomin' onion, but it's all the same thing really. The only evolution has been Outback's new 3-point Bloomin' Onion, which adds cheese fries and steak bits on top. We still prefer the original, but to each their own!
Blooming onions have sparked some scandals around calories. Huff Post did an analysis suggesting the new 3-point blooming onion with the steak and fries clocked in at over 3000 calories, which is kind of over-the-top.
However, they also indicated the original blooming onion was somewhat less at 1954 calories, and our recipe here is similar. So definitely don't chow down one of these by yourself, and instead split it with friends for a few hundred calories each.
How to make a blooming onion
To make a blooming onion, you're going to need a deep fryer or medium-large size saucepan. There are some baked blooming onion recipes out there, but they don't have that nice golden look, and aren't crispy either. So if you're going to make it, you've gotta go all the way baby!
You'll need a large white onion to get started. Follow these steps to make an onion blossom:
peel the onion while leaving the root intact, which is important for holding it together
position the root of the onion facing up
position the tip of a sharp knife at the root and cut straight down to the bottom
continue cutting vertical slices around the onion about 1/4″ apart at the root and 3/4″ apart on the outside, avoiding overlapping with a previous cut
Once complete, it should look like an onion flower when turned upside down. You can also try using one of these onion bloom cutters to make it a bit easier.
Once the onion has been cut, then you dredge it thoroughly in egg wash…
…followed by the flour and seasonings mixture. Just spoon the flour mixture all over the wet onion, and you can gently shake off any excess afterward. All that stuff clinging to the onion turns into deliciously crispy bits by the time it's finished cooking. Yum!
Before you heat up the oil for deep frying, freeze the onion for 30 minutes or more. It'll solidify and hold together better while cooking.
Toward the end, heat up several inches of oil in a medium-sized pot or deep fryer to 400°F. Take precautions since this is hot oil — use a large slotted spoon or tongs to move the onion from the freezer slowly into the oil.
The blooming onion takes no more than 5-6 minutes to cook. It's a good idea to have a paper towel lined plate ready for when it comes out. Watch our video tutorial to see how to make it:
Serve it warm with dipping sauce. Have fun and enjoy!
The Best Blooming Onion Recipe (with Video)
Make-at-home version of the original Bloomin' Onion from Outback Steakhouse
Ingredients
1

large

white onion

2 1/2

cups

all-purpose flour

2

tablespoons

paprika

1

teaspoon

cayenne pepper

1

teaspoon

garlic powder

1/2

teaspoon

oregano

salt and pepper to taste

2

large

eggs

1 1/2

cups

milk

1

quart

vegetable oil

chipotle or other dipping sauce

optional
Instructions
Slice off the top of the onion and peel off the skin while keeping the root intact.

Slice wedges or petals vertically in the onion, about 3/4 inch apart on the outside. Allow your flower to open.

In a medium bowl, combine flour, spices, salt and pepper. Dip the onion into to cover completely, and shake off excess.

In another medium bowl, beat eggs and add milk. Gently dip into egg mixture and cover completely.

Return onion to the flour and cover completely; freeze for 30 min to set. Meanwhile, fill a deep fryer or medium saucepan with 3 inches of oil and heat to 400°F.

Place onion into hot oil petal side down; allow to fry for several minutes until golden and then flip onion and repeat.

Using a slotted spoon, remove onion to a paper-towel-lined plate to cool. Serve warm with dipping sauce and enjoy!
Nutrition Facts
The Best Blooming Onion Recipe (with Video)
Amount Per Serving
Calories 267
Calories from Fat 180
% Daily Value*
Total Fat 20g 31%
Cholesterol 27mg 9%
Sodium 21mg 1%
Potassium 194mg 6%
Total Carbohydrates 20g 7%
Protein 4g 8%
* Percent Daily Values are based on a 2000 calorie diet.
Try our Funnel Cake Fries for another fun finger food recipe: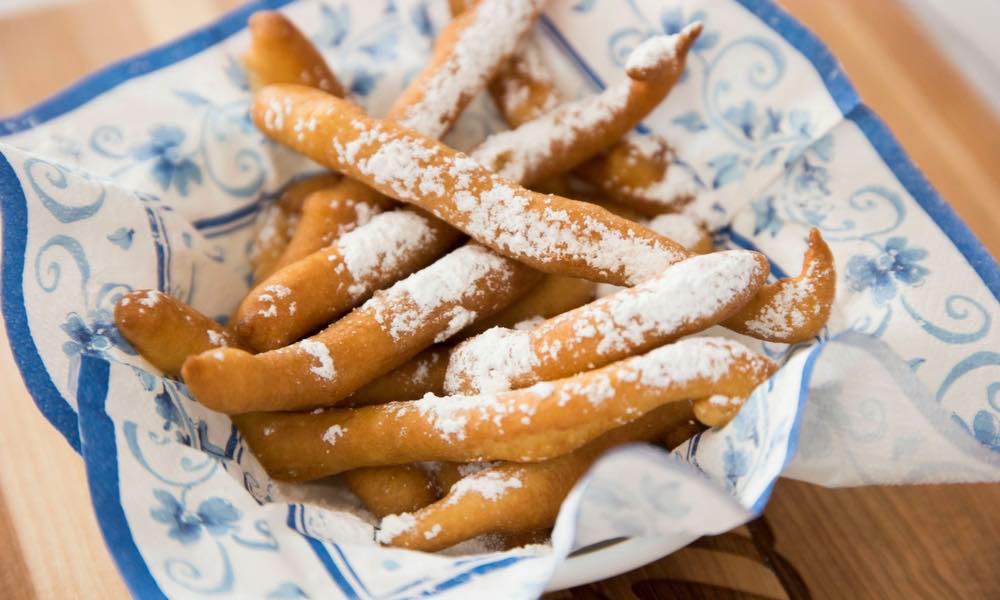 This post may contain affiliate links. Read the disclosure policy here