Kansas City Strip Steak
It's hard to beat a Kansas City Strip Steak! This mouthwatering beef cut is simply a tender and juicy New York strip steak with the bone in. It's easy to prepare and will be on your table in minutes!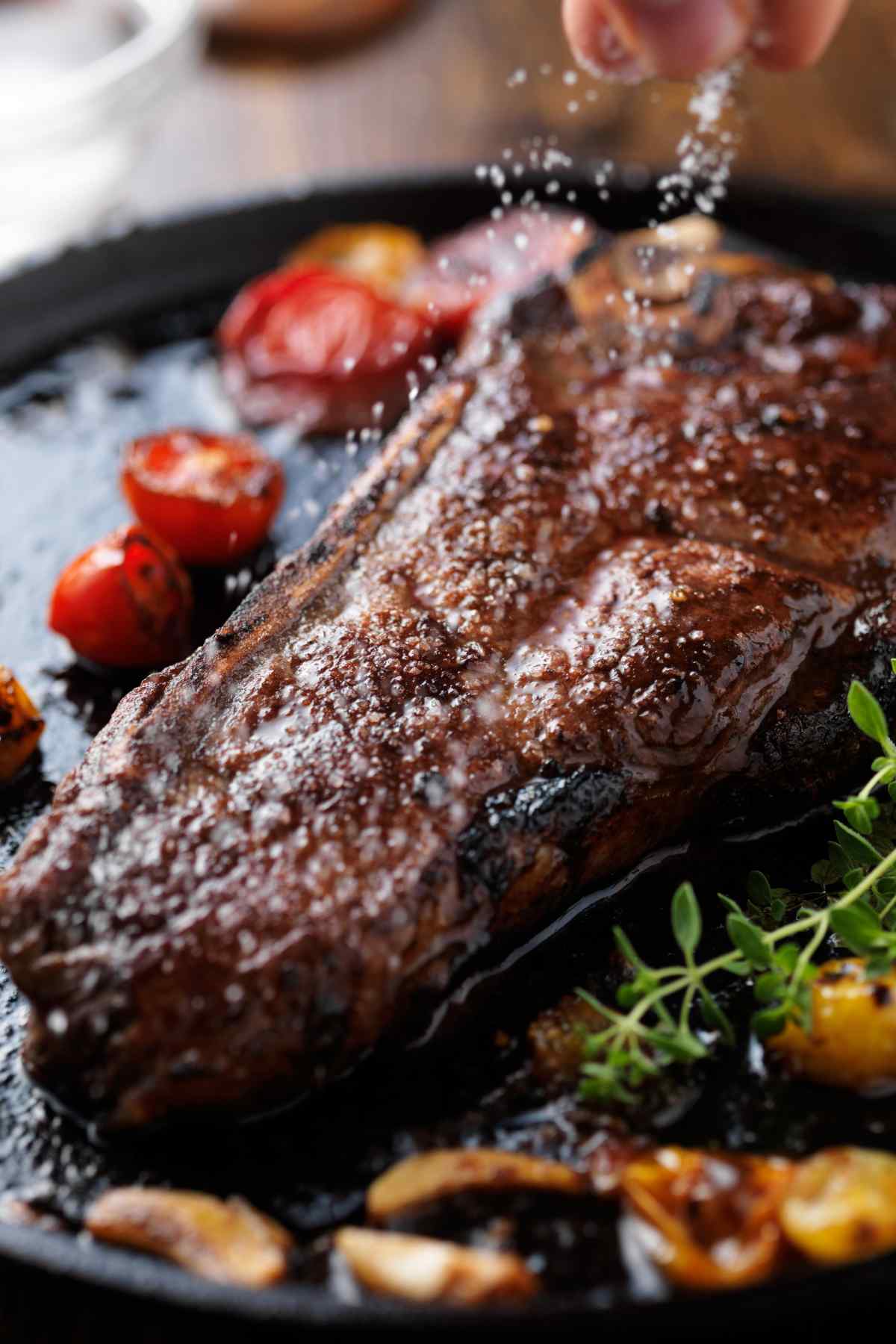 Kansas City strip steaks are an affordable way to enjoy a premium cut! You get robust marbling and phenomenal flavor as a New York strip for far less money, explaining why this is one of beef lovers' favorite types of steak!
There are many ways to cook a Kansas City strip, including grilling, pan searing, baking in the oven, broiling, even sous vide! It truly melts in your mouth with memorable flavors, so let's get started.
What Cut is a Kansas City Strip?
The Kansas City Strip Steak comes from the tender multifidus dorsi muscle in the short loin of a cow. Thanks to its marbling, it has a robust beefy flavor and slight chew that many people enjoy.
You may also see the Kansas City Strip Steak labelled as a Club Steak, Shell Steak, Bone-in Strip Steak or Bone-in Striploin.
Kansas City Strip vs New York Strip Steak
Both the Kansas City Strip and the New York Strip comprise one side of the T-bone or Porterhouse (the other side being the tenderloin). The main difference is that the Kansas City Strip is bone-in, whereas the New York strip is boneless. Some people will note that the Kansas City Strip is often trimmed to have a thinner layer of fat along the outside.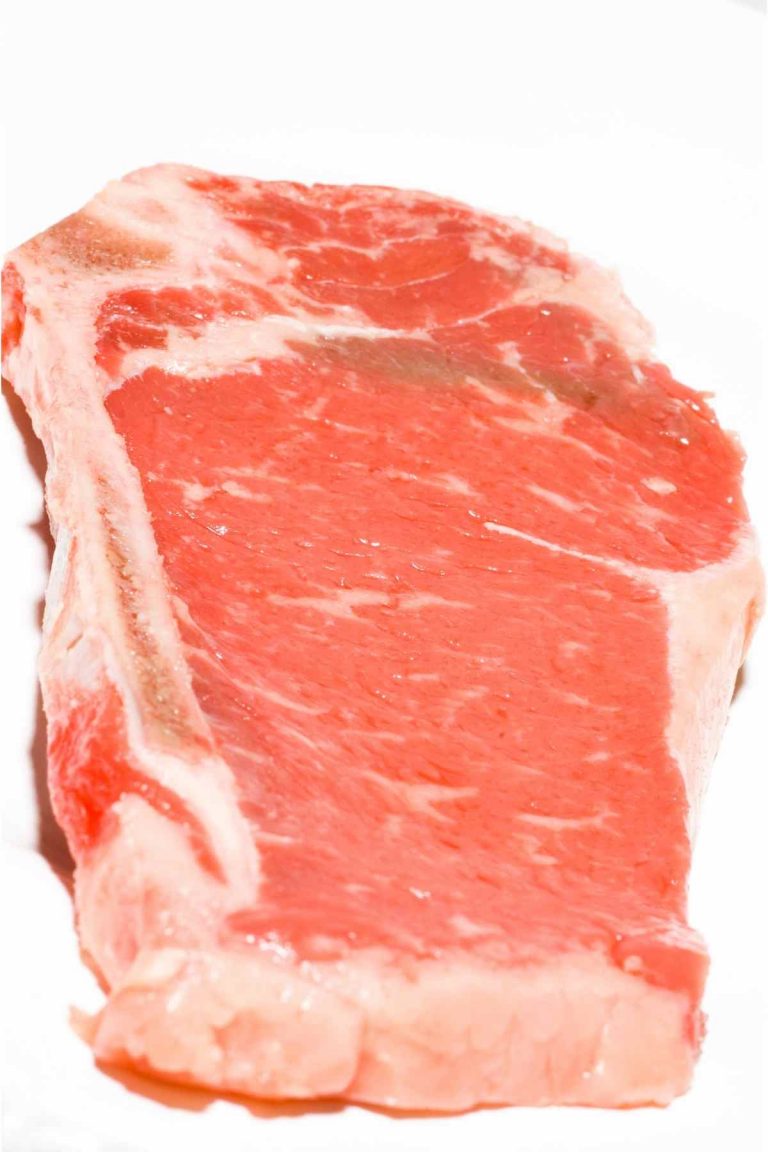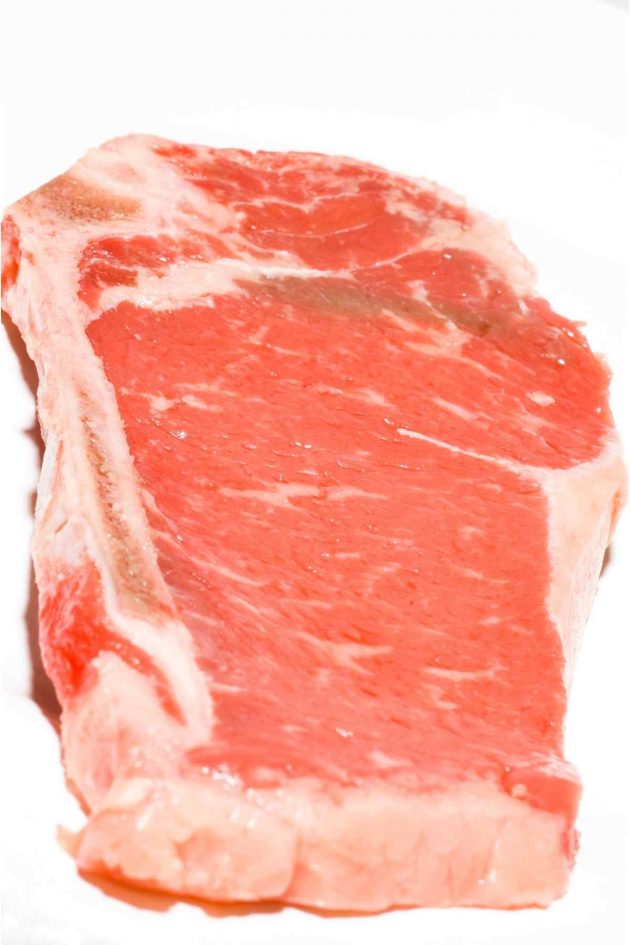 As a less well-known cut, the Kansas City Strip is often priced well below a New York Strip, making it a more affordable option.
Ingredients
Here are the ingredients you'll need for this Kansas City Strip steak recipe:
Steaks: Look for bone-in strip steaks ideally at least 1-inch thick (although you can go thinner if needed). They may be labelled as Kansas City strips, club steaks, bone-in strip steaks or similar
Oil: Use a high-temperature oil such as canola oil, sunflower oil or refined olive oil. Avoid extra virgin olive oil, which will smoke.
Garlic: Use peeled and minced fresh cloves of garlic, or alternatively bottled minced garlic. Avoid powdered varieties.
Salt: Coarse sea salt is ideal, although you can use most other salts in a pinch.
Pepper: Freshly ground black pepper gives the best flavor.
You can also optionally add some butter and fresh rosemary or thyme for extra flavor as you like.
How to Cook a Kansas City Strip Steak
There are several different ways to cook a Kansas City strip steak:
Pan Searing: You can pan fry in a cast iron skillet over high heat. They'll take 3 to 7 minutes per side depending on the thickness of your steaks.
Grilling: This cut is excellent for grilling. Start with a 500°F grill and consider doing a reverse sear over indirect heat to finish. You'll need 3 to 5 minutes per side. Pro tip: Rotate the steak during grilling to get attractive crosshatch grill marks.
Broiling: You can broil steak in the oven with delicious results. Position the oven rack so the meat will be 3 to 4 inches from the heating element. Preheat the broiler for a good 10 minutes before starting cooking.
In the Oven: Another option is roasting steak in the oven. Start by pan searing the steak in a cast iron skillet over high heat, just enough to brown the outside. Then transfer the skillet to a preheated 450°F to finish cooking.
While these are the most popular, you can also consider using sous vide or other methods too.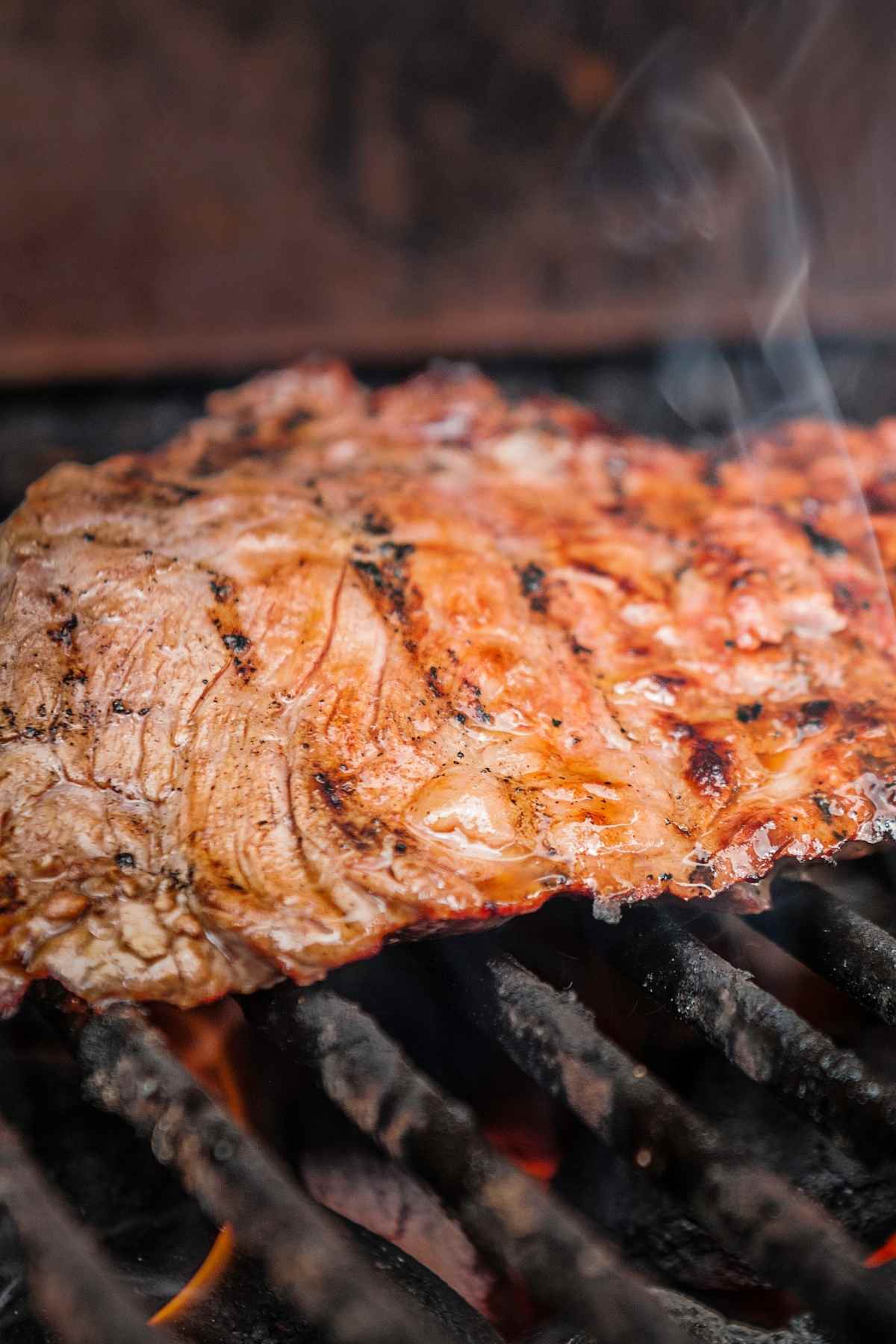 Tips for Making the Best Kansas City Strip
Remove from the fridge ahead of time: Taking the steak out 30 to 60 minutes ahead of time takes the chill off for more even cooking and juicier steak.
Season the steak: You need to season your steak not only for flavor but to tenderize the meat as it cooks. Salt and pepper are a great start and you can introduce other herbs and spices as you like.
Preheat the pan or grill: When pan searing or grilling, you want the surface to be blazing hot before adding the steaks. That means a grill temp of 500°F or a cast iron pan that has been preheated for a good 5 minutes. High heat cooks the meat faster, reducing moisture loss for more tender meat.
Use a thermometer: A simple $10 instant-read thermometer can reduce the risk of overcooking your expensive steak. It's well worth the investment. In seconds, you can measure doneness to get your steak exactly how you like it. Measure one inch away from the bone on a Kansas City strip.
Rest after cooking: Letting the meat rest covered for 5 minutes after cooking allows the juices to redistribute through the meat for more flavor.
FAQ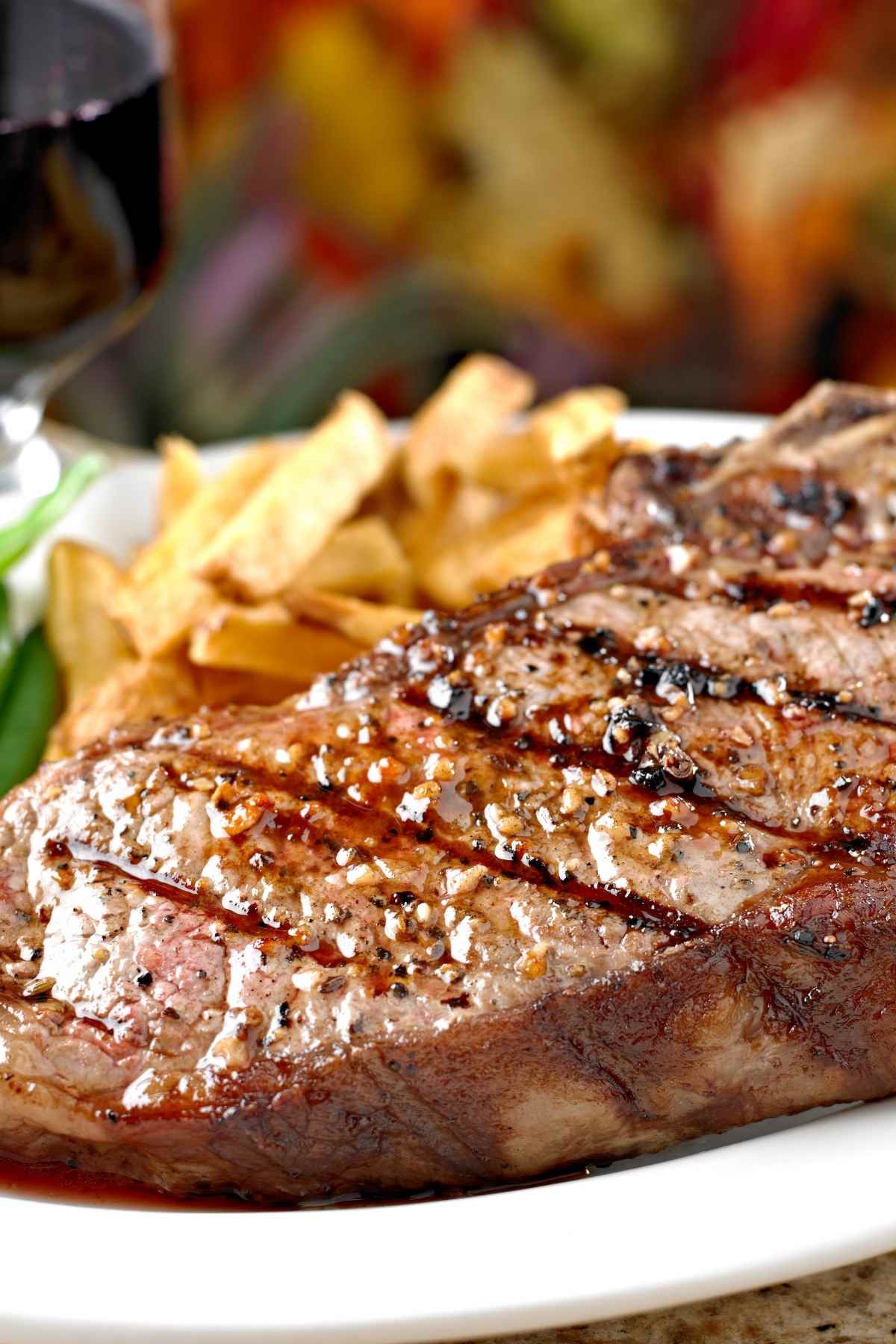 More Steaks You Might Like
Pan Seared Kansas City Strip Steak
It's hard to beat a Kansas City Strip Steak! This beef cut is simply a New York strip steak with the bone in, and it's tender and juicy with oh-so much flavor. Plus, you can prepare it in minutes!
Ingredients
4 bone-in strip steaks, about 2-4 pounds depending on thickness
2 teaspoons olive oil
2 teaspoons butter, unsalted recommended
1 teaspoon coarse salt
3 large cloves garlic, minced
1 teaspoon dried rosemary, or thyme
1 teaspoon black pepper, freshly ground
Instructions
Optional: Remove the steaks from the fridge an hour ahead of time. This step help takes the chill off to promote even cooking for juicier meat.

Pat dry the steaks with paper towel to remove excess moisture. Then rub with olive oil and coase salt on all sides.

Place a large cast iron skillet or similar pan over high heat. Wait several minutes until piping hot. Then add the steaks to the pan.

Fry the steaks for 2 minutes undisturbed to start the browning process. Using kitchen tongs, flip and cook another two minutes on the other side.

Continue cooking, flipping every minute or so until the steaks reach your desired doneness. In the final minute or so, add the minced garlic, rosemary and black pepper, swirling the pan to distribute the flavors.

To check doneness, insert and instant-read thermometer into the center of the steak about an inch from the bone: 120°F is rare, 130°F is medium-rare and 140°F is medium.

When done, remove the steaks to a plate. Cover with a plate or some foil and let the steaks rest for 5-10 minutes to allow the juices to redistribute through the meat.

Serve warm with the pan juices drizzled on top.
Notes
Below are the internal temperatures for each doneness:
Extra rare with a pale red center: 115 – 120°F
Rare with a cool red center: 120 – 125°F
Medium rare with a warm red center: 130 – 135°F
Medium with a warm pink center: 140 – 145°F
Medium well with a pale pink center: 145 – 150°F
Well done with little or no pink: 155 – 160°F
Keep in mind that the steak's temperature still rises 5°F once it comes off the heat (or as much as 10°F on thicker cuts), so you may wish to remove the steak a few degrees below the target. Also note that the USDA advises reaching 145°F before removing from the heat for food safety reasons.
Nutrition Facts
Pan Seared Kansas City Strip Steak
Amount per Serving
% Daily Value*
* Percent Daily Values are based on a 2000 calorie diet.
Please read our nutrition disclaimer.
© TIPBUZZ. Images and text on this website are copyright protected. Please do not post or republish without permission. If you want to republish this recipe, please link back to this post. This post may contain affiliate links. Read the disclosure policy here.