Instant Pot Beef Stew
This Instant Pot Beef Stew will become one of your fave Instant Pot recipes with tender, mouthwatering beef simmered with vegetables in a flavorful sauce. It's faster to make than regular beef stew, perfect for a weeknight dinner!
This Instant Pot Beef Stew is one of the fastest stews ever! Ready in just over an hour, it takes less than half the time of a traditional beef stew and even less compared to a slow cooker beef stew. Are you ready to take the plunge??
You can confidently serve it for a dinner party or potluck as a mouthwatering make-ahead meal for the entire family. The taste is just as flavorful, just give it an extra stir to create a nice saucy consistency.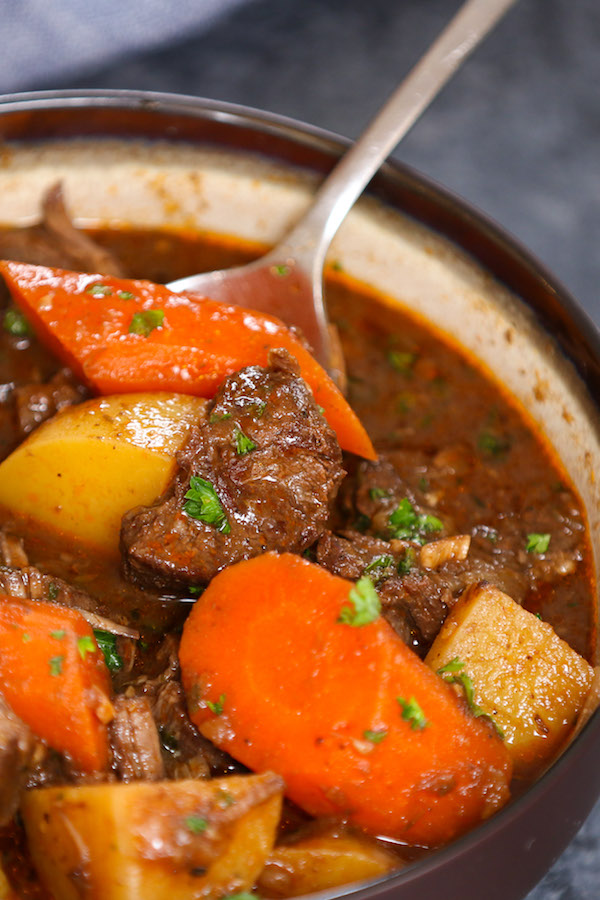 Select the Right Cut for Beef Stew
The most important thing for beef stew is to buy the right cut, and it's surprising that cuts that start out tender like strip loin become tough and chewy in a stew!
What you want instead are big and tough cuts like chuck roast, which comes from the shoulder and has great flavor. The collagen in its connective tissue breaks down during cooking, leaving you with fork-tender beef.
Other cuts that are good for beef stew include bottom round roast, chuck steak, bottom eye roast, chuck-eye roast, English roast or pot roast. Make sure to avoid packaged "stew meat" at the supermarket, which consists of leftovers that don't cook consistently and often become chewy.
If your chuck roast is well-marbled, you can trim any excess fat. Cut the beef into large 2-inch cubes, as small pieces tend to fall apart during cooking. Consider getting your butcher to do the trimming and cutting for you to save time!
More Instant Pot recipes: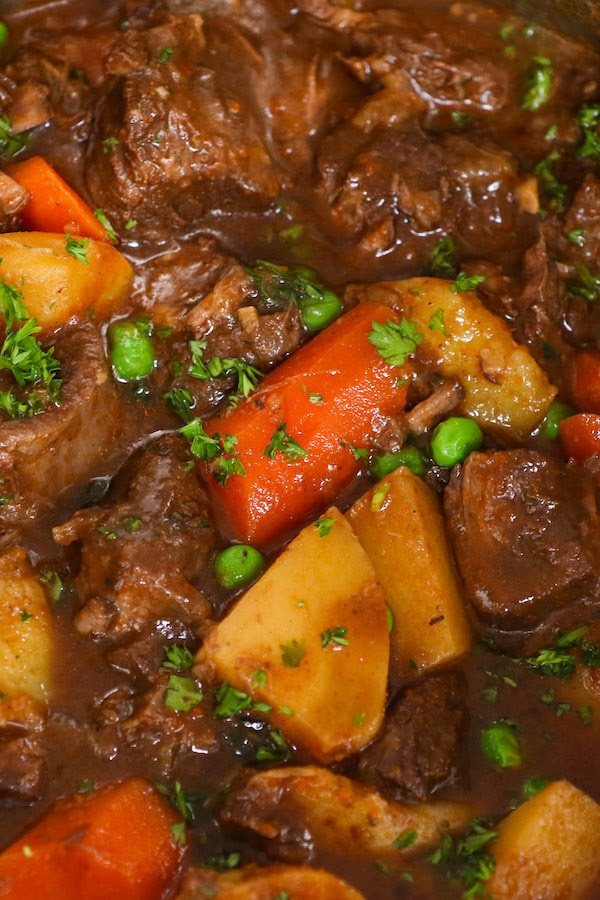 Ingredients for Making Instant Pot Beef Stew
Beef: Use chuck roast or a similar cut as explained above. Avoid packages of "stewing meat" from the supermarket.
Wine: You don't need a fancy wine to make beef stew! An inexpensive full-bodied wine like a Cabernet, Zinfandel, Merlot or Bordeaux will often be excellent for stew, with the acidity tenderizing the meat and the flavor mellowing as it cooks.
Beef broth: I recommend using a low-sodium beef broth, so you can easily control the saltiness of the stew.
Potatoes: I prefer using baby Yukon potatoes for beef stew, as they can withstand hours of slow cooking while retaining their shape and texture. Avoid large red, yellow or salad potatoes, which can become mushy when cooked for a long time.
Equipment for Making Instant Pot Beef Stew
Any 6-quart Instant Pot will work for this recipe, and other pressure cooker models should be fine too.
A wooden spoon is helpful to stirring the stew and scraping the browned bits off the bottom of the Instant Pot.
A simple chef's knife is ideal for easily slicing the beef and vegetables.
Instant Pot Beef Stew
This Instant Pot Beef Stew has tender, mouthwatering beef with vegetables simmered in a flavorful sauce. It's faster to make than regular beef stew, perfect for a weeknight dinner!

Ingredients
For the beef
2 pounds beef chuck roast, trimmed and cut into 2 inch chunks
1/3 cup flour
1/2 tsp onion powder
1/2 tsp Italian Seasoning
2 tbsp vegetable oil
For the stew
5 cloves garlic, minced
1 medium onion, chopped
3 medium carrots, sliced
1 lb baby potatoes
1/4 cup red wine
1/4 cup Worcestershire sauce
2 tsp Italian Seasoning, or oregano
1 bay leaf
4 tbsp tomato paste
4 cups beef broth
2 tbsp cornstarch
2 tbsp green peas, fresh or frozen (optional)
salt and pepper to taste
fresh parsley, chopped (optional)
Instructions
Pat the beef dry and cut into 2-inch cubes. (You can also have a butcher do this for you.)

Place the cubes in a large ziplock bag along with flour, onion powder and Italian seasoning. Shake until well coated.


Turn on the Instant Pot Saute function. Add 1 tbsp oil and once hot, add in enough beef to reach 3/4 full in one layer.

Brown the meat on all sides for 3-5 minutes total, stirring occasionally. Transfer to a plate and reserve.

Repeat the previous step using the remaining 1 tbsp oil.

Add all remaining ingredients to the Instant Pot: the reserved beef, garlic, onions, carrots, baby potatoes, red wine, Worcestershire sauce, Italian seasoning, bay leaf, tomato paste, beef broth and cornstarch. Mix well.

Cover the Instant Pot and close the steam valve. Set to Manual High Pressure to cook for 40 minutes.

When the cycle is complete, allow the Instant Pot to release pressure naturally (about 10 minutes depending on the model).

Remove the lid and stir in the optional peas and parsley. Add salt and pepper to taste. Serve and enjoy!
Nutrition Facts
Instant Pot Beef Stew
Amount Per Serving
Calories 353 Calories from Fat 144
% Daily Value*
Fat 16g25%
Saturated Fat 8g40%
Cholesterol 78mg26%
Sodium 771mg32%
Potassium 1135mg32%
Carbohydrates 24g8%
Fiber 3g12%
Sugar 4g4%
Protein 26g52%
Vitamin A 4000IU80%
Vitamin C 18.5mg22%
Calcium 61mg6%
Iron 4.2mg23%
* Percent Daily Values are based on a 2000 calorie diet.
Please read our nutrition disclaimer.
 Looking for more beef recipes?
© TIPBUZZ. Images and text on this website are copyright protected. Please do not post or republish without permission. If you want to republish this recipe, please link back to this post. This post may contain affiliate links. Read the disclosure policy here.