Easy Strawberry Jello Poke Cake
Strawberry Jello Poke Cake is a luscious dessert that's strawberries and cream at its best! It has a burst of flavor that melts in your mouth, and you can make it ahead of time. Perfect for a party or any celebration including holidays and birthdays… Plus video tutorial!
It's one of my favorite strawberry jello desserts along with Strawberry Pretzel Salad and Strawberry Jello Cake.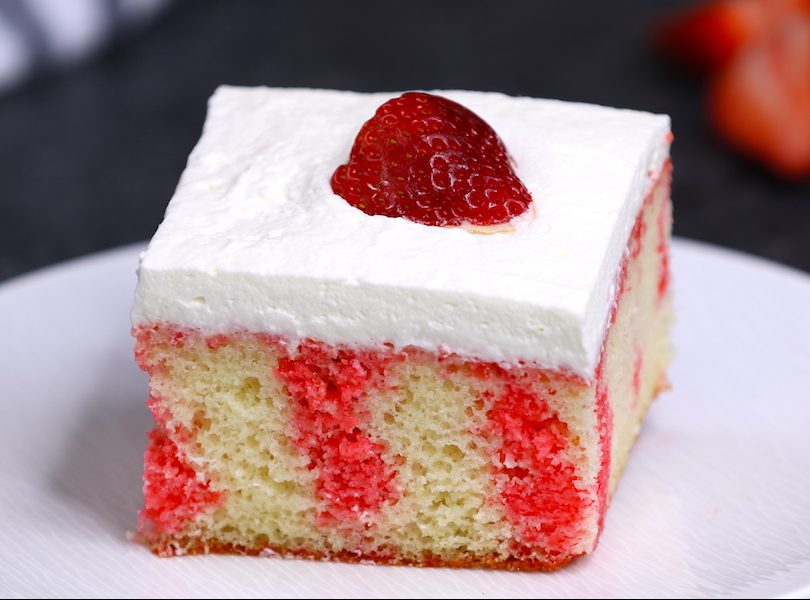 Poke cake is a cake you poke holes into after baking. Then a liquid such as jello or fruit purée is poured over the top to infuse added color and flavor to each bite. Poke cakes were invented by in the 1970s by Jell-o, and are staging a comeback according to Insider.
So now is the time to try this recipe! It's pure ambrosia with moist cake, fruity flavors and a creamy topping. There are poke cakes that use sweetened condensed milk or vanilla pudding mix, but I find this version is a bit lighter so you can have an extra piece.
How to Make Strawberry Jello Poke Cake
There are basically just 3 main steps to make this amazing cake:
Step 1: Prepare the Cake
Make your favorite white cake mix batter and pour into a 13×9 inch baking pan like this. You can also use a yellow cake mix if you don't mind the look. It should bake into a layer that's about 1 1/2 inches thick.
When it comes out of the oven, use the handle end of a wooden spoon to poke holes all over the surface of the cake. By doing it when the cake is still warm, you're less likely to cause cracking or flaking on the surface.
I like to poke about an inch deep to let the strawberry flavors penetrate into the cake, and I leave about an inch in between each hole. Once you've done this, you'll need to let the cake cool for at least 2 hours.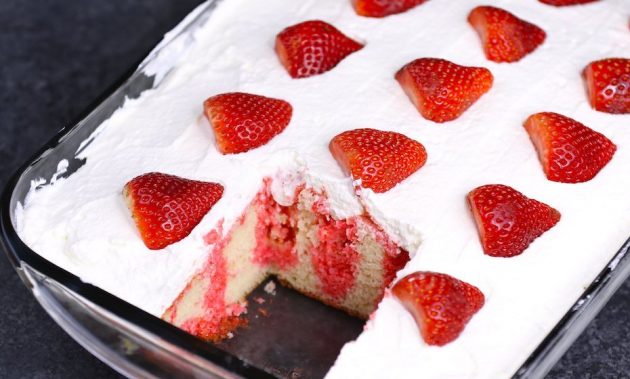 Step 2: Add the Strawberry Jello
I like to make the strawberry jello mixture in a measuring cup for easy pouring. Simply combine a 3-ounce box of strawberry jello with 1 cup of boiling water and stir slowly for a minute to dissolve completely.
Then you can slowly pour the jello mixture evenly over the surface of the cake. It will quickly soak into cake, which is what you want. This is a great activity for kids too, by the way.
Now place it in the fridge for several hours to cool completely lightly covered in plastic wrap.
Step 3: Add the Cream and Strawberries
Whip 2 cups of liquid heavy cream to stiff peaks to make the 3 1/2 cups of whipped cream for this recipe. You can also substitute an 8-ounce tub of whipped topping that has been thawed. Use a medium spatula to spread the cream evenly across the surface of the cake to cover.
Once the cream has covered the cake, you can add halved strawberries across the surface. Plan on one strawberry piece per serving, or about 20-24 pieces total (10-12 strawberries). That's it, you're done!
Make Ahead Tips
A strawberry jello poke cake is easy to make ahead of time. Here's how you can do it:
Freezing: It's best to freeze the cake after adding the jello and before the cream and strawberries. Cover the pan tightly with plastic wrap before freezing, and it will last up to one month.
Chilling: The cake will last 1-2 days in the fridge if you cover it with plastic wrap. You may wish to add the strawberries just before serving to avoid getting juices on top of the cream.
Tips and Secrets for Making Strawberry Poke Cake
The wooden spoon handle should ideally be about 1/2 inch wide. If you don't have one, you can use any similar object including your pinky finger in a pinch 🙂
Try to poke the holes when the cake is still warm, as the surface won't crack apart making it easier to spread the cream without creating crumbs.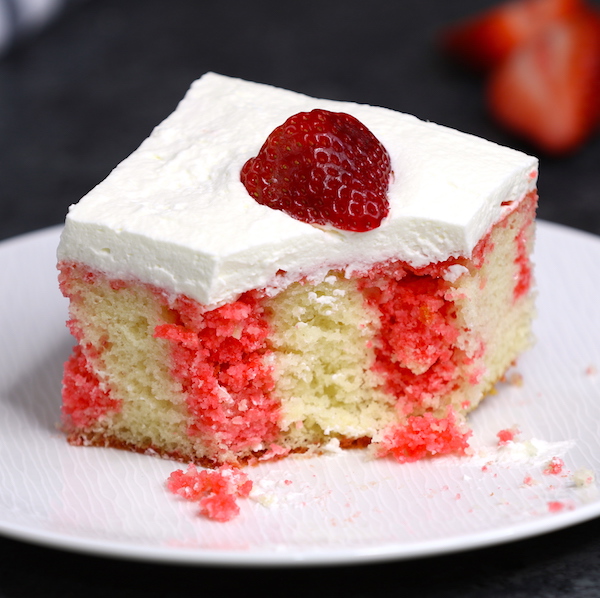 Watch How to Make Strawberry Jello Poke Cake:
Strawberry Poke Cake (with Video)
This Strawberry Poke Cake is a luscious dessert that's strawberries and cream at its best! It's a burst of flavor that melts in your mouth, and you can make it ahead of time. Perfect as an everyday dessert as well as for a party, holiday or special occasion!
Ingredients
15 oz white cake mix, 1 box
ingredients called for on cake mix package, eggs, oil and water
3 oz strawberry jello powder, 1 small box
1 cup boiling water
3 1/2 cups whipped cream, beaten until stiff, or 8 oz whipped topping
1 pint strawberries, halved
Instructions
Grease a 13x9 inch baking pan with oil or nonstick cooking spray and set aside.

Prepare cake batter according to package instructions and pour into pan.


Bake cake and remove from oven.

While still warm, poke holes an inch deep all over the cake using the handle of a wooden spoon.

In a medium measuring cup, combine jello powder and boiling water. Stir slowly for a minute to dissolve completely and then cool slightly for 5 minutes.

Pour jello evenly over the surface of the cake, and place in the fridge to chill for at least 2 hours.

Using a spatula, carefully spread whipped cream on top of the cake.

Arrange 20-24 strawberry halves spaced evenly across the top. Serve and enjoy!
Notes
This cake can be made 1-2 days ahead of time depending on the strawberries' condition. Cover with plastic wrap and store in the fridge until serving.
Nutrition
Calories: 157kcal, Carbohydrates: 30g, Protein: 2g, Fat: 3g, Saturated Fat: 2g, Cholesterol: 8mg, Sodium: 210mg, Potassium: 78mg, Sugar: 18g, Vitamin A: 80IU, Vitamin C: 17.4mg, Calcium: 74mg, Iron: 0.6mg
Looking for more dessert ideas?
Editor note: Published 4/20/2018 and updated 12/13/2018.
© TIPBUZZ. Images and text on this website are copyright protected. Please do not post or republish without permission. If you want to republish this recipe, please link back to this post. This post may contain affiliate links. Read the disclosure policy here.