Instant Pot Chicken Soup With Noodles
This Instant Pot Chicken Soup is your answer when you want chicken soup in a hurry! It's the same flavorful comfort food you've come to love, but it's ready in 30 minutes or less using the Instapot. Perfect for feeding the entire family!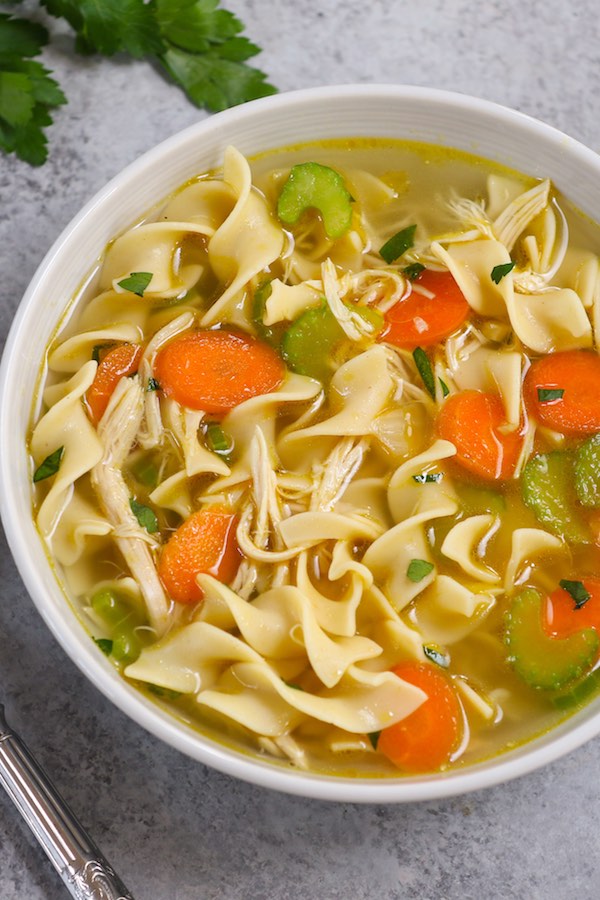 This Instant Pot Chicken Soup is in response to the many comments and e-mails from you asking for more Instapot recipes! An Instant Pot saves at least 15 minutes of cooking time when making chicken noodle soup thanks to its pressure cooking feature.
The chicken meat and vegetables come out juicy and flavorful as if it's been cooking for hours. This soup hits the spot anytime, but is always good for flu season or when you want the ultimate comfort food!
If you're not in a rush and want dinner to be ready when you get home from work, then slow cooker chicken noodle soup is the best option.
How to Make Instant Pot Chicken Soup
There are 4 easy steps for making chicken soup in an Instapot:
Step 1: Cook the Noodles: In a large pot of boiling water. You can do this at the same time as you make the soup.
Step 2: Saute the Chicken and Vegetables: This is done in the Instapot using the Sauté function.
Step 3: Pressure Cooking: Add the broth and seasonings to the Instapot and cook for 10 minutes using the Soup function or alternatively the High-Pressure setting. Then allow 5-10 minutes for the pressure to come back down. If you use the Quick Release venting to save time, be sure to read the Instapot safety directions first.
Step 4: Assemble and Serve: Unlock and remove the lid of the Instapot. Then remove the chicken breasts to a plate and shred into bite size pieces with two forks. Add back to the soup along with the noodles and seasonings.
Before you serve, make sure to taste the soup and correct the seasoning to your preference. It may need slightly more salt, pepper or thyme.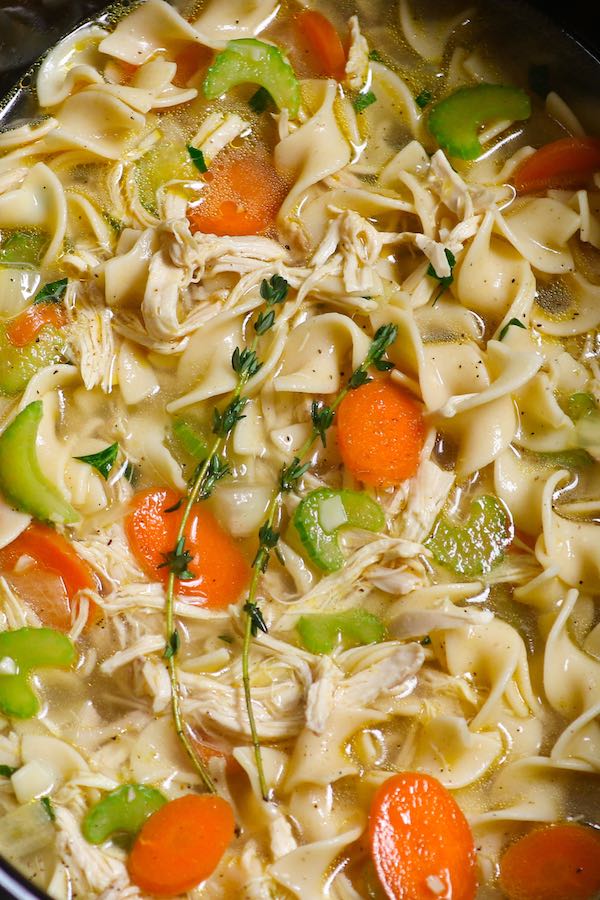 Tips for Making the Best Instant Pot Chicken Noodle Soup
Use the freshest chicken available for the best flavor, and you can use either chicken breasts or thigh meat.
Chicken soup is a great way to use up leftover chicken. Here's how long cooked chicken lasts in the fridge.
Adjust the salt level at the end before serving to suit your preference. It's easiest to control if you use low-sodium or unsalted chicken broth.
Any Instant Pot will work for this recipe and I used the 6-qt programmable model.
If you used chicken skin or find the soup is getting oily, you can always pour it through a fat separator to quickly remove most of the fat.
If you find your soup color pale, you can stir in 1/8 tsp of turmeric powder to give it some extra color without changing the flavor.
Make Ahead Tips
You can make chicken noodle soup up to 3 days ahead of time, and store it in an airtight container in the fridge. Reheat it in the Instant Pot, a regular pot or microwave.
You can freeze chicken noodle soup for up to 3 months in an airtight container or ziptop bag.
Instant Pot Chicken Soup With Noodles
This Instant Pot Chicken Soup is your answer when you want chicken soup in a hurry! It's still the same delicious and comforting meal, but it's ready in 30 minutes or less and will feed the entire family.
Ingredients
2 cups egg noodles
2 tbsp olive oil
2 boneless skinless chicken breasts, or shredded cooked chicken
2 cloves garlic, minced (optional)
1 medium onion, diced
2 medium carrots, peeled and sliced thin
2 stalks celery, sliced
1 1/2 quarts chicken broth, low sodium recommended
2 bay leaves
2 sprigs fresh thyme, or 1 tsp dried thyme
Serving - optional
2 tbsp fresh parsley, minced
1 tbsp fresh lemon juice
salt and pepper , to taste
Instructions
Bring a medium pot of water to boil. Cook the noodles according to package directions and drain when al dente.

On the Instant Pot, select the sauté setting and wait until it reads hot.

Add the chicken meat and sauté 3-4 minutes until starting to brown on the outside.


Add the garlic, onions, carrots and celery. Stir for 2-3 minutes until the onions are starting to soften.

Add the chicken broth, bay leaves and thyme.

Cover the Instant Pot and close the lid, setting the vent to the sealing position. Select "soup" with a timer for 10 minutes.

Once the cycle has completed, allow another 5-10 minutes for the natural pressure release. You can also use the quick release to save time, but observe all Instant Pot safety precautions.

Carefully unlock and remove the cover. Remove the chicken to a plate and shred into bite size pieces using two forks.

Add the shredded chicken and cooked noodles to the Instant Pot.

Add lemon juice and optional fresh parsley. Taste the soup and season with salt and pepper to your preference. Serve and enjoy!
Nutrition Facts
Instant Pot Chicken Soup With Noodles
Amount per Serving
% Daily Value*
* Percent Daily Values are based on a 2000 calorie diet.
Please read our nutrition disclaimer.
Looking for more Instapot recipes?
© TIPBUZZ. Images and text on this website are copyright protected. Please do not post or republish without permission. If you want to republish this recipe, please link back to this post. This post may contain affiliate links. Read the disclosure policy here.