Philly Cheesesteak Recipe
This Philly Cheesesteak Recipe is a classic combination of thinly sliced steak and melted cheese in a soft and crusty roll. Philly steak sandwiches are easy to make at home and rival the best philly cheesesteaks in Philadelphia!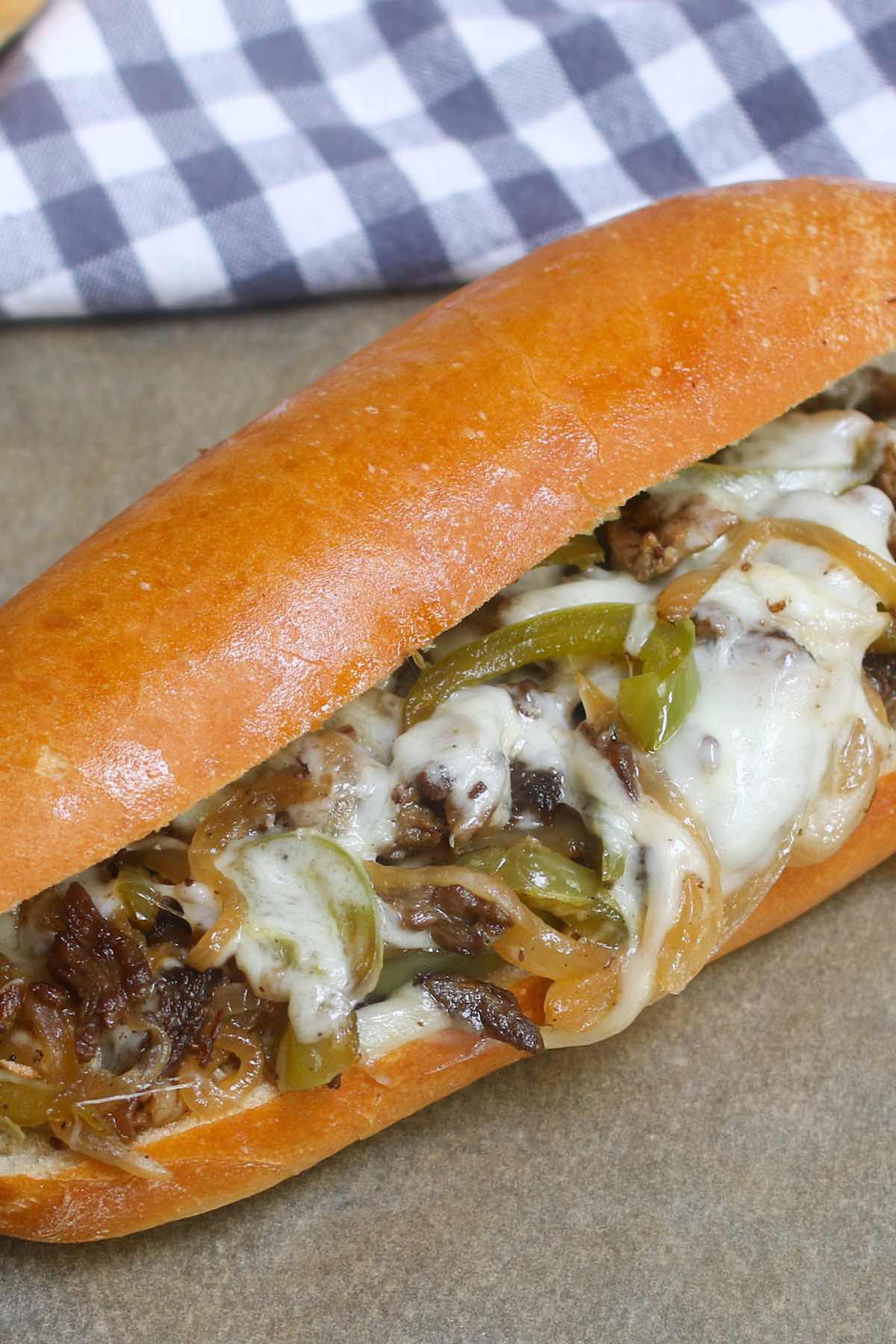 Best Philly Cheesesteak Recipe
A Philly cheesesteak sandwich is a delightfully messy meal that's hearty and satisfying! There's an on-going debate about what does and doesn't belong in an authentic philly cheesesteak, how the meat is cooked, what cheese to use, the best bread, and whether certain toppings should be included.
To me the best Philly cheese steak consists of thinly sliced rib-eye steak that's sautéed with onions and served with ooey, gooey, melted cheese on a soft yet crusty hoagie roll!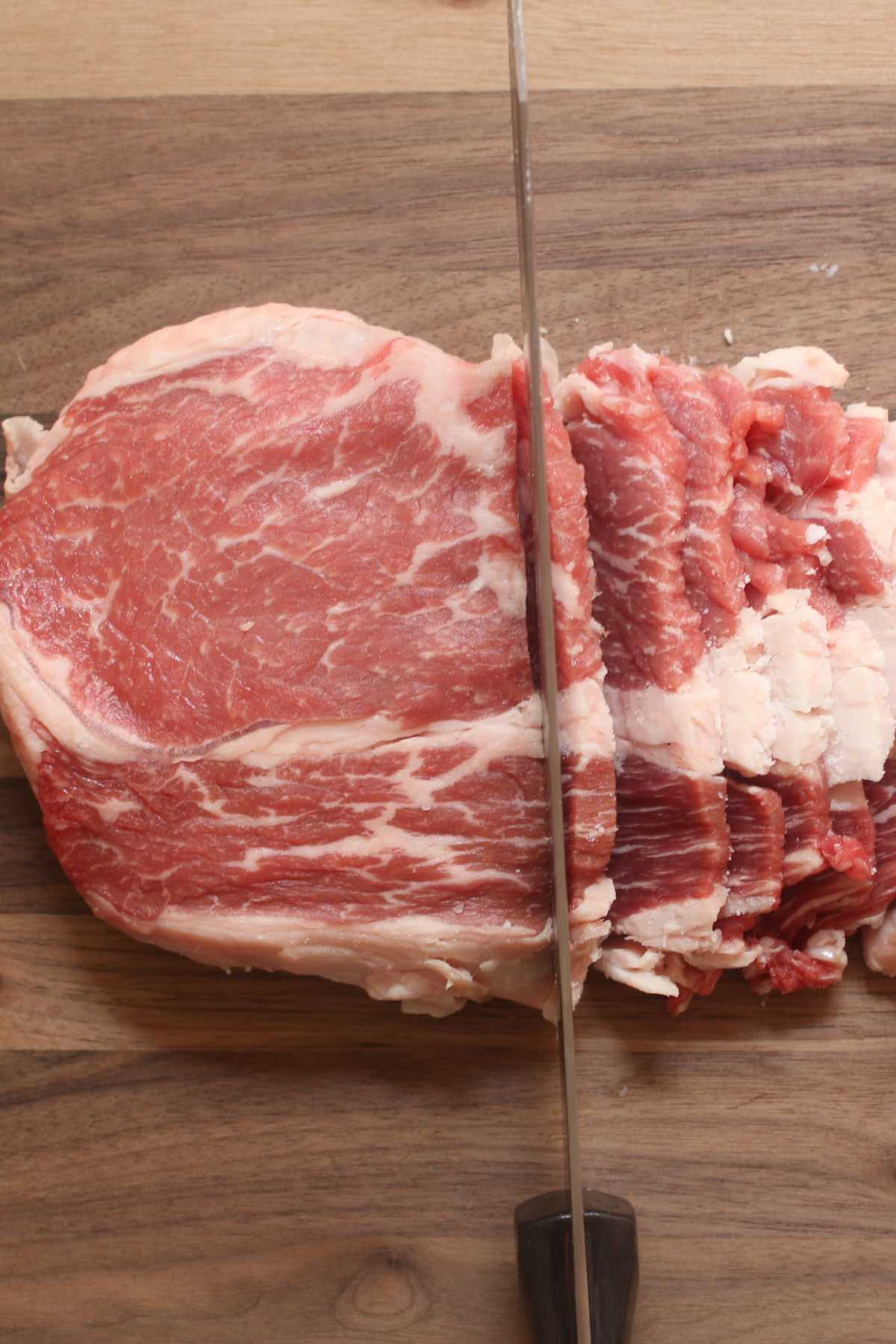 The Best Meat for Homemade Philly Cheesesteaks
Classic Philly Cheesesteak is made with thinly-sliced rib-eye steak, a well-marbled cut with higher fat content which makes it incredibly flavorful, juicy, and tender. As you cook the thinly-sliced beefsteak in the pan, the fat melts into the meat, enhancing flavor and texture for the perfect sandwich!
While ribeye is the ideal cut, it can be pricey. For a more budget-friendly steak, you can use either sirloin or chuck eye steak.
Top Tip: Freeze the meat for 45-60 minutes first and it'll be much easier to slice thinly. Cut the beef across the grain for the most tender meat and slice it 1/8-inch (0.3cm) thick.
What Types of Cheese Should I Use?
Most shops in Philadelphia consider Cheez Whiz, provolone and American cheese to be the best choices.  Cheez Whiz is usually the cheese of choice, but American and provolone are popular too. Even Mozzarella will work for this recipe but avoid cheddar (too oily) or Swiss cheese (too bland).
Top Tip: Top your beef mixture with cheese and let it melt without stirring, then place the open roll facing down on top and flip the whole thing over. The melted cheese creates a barrier that prevents the beef from making the bread soggy!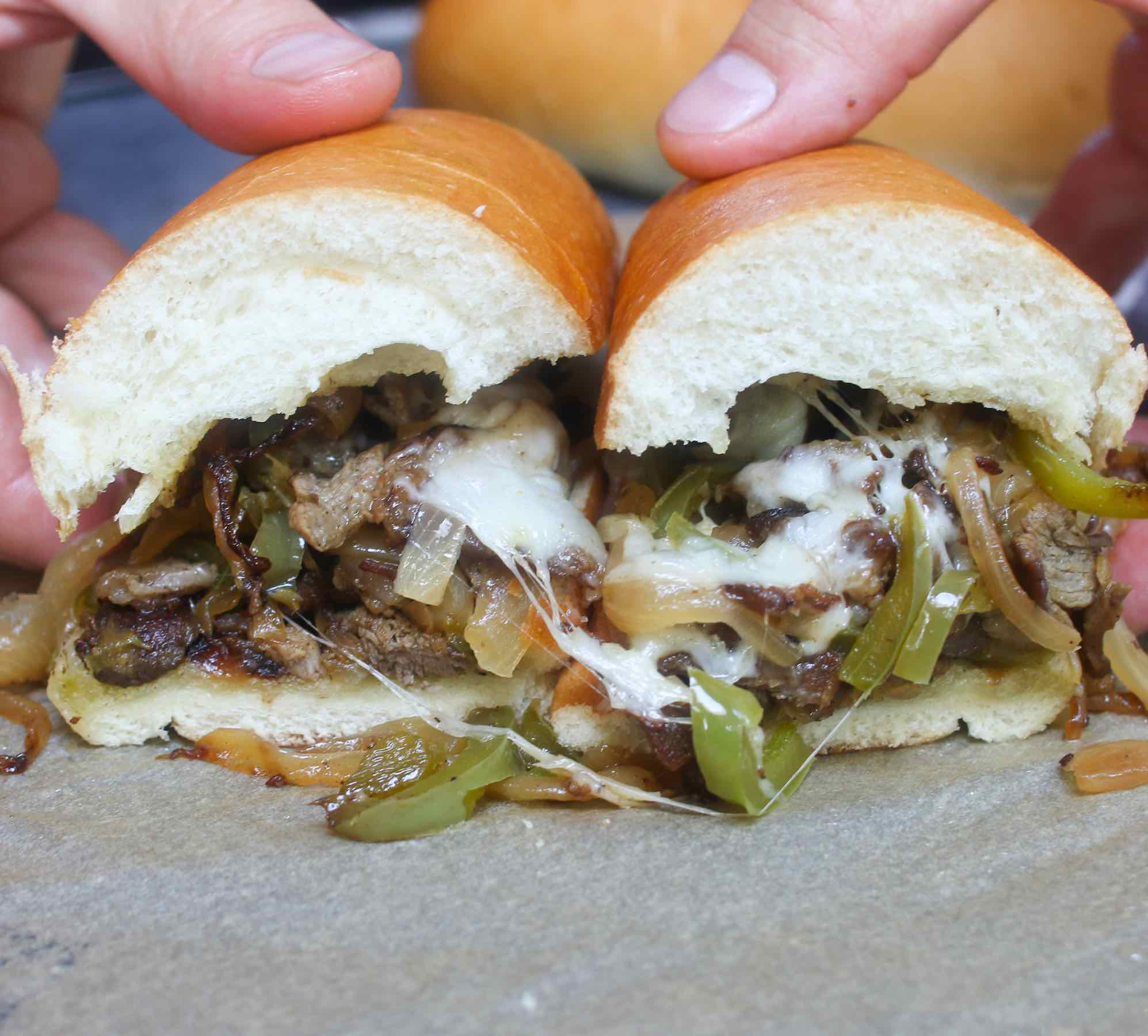 What Kind of Bread Should I Use?
The texture and quality of the bread are crucial to Philadelphia cheesesteak enjoyment. The bread should be a large, fresh roll that's soft and fluffy on the inside, but slightly crusty on the outside.
Amoroso's roll is considered the best bread for a philly cheesesteak sandwich. If you can't get this brand, look for high-quality Italian hoagie rolls. Philly Cheesesteak rolls should be soft in the middle to let the meat and cheese melt into it, but slightly crusty to avoid getting soggy.
The roll should NOT be toasted, instead, warm it slightly by placing on top of the meat and cheese for 1-2 minutes before serving.
How to Make Philly Cheesesteak
Sauté bell onions and bell peppers.
Cook until caramelized and remove from the skillet.
Add thinly-sliced beef and cook for 2-3 minutes until no longer pink.
Mix onions/peppers with the steak. Season with optional Worchestershire sauce, salt, and pepper.
Divide the mixture into 4 portions and add cheese on top.
Place the open roll on top, and flip the whole thing over.
Sauté bell onions and bell peppers
Cook thinly-sliced beef
Add cheese
Place the open roll on top of the cheese
What is The Original Philly Cheesesteak?
Philly Cheesesteak is a popular fast food from Philadelphia. Legend states the hot dog vendor Pat Olivieri invented the cheesesteak in South Philadelphia by putting some beef on the grill. Cabbies took notice and it went viral across the city.
Today the two famous Philly cheesesteaks restaurants are Pat's and Geno's, which are across the street from each other, both sizzling 24 hours day! When ordering the cheesesteak, you need to specify whether 1) you want it with or without onions ("wit" or "witout"); 2) What kind of cheese: provolone, American or Cheez Whiz.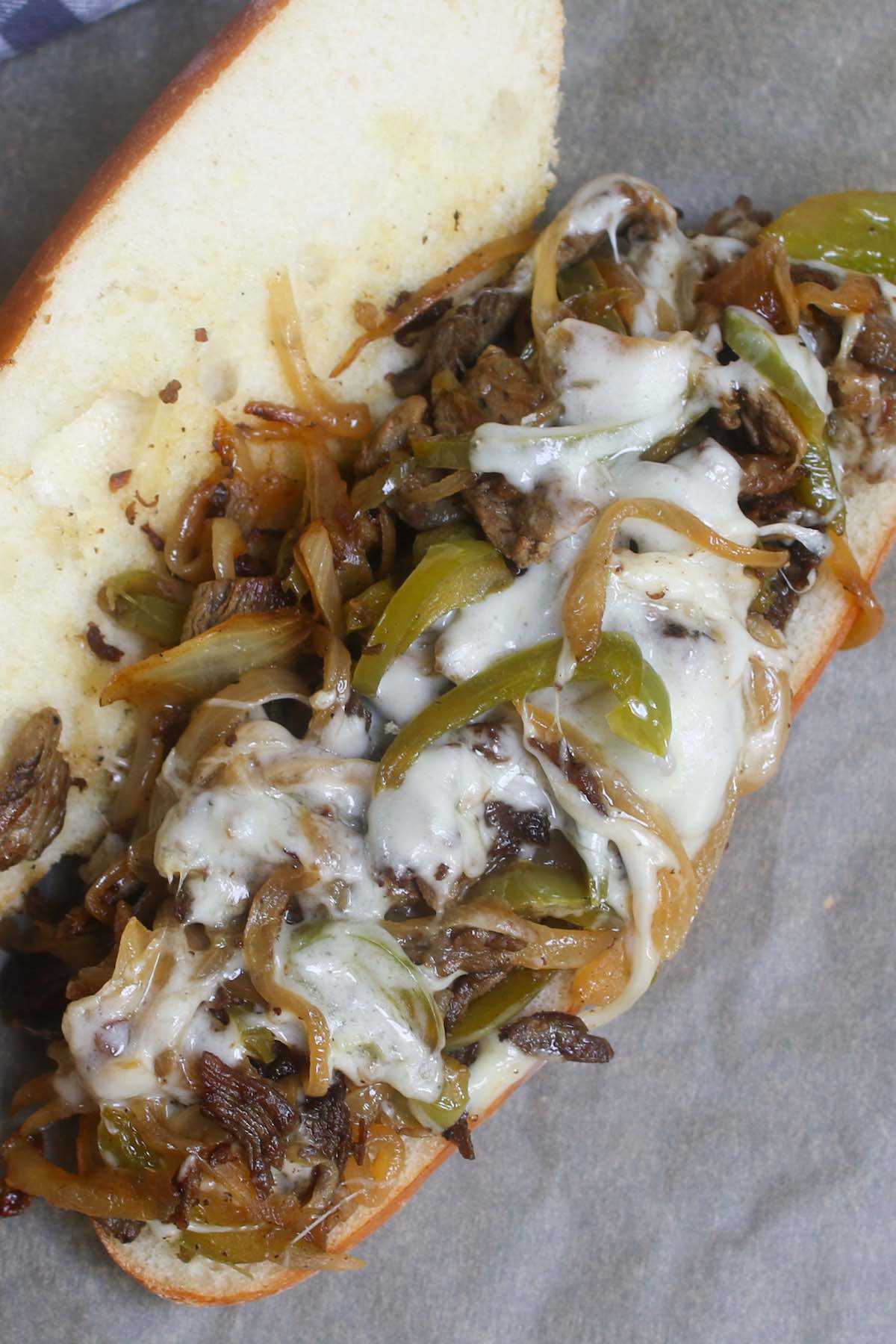 Sides that Go with Philly Cheesesteak
These sandwiches are often served with onion rings, chips, French fries, pasta salad or potatoes. 
The Toppings: 
While melted cheese is the default topping, you can add sautéed onions to enhance the flavor of the sandwich. Green bell peppers and mushrooms are common additions too.
Some more exotic choices include ketchup, pizza sauce, hot sauce, mayo, or almost any other topping you can think of.
Other Variations: 
Over the years people have created many fun twists on the traditional Philly cheesesteak:
Meat Variations: Ground beef is used to make Philly Cheesesteak Sloppy Joes. Chicken can be used for Chicken Philly Cheesesteak Sandwiches.
Bread Variations: Replace the hoagie roll with pizza dough, sliders, egg rolls, or stuff the meat mixture in stuffed peppers for a low-carb option.
Other Beef Recipes You'll Love:
Watch the video below where we will show you every step of how to make this recipe.
Philly Cheese Steak Recipe
Philly cheesesteak recipe made with thinly sliced rib-eye beef and sautéed onions, topped with ooey, gooey, melted cheese, and served on a soft yet crusty hoagie roll!
Ingredients
1 1/2 pound ribeye steak,  (680g) thinly sliced
2 tablespoons olive oil,  (30ml) divided
8 slices provolone cheese,  or Cheez Whiz, or American cheese (160g)
1 large yellow onion,  sliced thin
1 large green bell pepper,  sliced thin, optional
1 teaspoon Worcestershire sauce, (5ml) optional
salt and pepper to taste, I used ½ teaspoon (3g) salt and ½ teaspoon (1.6g) pepper
Instructions
(Optional) Freeze the steak for about 45-60 minutes first to make it easier to slice thinly.

Cook the vegetables: Heat a large cast-iron skillet or griddle to medium-high heat.

Add 1 tablespoon (15ml) olive oil. When the oil is hot, add sliced onions and green pepper.

Sauté for 8-10 minutes until caramelized. Remove to a plate and reserve.

Cook the beef: Slice the steak into 1/8-inch (0.3cm) thick pieces. Cut against the grain for easier chewing.

Add the remaining 1 tablespoon olive oil (15ml) followed by the sliced beef. Sauté for 2-3 minutes until no longer pink. To create shreddy layers, you can pull the thinly shaved beef apart during cooking to tenderize and brown the meat (watch the video above for visual instructions).

Add sautéed onions and green peppers back to the pan. Mix with the steak.

Season with salt, pepper, and optional Worchestershire sauce.

Divide the mixture into 4 oval-shaped portions in the pan.

Add cheese: Reduce heat to medium-low and add the cheese on top of each portion.

Assemble the sandwich: When the cheese is half melted, cut open the hoagie rolls, and place each on top of the cheese. Let it warm up slightly (1-2 minutes) and flip the whole thing over using a large spatula.

Serve immediately.
Notes
Make it Keto: Omit the bread and serve the steak and cheese on lettuce leaves.
DO NOT toast the rolls as it will make the bread too crunchy.
Both bone-in and boneless rib eye steak work well for this recipe. For a more budget-friendly option, you can use sirloin steak or round eye steak. Look for cuts of meat with more marbling.
Both Cheez whiz and American cheese are yellow cheese. Provolone is white. The photos in this posts are philly cheesesteak made with provolone cheese.
Nutrition Facts
Philly Cheese Steak Recipe
Amount per Serving
% Daily Value*
* Percent Daily Values are based on a 2000 calorie diet.
Please read our nutrition disclaimer.
Recipe Equipment

Editor note: Originally published March 10, 2018 and updated Aug 23, 2019.
© TIPBUZZ. Images and text on this website are copyright protected. Please do not post or republish without permission. If you want to republish this recipe, please link back to this post. This post may contain affiliate links. Read the disclosure policy here.