Best Philly Cheese Steak
This Philly Cheese Steak is the classic melty combination of onions, beef and cheese with juicy drippings on a crusty roll. This sandwich is so easy and satisfying, you'll want to make it again and again!
Philly Cheesesteak is a legend unto itself and here I've recreated the original with a few optional extras. All you need is 6-7 ingredients, and it'll be ready in about 20 minutes.
You can eat them on-the-go or make a meal at home. They're perfect for hungry fans on game day along with Philly Cheesesteak Sloppy Joes and Cuban Sandwiches.
What is Philly Cheesesteak?
Authentic Philly Cheese Steak consists of thinly sliced rib-eye beef that's sautéed with onions and served with melted cheese on crusty bread called a hoagie roll. The perfect Philly Cheesesteak is a melty combination of onions, meat and cheese with a nice juicy drip factor.
Legend states the hot dog vendor Pat Olivieri invented the cheesesteak in South Philadelphia by putting some beef on the grill. Cabbies took notice and it went viral across the city. Today rival restauranteurs Pat's and Geno's serve them up 24 hours a day!
There are many variations summarized by a sign in the cheesesteak shop:
With or without onions
Specify provolone, American or Cheez Whiz
Have your money ready
Go to the back of the line if you make a mistake
So you need to know what you want! Provolone is the original cheese, although Cheez Whiz and American are more common today. Green bell peppers are a later addition as well.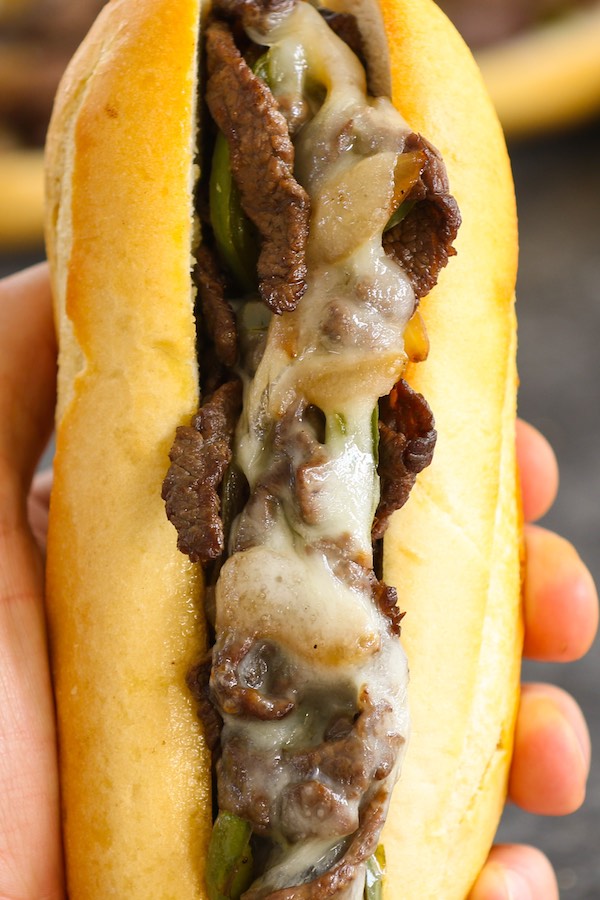 The Best Beef for Philly Cheesesteak
Classic Philly Cheese Steak is made with shaved beef, either rib-eye or for a leaner cut sirloin or top round. The only way to shave the beef is by freezing it for several hours and using an electric deli slicer.
You can also slice the beef yourself by cutting strips about 1/8-inch thick. It's easier to do if you freeze the meat for at least 30 minutes first and use a sharp knife.
How to Make Philly Cheesesteak
To make Philly Cheese Steak, get all your ingredients ready first. That means thinly slicing the beef, onion and bell pepper and setting your hoagie rolls on a plate.
Start by sautéing the onions and bell peppers in a skillet or griddle over medium-high heat with 1 tbsp olive oil. You want to get them the soften and caramelize to create the classic melty cheese steak flavor, so stir regularly to avoid sticking.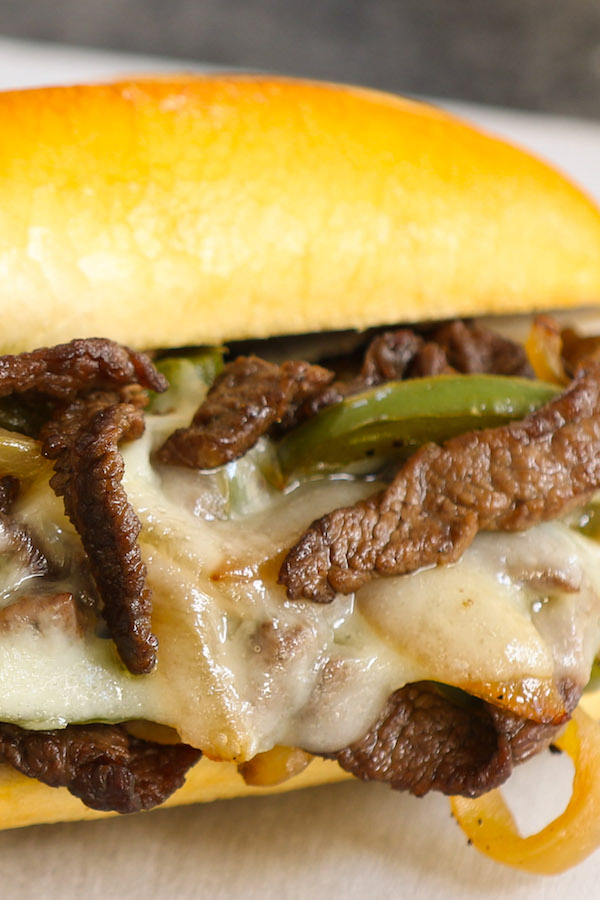 Then remove them from the pan and add the beef. Sauté for another 2-3 minutes until the beef is no longer pink.
Now it's time to mix in the cooked onions/peppers back in along with the Worcestershire sauce. The last step is adding the provolone cheese slices on top to melt, about 1-2 minutes. Spoon the mixture onto the hoagies, and enjoy!
Tips and Secrets for Making Philly Cheesesteak
If you give a meat shop a few hours' notice, they'll often shave the beef for you. Count on ¼ – ½ lb of beef per person.
Rib-eye is the most marbled meat and will give you the richest flavor. For a healthier cheesesteak, use sirloin or top round.
If you can't find hoagie rolls, you can substitute sub rolls or panini rolls.
You can make this up to a day ahead of time and store covered in plastic wrap in the fridge. To reheat, place the sandwiches on a baking sheet in the oven at 375°F for 5-7 minutes until the cheese is bubbling.
Equipment to Make the Best Philly Cheesesteak
Philly Cheese Steak
This Philly Cheese Steak is the classic melty combination of onions, beef and cheese with juicy drippings on a crusty roll. This sandwich is so easy and satisfying, you'll want to make it again and again!

Ingredients
1 1/2 lb sirloin steak, thinly sliced
2 tbsp olive oil, divided
1 large yellow onion, sliced thin
1 large green bell pepper, sliced thin - optional
1 tsp Worcestershire sauce, optional
salt and pepper to taste
8 oz provolone cheese slices, or Cheese Whiz
Instructions
Cut the hoagie rolls crosswise in half, and place on a serving platter.

Heat a skillet or griddle to medium-high heat.

Add 1 tsbp olive oil, sliced onions and optional green pepper. Saute for 8-10 minutes until caramelizing.

Remove onions and peppers from the pan. Reserve.


Add the remaining 1 tbsp olive oil followed by the sliced beef. Saute for 2-3 minutes until no longer pink.


Mix in the reserved onions/peppers with the steak. Season with optional Worchestershire sauce, salt and pepper.

Reduce heat to medium-low and add the provolone slices on top. Allow 1-2 minutes to melt fully.

Spoon the mixture onto each hoagie roll. Serve and enjoy!
Notes
Instead of melting the provolone in the pan, you can also place the hoagie rolls on a baking sheet and bake for 3-5 minutes at 375°F.
Nutrition
Calories: 688kcal, Carbohydrates: 39g, Protein: 57g, Fat: 32g, Saturated Fat: 13g, Cholesterol: 142mg, Sodium: 903mg, Potassium: 798mg, Fiber: 2g, Sugar: 7g, Vitamin A: 650IU, Vitamin C: 35.7mg, Calcium: 495mg, Iron: 14mg
Looking for more sandwich recipes?
Looking for more Beef Recipes?
© TIPBUZZ. Images and text on this website are copyright protected. Please do not post or republish without permission. If you want to republish this recipe, please link back to this post. This post may contain affiliate links. Read the disclosure policy here.