This recipe combines two classics in one recipe: the Philly Cheesesteak and Sloppy Joe! They're so delicious that we need to make them at least once a month to feel good about life.
To make the Philly Cheesesteak we used beef, onions, green pepper, provolone and a homemade cheesesteak sauce.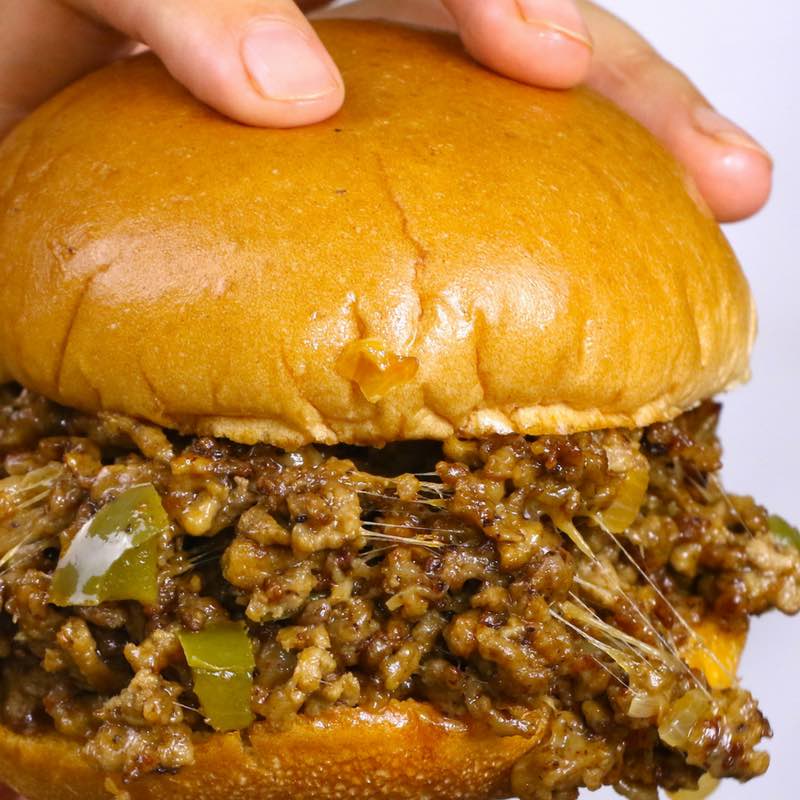 Purists might point out that the original Philly cheesesteak is made with shaved beef. However, as it's difficult to buy or make shredded beef, we've opted to use ground beef for convenience. And it still.tastes.amazing!
Sloppy Joes are traditionally made with beef, tomato sauce and onions on a hamburger bun according to Wikipedia. So this cheese steak recipe can fit right into a bun to do the same.
How to make a Philly Cheese Steak Sloppy Joe
To make Philly Cheesesteak Sloppy Joes, you want to start by browning the beef in a skillet. A large pan will be much faster because beef browns better when it's not crowded.
After 3-4 minutes you'll have lots of rendered fat, which you can drain out unless you want extreme calorie intake. Then mix in chopped onions and green peppers and fry a few minutes to soften.
The second step is adding the sauce ingredients to the pan: beef broth, Worchester (Worchestershire) sauce, ketchup, salt & pepper. A cornstarch and water mixture is used to help it thicken.
The final step is adding the cheese to the pan. This is a good time to start toasting your buns because these sloppy joes are almost ready!
And you're done! Just spoon the beef mixture onto your toasted buns for an incredible lunch or dinner.
Watch our video tutorial to see how to make it:
This is pretty much a meal in unto itself, although french fries or cole slaw are great side dishes.
Best Philly Cheese Steak Sloppy Joes (with Video)
The easiest and most unbelievably delicious Philly Cheesesteak Sloppy Joes! And they'll be on your dinner table in just 20 minutes.
Ingredients
1

pound

ground beef

1

tsp

vegetable oil

1

medium

onion

diced

1

medium

green bell pepper

diced

1

cup

beef broth

2

tbsp

ketchup

1

tbsp

Worcestershire sauce

salt and pepper to taste

1

tbsp

cornstarch

6

ounces

provolone cheese

sliced or in chunks

8

hamburger buns
Instructions
Place a large nonstick or cast iron skillet over medium-high heat.

Coat the pan with oil, and add the ground beef.

Stir for 3-5 minutes until the beef is mostly browned. Strain out most of the fat that accumulates.

Add in the onions and bell peppers, and stir for 2-3 minutes until the onions are translucent.

Add in the beef broth followed by the ketchup, Worchester sauce, salt and pepper.

Mix cornstarch with a tablespoon of water in a cup, and add to the pan, stirring constantly as it will start thickening quickly.

Within a few minutes, the mixture should be thick enough to start forming mounds.

Remove from heat, add cheese and slowly stir it in. Meanwhile, start toasting the buns.

Once cheese is fully melted, spoon onto buns. Serve immediately and enjoy!
Nutrition Facts
Best Philly Cheese Steak Sloppy Joes (with Video)
Amount Per Serving
Calories 331
Calories from Fat 135
% Daily Value*
Total Fat 15g 23%
Cholesterol 50mg 17%
Sodium 605mg 25%
Potassium 265mg 8%
Total Carbohydrates 26g 9%
Protein 20g 40%
* Percent Daily Values are based on a 2000 calorie diet.
Also, here are a few ideas to make this recipe easier on the waistline:
Use extra lean ground beef and drain out the rendered fat
Substitute in low fat provolone cheese slices
Use low sodium broth and Worchestershire sauce
Even with these modifications it's still super yummy. So try it out and let us know if it's your fave Philly cheese steak. Enjoy!
Check out our Party Lasagna recipe for another recipe too.
This post may contain affiliate links. Read the disclosure policy here