Best Philly Cheese Steak Sloppy Joes
Philly Cheesesteak Sloppy Joes are the best sloppy joes you will ever have! This easy recipe combines your favorite Philly cheese steak and homemade sloppy joes into one amazing meal!
Philly cheese steak sloppy joes are essentially Philly cheese steak recipe with ground beef, served on toasted hamburger buns instead of hoagie or sub rolls. There is something special about combining steak and cheese:  mouthwatering cheesy, sweet and savory flavor in each bite. You cannot resist it!
These Philly Steak Sloppy Joes are quick and easy to make, and popular with both adults and kids. It's one of my favorite dinner ideas, along with Steak Sandwich, Slow Cooker Cubed Beef, Chicken Sliders, and Fried Mac n Cheese Burger.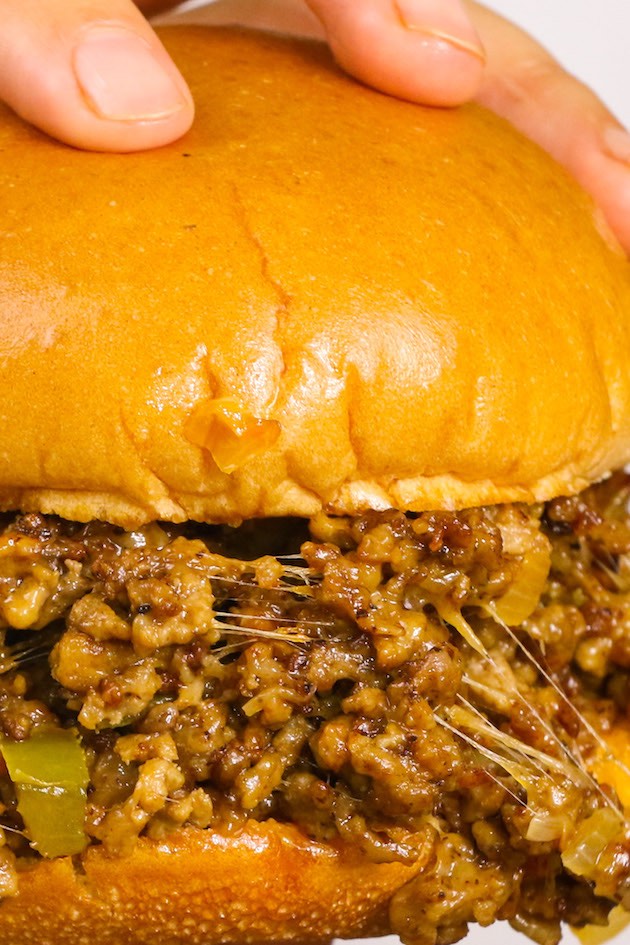 HOW TO MAKE PHILLY CHEESESTEAK SLOPPY JOES
This recipe combines two classics into one dish: the Philly Cheesesteak Sandwich and Sloppy Joes! It's easy to make and will be on your dinner table in less than 30 minutes.
Key ingredients include ground beef, onions, green pepper, provolone, homemade cheesesteak sauce and hamburger buns.
Start with browning the ground beef and vegetables. Drain off any fat that accumulates.
Add in the beef broth, ketchup, Worchester sauce, salt and pepper. Then add cornstarch and water mixture. Cook for a few minutes until the mixture is thick enough to start forming mounds.
Remove your skillet from heat, add cheese and slowly stir it in. The hot mixture will melt your cheese very nicely. I find provolone is a great option for this cheese steak recipe.
Butter and toast your buns, and scoop the beef mixture on top of each bottom buns and cover with the remaining bun halves. Serve and enjoy!
You can also scroll down for a video tutorial showing each step.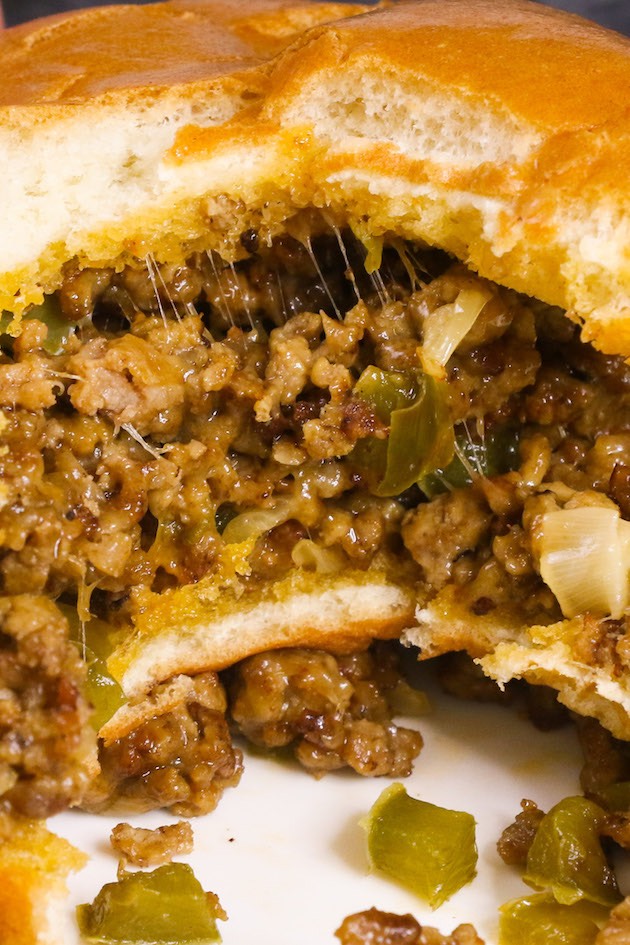 TIPS FOR MAKING THE BEST PHILLY CHEESE STEAK SLOPPY JOES
If you use regular ground beef (fatter than 90% lean beef), it's best to strain out the fat after you brown the beef.
After you add all the sauce ingredients to the meat mixture, a quick taste-test would give you the best flavor that just tailors for your family. Adjust the seasoning according to your preference.
Don't dry out the sauce. The best sloppy joes should have a thick but moist consistency.
You don't have to mix the cheese into the beef. You can top your sloppy joes with your favorite cheese and bake them all in the oven.
To make it ahead, you can cook all ingredients except the cheese and buns. Let the mixture cool down and store it in the fridge. When you are ready, just heat the mixture up and follow the rest of the steps.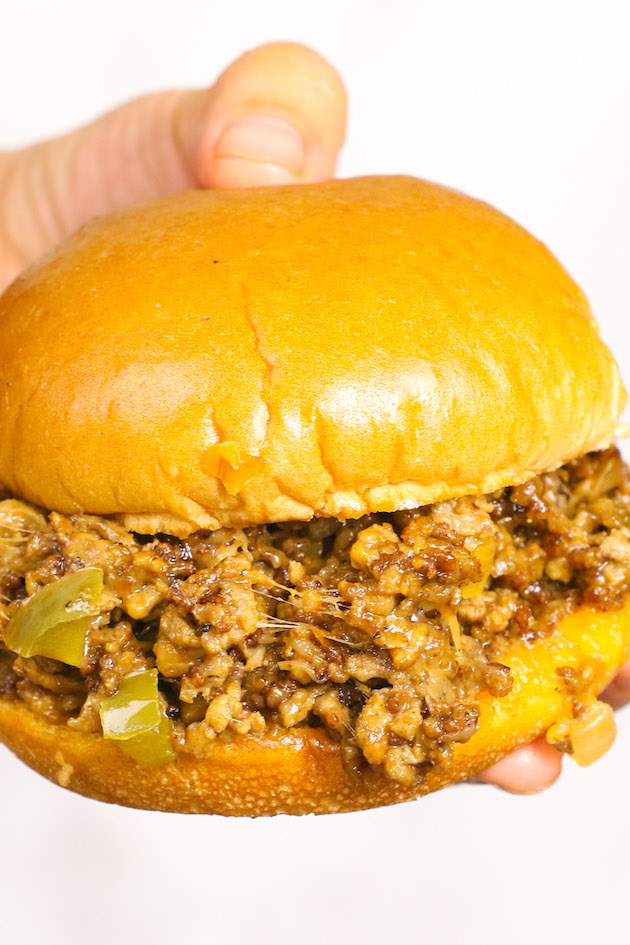 CAN I MAKE PHILLY CHEESESTEAK SLOPPY JOES IN A SLOW COOKER?
Yes, you can make this recipe in a crockpot. Just add all ingredients except cheese and buns. Cook on low for about 4-5 hours or high for 2-3 hours.
PHILLY CHEESE STEAK SLOPPY JOES RECIPE VIDEO:
Philly Cheese Steak Sloppy Joes
These delectable Philly Cheese Steak Sloppy Joes combine your favorite Philly Cheesesteak and Sloppy Joes recipes into one irresistible meal. And they'll be on your dinner table in less than 30 minutes.
Ingredients
1 pound ground beef
1 tsp vegetable oil
1 medium onion, diced
1 medium green bell pepper, diced
1 cup beef broth
2 tbsp ketchup
1 tbsp Worcestershire sauce
salt and pepper to taste
1 tbsp cornstarch
6 ounces provolone cheese, sliced or in chunks
8 hamburger buns
1 tbsp butter, optional
Instructions
Place a large nonstick pan or cast iron skillet over medium-high heat.

Coat the pan with oil, and add the ground beef.

Stir for 3-5 minutes until the beef is mostly browned. Strain out most of the fat that accumulates.

Add in the onions and bell peppers, and stir for 2-3 minutes until the onions are translucent.

Add in the beef broth followed by the ketchup, Worchester sauce, salt and pepper.

Mix cornstarch with a tablespoon of water in a cup, and add to the pan, stirring constantly as it will start thickening quickly.

Within a few minutes, the mixture should be thick enough to start forming mounds.

Remove from heat, add cheese and slowly stir it in. Meanwhile, start toasting the buns.

Once cheese is fully melted, spoon onto buns. Serve immediately and enjoy!
Notes
Use a large skillet to brown your ground beef so it's not too crowded. If your skillet is not big enough, you can brown the meat in two batches. To get the maximum flavor, it's better to cook the beef until it forms a deep brown crust.
Make sure NOT to dry out all the sauce. The best sloppy joes have a thick but moist consistency. So cook your mixture until it still has about 10% to 15% liquid.
You can toast your buns under broiler or bake the assembled buns for a few minutes. The toasting and baking process will prevent your buns from getting too soggy. Another tip is to add butter to your buns and it will give your sloppy joes extra delicious flavor.
Nutrition Facts
Philly Cheese Steak Sloppy Joes
Amount Per Serving
Calories 331 Calories from Fat 135
% Daily Value*
Fat 15g23%
Saturated Fat 7g35%
Polyunsaturated Fat 1g
Monounsaturated Fat 6g
Cholesterol 50mg17%
Sodium 605mg25%
Potassium 265mg8%
Carbohydrates 26g9%
Fiber 2g8%
Sugar 4g4%
Protein 20g40%
Vitamin A 300IU6%
Vitamin C 21.5mg26%
Calcium 230mg23%
Iron 2.7mg15%
* Percent Daily Values are based on a 2000 calorie diet.
Please read our nutrition disclaimer.
Editor Note: Post updated 6/9/2019 with additional information.
More Ground Beef Recipes You'll Love:
View All Ground Beef Recipes
© TIPBUZZ. Images and text on this website are copyright protected. Please do not post or republish without permission. If you want to republish this recipe, please link back to this post. This post may contain affiliate links. Read the disclosure policy here.