Easy Beef Chow Mein
This Beef Chow Mein is a quick and easy one pot meal loaded with tender beef, flavorful vegetables and fried noodles. It comes together in just 20 minutes for a delicious weeknight dinner the entire family will love…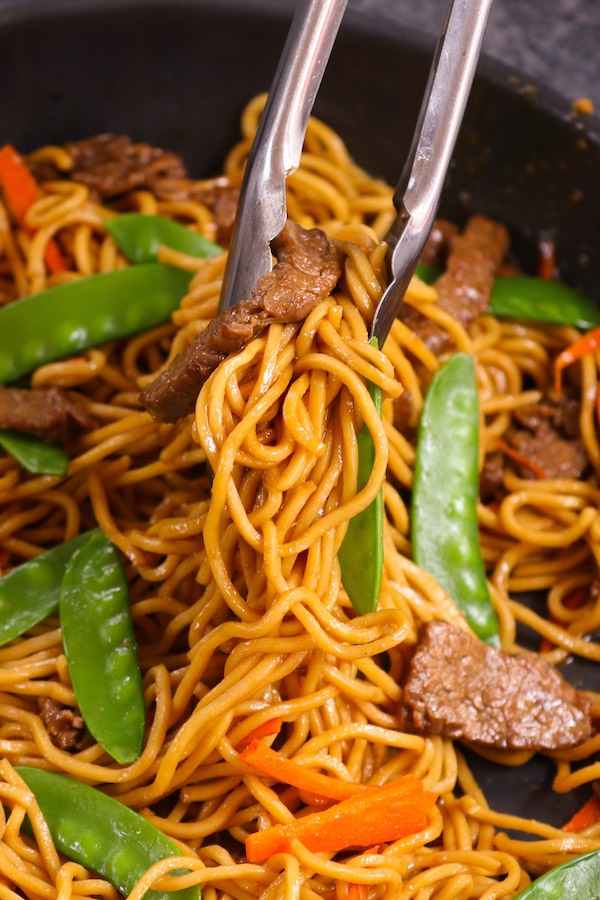 This easy Beef Chow Mein is one of my favorite chow mein recipes along with shrimp chow mein and chicken chow mein.
This Chow Mein is much healthier and even faster than getting takeout at Panda Express! And if you have kids or picky eaters, they will devour this chow mein.
What is Chow Mein?
Chow Mein (炒面) is a Chinese dish, one of the most popular items in Chinese restaurants stateside. The word "Chow Mein (炒面)" means stir-fried noodles in Chinese.
Unlike lo mein noodles, chow mein often becomes crispy from stir frying and can form a noodle cake. Chow mein is perfect for combining with meat, seafood and vegetables, not to mention soaking up delicious chow mein sauce!
How to Make Beef Chow Mein?
My entire family loves Chow Mein, and it's a great way to use up leftover vegetables or meat from the fridge. Make variations based on your personal preferences or what you have on hand.
What's more, it's so quick, and requires minimum preparation.  You can also substitute shrimp with chicken, beef or tofu (for Vegetarian Chow Mein).
Step 1: Prepare the Noodles: If you use refrigerated Chinese Chow Mein noodles from the supermarket, remove them from package and prepare according to the directions.
If you cannot find Chow Mein noodles, you can substitute spaghetti or linguini, and cook according to package instructions. Drain and toss with oil to prevent from sticking.
Step 2: Cook the Beef: Using a sharp knife, slice the beef against the grain into thin strips. Then whisk a small amount of soy sauce and cornstarch together in a medium bowl, and toss the beef in it. Let it sit for a few minutes, and the beef will become much more tender.
Step 3: Make Chow Mein Sauce: Combine soy sauce, oyster sauce, sugar and cooking wine in a medium bowl. Mix well and set aside.
Step 4: Make the Chow Mein: Place a large skillet over medium-high heat. When the pan is hot, add in vegetable oil followed by the minced garlic, ginger and bell pepper. Stir fry for about 3 minutes until starting to get tender, and add in the beef and stir fry another 2-3 minutes until cooked.
The last step is adding the noodles and finally the chow mein sauce mixture. Toss to coat evenly with large kitchen tongs or spoons.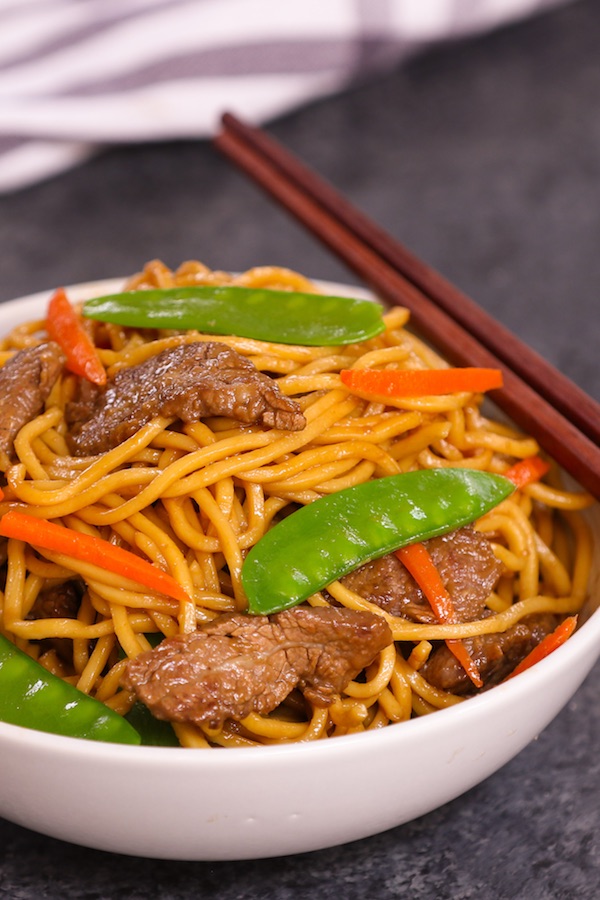 Make-ahead Tips
Cook the noodles the night before. If cooking them a few hours ahead, you can also toss them in a little oil to prevent from sticking
Prepare the Chow Mein Sauce mixture and cut the vegetables the night before. Store them in the fridge.
Chow mein is fantastic to make ahead and take to work or school as meal prep. Simply place the cooked chow mein in meal prep containers and store in the fridge.
Tips for Making Best Beef Chow Mein
Selecting a tender cut of beef is important for chow mein. Flank steak is the best choice, and you can also use sirloin steak or skirt steak. If you have the budget, rib-eye and strip steak are more options.
To save preparation time, ask your butcher to slice the beef for you.
Consider the time needed to cook each vegetable and add them in order. Ideally you want everything cooked just right at the end.
Keep your pan at medium-high heat to get a good stir fry and avoid the ingredients starting to simmer.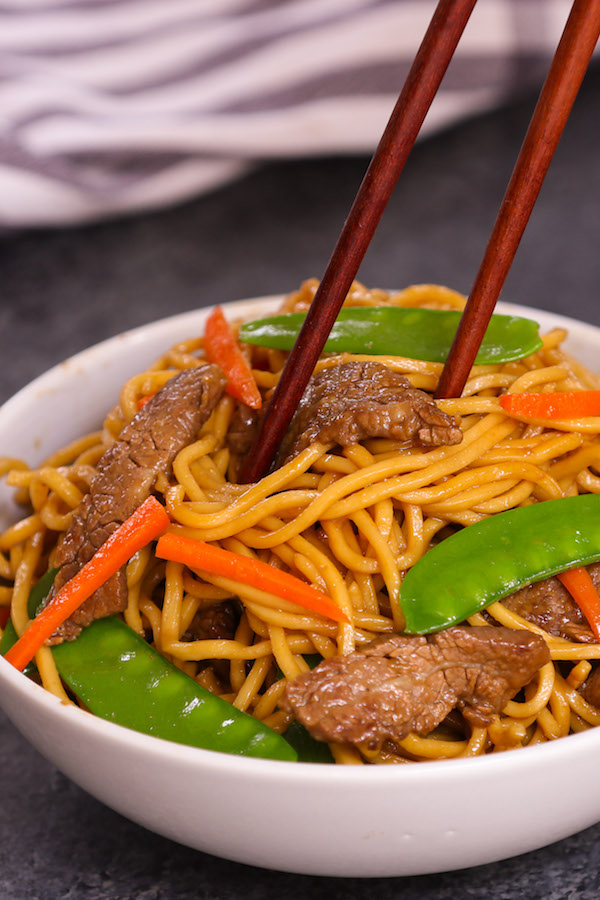 Key Ingredients for Making the Best Beef Chow Mein
Refrigerated Chow Mein noodles: I bought them at a local Asian grocery store. Fresh spaghetti egg noodles are a great substitute, or dry spaghetti.
Soy sauce: I used Kikkoman low-sodium soy sauce, which is pretty widely available in stores or online.
Key Equipment for Making the Best Beef Chow Mein
For Chinese Stir-fry, a wok is ideal since it can handle more volume than a skillet and is easy for stir frying in the pan. Joyce Chen is my preferred wok and kitchen tongs come in handy for tossing the chow mein.
Easy Beef Chow Mein
This Beef Chow Mein is a quick and easy one pot meal, loaded with tender beef, flavorful vegetables and fried noodles. It's so delicious and you'll make it over and over again!
Ingredients
8 oz chow mein noodles, or spaghetti or linguini
3/4 pound flank steak, thinly sliced against the grain
1 tbsp cornstarch
1 tbsp soy sauce
1 tbsp vegetable oil
1 tsp ginger, minced
1 tbsp garlic, minced
1 red bell pepper, sliced thin
1 cup snow peas
Chow Mein Sauce
1/4 cup soy sauce
2 tbsp oyster sauce
1 tbsp rice wine, or sherry
2 tbsp brown sugar
Instructions
Prepare the noodles according to the package directions. While they're cooking, proceed to the following steps.

In a small bowl, whisk together soy sauce and cornstarch. Add the sliced beef and toss to coat. Set aside for a few minutes to tenderize the beef.

In another bowl, mix soy sauce, oyster sauce, sugar and cooking wine until dissolved. Reserve.

Place a large skillet over medium-high heat. Wait a minute until hot and then add the vegetable oil followed by sliced beef.

Stir fry the beef with a wooden spoon for 1-2 minutes until browning slightly. Remove to a plate and season with salt and pepper.

Return the pan to the heat and add the minced garlic, ginger, red bell peppers and snow peas. Stir fry for about 3 minutes or until just tender.

Add the reserved beef and drained noodles to the pan.

Add the chow mein sauce and toss to coat evenly. Serve hot and enjoy!
Nutrition Facts
Easy Beef Chow Mein
Amount per Serving
% Daily Value*
* Percent Daily Values are based on a 2000 calorie diet.
Please read our nutrition disclaimer.
More Asian noodle recipes:
© TIPBUZZ. Images and text on this website are copyright protected. Please do not post or republish without permission. If you want to republish this recipe, please link back to this post. This post may contain affiliate links. Read the disclosure policy here.