Steamed Buns
These Steamed Buns are soft and delicate, an ideal snack for sharing. Enjoy bao buns on their own or stuff them with delicious fillings. This steamed buns recipe is great for snacks as well as Chinese New Year!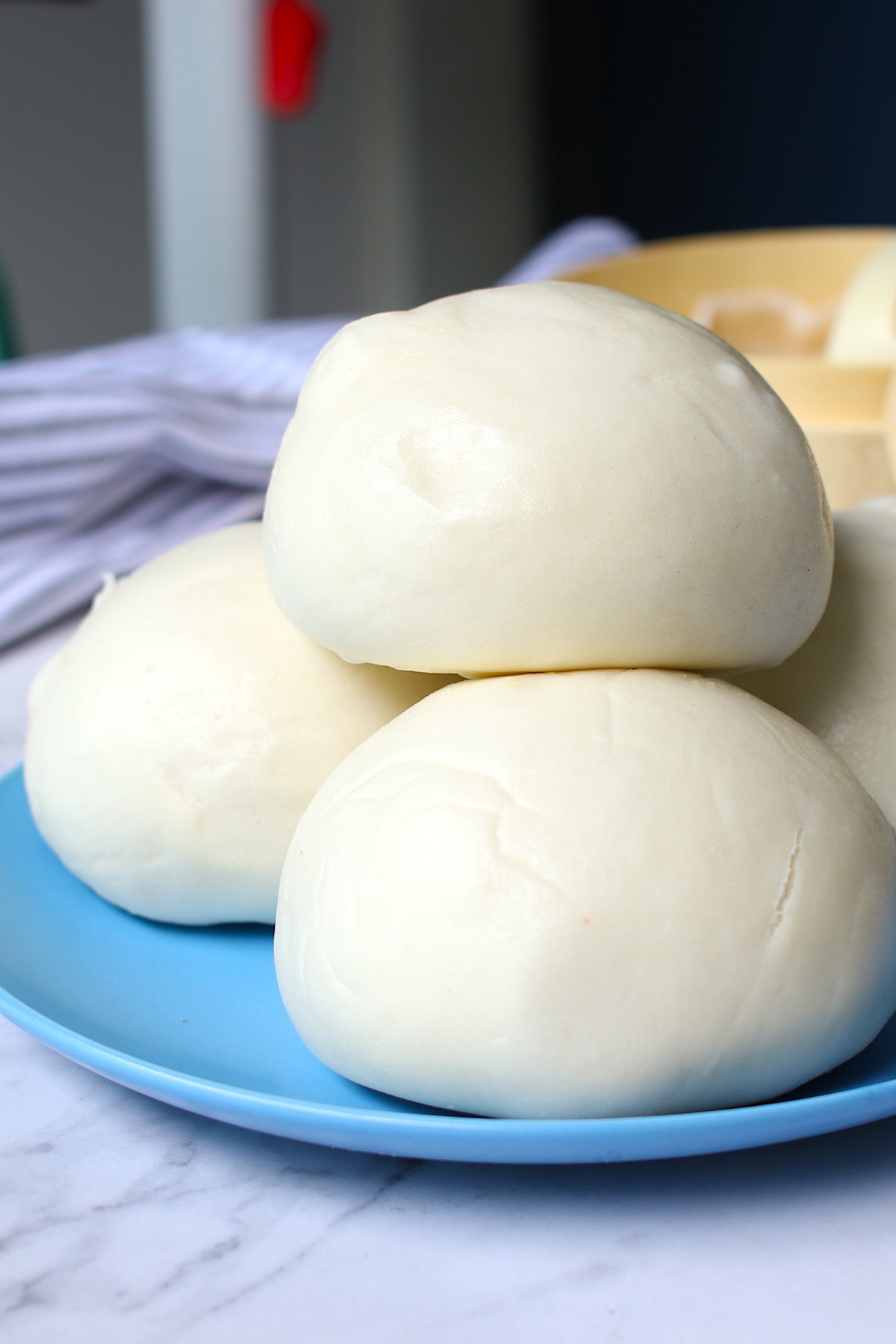 Chinese steamed buns have been popping up everywhere, whether it's San Francisco's food trucks or Momofuku! Which ones are the best? Homemade, of course 🙂
They're perfect for parties, on the go snacks and kids lunches. They pair well with Asian dishes such as General Tso's Chicken, Hunan Chicken or Bok Choy.
What are steamed buns made of?
Steamed buns are made of traditional Chinese sweet yeast dough: flour, water, milk, sugar and salt. Baking powder and oil are kneaded into the dough after rising to make it extra soft.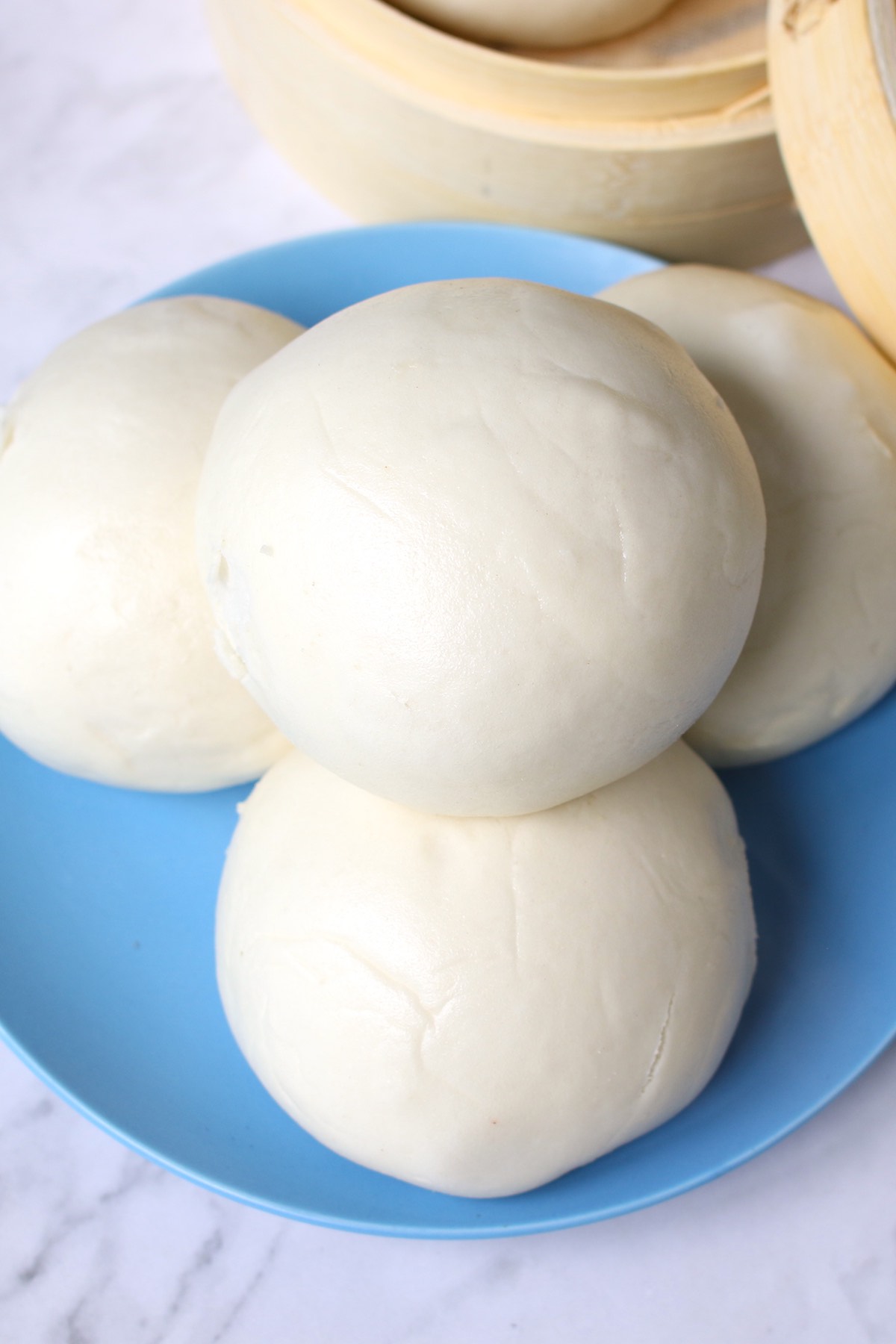 How to Make Steamed Buns
So it takes some effort to make bao buns, although it's so worthwhile. This steamed buns recipe yields 24 buns, enough for a party or to freeze for a later date. Once you get the hang of it, you'll find yourself making them more often!
Making these buns will take 3 1/2 to 4 hours total, of which 1 1/2 hours is activity and the remainder is letting the dough rise. You can make them with the following pantry ingredients:
Dry active yeast proofed in warm water with sugar
Milk
Flour, salt and sugar to make the dough
Baking powder to make the dough light and puffy
Oil to prevent sticking during rising
First, you proof the yeast for 10 minutes with water and sugar. Then mix in more water, sugar, flour, and salt to form a dough. Knead the dough until elastic and let it rise for at least 90 minutes to double in size.
Second, make the buns and steam them. Deflate the dough and knead in the baking powder. Then slice it into pieces and form oblong or round shapes. Place them in the steamer to rise again with expansion room in between.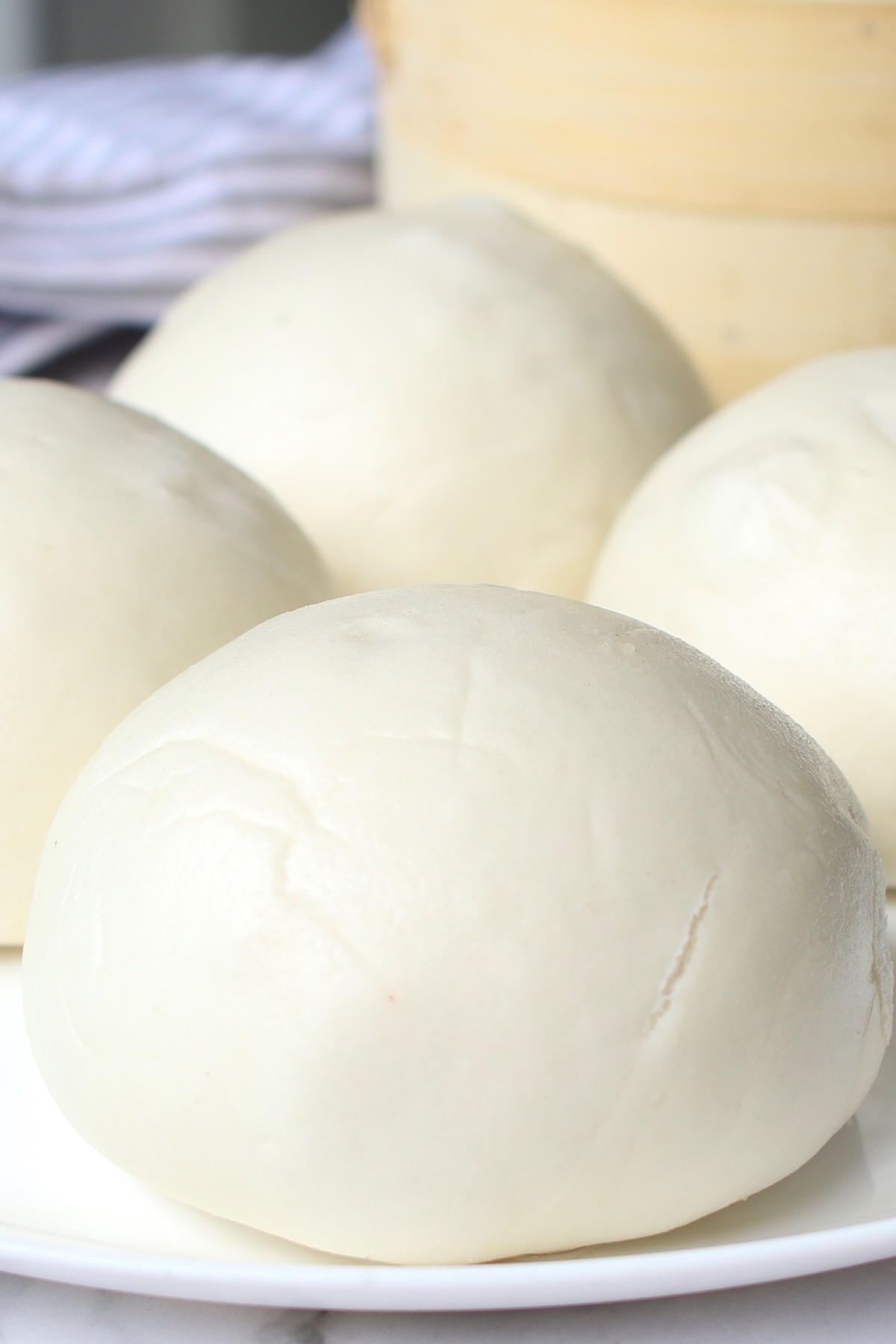 After a 20 minute pause, you'll be ready to steam the buns (finally)! Here's the steaming setup you'll need for this steam bun recipe:
Bamboo steamer: A double 12-inch (30 cm) steamer basket will allow you to steam a dozen buns at the same time. Most alternatives are either too small or will drip water onto your buns causing blemishes.
Wok: A 14-inch (35 cm) wok will holder the bamboo steamers comfortably.
Parchment: You'll need parchment or wax paper to prevent the buns from sticking to the steamer.
If you plan to add filling to the buns, you'll find an inexpensive mini rolling pin especially helpful.
How do you store steamed buns?
It's easy to make steamed buns ahead of time. Store them in an airtight container or large ziptop bags in the fridge for up to 3 days. They also freeze well for up to 3 months.
Reheat refrigerated steamed buns by steaming or microwaving. Frozen steamed buns can be re-steamed directly from the freezer for approximately 20 minutes.
Steamed Buns
These Steamed Buns are soft and delicate, great for on the go snacks as well as parties and potlucks!
Ingredients
1 cup warm water, 105-115°F (41-46°C), divided
2 tsp active dry yeast, 1 envelope or ¼ oz
3 tbsp sugar, divided
2 tbsp milk
¼ tsp salt, fine salt
3 1/2 cups all-purpose flour, see note
1 tbsp baking powder
1 tbsp oil, canola or similar
Instructions
Dough
In a medium-large bowl, whisk together ¼ cup warm water, yeast and a large pinch of the sugar. Set aside for 10 minutes (see note).

While waiting, cut parchment into 24 squares about 3-inch (7 cin size.

Whisk in the remaining ¾ cup water, sugar, salt and the milk until dissolved.

Using a large wooden spoon, stir in the flour cup by cup until it forms a sticky dough that starts to pull away from the bowl (see note).

Turn dough out onto a floured work surface.

Knead the dough for 5 minutes by hand or 1-2 minutes using a mixer fitted with a dough hook. Add small amounts of flour to help the dough become elastic.

Form dough into a ball and place in a large oiled bowl. Cover with plastic wrap or a tea towel and let rise in a warm, draft-free place until double in size, about 90 minutes.

Punch down the dough and transfer back to floured work surface.

Add baking powder to center of dough and fold in outer edges of the dough to seal.

Knead dough for several minutes more until baking powder is incorporated.

Return dough to the oiled bowl loosely covered and let rest 10 minutes.
Steaming
Shape the dough into a long about 1-foot (30 cby 3 inches (7 cm).

Slice into 1-inch (2.5 cthick pieces and place onto cut parchment squares. Optional: forms the pieces into a ball shape if desired (see note).

Place the buns in a bamboo steamer ½-inch (12 mapart. Rest 20 minutes loosely covered.

Fill wok or steaming contraption one-third full with water and bring to a boil.

Add the bamboo steamer and steam for 12-15 minutes until puffy.

Remove cooked buns from steamer. Repeat steaming in batches for remaining buns.
Notes
The yeast mixture should puff up and become frothy. If it doesn't for any reason, start over with fresh ingredients.
The amount of flour may be slightly more or less than 3 ½ cups depending on flour brand and humidity. Stop adding when the dough pulls away from the bowl.
You can also stuff with a filling such as custard or BBQ pork by rolling it into a 5-inch (12 cm) round, bringing the edges together and pinching them to seal.
Nutrition Facts
Steamed Buns
Amount per Serving
% Daily Value*
* Percent Daily Values are based on a 2000 calorie diet.
Please read our nutrition disclaimer.
Fillings and Variations
Here are some popular options for filling steamed bao buns:
Chinese Steamed Pork Buns: Braised minced Chinese BBQ pork makes a great filling.
Vegetarian Steamed Buns: Add a tablespoon of your favorite custard to make steamed custard buns or add some red bean paste for red bean steamed buns.
© TIPBUZZ. Images and text on this website are copyright protected. Please do not post or republish without permission. If you want to republish this recipe, please link back to this post. This post may contain affiliate links. Read the disclosure policy here.