How to Use a Slow Cooker
Learn how to use a slow cooker to get delicious results easily and safely! We cover basic crock pot instructions including which slow cooker temperature to use.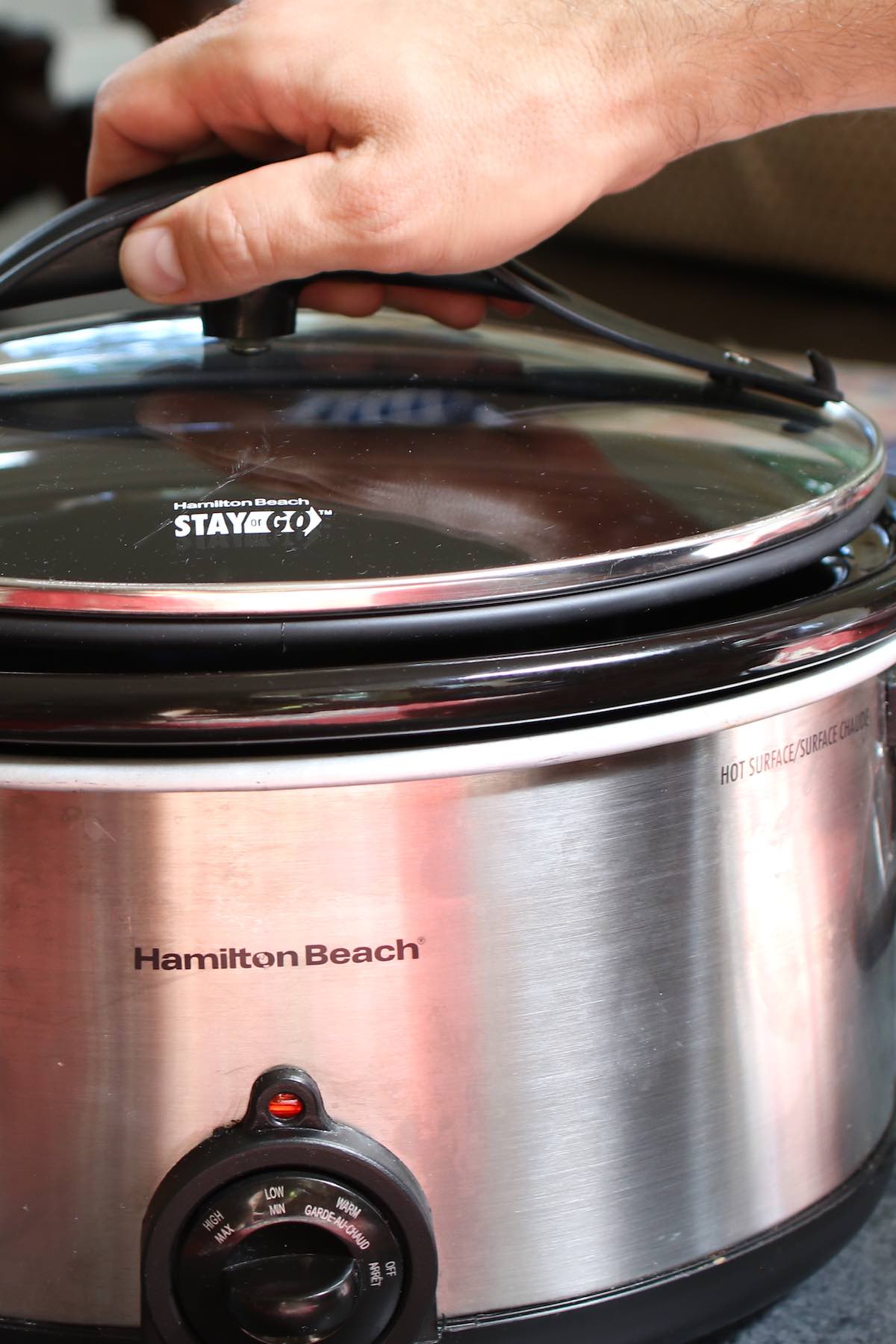 Throw ingredients into the crockpot in the morning and produce a complete meal by dinnertime. While slow cookers may seem a bit mysterious at first, fear not!
Dishes like Mississippi Pot Roast and Pulled Pork are made for the crock pot, while other classics like Chicken Noodle Soup or Beef Stew are easily adapted to slow cooking. Read on to learn how to use a crock pot correctly.
What Is a Slow Cooker?
Slow cookers are inexpensive, easy to use and quite compact! The slow cooker consists of a base unit with heating element and an oval pot made of glazed ceramic or porcelain. The pot is covered with a glass lid with a rubber seal that retains moisture to prevent drying out or burning.
The premise was to enable families to start cooking dinner in the morning before going to work (genius!). This countertop appliance launched in the 1970s under the brand "Crock-Pot", and since then many brands make them.
How Does a Slow Cooker Work
The slow cooking process is simple. The ceramic cooking vessel transmits heat to the food inside. Steam circulates inside the sealed lid, which retains moisture while cooking the food, preventing drying out.
There are 3 crockpot settings and here's a description of each one:
| | | |
| --- | --- | --- |
| Crock Pot Settings | Crock Pot Temperature | Description |
| LOW | 200°F (93°C) | Slow bubble, heat cycles on and off |
| HIGH | 300°F (148°C) | Steady heat and simmer |
| WARM | 170°F (76°C) | Ideal to keep dishes hot at parties |
Typically one hour of cooking on HIGH is equivalent to 2-2½ hours on LOW. Crock pots are designed to be left cooking unattended on the countertop, so it's quite safe when used properly.
While Instant Pots have a slow cooker function, it's thin steel vessel is not really designed for ultra-low simmering unattended.
Slow cooker recipes:
View all slow cooker recipes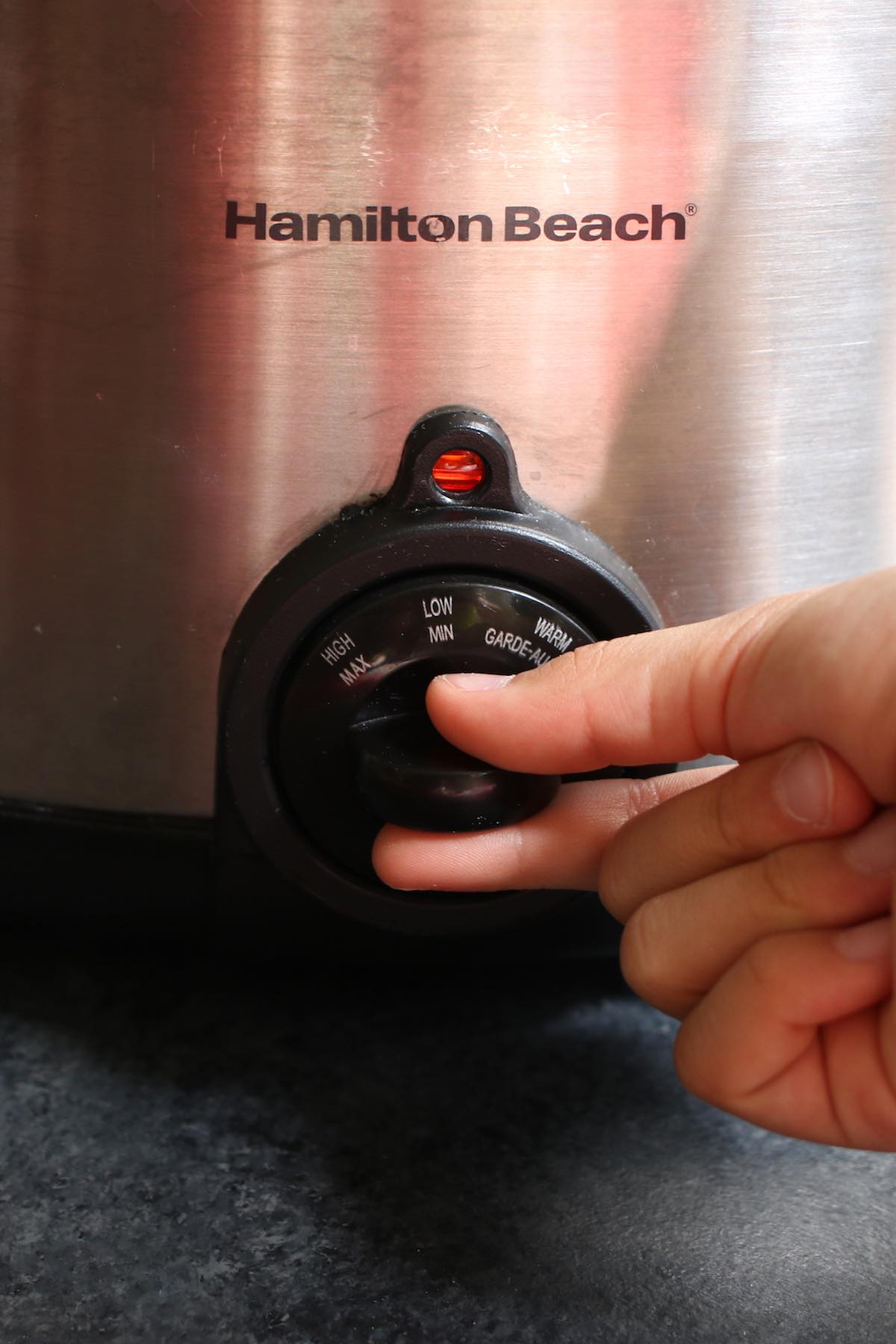 How to Use a Crock Pot
Here are some basic tips for using a slow cooker:
Size: The most common slow cooker size is 6 quarts (6 liters). With the exception of some dessert recipes, a crock pot should be filled ½ – ¾ full in order to get the expected results. Avoid overfilling!
Location: Place the crock pot on a flat countertop surface that's clean and heatproof. Keep it several inches away from walls or other objects, as it will get quite warm. Granite countertops work well, but avoid wooden surfaces.
Pets: If you have curious pets at home while you're away, make sure they don't have access to the crock pot.
Unattended: Set the crock pot to LOW if you plan to let the crock pot cook while you're not at home. That way, the food won't overcook when you're running late.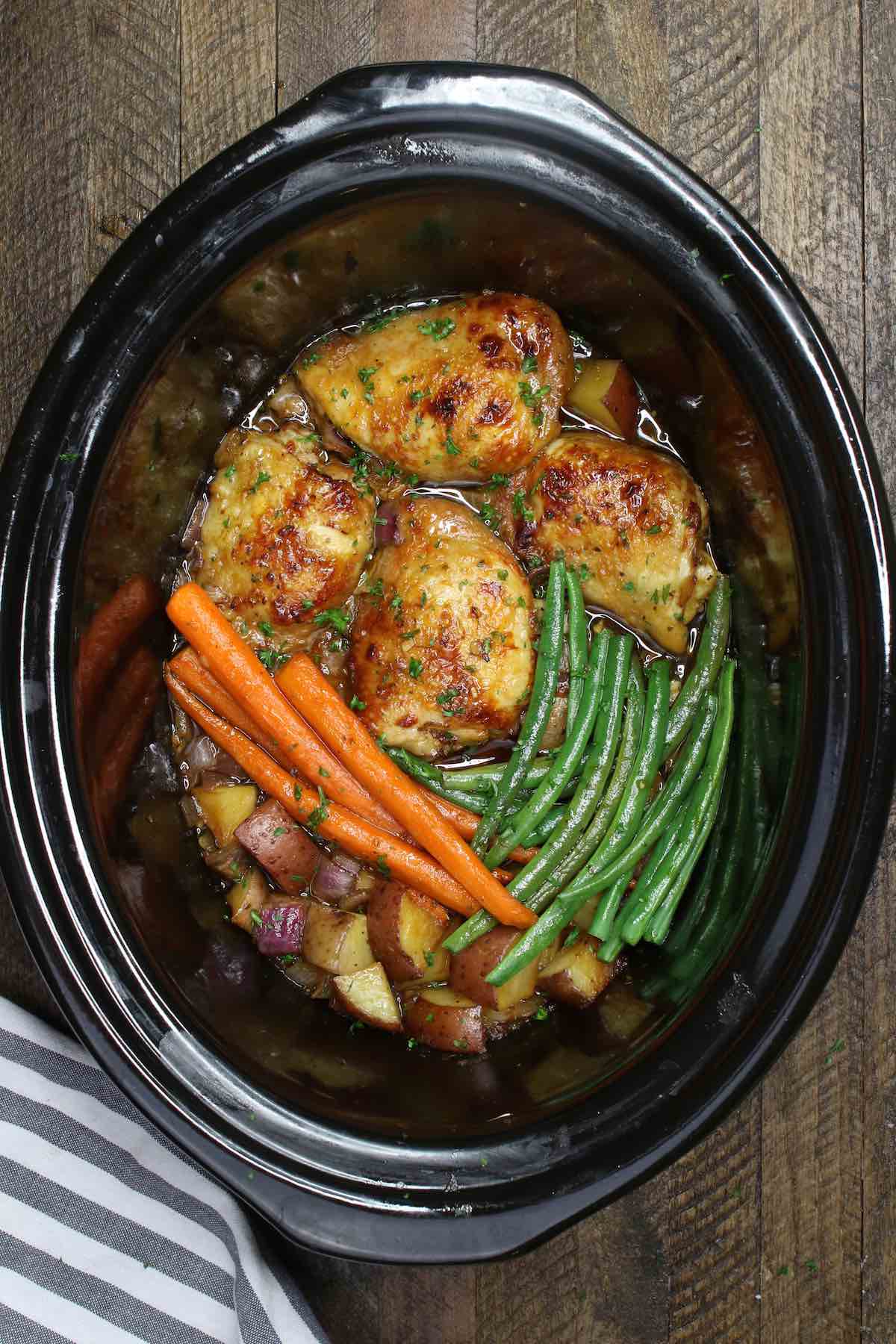 Here are some additional crock pot instructions to make your slow cooking a success:
Don't Open the Lid! Avoid opening the lid regularly during cooking. Each time you release the steam, you'll need an extra 15-20 minutes to regain the temperature inside the slow cooker (especially on LOW).
Broil Before Serving: Slow cooked meats often appear pale, so try broiling them for several minutes before serving to introduce some color. You can add minced parsley before serving as well.
Don't Reheat: The slow cooker is ineffective for reheating except over long periods of time. Use the microwave or stovetop instead.
As slow cooked meat often render a lot of fat, try putting the liquid into a fat separator. This inexpensive tool will make the sauce much healthier without sacrificing flavor.
Can you put frozen meat in a slow cooker?
No, the USDA advises not to cook frozen meat in the slow cooker. If you decide to try it anyways, add extra liquid, extend the cooking time and test doneness using an instant meat thermometer.
Do you stir a slow cooker?
No, there's no need to stir a slow cooker unless specifically stated in the recipe. In fact, removing the lid causes the crock pot to lose a significant amount of heat, extending the cooking time.
Should you layer ingredients in a slow cooker?
Yes, layering works well as long as the slow cooker is less than ¾ full. We generally place vegetables on the bottom, which is the hottest part of the slow cooker.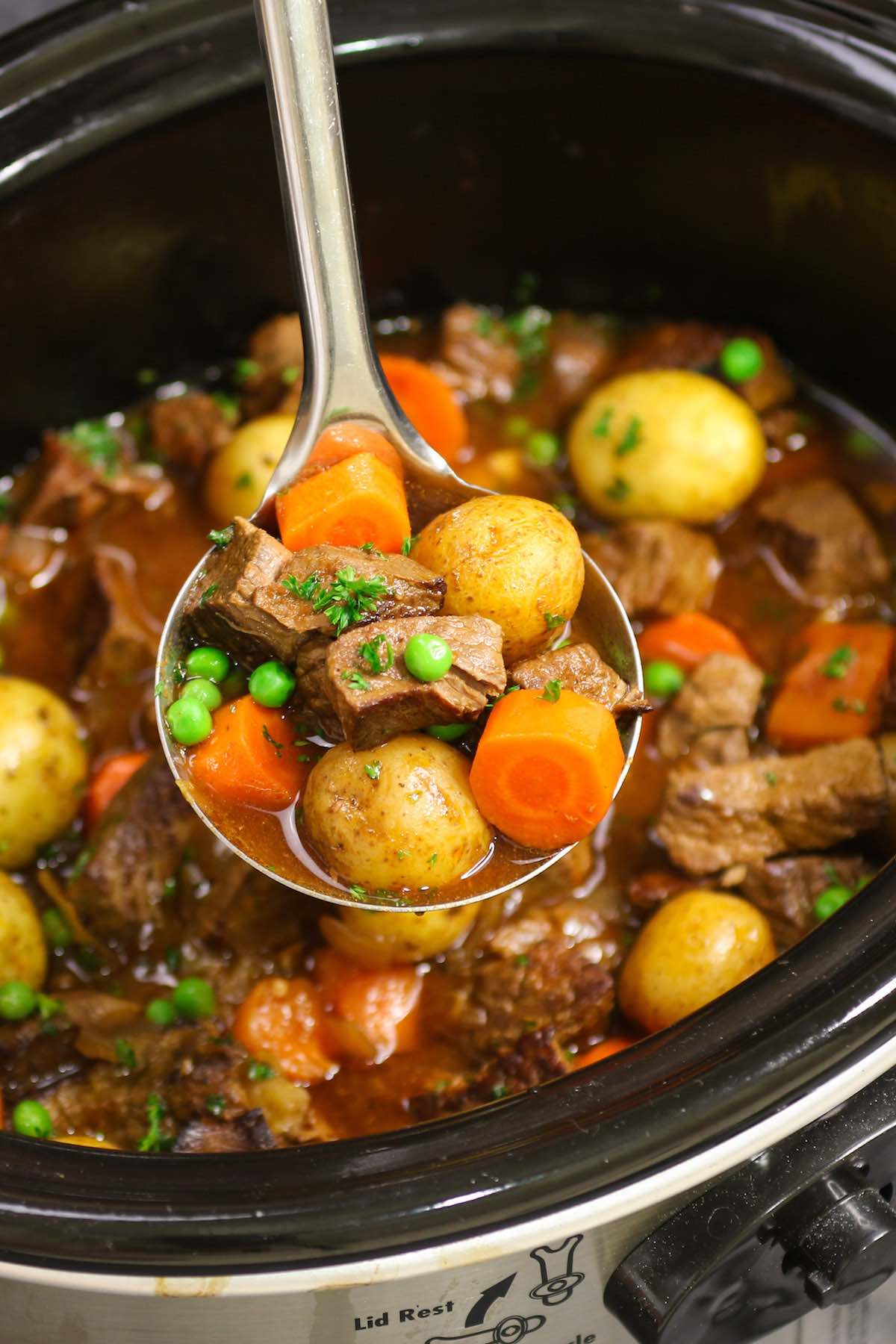 Slow Cooker Time Chart
You can cook most meat on either a HIGH or LOW setting, and slow cooker times will vary by manufacturer as well as the quantity of meat. Here is some general guidance for crock pot cooking times:
| | | |
| --- | --- | --- |
| Meat | LOW setting | HIGH setting |
| Chicken Thighs, Bone-in | 6-8 hours | 3-4 hours |
| Chicken Breasts | 3-4 hours | 1½-2 hours |
| Whole Chicken, 6 lbs/2.7 kg | 7-8 hours | 6-6½ hours |
| Turkey Breasts, Bone-in | 7-8 hours | 6-6½ hours |
| Beef Roast, 4 lbs/2 kg | 8 hours | 5½-6 hours |
| Pork Loin, 4 lbs/2 kg | 6 hours | 5 hours |
| Pork Butt Roast, 6 lbs/2.7 kg | 9 ½ hours | 7 ½ hours |
To avoid overcooking, it's best to check doneness at the early end of the time range. You can always cook longer if needed.
To prevent overcooking, delicate ingredients should only be added for the final 30 minutes:
Fish and seafood
Vegetables such as green beans, green peas, zucchini etc.
Pasta and instant rice
Dairy
Beans (cooked)
Follow your slow cooker recipe instructions for more detail.
© TIPBUZZ. Images and text on this website are copyright protected. Please do not post or republish without permission. If you want to republish this recipe, please link back to this post. This post may contain affiliate links. Read the disclosure policy here.