Truffle Butter Recipe
Truffle Butter is a delicious homemade spread made with just 3 ingredients: butter, truffles and salt! You can make black truffles or white truffles depending on the taste you want. This condiment is a fabulous addition to steak, seafood, poultry, vegetables, pasta, eggs and other dishes!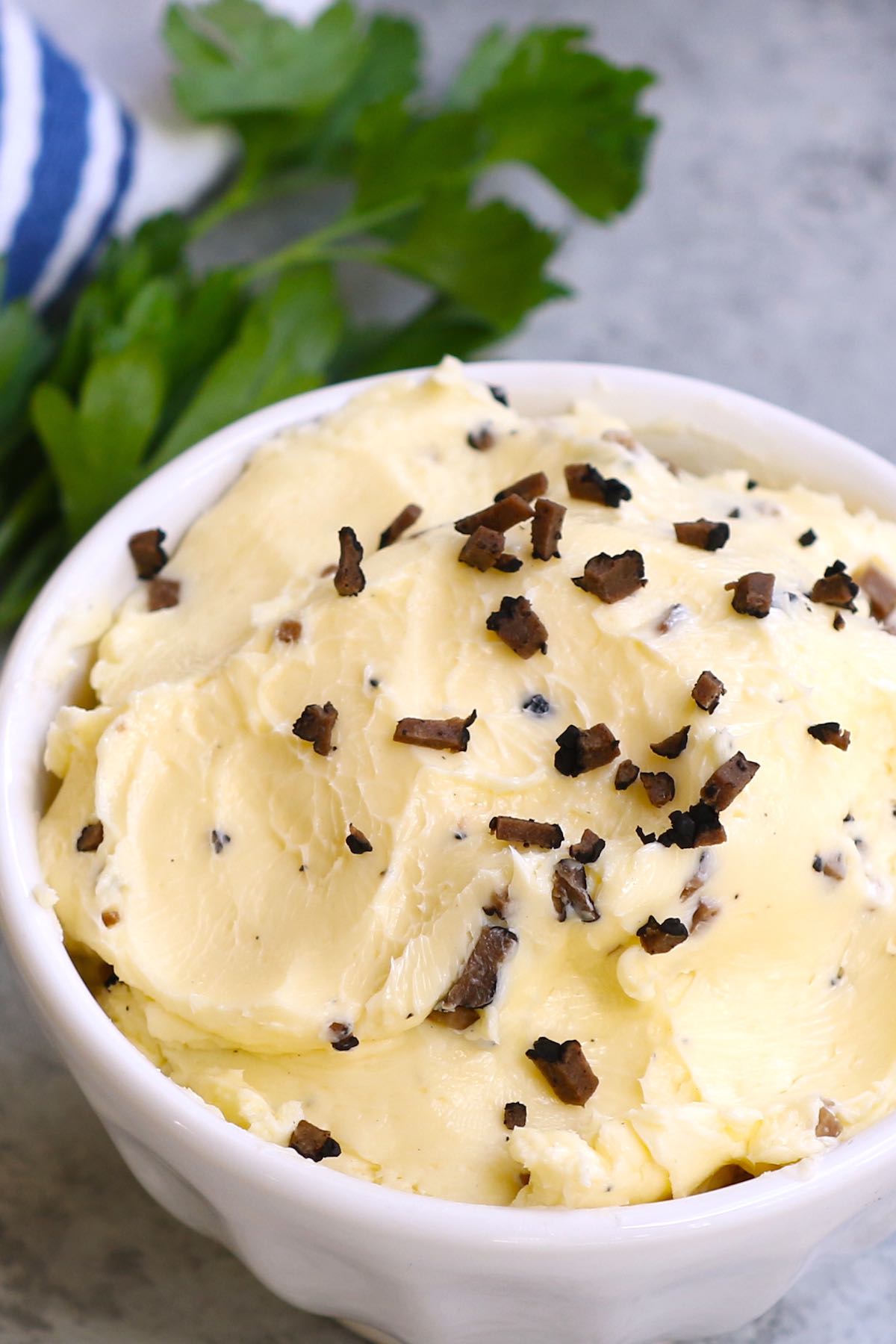 There's nothing like taste of homemade truffle butter. It's creamy and luxurious with a hint of mushroom-like flavor to take dishes to an entirely new level.
Along with truffle aioli, it's one of the best condiments to add the earthy taste of truffles to recipes. Plus, it's gluten-free and low carb!
What is Truffle Butter?
This gourmet spread originates in southern French region of Provence and consists of butter mixed with fresh truffles. It's a popular addition to pasta dishes and other recipes, just like garlic butter.
Ingredients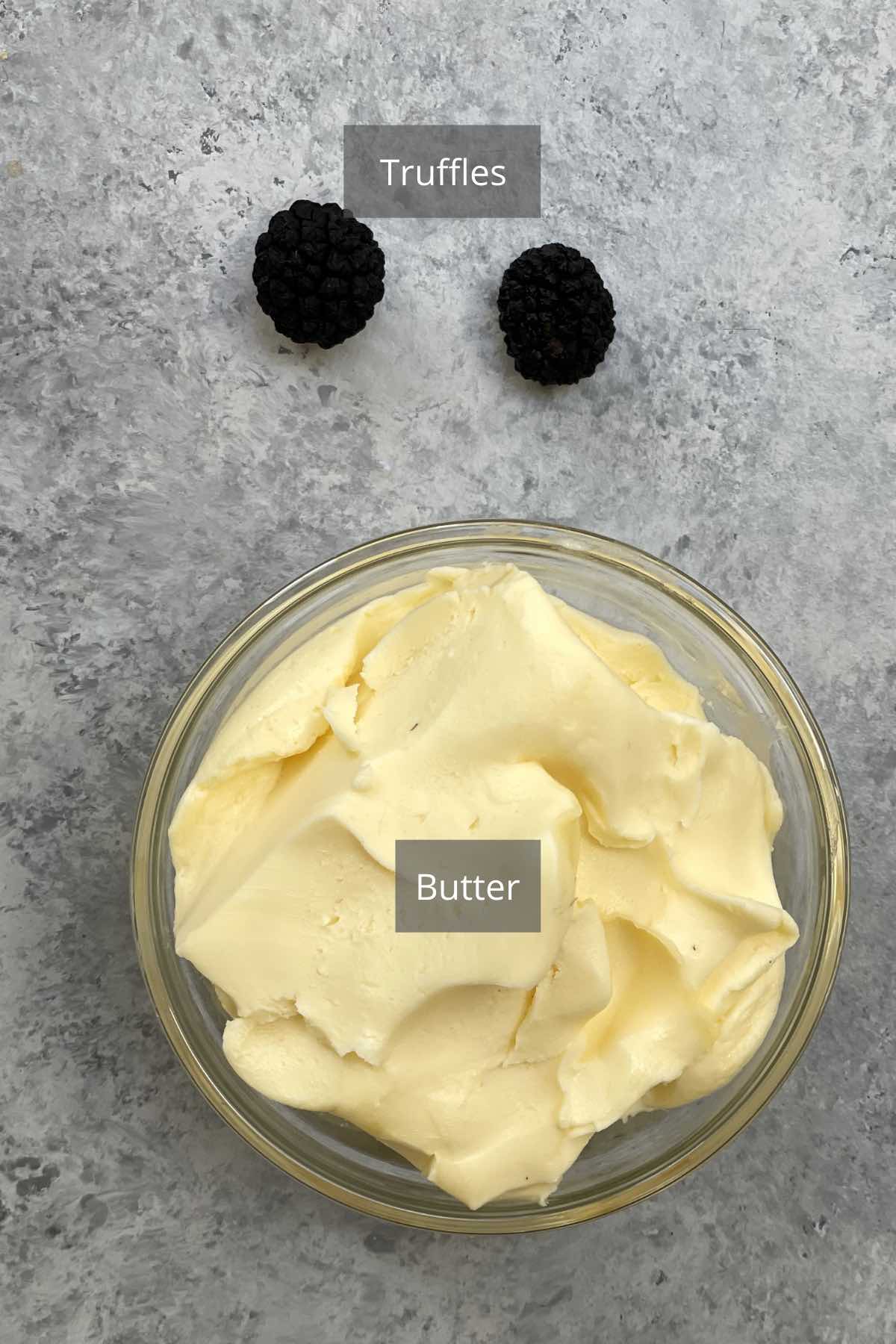 Truffles: Fresh truffles are ideal but are a real luxury item! The next best thing is truffle pate with popular brands including La Rustichella (includes mushrooms) and Truffle Hunter (includes flavor enhancers).
Butter: Use unsalted butter or salted butter as you like. You can also use a mix of the two.
Note: To buy fresh truffles, use a reputable store of vendor such as Eataly. Note there are also different varieties of truffles with summer truffles (also called burgundy truffles) being most common and somewhat less expensive.
How to Make Black Truffle Butter
Preparation starts with softened butter, so remove it from the fridge an hour or two ahead of time. To soften it faster, cut into 1/2 -inch chunks and let them rest on a cutting board for 10-15 minutes.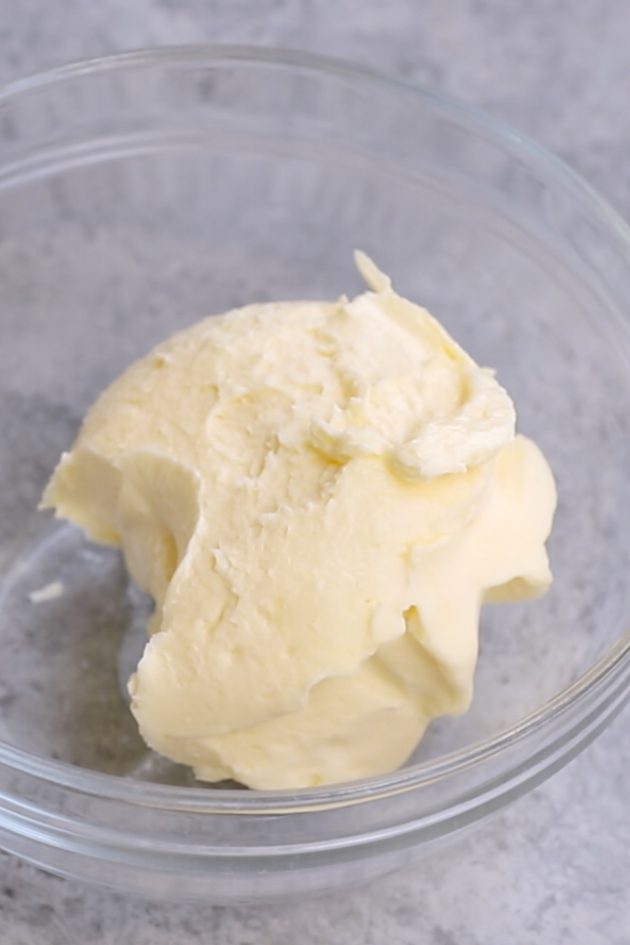 Next, get the truffles ready:
Fresh truffles: Rinse gently to remove any dirt and pat dry with paper towel. Then using a paring knife, mince finely as you would garlic cloves.
Truffle pate: Spoon the paste out of the bottle, making sure to let any excess liquid drain away.
Add the truffles and softened butter to a small bowl. Using a small spatula or spoon, mix until the truffles are evenly distributed.
If you are not going to use it immediately, you can cover with plastic wrap and store for up to one week in the fridge.
White Truffle Butter
White truffle butter is made with white truffles, which have a heady and musky flavor. You can make it with white truffle paste or fresh white truffles if money is no object.
Serving Ideas
There are so many delicious ways to use truffle butter that I get hungry even thinking about them:
Meat and Seafood: Put a pat on top of steak or fish when serving or spread under poultry skin before roasting. It's also great as a dipping sauce for shrimp, lobster and crab.
Vegetables: Add it to roasted or grilled asparagus, carrots, parsnips and more.
Pasta and Risotto: Mix it into pasta, risotto or even polenta.
Eggs: Melt it into eggs including fried or scrambled eggs as well as omelets, frittata and more!
If you don't feel like cooking, you can spread it onto small toasts or crostini to serve on their own or topped with smoked salmon. Perfect for any festive occasion including holidays or a date night!
What Does Truffle Butter Taste Like?
Truffle butter is creamy and earthy with a slight resemblance to mushrooms. When white truffles are used, there's more of a heady, musky flavor. When black truffles are used, it tends to be more of a woody, nutty taste.
Where to Buy Truffle Butter
You can get storebought at supermarkets such as Whole Foods, Trader Joe's and Walmart, which has its own Great Value brand of truffle butter. While the flavor is never as good as homemade, it's a budget-friendly alternative.
How to Store Homemade Truffle Butter?
You can store homemade truffle butter covered or in an airtight container in the refrigerator for up to one week.
For longer periods, roll it into a log and wrap tightly in plastic wrap. Place in a sealed plastic bag and freeze the truffle butter for up to 3 months. Note: there will be some flavor loss from freezing.
Other Condiments You May Like
View all sauces and condiments
Truffle Butter Recipe
Truffle Butter is a delicious homemade condiment that's delicious with steak, seafood, poultry, vegetables, pasta, eggs and more!
Ingredients
1 cup butter, softened (see note)
1 tablespoon truffles, 1 oz finely minced, or use truffle pate (see note)
1/4 teaspoon fine salt, optional
Instructions
If needed, soften the butter by removing from the refrigerator 1-2 hours ahead of time. Alternatively, cut into ½-inch chunks and let sit on a cutting board for 10 minutes.

Combine the truffles and butter in a small bowl. Using a small spatula or spoon, blend until the truffles are evenly distributed.

Taste and adjust salt as needed.

Serve or use as directed in recipes. To store, cover and refrigerate for up to one week.
Notes
Truffles: You can use black truffles or pate for a nuttier flavor, or white truffles/pate for a muskier flavor.
Butter: Unsalted butter is recommended, and you can add salt to taste as needed. If you use salted butter, omit the salt.
Nutrition Facts
Truffle Butter Recipe
Amount Per Serving (1 tablespoon)
Calories 102 Calories from Fat 108
% Daily Value*
Fat 12g18%
Saturated Fat 7g35%
Cholesterol 31mg10%
Sodium 39mg2%
Potassium 8mg0%
Carbohydrates 1g0%
Fiber 1g4%
Sugar 1g1%
Protein 1g2%
Vitamin A 355IU7%
Calcium 3mg0%
Iron 1mg6%
* Percent Daily Values are based on a 2000 calorie diet.
Please read our nutrition disclaimer.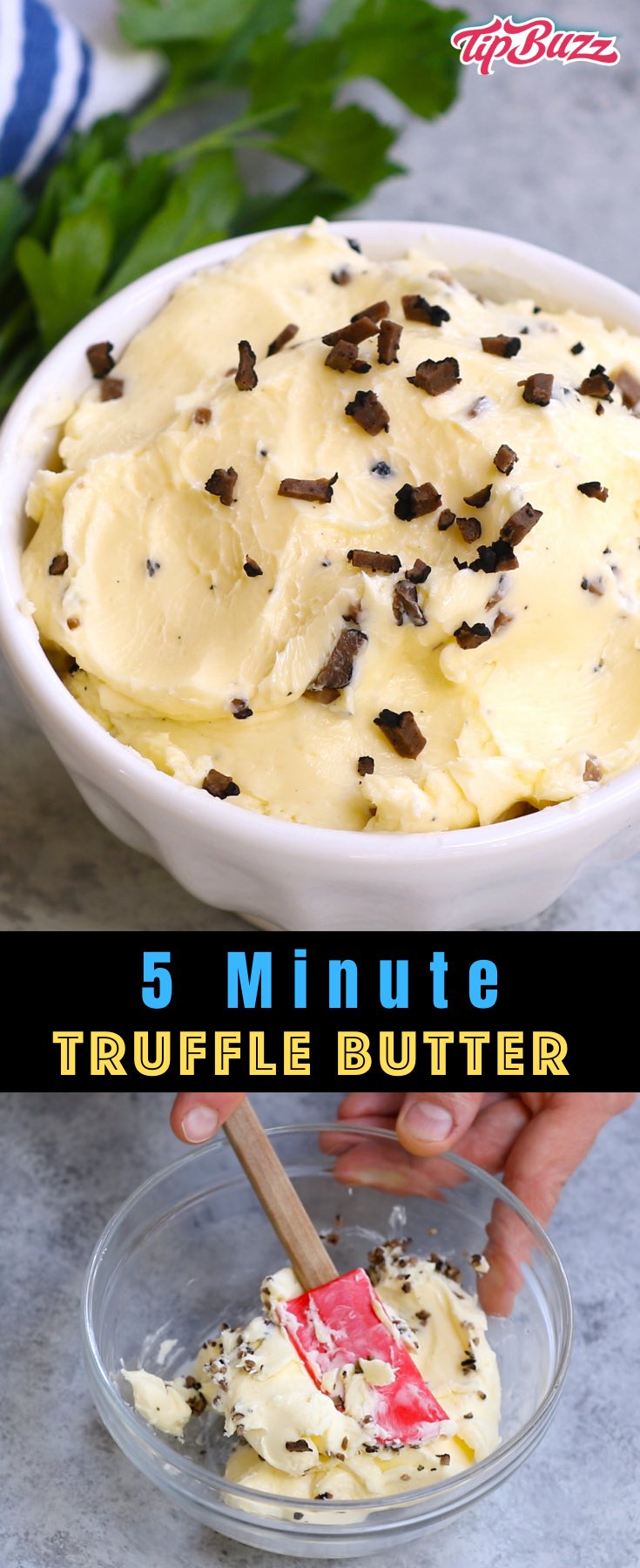 © TIPBUZZ. Images and text on this website are copyright protected. Please do not post or republish without permission. If you want to republish this recipe, please link back to this post. This post may contain affiliate links. Read the disclosure policy here.