Homemade Truffle Aioli
This Truffle Aioli is a creamy condiment that's easy to make in minutes. Spread this homemade truffle mayo onto burgers, sandwiches and seafood for a burst of flavor. Or serve it as a dipping sauce with French fries, onion rings or your favorite vegetables!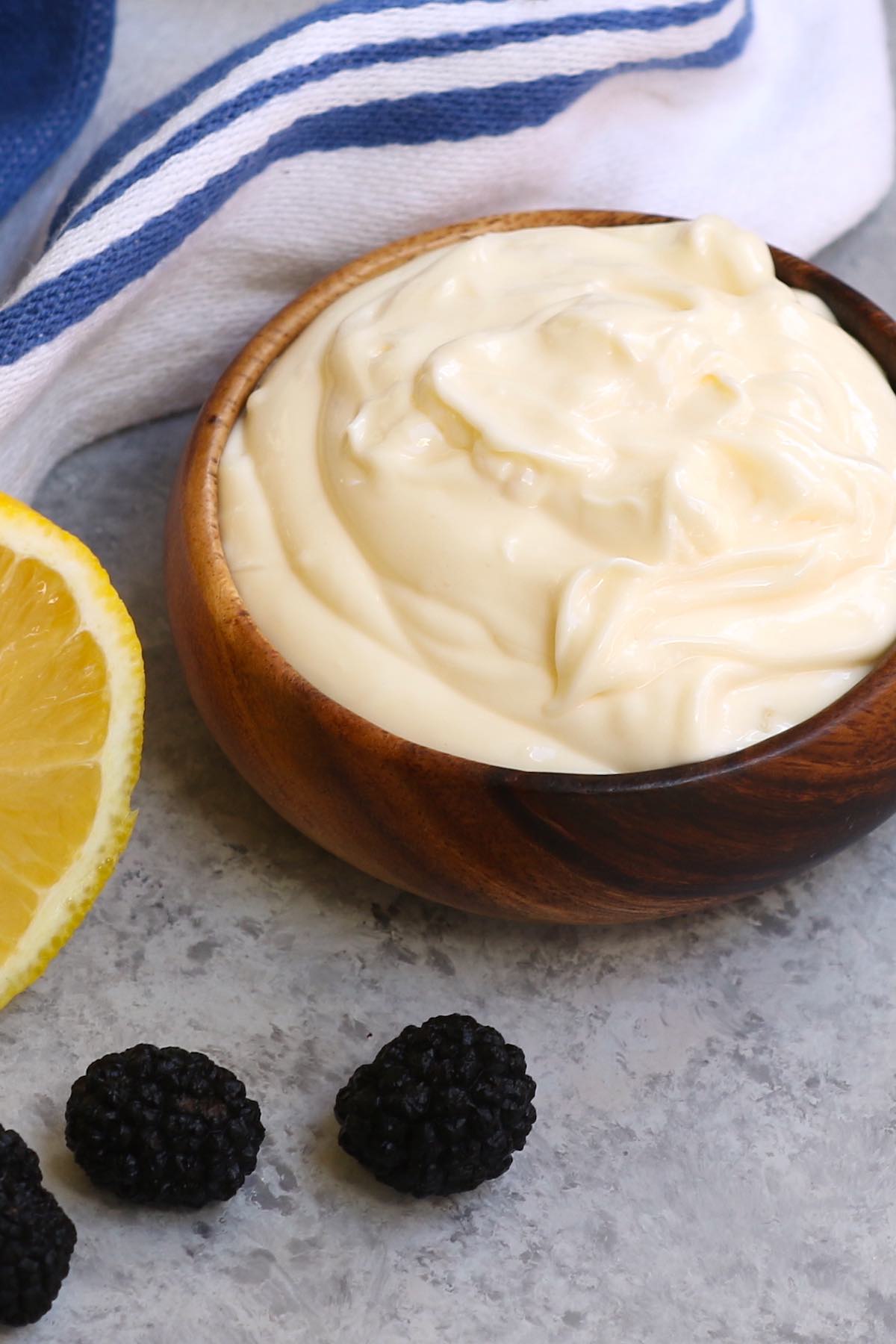 If you love creamy aioli, then you'll love this recipe that adds the aromatic flavor of truffles. This mayo-like sauce is so irresistible and enhances the taste of literally hundreds of dishes!
Of course, you can always buy a bottled variety like Stonewall Kitchen. However, with just a few ingredients and 5 minutes of prep, it's easy to make your own!
This recipe is traditional to the Mediterranean regions of Spain, France and Italy where truffles and aioli originate.
Ingredients
Here's what you'll need to make this truffle mayo:
Truffle Oil: This is typically extra virgin olive oil infused with either black truffle oil or white truffle oil. You can find it both at supermarkets and online (see below for more details).
Mayonnaise: Use real mayonnaise for the best flavor or make your own. Avoid mayo alternatives if possible.
Lemon Juice: Use juice from a fresh lemon. Since truffles are a delicate item, the flavor can be destroyed by pre-packaged lemon juice.
Garlic: A clove of fresh garlic is all you need. You can use a 1/4 tsp of garlic powder in a pinch.
As an optional extra, you can always add shaved fresh truffle on top.
How to Make Truffle Aioli from Scratch
It's easy to make truffle aioli. You simply need to whisk together mayo with truffle oil, garlic and lemon until smooth and creamy. Be sure to use real mayo for the best results.
Pro Tip: For a fancier look, try shaving or finely grating some black truffle or white truffle on top as a garnish.
Black Truffle Aioli vs White Truffle Aioli
Black truffle aioli sauce uses oil infused with black truffles, which have a milder, nuttier taste. White truffle aioli use oil infused with white truffles, which have a heady musky and garlicky flavor that produces a slightly bolder taste.
Ways to Use Truffle Aioli
There are almost endless ways to use truffle aioli. Here are some of my favorites:
Slather it onto burgers, BLTs or other sandwiches.
Serve it as a dipping sauce for French fries, tater tots, onion rings, or crab cakes.
Serve it as a condiment with steak, chicken, pork chops, fish, asparagus or other vegetables.
Toss it with plain pasta to add flavor and texture.
What Does Truffle Aioli Taste Like?
Truffle aioli is creamy with a unique earthy, musky flavor and garlic notes. It adds a rich and luxurious taste to many dishes!
What is Truffle Oil?
Truffle oil is simply cooking oil, usually extra virgin olive oil, infused with truffle flavor.
You can also make your own by finely slicing 1 black or white truffle (about 1 teaspoon) and combining with 1 cup extra virgin olive oil. Heat to 120°F to let the truffle flavors infuse for about 10 minutes. Then cool completely and store in a small bottle.
What Kind of Truffle Oil is Best for Truffle Aioli?
Buying truffle oil is tricky because most brands use synthetic flavorings such as 2,4-dithiapentane, given the high price of truffles. Even the popular brand Truffle Hunter combines real pieces of truffle with synthetics enhancers.
If you want to go all-natural, the best option I've found is from Eataly, although note a small bottle goes for $25. The good news? A little goes a long way in a recipe!
Where to Buy Truffle Aioli?
Storebought truffle aioli is available in some Walmart locations and supermarkets as well as online. Stonewall Kitchen is probably the most common brand.
How Long Does Homemade Truffle Aioli Last?
Homemade aioli will last for 2 to 3 days stored in an airtight container in the refrigerator. Note that the garlic flavor will become more intense, so you may want to use less when making it ahead.
You May Also Like
View all sauces and condiments
Homemade Truffle Aioli (Truffle Mayo)
Truffle Aioli is a creamy condiment that's easy to make. Spread this homemade truffle mayo onto burgers, sandwiches and seafood for a burst of flavor. Or serve it as a dipping sauce with French fries, onion rings or your favorite vegetables!
Ingredients
1 cup mayonnaise, see note
1 tablespoon truffle oil, see note
1 teaspoon lemon juice, freshly squeezed
1 clove garlic, grated or pressed (1/2 teaspoon)
1 truffle, minced – optional garnish (see note)
Instructions
Whisk the mayo, truffle oil, lemon juice and garlic in a small bowl until smooth and creamy.

Optional: If using a fresh truffle, grate it finely or mince it on a cutting board. Then sprinkle on top of the aioli.

Use immediately or cover and refrigerate.
Notes
Mayonnaise: For the best flavor, try to use homemade mayo or real mayonnaise, avoiding mayo alternatives. Regular mayo produces the creamiest flavor, but you can use reduced fat in a pinch. If you don't have mayo, you can substitute sour cream or thick Greek yogurt.
Truffle Oil: Whenever possible, I recommend using truffle oil such as Eataly's flavored with real truffles. Alternatively, you can make your own by heating 1 sliced truffle in 3/4 cup extra virgin olive oil for 10 minutes over low heat.
Truffle: You can use either a minced white or black truffle as an optional garnish.
Make Ahead: Truffle aioli will last 2-3 days stored in an airtight container in the fridge.
Nutrition Facts
Homemade Truffle Aioli (Truffle Mayo)
Amount Per Serving (1 tablespoon)
Calories 28 Calories from Fat 18
% Daily Value*
Fat 2g3%
Saturated Fat 1g5%
Cholesterol 2mg1%
Sodium 152mg6%
Potassium 9mg0%
Carbohydrates 3g1%
Fiber 1g4%
Sugar 2g2%
Protein 1g2%
Vitamin C 1mg1%
Calcium 1mg0%
Iron 1mg6%
* Percent Daily Values are based on a 2000 calorie diet.
Please read our nutrition disclaimer.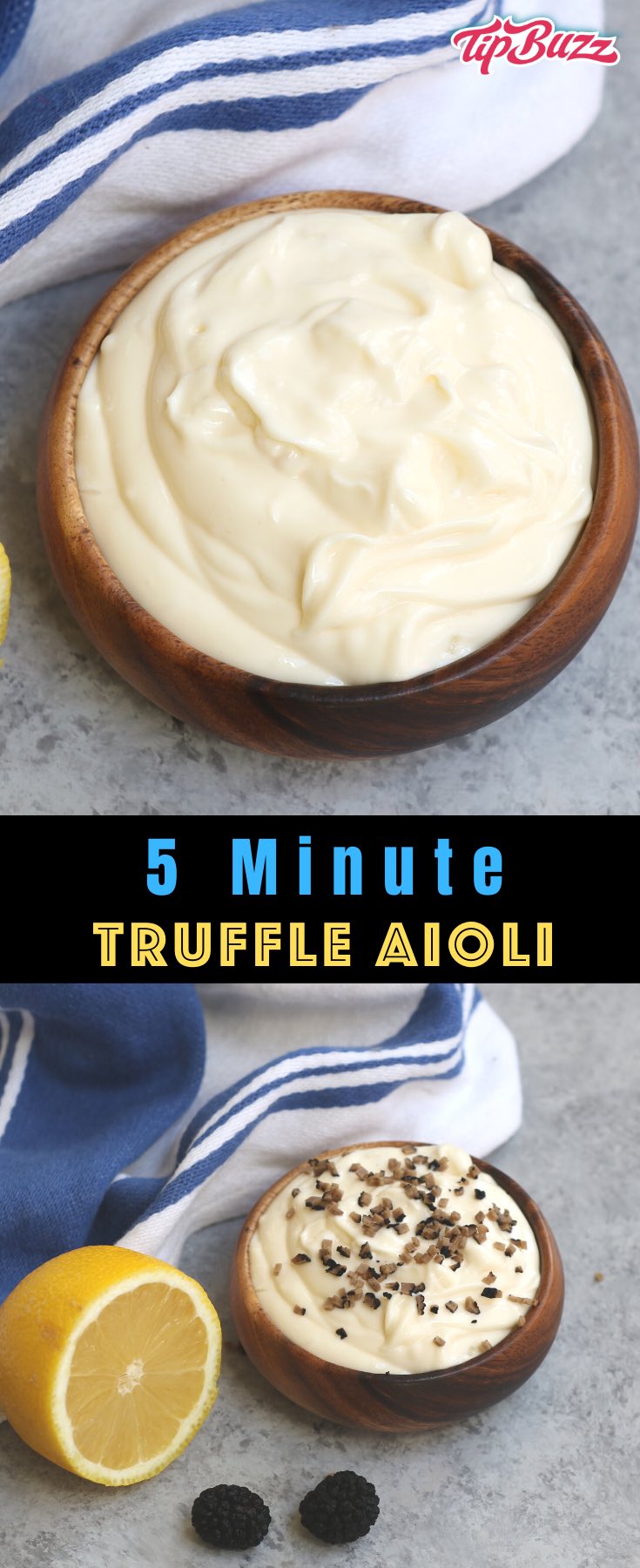 © TIPBUZZ. Images and text on this website are copyright protected. Please do not post or republish without permission. If you want to republish this recipe, please link back to this post. This post may contain affiliate links. Read the disclosure policy here.