The Perfect 20 Minute Frittata
A fluffy and perfect Frittata – loaded with bacon, cheese, eggs and vegetables. Once you know the basics, the filling options are endless. It takes less than 20 minutes and is a great recipe to clean out the refrigerator!
A well-made Frittata is one of the most delicious and hearty food. It's a great dish you can serve any time of the day, breakfast, brunch, lunch or dinner! It can be packed with anything, including leftovers!
Easy. Quick. Customizable. Versatile.
The secret to the Perfect Frittata is the ratio: for every 6 eggs, use ¼ cup heavy cream. This will result in the perfect tender and creamy custard that everyone will love in your Frittata.  This custard works best with 3 cups of cheese, vegetables and meat. I like to keep the 1:1:1 ratio among these three ingredients.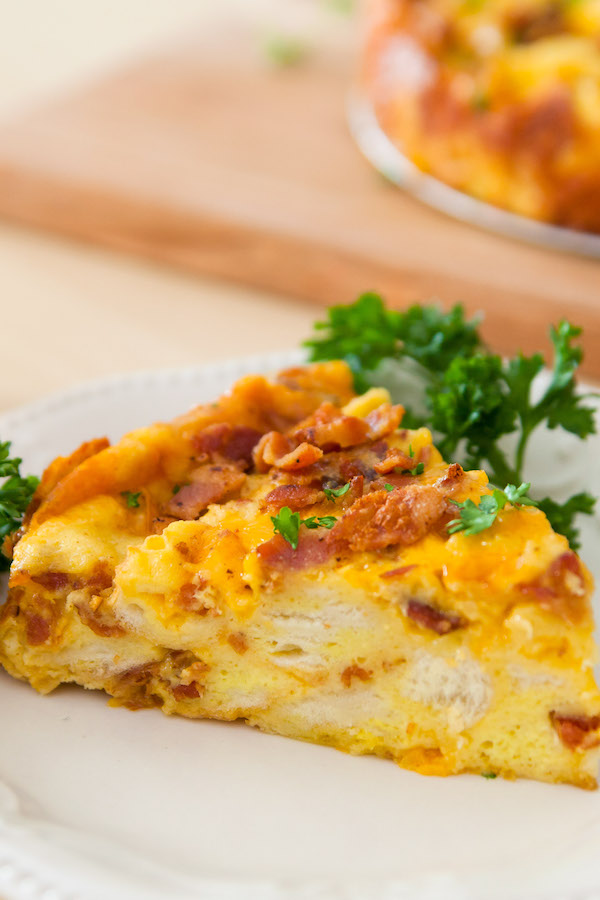 WHAT IS A FRITTATA
A Frittata is a flexible egg-based Italian dish similar to an American Omelet or a French Quiche.  In addition to eggs, it usually consists of vegetables, cheese and meat.  The word Frittata means "fried" in Italian, as it was made using stovetop technique traditionally. Today It's more popular to bake it in the oven.
Frittata is one of my favorite egg-based dishes, along with Breakfast Pizza, Egg Muffins, Omelet Breakfast Croissant Boats, and Omelet Breakfast Sliders.
HOW TO MAKE A FRITTATA?
It's this simple: cook any raw meat in an oven-safe nonstick skillet; Sauté vegetables until soft; Mix and season them. Add the cheese on top. Then whisk eggs with cream plus seasoning, and pour the mixture on top of the everything.  Let it cook for about 2 minutes until the egg mixture starts to set around edges. Then place the skillet in a 400°F oven for about 10 minutes or until cooked through.
Remove it from the oven and let it cool a bit. Garnish with parsley and extra bacon. Serve warm and enjoy!
HOW TO SERVE FRITTATA
Serve Frittata warm with a side salad or other vegetables. If you have leftover, you can store them in an airtight container in the fridge for up to 5 days. You can also cut Frittata into smaller pieces and freeze them in a freezer-friendly bag, up to 1 month.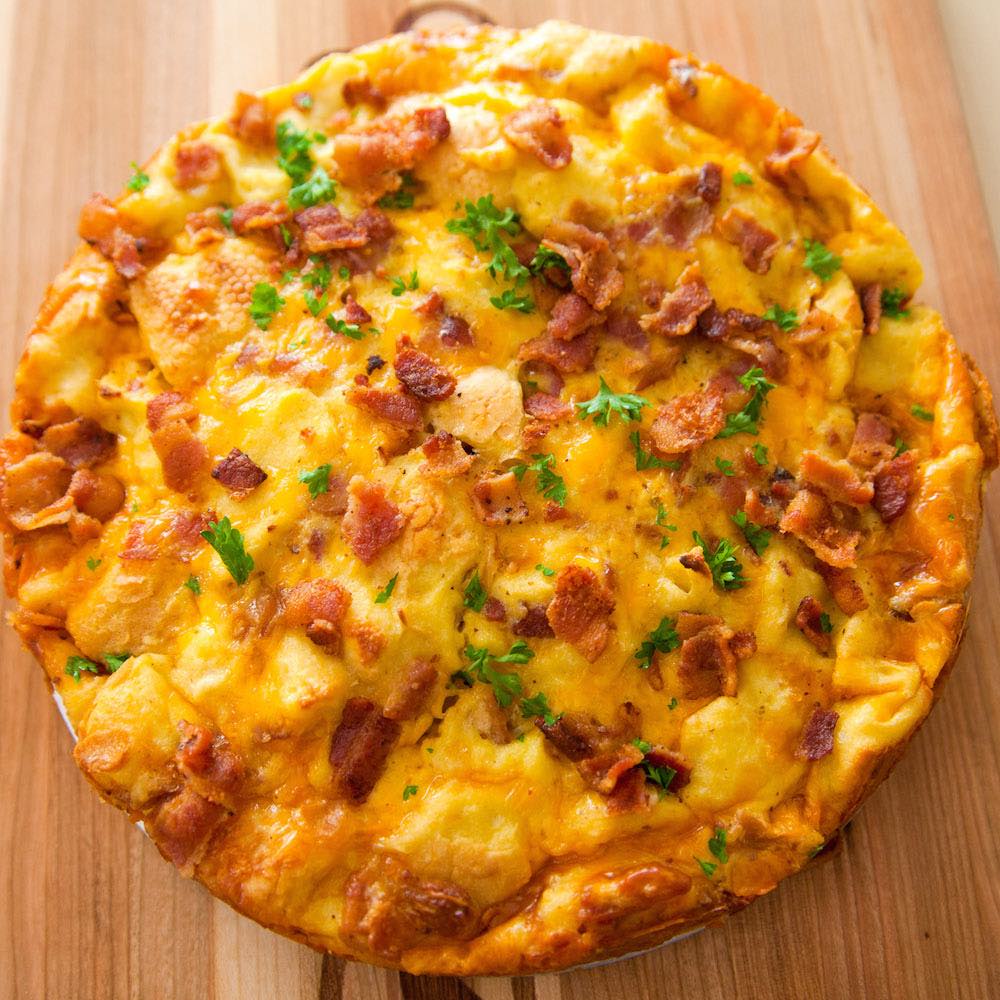 SECRETS AND TIPS FOR MAKING THE PERFECT FRITTATA
The oven-safe nonstick skillet works best for this recipe. If you use a stainless steel pan, you will need extra oil or butter to avoid the eggs from sticking to the pan.
I would recommend using heavy cream instead of milk for the extra fluffy and delicious Frittata
It's important to get the ratio right between egg and dairy. For 6 eggs, you will need ¼ cup cream. Too much dairy will lead to a loose frittata, and too little will result in a rubbery and dry frittata.
Avoid overbeating the eggs as this could cause the Frittata to poof too much in the oven and fall into a denser layer after cooled down.
Make sure all ingredients are pre-cooked, especially bacon or other meat.
Don't overbake your frittata. The Frittata is ready before the top turns golden brown. If you want that deep golden-brown color as showing in our photo, you can broil it for the last few minutes.
Make-ahead tip: You can make this a day ahead if you'd like to have it ready in minutes for the next morning. Just reheat in the microwave for a few minutes.
EGG FRITTATA VARIATIONS:
Swap the bacon for ham, sausage or chicken
Swap the onion and mushrooms for bell pepper or spinach
Swap the bread for potatoes or other vegetables
THE DIFFERENCE BETWEEN A FRITTATA AND QUICHE
One word: CRUST. A frittata is like a crust-less quiche.
A quiche is a custard pie with fluffy egg fillings including vegetables, meats, milk and cheese. The fillings are very similar to a frittata.  It requires more time to cook than a frittata as you have to make a quiche crust first.
THE DIFFERENCE BETWEEN A FRITTATA AND OMELET
A frittata is an unfolded omelet, and both are made with eggs, meat and vegetables.
The biggest distinction between A Frittata and Omelet is how a Frittata is made.  A frittata starts in an oven-safe skillet and then finished in the oven, while an omelet is typically made in a skillet on the stove.
In addition, milk or cream is optional for an omelet, but it's essential for a Frittata.
The Perfect 20 Minute Frittata
A fluffy and perfect Frittata – loaded with bacon, cheese, eggs and vegetables. Once you know the basics, the filling options are endless. It takes less than 20 minutes and is a great recipe to clean out the refrigerator!
Ingredients
6  large eggs
1/4  cup  heavy cream
salt and pepper , to taste
1 tbsp oil
1/2 medium nion, cubed
½ cup mushrooms, sliced
1  cup  shredded cheddar cheese
1 cup cooked bacon, cut into small pieces
½ cup bread, cut into cubes
fresh parsley sprigs, for serving optional
Instructions
Preheat oven to 400°F. Arrange a rack in the middle of the oven.

In a 10-inch nonstick skillet, add oil and sauté onions and mushrooms over medium heat until tender and lightly browned. For about 4-6 minutes.

Add the cooked bacon pieces and mix well. Then spread them into an even layer.

Add the bread cubes and cheese on top, and distribute evenly.

In a large bowl, whisk together eggs, cream and salt.

Pour the egg mixture over the cheese. Tilt the pan if needed so that egg mixture can settle evenly over the cheese. Cook for about 2 minutes until you see the egg mixture at the edges of the pan start to set.

Bake for about 10 minutes.

Remove from oven and garnish with optional parsley. Serve warm and enjoy!
Notes
1. Cream makes the frittata extra fluffy. You can substitute with milk for a healthier option. 2. If you need to cook your bacon, you will need about 4-5 slices of raw bacon. Add them to the cold skillet, and turn the heat to medium-high. Stir occasionally until crisp, about 8 minutes. Remove the bacon to a plate covered with paper towel. 3. I used 10-inch nonstick skillet, if you use a larger skillet, your frittata will be shallower and require shorter cooking time. 4. I love adding bread to my frittata to make it extra hearty. You can substitute with potatoes or other vegetables.
Nutrition Facts
The Perfect 20 Minute Frittata
Amount per Serving
% Daily Value*
* Percent Daily Values are based on a 2000 calorie diet.
Please read our nutrition disclaimer.
© TIPBUZZ. Images and text on this website are copyright protected. Please do not post or republish without permission. If you want to republish this recipe, please link back to this post. This post may contain affiliate links. Read the disclosure policy here.