Crab Claws with Lemon Butter Sauce
These Crab Claws are meaty and delicious with succulent seafood flavors. Whether you've got snow crab claws or Jonah crab claws, they're easy to prepare and fun to eat with friends!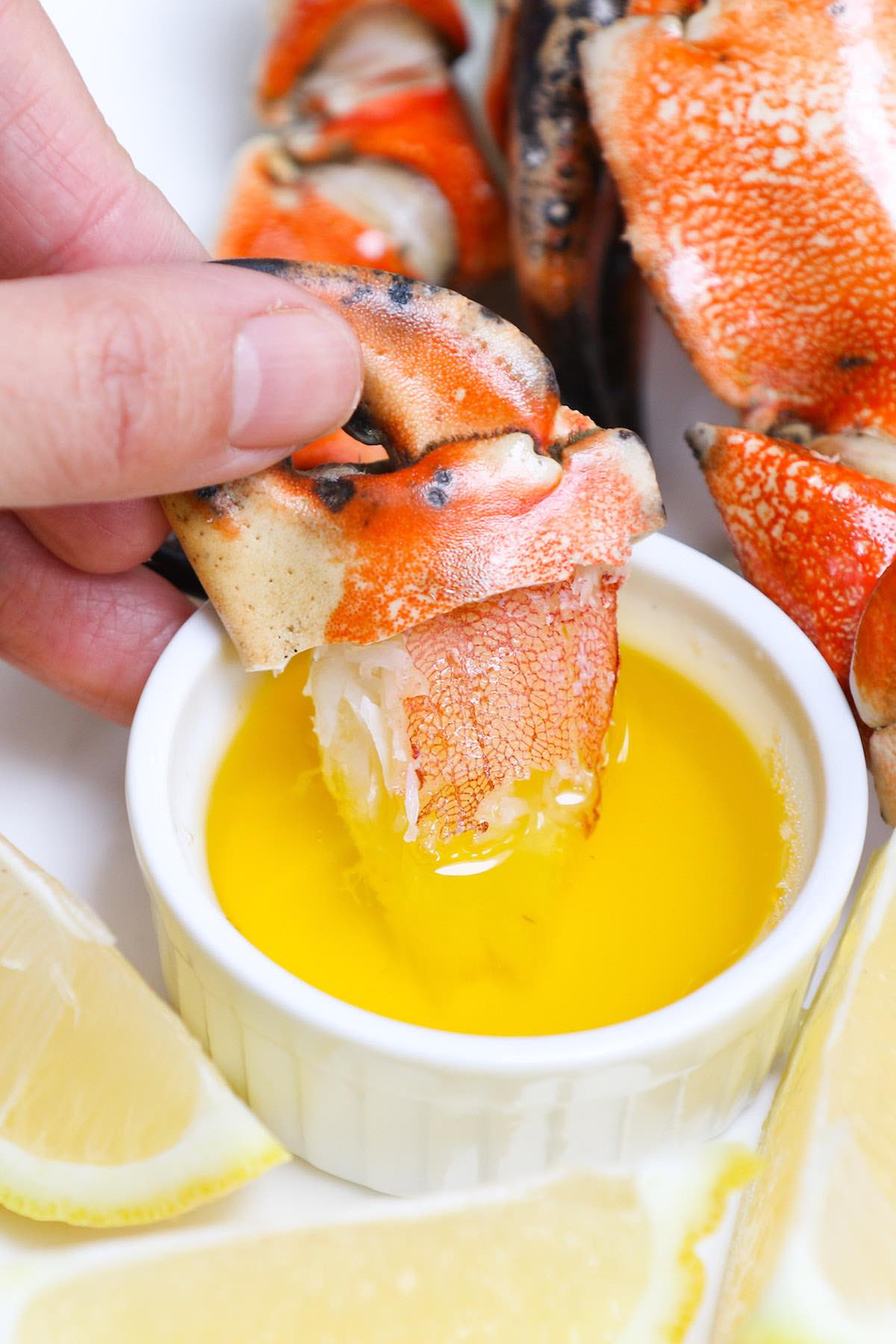 Crab claws are full of tasty meat and look so attractive with their vibrant colors. While they're typically served chilled with cocktail sauce, we also love to eat them warm dipped in melted butter with fresh lemon juice!
This dish is perfect for any celebration including the holidays, an anniversary, birthday or even Valentine's. You can serve them as a memorable appetizer or as a main course with some side dishes, just like with crab legs!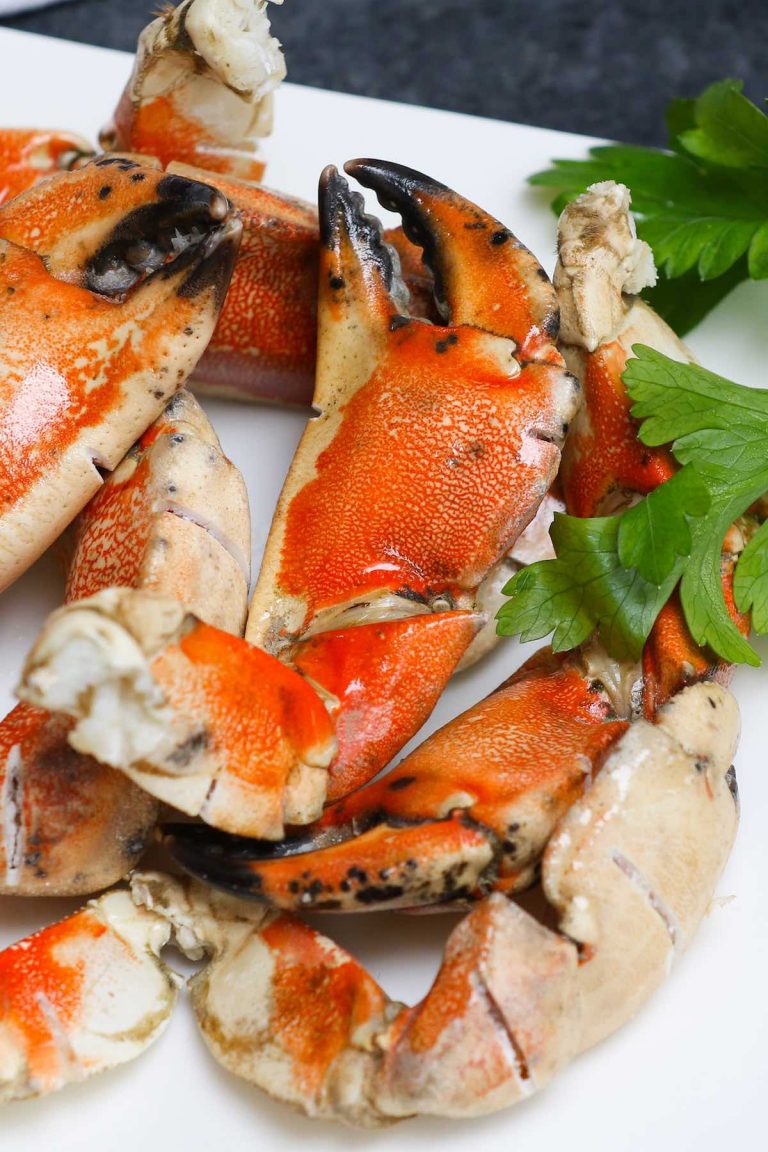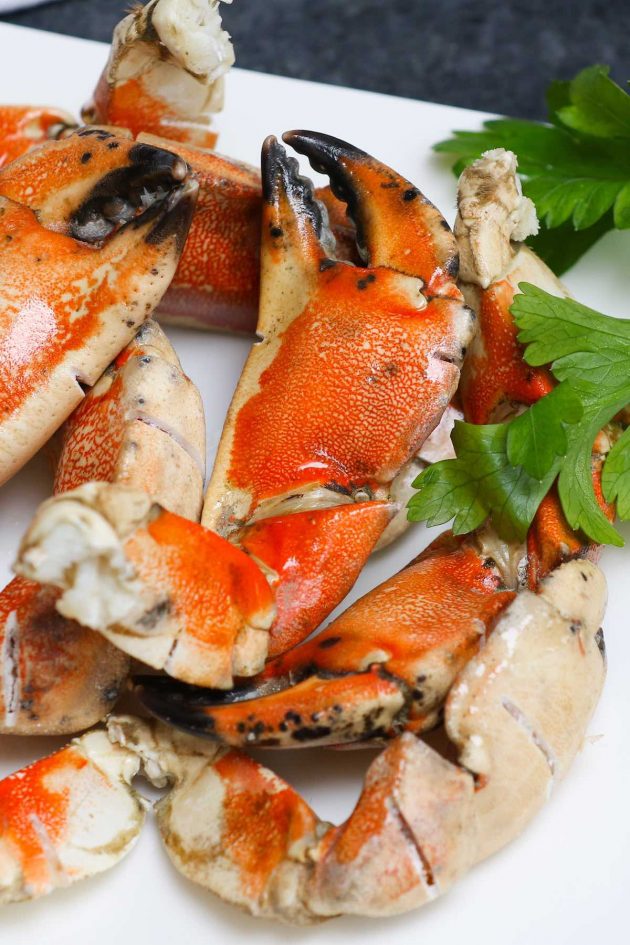 Types of Crab Claws
This is what you'll see most often in the U.S.:
Stone Crab Claws: A delicacy harvested October through May in Florida and year-round on the west coast, where they're called rock crabs. The flesh is tender and succulent with lots of flavor! Each crab is released back into the water to regrow its claw naturally, so it's a sustainable fishery.
Jonah Crab Claws: A relative of Dungeness crab, these claws are slightly larger than stone crabs and harvested offshore in New England. The flesh is milder and flakier than stone crabs, so they're slightly less expensive although still delicious.
Some fishmongers occasionally sell king crab claws and snow crab claws separately from the legs. This crab meat is exquisite but requires more time to thaw and reheat.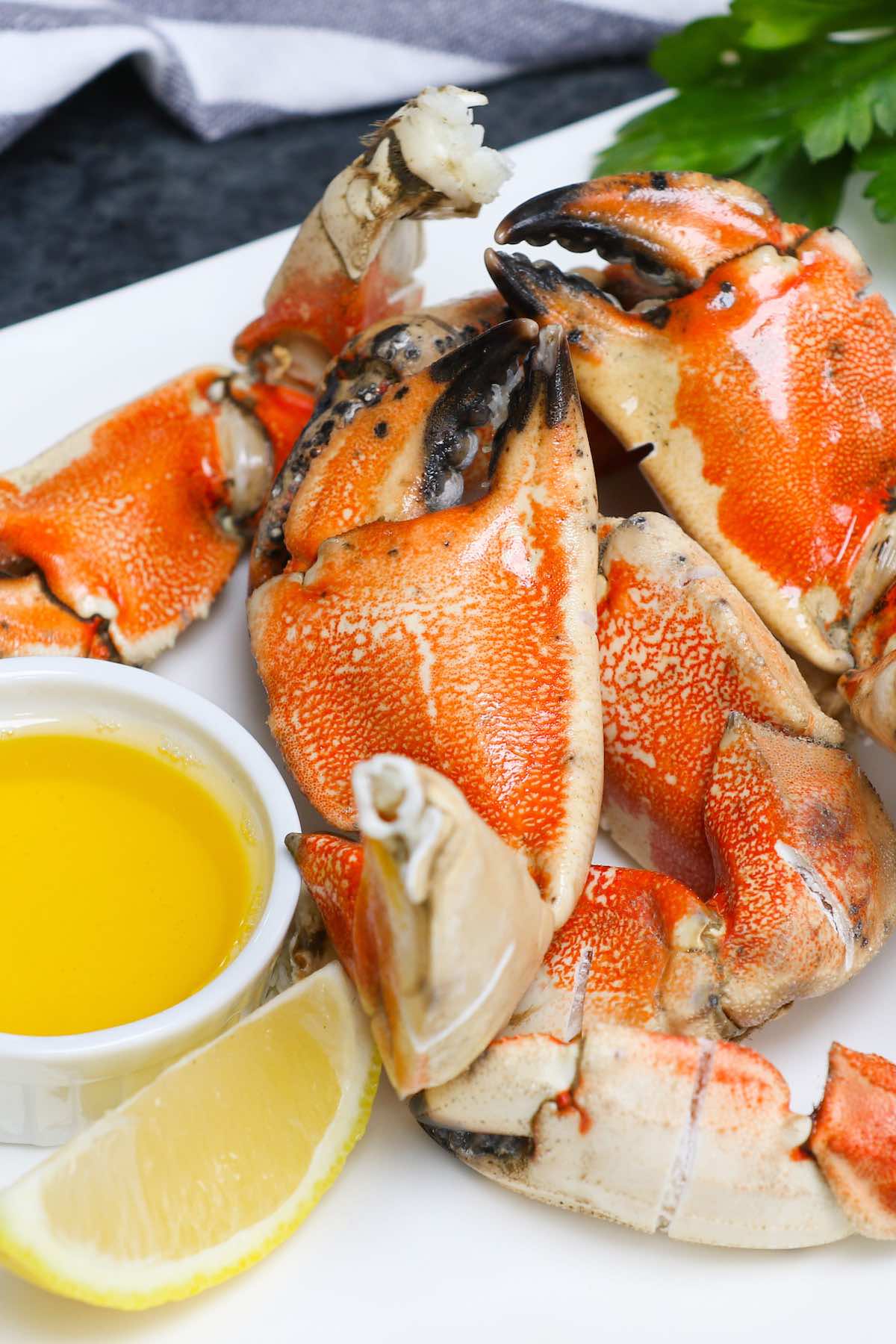 How to Cook Crab Claws
There are 6-8 claws per pound for medium-size claws. Therefore, you'll want to budget ½ pound per person as an appetizer and one pound per person as a main course. Remember that a pound only yields about 1/3 pound of meat due to their thick shells.
Most crab claws are fully cooked and sold frozen. As a result, you'll need to thaw them to serve chilled and ideally before reheating too. Defrost them overnight in the fridge or, for a quicker option, under cold running water for 20-30 minutes.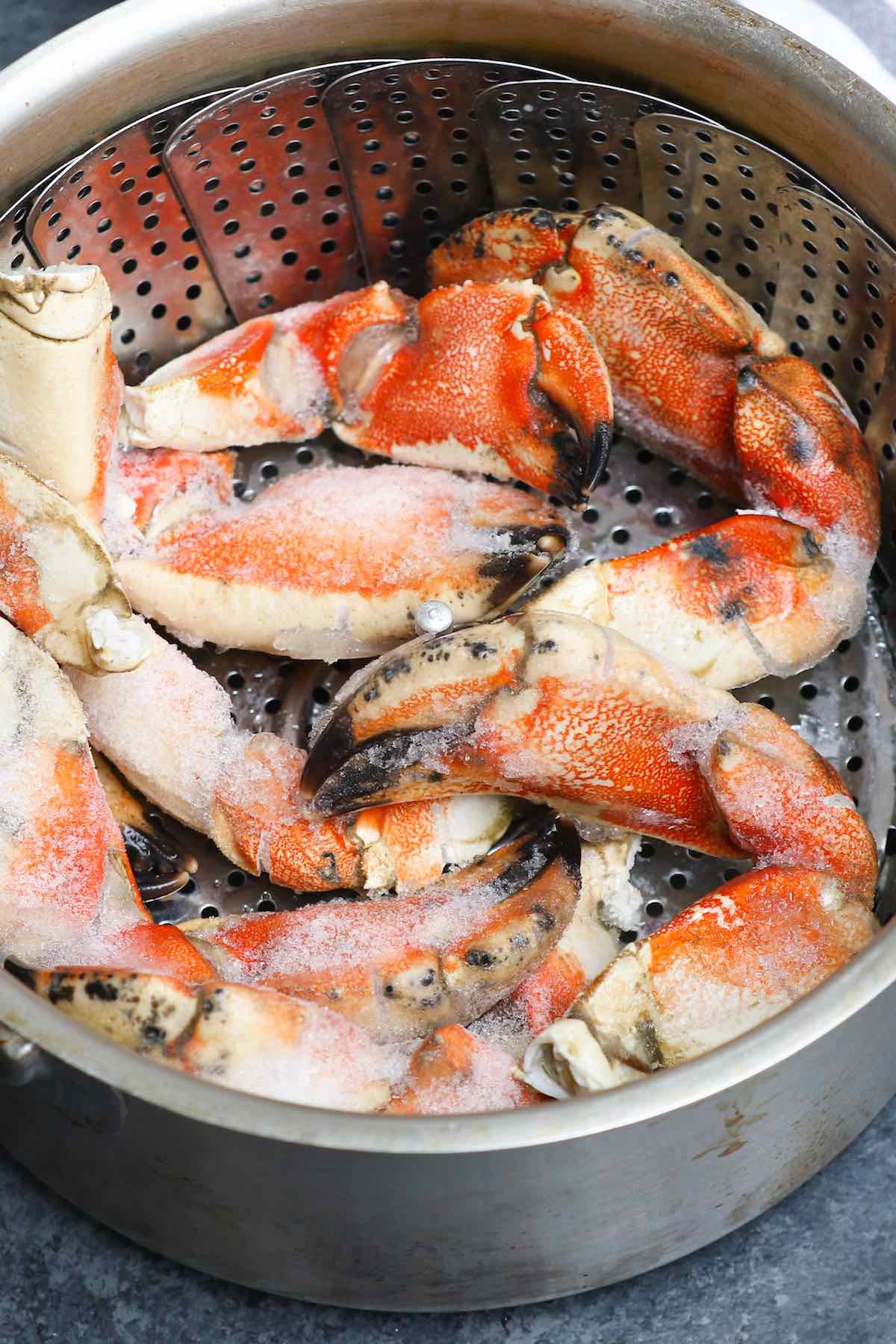 To reheat the claws, simply boil or steam for 3-4 minutes. Resist the temptation to heat for longer, as the flesh is delicate and can easily overcook!
Another option is baking at 350°F for 10-12 minutes. However, it's a slower process with the risk of uneven heating just like with the microwave.
Serving Ideas
Serving chilled: Placing the crab claws on a bed of crushed ice will help to keep them cool. Add some cocktail sauce for dipping and a garnish of fresh lemon wedges.
Serving warm: Put them out with melted butter or clarified butter and fresh lemon wedges for garnish.
To make them into a main course, add some classic side dishes such as boiled potatoes, steamed rice and corn on the cob.
However you serve them, it's a good idea to have a seafood cracker set on hand to help get the meat out, as the shells are quite thick.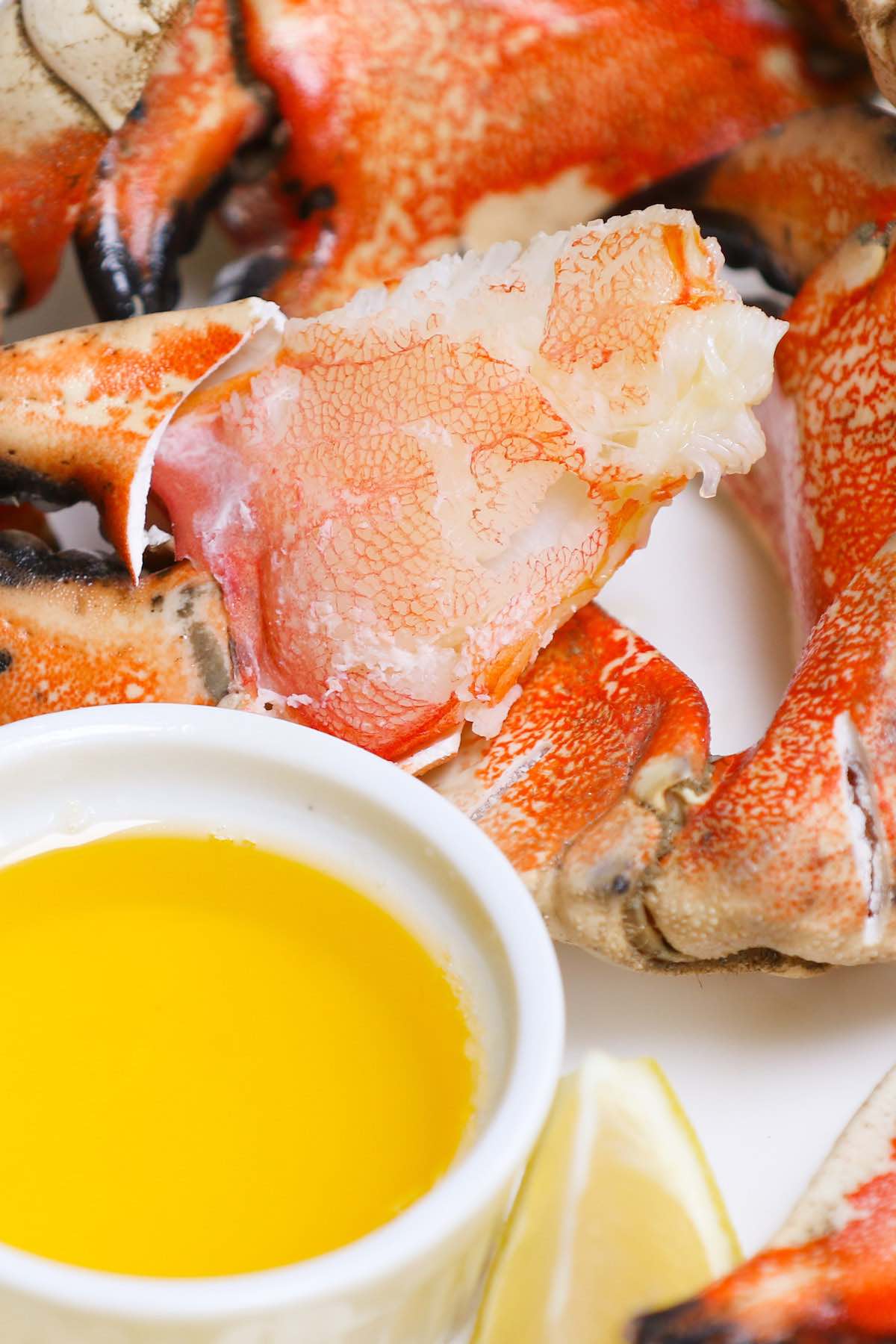 How to Cook Crab Claws
A easy way to prepare stone crab claws or Jonah crab claws when you want a delicious seafood dinner.
Ingredients
2 pounds crab claws, thawed
1/4 cup melted butter, 1/2 stick
1 lemon, cut into wedges
Instructions
Thaw the crab claws completely. Either defrost in the refrigerator overnight or place under running water for 30 minutes.

In a small saucepan, melt the butter over medium-low heat. Skim off the froth on the surface using a spoon. Then stir in 1 teaspoon of fresh lemon juice. Set aside.

Optional: Reheat the claws by boiling or steaming for 3-4 minutes (see note). To boil: fill a medium pot halfway with cold water and add a pinch of salt. Bring to a boil and use tongs to add the crab. To steam: Add an inch of water and a steamer basket to a medium pot. Bring the water to a boil and use tongs to add the crab.

Using kitchen tongs, transfer the claws to a platter and serve with warm lemon butter sauce.
Notes
Crab claws can easily become overcooked and dry out, so limit warming time to several minutes at most.
Crab claw shells are scored to make them easier to open, but crackers are still very helpful for removing all the meat.
Storage: Leftover cooked crab will last up to 3 days in the fridge in an airtight container. It should not be re-frozen.
Nutrition Facts
How to Cook Crab Claws
Amount per Serving
% Daily Value*
* Percent Daily Values are based on a 2000 calorie diet.
Please read our nutrition disclaimer.
Recipe tools:

© TIPBUZZ. Images and text on this website are copyright protected. Please do not post or republish without permission. If you want to republish this recipe, please link back to this post. This post may contain affiliate links. Read the disclosure policy here.