Spicy Sriracha Aioli
This Homemade Spicy Sriracha Aioli is a tasty condiment made with mayo, Sriracha, lime juice, salt, and optional garlic. You can serve it as a dipping sauce with fish tacos, seafood dishes, or french fries. It also makes a delicious spread on black bean burgers and baked potatoes. With just 5 minutes of prep, it's so much better than storebought!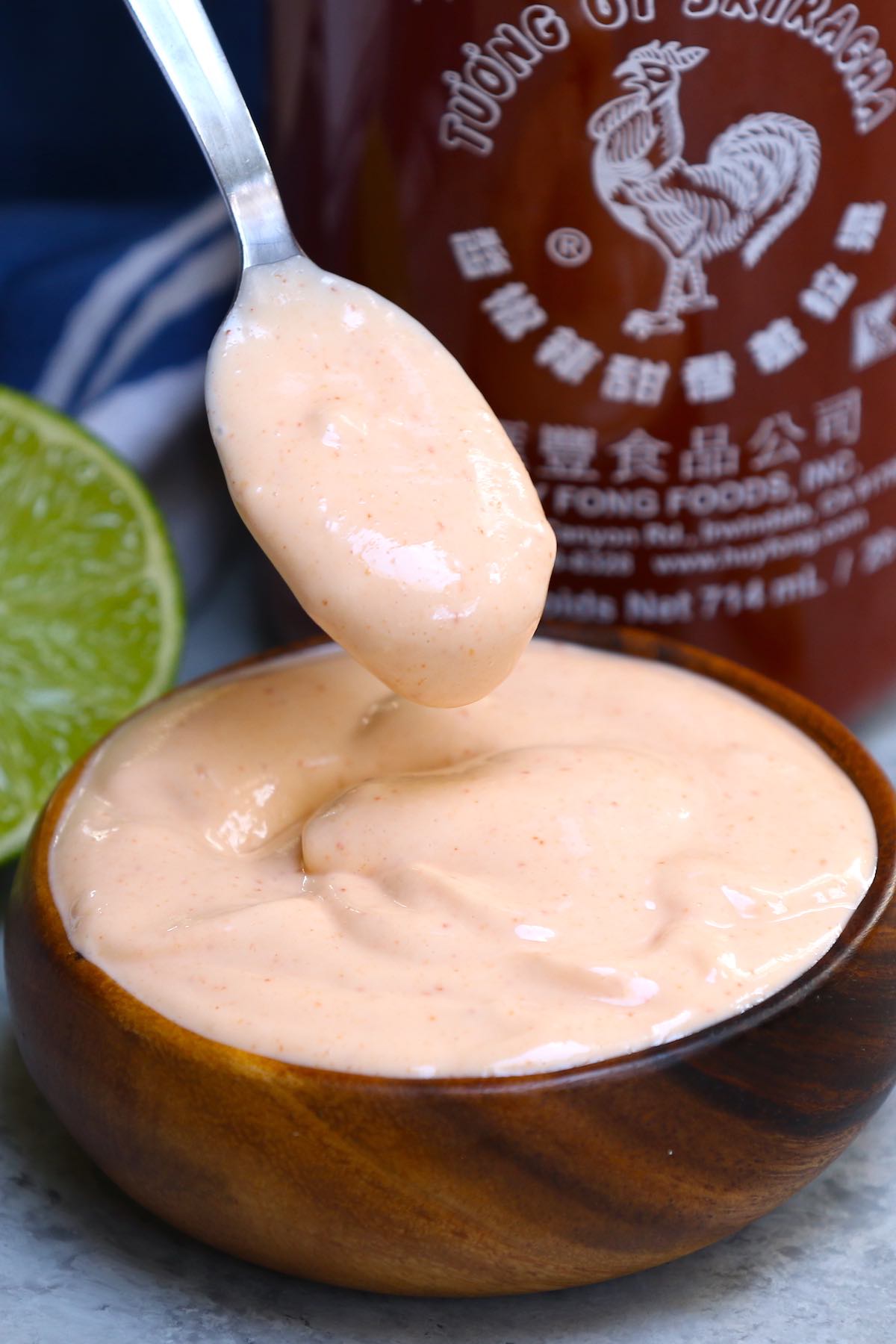 If you love Sriracha, you'll love this super easy recipe. Skip the expensive bottled varieties like Stonewall Kitchen and make your own instead!
It's great as a dipping sauce, and you can spread it on your favorite sandwiches for a spicy kick. In fact, you can use it just like mayo whenever you want some extra zip.
Ingredients You'll Need for Spicy Aioli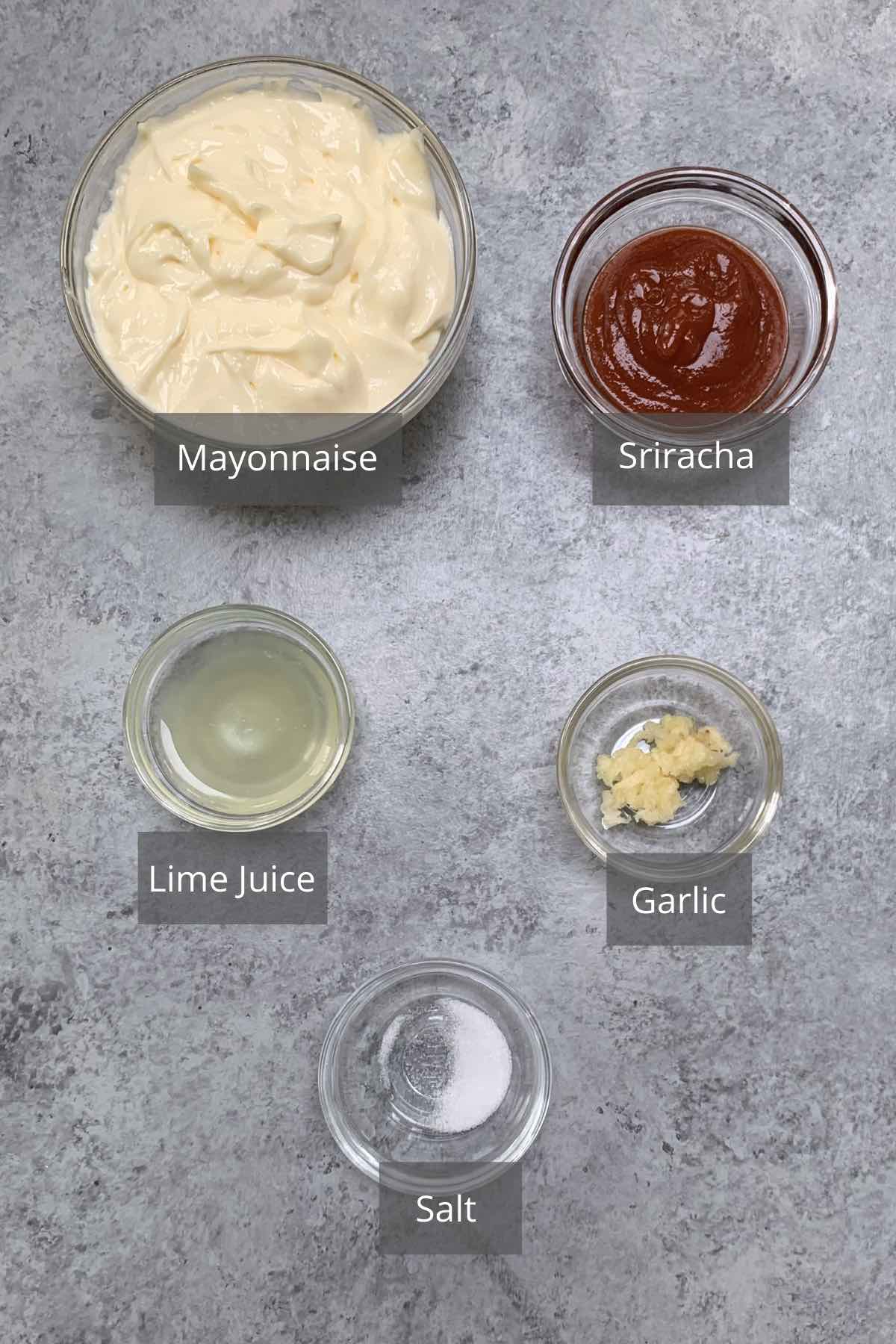 Mayonnaise: This is the foundation for the aioli and creates the creaminess. Try to get real mayo instead of mayo alternatives. In a pinch you can use a thick Greek yogurt as a substitute.
Sriracha Sauce: This Asian hot sauce is made with chili peppers, distilled vinegar, garlic, sugar, and salt. Huy Fong is my favorite brand, and you can find it in the Asian section at most supermarkets. Alternatively, you can order it online at Amazon.
Lime Juice: Freshly squeezed lime juice works best for this recipe.
Salt: There is already some salt in Sriracha and mayo, but you may want to add a pinch of fine salt to taste.
(Optional) Garlic: There's already garlic in Sriracha, but if you love garlic then put a clove through a garlic press or mince finely. Don't substitute garlic powder.
How to Make Sriracha Aioli
Juice a lime, then strain to remove seeds and pulp.
2. Mix together Sriracha and mayo together in a medium bowl. Taste and adjust the amount of Sriracha to your desired level of spiciness.
3. Add lime juice, salt, and optional garlic to the bowl. Mix well.
4. Serve and enjoy!
Pro Tips: Since Sriracha is spicy, you may wish to add it gradually to reach your desired level of heat.
Sriracha Aioli Variations
Make it Vegan: Substitute with vegan mayo for a vegan sriracha aioli.
Non-spicy: If you want less heat, try substituting jalapeno, BBQ, pesto, ranch or gochujang.
Ways to Use Sriracha Mayo Aioli
Sriracha aioli goes with pretty much everything! Some of my favorite combinations include:
Serving it as a dipping sauce for French fries, potatoes or onion rings. It's also fabulous with vegetables such as Brussel sprouts, broccoli and cauliflower.
Spreading it on top of burgers, and it's especially good on black bean burgers.
Pairing with seafood such as lobster, crab legs, crab cakes or fish tacos.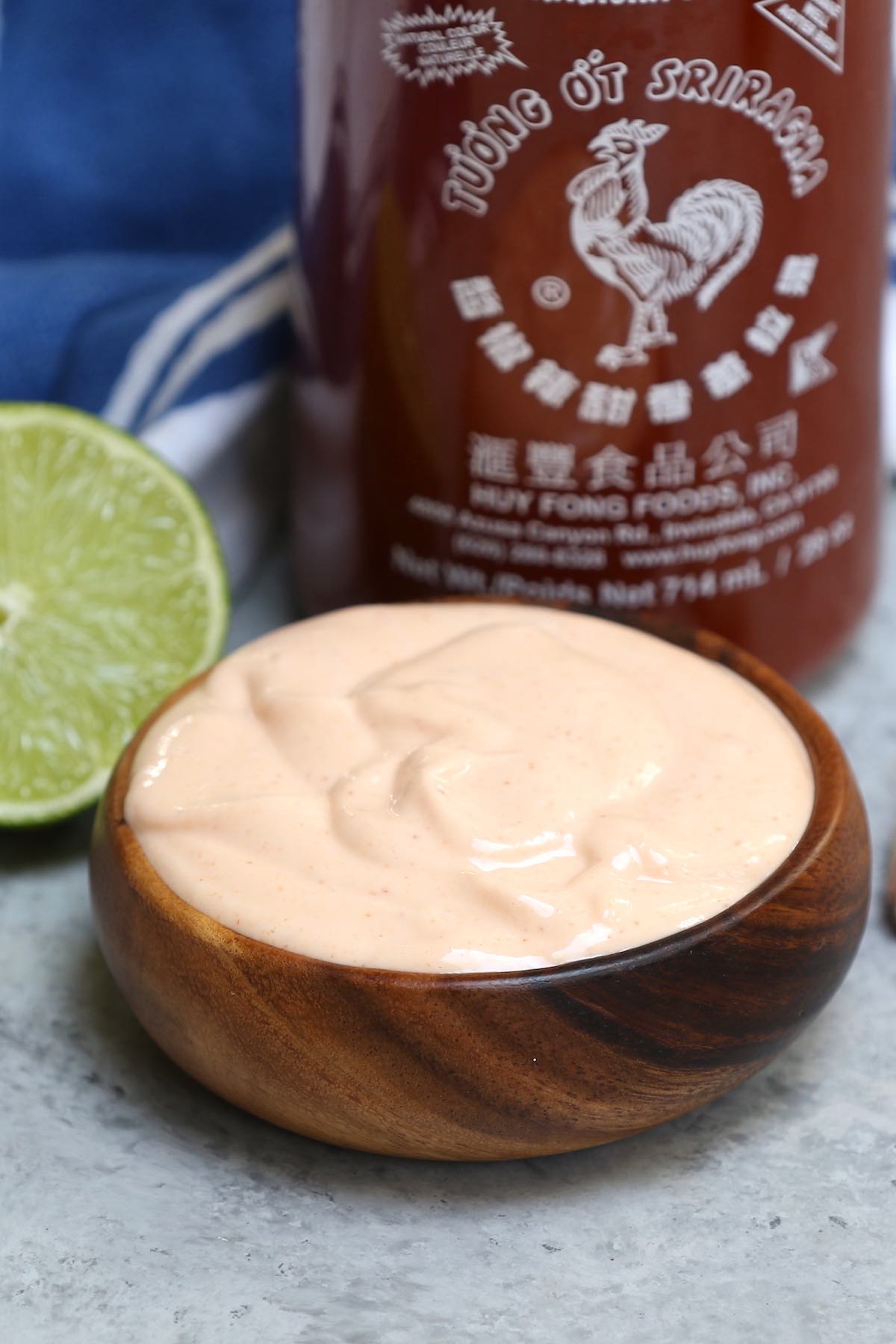 Frequently Asked Questions
What is Sriracha Aioli?
Aioli means "garlic and oil" in traditional Mediterranean cuisines, and today refers to a creamy condiment or sauce combining garlic and mayonnaise. Adding Sriracha provides a kick to create a unique spicy aioli.
Where to Buy Sriracha Aioli?
Storebought brands such as Stonewall Kitchen are available at supermarkets including Walmart. You can also order it online at Amazon.
Can I Make Sriracha Aioli without Mayo?
Yes! Simply substitute vegan mayo instead. Alternatively, you can try using a thick Greek yogurt.
What's the Difference Between Sriracha Aioli and Sriracha Mayo?
Generally, aioli contains garlic while mayo does not. However, since Sriracha already has garlic in it, these two condiments are similar although fresh garlic is often added to Sriracha aioli.
More Sauces and Spreads:
View all sauces and condiments
Sriracha Aioli Recipe
This Spicy Sriracha Aioli is a tasty condiment you can serve as a dipping sauce with fish tacos, crab cakes or French fries. It also makes a delicious spread on black bean burgers and baked potatoes.
Ingredients
1 cup mayonnaise
2 tablespoons sriracha sauce, or similar hot sauce
2 teaspoons lime juice, freshly squeezed
fine salt, to taste
1 clove garlic, pressed (optional)
Instructions
In a small bowl, whisk together the mayonnaise with 1 tablespoon sriracha until smooth. Taste and gradually add up to 1 tablespoon more sriracha depending on desired spiciness.

Stir in the lime juice, salt and optional garlic. Serve immediately.
Notes
Mayo: For best result use a real mayo brand like Hellmann's or 365 instead of mayo alternatives. 
Make it vegan: You can make this aioli vegan by using vegan mayo.
Make Ahead: You can store sriracha aioli covered or in an airtight container in the fridge for up to 3 days. It should be discarded once it has been at room temperature for can sit at room temperature for up to several hours.
Nutrition Facts
Sriracha Aioli Recipe
Serving Size
1 tablsepoon
Amount per Serving
% Daily Value*
* Percent Daily Values are based on a 2000 calorie diet.
Please read our nutrition disclaimer.
© TIPBUZZ. Images and text on this website are copyright protected. Please do not post or republish without permission. If you want to republish this recipe, please link back to this post. This post may contain affiliate links. Read the disclosure policy here.