Strawberry Pretzel Salad
Old-fashioned Strawberry Pretzel Salad has mouthwatering layers of pretzel crust, filling of cream cheese mixture, topped with fresh strawberries in jello. This strawberry pretzel dessert is a perfect summer dessert!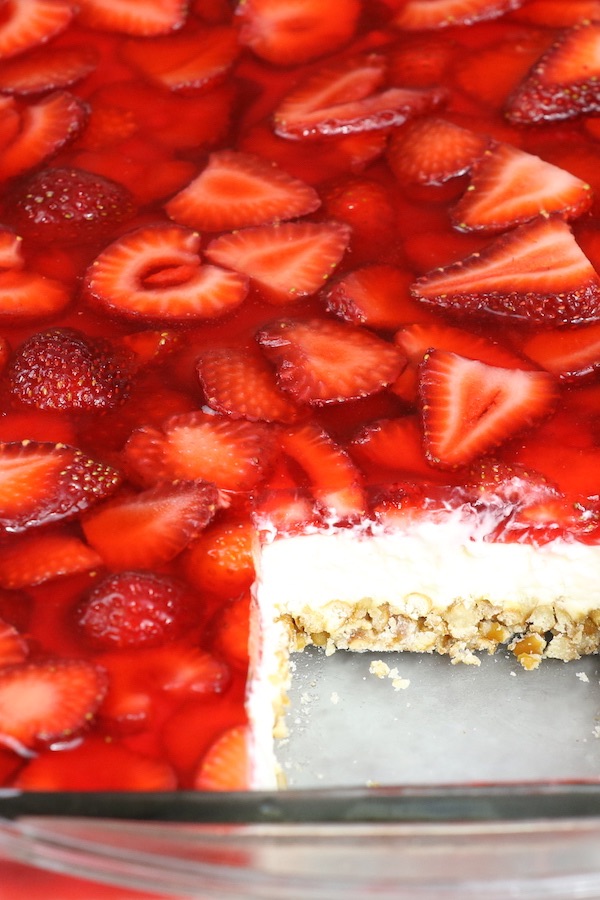 WHY DO THEY CALL IT STRAWBERRY PRETZEL SALAD
Strawberry pretzel salad is actually not a salad but a 3-layer dessert that tastes like a no-bake cheesecake. It's an iconic southern tradition and has been called pretzel salad since the 1960s. It's also called strawberry pretzel dessert, strawberry pretzel pie or pretzel jello salad.
Whatever you call them, it's a southern classic that's creamy and crunchy, with the perfect balance between sweet and salty flavors.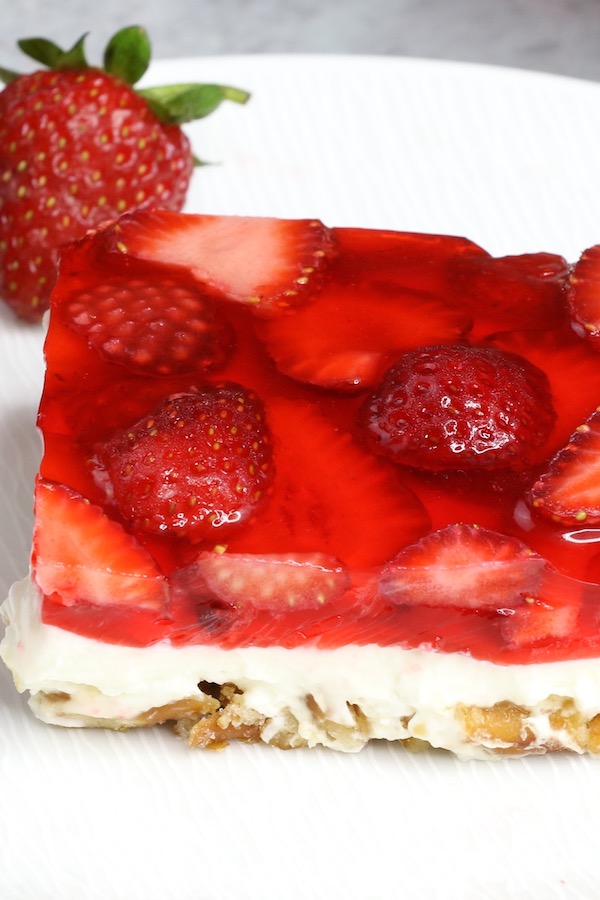 STRAWBERRY PRETZEL DESSERT MADE WITH 3 LAYERS
Pretzel salad requires just a few simple ingredients, but there is some technique involved since there are three layers. Let's go over some of the basics:
Pretzel Crust:  Made with crushed pretzels, melted butter and sugar.  Bakes for 10 minutes in a 350°F oven.
Cream cheese filling:  Cool whip is ideal because of its stability and stiffness, but you can substitute with homemade whipped cream.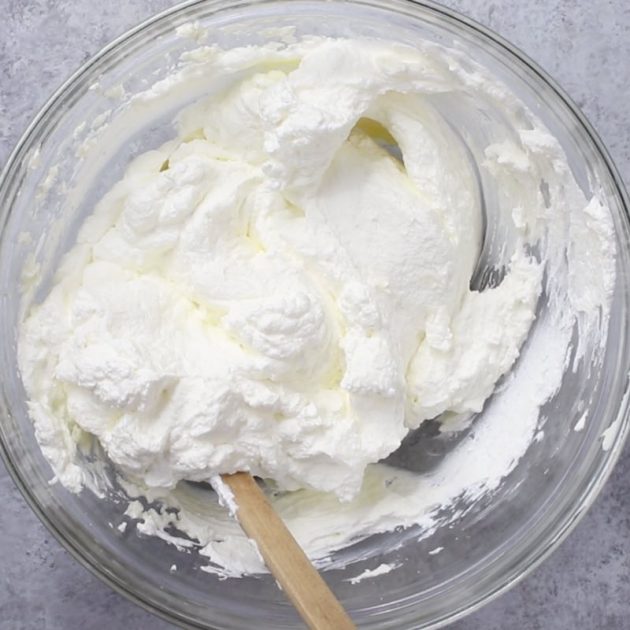 Strawberry Jello: Simply dissolve strawberry gelatin with boiling water to make liquid jello. Add fresh strawberries and combine into the cooled jello for the topping.
All you need to do now is give it a final chill in the refrigerator.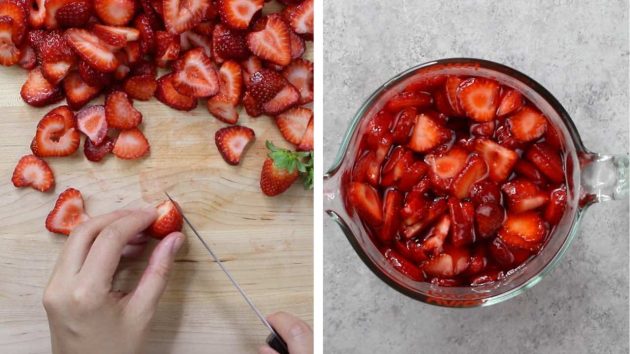 TIPS FOR MAKING THE BEST PRETZEL SALAD
Use fresh, ripe strawberries for this recipe to get the gorgeous red color on top.
Spread your cream cheese filling all the way to the edges of your pan and separate the pretzel layer completely from the jello layer, as you can see from the video below.
When you place your assembled strawberry pretzel salad in the fridge, make sure your shelf is flat, and you'll be good to go.
It's a great make-ahead dish for parties, and you can make it in advance for up to 2 days, as longer than that the strawberry jello will start to bleed red color into the filling.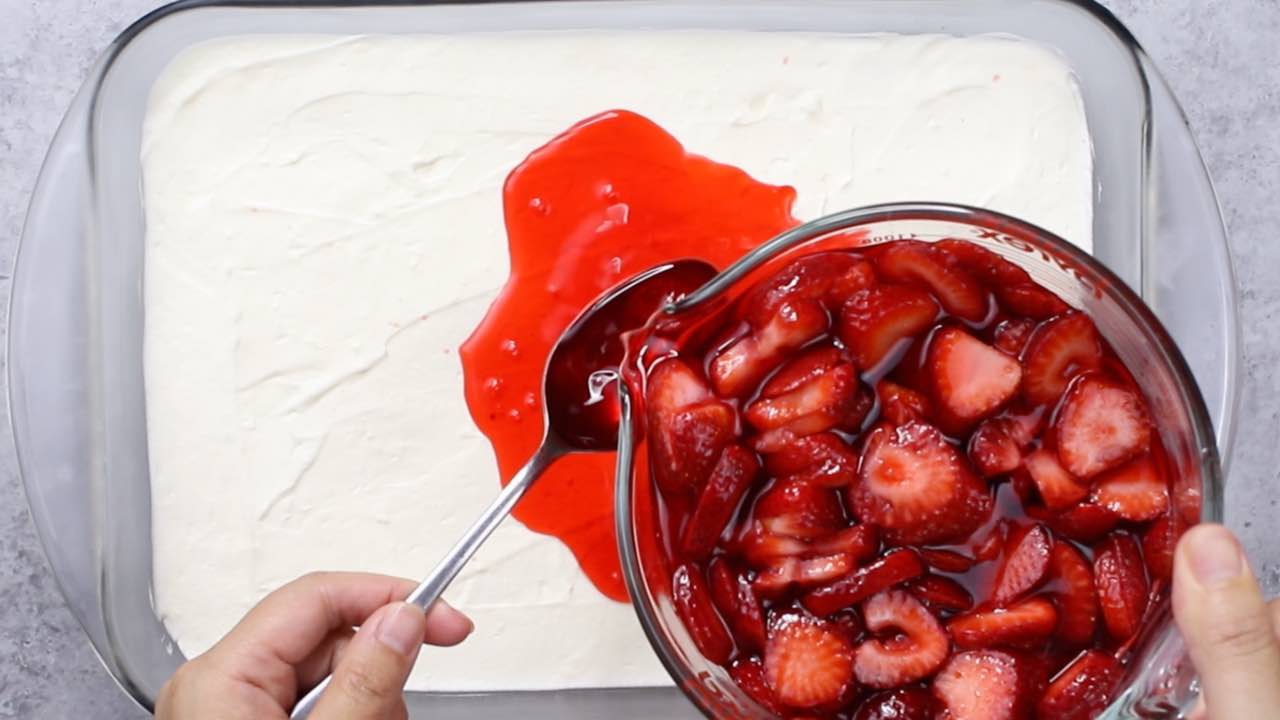 RASPBERRY PRETZEL SALAD
You can easily turn this recipe into raspberry pretzel salad:
Swap strawberry jello powder for raspberry jello powder;
Swap strawberries for raspberries.
While strawberry pretzel salad is a holiday staple for Memorial Day or Fourth of July, it's perfect to make for BBQs, potlucks and parties year round.
WATCH HOW TO MAKE STRAWBERRY PRETZEL SALAD
Strawberry Pretzel Salad
Strawberry Pretzel Dessert has mouthwatering layers of a pretzel crust, filling of cream cheese mixture, topped with fresh strawberries in jello.
Ingredients
Pretzel Crust
3 1/2 cups pretzels, crushed
1/4 cup sugar
1/2 cup unsalted butter, melted
Cream Cheese Filling
8 oz cream cheese, softened
1/2 cup sugar
8 oz cool whip, or whipped cream (stiffly whipped)
Strawberry Jello Topping
1 lb fresh strawberries , hulled and sliced
2 cups boiling water
Instructions
Preheat oven to 350°F. Set aside a 9x13 inch glass baking dish.

Place pretzels in a ziplock bag, seal and pound with a rolling pin to crush lightly.

In a medium bowl, stir together the melted butter and sugar. Add in the crushed pretzels and mix to coat.

Press the pretzel mixture into the baking dish, and then bake for 10 minutes. Remove from oven.

In a medium bowl, combine jello powder with boiling water. Stir slowly for one minute until dissolved and set aside.

In a large bowl, beat the cream cheese and sugar until fluffy.

Using a large spatula, fold in the cool whip until evenly blended.

Once the baked pretzels are cool, spread the cream cheese mixture evenly on top until flat across the pan. Then chill for at least 30 minutes.

While chilling, you can rinse, hull and slice the strawberries.

Gently place the sliced strawberries onto the filling in a single layer. Add any remaining strawberries on top as a partial second layer.

Once the jello mixture is room temperature, dribble on top of the strawberries using the back of a spoon for even distribution.

Chill for at least two hours. Serve and enjoy!
Notes
Your fridge shelf should be flat and level to ensure the jello layer sets evenly across the baking dish.
Nutrition Facts
Strawberry Pretzel Salad
Amount per Serving
% Daily Value*
* Percent Daily Values are based on a 2000 calorie diet.
Please read our nutrition disclaimer.
More strawberry desserts:
View all strawberry recipes
© TIPBUZZ. Images and text on this website are copyright protected. Please do not post or republish without permission. If you want to republish this recipe, please link back to this post. This post may contain affiliate links. Read the disclosure policy here.