Easy Strawberry Jello Shots
These beautiful Strawberry Jello Shots are a favorite when it comes to get-togethers with friends. You can make them ahead, and eat the entire strawberry with delicious jello inside. Yum!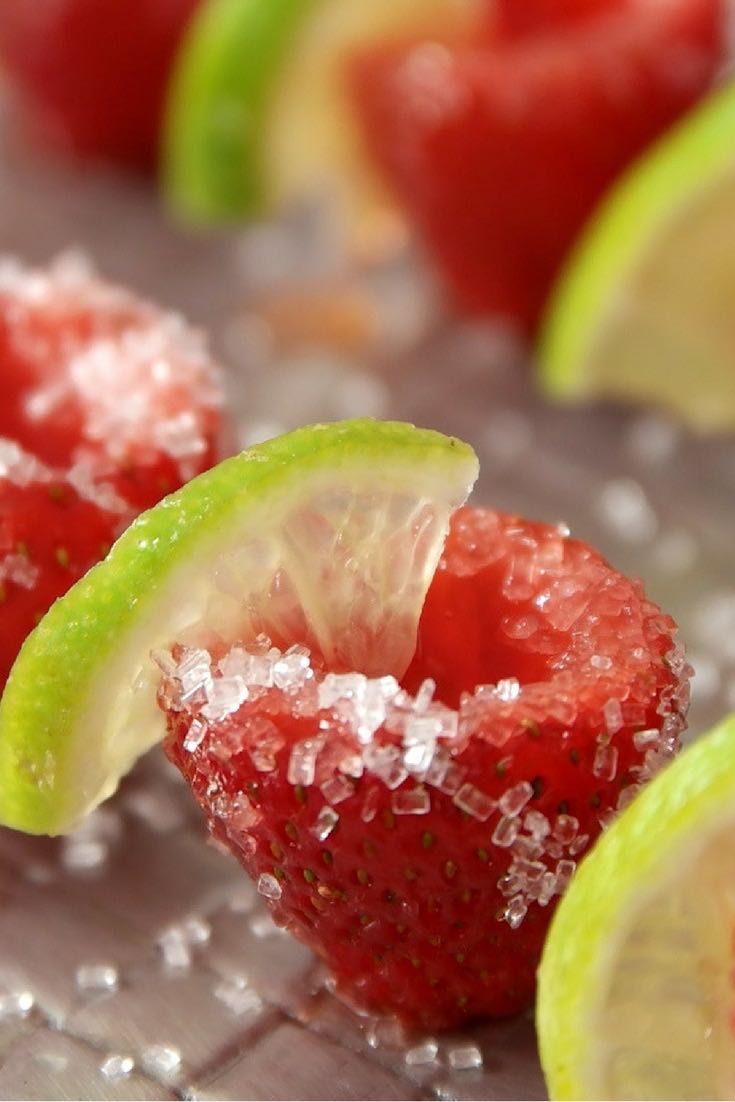 These jello shots are great year-round party drinks, although especially best when strawberries are in season from late April through August. There's only about 1/4 ounce of alcohol in each, so they're less potent than regular shots. You can increase or decrease the amount of alcohol as you like.
The secret to making strawberry jello shots is finding ripe, medium-sized strawberries. Too huge and they can't be eaten in one bite. Too small and you'll only get a few drops of jello inside (and that is srsly no fun at all!). It's one of my favorite strawberry jello recipes along with Strawberry Pretzel Salad and Strawberry Jello Poke Cake.
How to Make Strawberry Jello Shots
Once you've washed them, trim 1/4 inch off the bottoms and tops — this is to ensure they stand upright later on: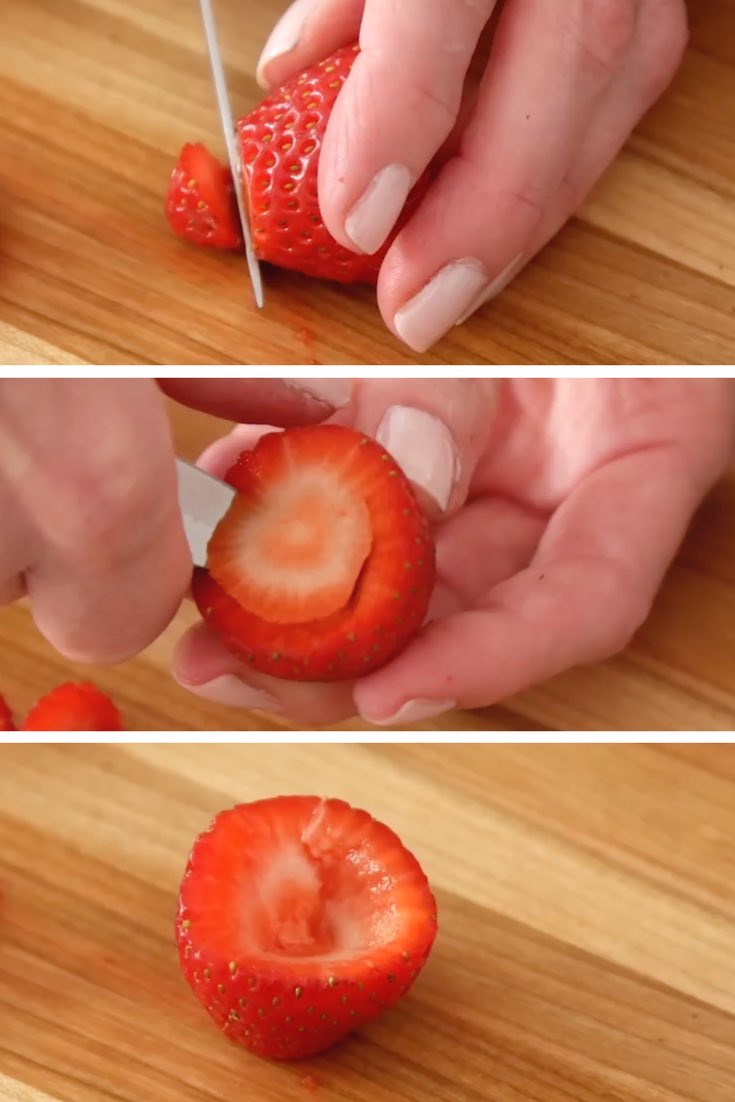 Set them aside on a plate while you make the jello. This recipe makes about 25 shots…
Then make the jello in a mixing bowl. The secret to dissolving jello is to mix the powder into boiling water slowly for at least a minute.
We used a shaker to combine the tequila with cold water and ice before pouring it into the jello mixture: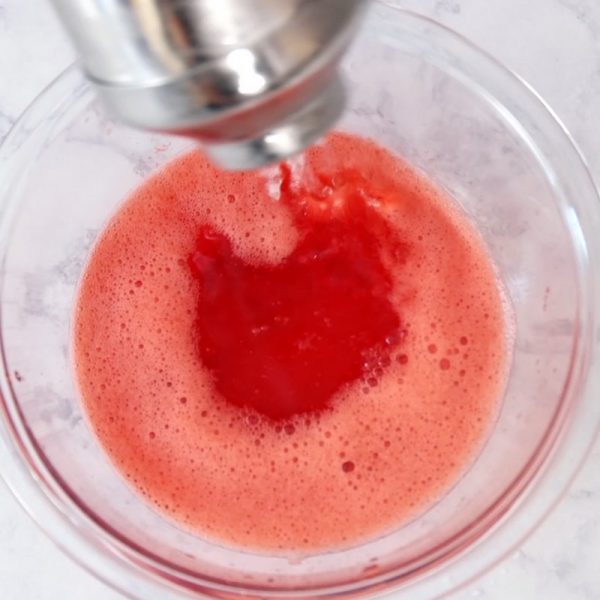 Once the mixture is somewhere between room temperature and lukeware, you can transfer it to a squeeze bottle or any small measuring cup with a spout.
Then dribble enough liquid into each strawberry to fill it right up and carefully set it back down again: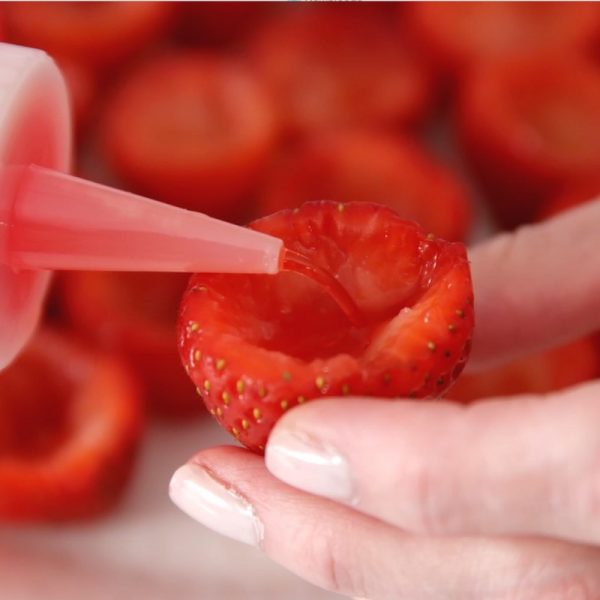 Once you've made the jello shot, you'll need to chill for at least an hour to allow the jello to set. That means you can make them the day in advance, which is so convenient.
Also try these variations for some additional jello shot ideas:
strawberry vodka jello shots by replacing tequila with vodka 1:1
strawberry daiquiri jello shots by replacing tequila with 1/2 white rum and 1/2 triple sec
go completely vegan by using agar agar powder instead of gelatin!
For #3, Simply Delish's sugar-free Strawberry Dessert Jel works well. Have fun and enjoy!
Watch How to Make Strawberry Jello Shots:
Easy Strawberry Margarita Jello Shots (with Video)
These beautiful Strawberry Jello Shots are a favorite when it comes to get-togethers with friends. You can make them ahead, and eat the entire strawberry with delicious jello inside. Yum!
Ingredients
2 pints medium-large strawberries
3 ounce box strawberry jello powder
1 cup boiling water
4 ounces tequila
2 ounces margarita mix
1/4 cup cold water
1/4 cup sugar, for the rim
1 lime
Instructions
Rinse strawberries. Cut off bottom portions (enough to stand up, but not enough to make a hole). Cut off top ¼-inch and scoop out insides, making sure not to hit bottom.

In a small bowl, add boiling water and jello powder, stirring gently for 2 min to dissolve completely.

In a cocktail shaker, add ice cubes along with tequila, margarita mix and ¼ cup cold water. Shake for 5 seconds.

Strain cocktail into jello mixture and stir briefly.

Using a squeeze bottle or small measuring cup with spout, dribble liquid into strawberries and fill to top. Refrigerate at least one hour.

To serve, put sugar on a small plate and rim strawberries. Cut a lime into quarter-wedges and place on each strawberry. Serve & enjoy!
Nutrition
Calories: 32kcal, Carbohydrates: 5g, Protein: 0.2g, Fat: 0.1g, Saturated Fat: 0.004g, Polyunsaturated Fat: 0.03g, Monounsaturated Fat: 0.01g, Sodium: 2mg, Potassium: 35mg, Fiber: 0.5g, Sugar: 4g, Vitamin A: 2IU, Vitamin C: 18.2mg, Calcium: 4mg, Iron: 0.2mg
Looking for more jello shots?
© TIPBUZZ. Images and text on this website are copyright protected. Please do not post or republish without permission. If you want to republish this recipe, please link back to this post. This post may contain affiliate links. Read the disclosure policy here.