Easy Strawberry Jello Shots
Strawberry Jello Shots are a party favorite that's both attractive and delicious! An entire strawberry is filled with strawberry jello flavored with tequila for a margarita theme. This recipe is easy to make and are always a conversation piece!
Watch Video: Strawberry Jello Shots
These jello shots are great year-round party drinks whenever you have fresh strawberries on hand. They're easy to make and you can adjust the type of alcohol to suit your taste (including making mocktails with no alcohol at all).
The best part? You can easily make them a day ahead of time for easy serving when you're entertaining.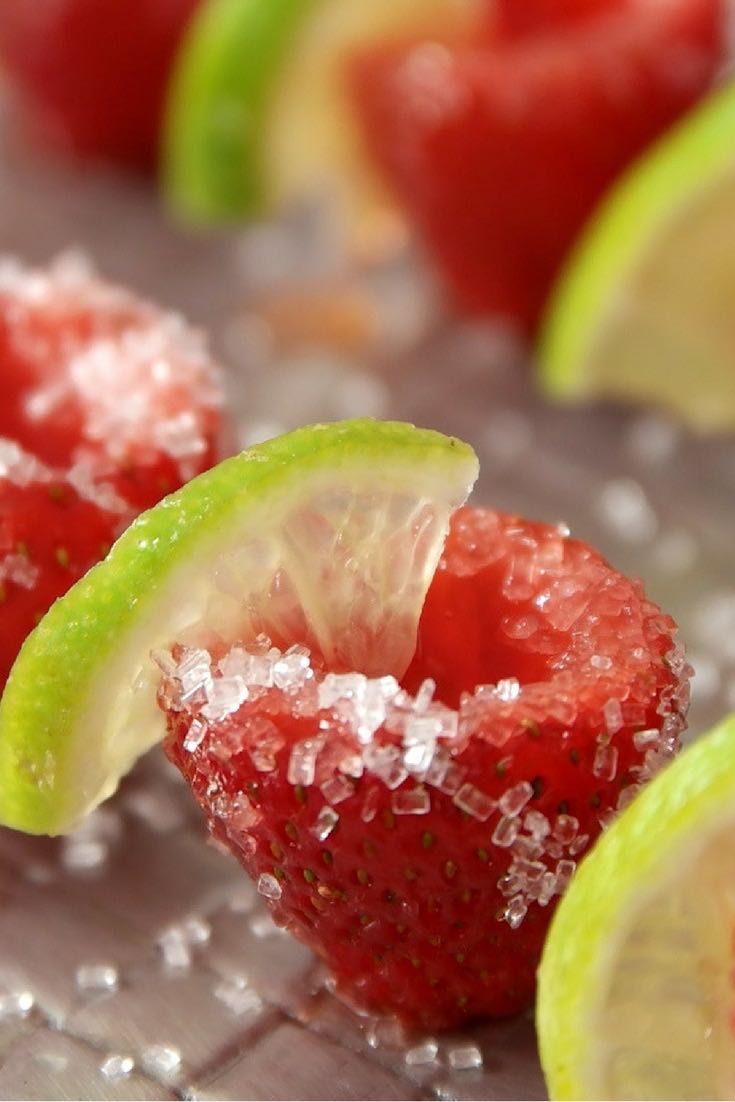 How to Make Strawberry Jello Shots
The secret to making strawberry jello shots is finding ripe, medium-sized strawberries. Too huge and they can't be eaten in one bite. Too small and you'll only get a few drops of jello inside.
Once you've washed them, trim 1/4 inch off the bottoms and tops — this is to ensure they stand upright later on: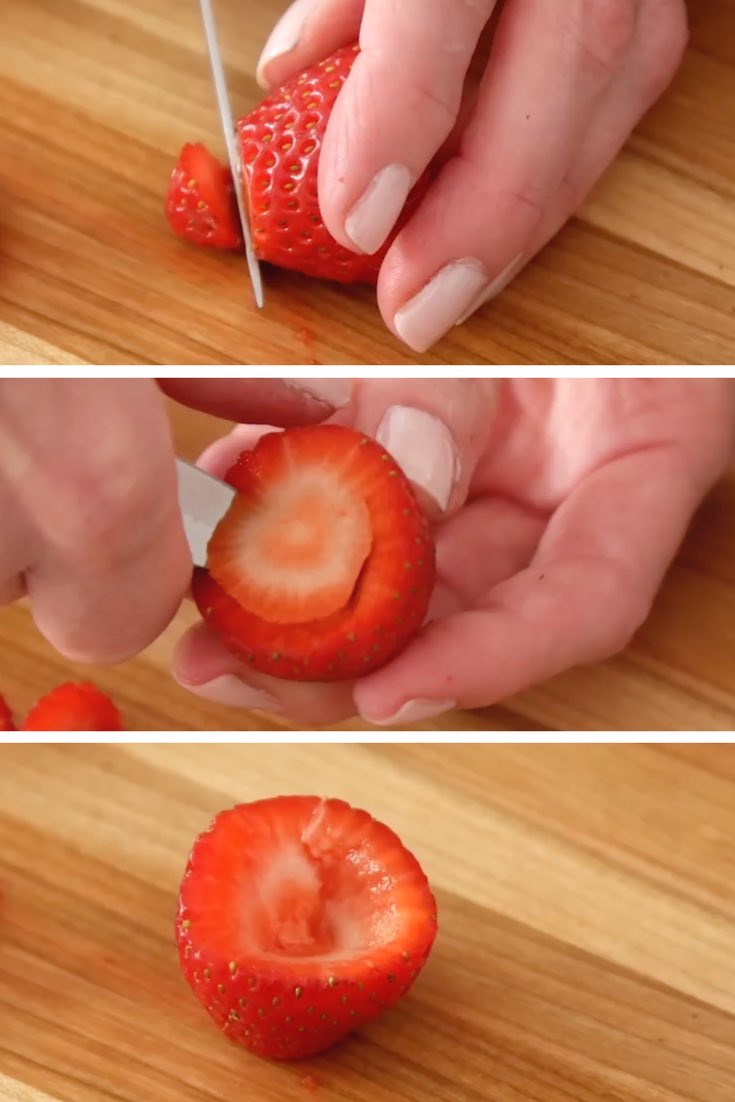 Set them aside on a plate while you make the jello. Then make the jello in a mixing bowl. The secret to dissolving jello is to mix the powder into boiling water slowly for at least a minute.
We used a cocktail shaker to combine the tequila with cold water and ice before pouring it into the jello mixture: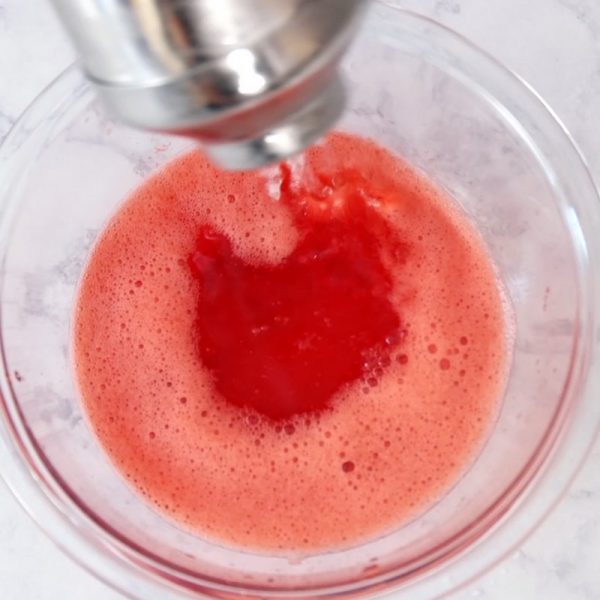 Once the mixture is somewhere between room temperature and lukewarm, you can transfer it to a squeeze bottle or any small measuring cup with a spout.
Then dribble enough liquid into each strawberry to fill it right up and carefully set it back down again: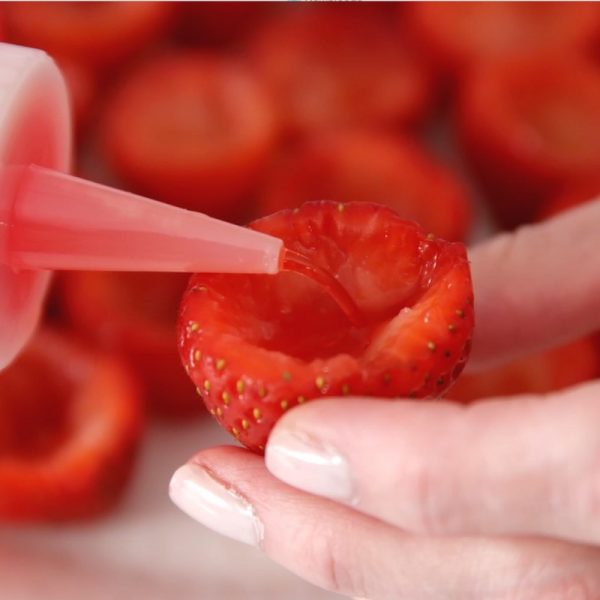 Once you've made the jello shot, you'll need to chill for at least an hour to allow the jello to set. That means you can make them the day in advance, which is so convenient.
More jello shots:
Easy Strawberry Margarita Jello Shots
These beautiful Strawberry Jello Shots are a favorite when it comes to get-togethers with friends. You can make them ahead, and eat the entire strawberry with delicious jello inside. Yum!
Ingredients
2 pints fresh strawberries, medium-large size
3 ounces strawberry jello powder, 1 small box
1 cup boiling water
4 ounces tequila
2 ounces margarita mix
1/4 cup cold water
1/4 cup sugar, for the rim
1 lime
Instructions
Rinse strawberries. Cut off bottom portions (enough to stand up, but not enough to make a hole). Cut off top ¼-inch and scoop out insides, making sure not to hit bottom.

In a small bowl, add boiling water and jello powder, stirring gently for 2 min to dissolve completely.

In a cocktail shaker, add ice cubes along with tequila, margarita mix and ¼ cup cold water. Shake for 5 seconds.

Strain cocktail into jello mixture and stir briefly.

Using a squeeze bottle or small measuring cup with spout, dribble liquid into strawberries and fill to top. Refrigerate at least one hour.

To serve, put sugar on a small plate and rim strawberries. Cut a lime into quarter-wedges and place on each strawberry. Serve & enjoy!
Notes
You can substitute vodka for tequila to make vodka shots, or use a mix of white rum and triple sec for daiquiri shots.
Nutrition Facts
Easy Strawberry Margarita Jello Shots
Amount per Serving
% Daily Value*
* Percent Daily Values are based on a 2000 calorie diet.
Please read our nutrition disclaimer.
Recipe tools:
© TIPBUZZ. Images and text on this website are copyright protected. Please do not post or republish without permission. If you want to republish this recipe, please link back to this post. This post may contain affiliate links. Read the disclosure policy here.