Fruity Watermelon Jello Shots
These Watermelon Jello Shots are bursting with delicious fruity flavors with a beautiful presentation that's perfect for a party! Fresh fruits are molded in jello inside a half watermelon with your favorite rum or vodka. Plus video tutorial!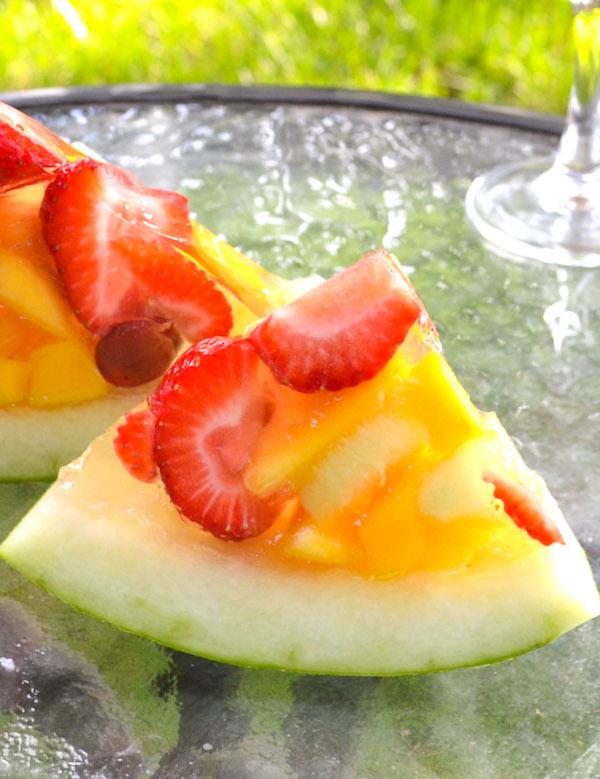 These watermelon jello shots were one of our earliest viral videos with over 4 million views on Facebook! The taste is so refreshing, and the fruit wedge presentation is always a conversation starter.
What exactly are jello shots? They consist of an individual portion of jello with booze or other flavors and consumed as a shot. They're delicious with or without alcohol, and in this case you get a dose of fresh fruit to be a bit fancy.
They're easy to make ahead of time for parties just like Strawberry Jello Shots and Layered Jello Shots! The best parts? Only 20 minutes of preparation, and there's no added sugar. All you need is a large watermelon to get started!
Watch How to Make Watermelon Jello Shots:
How to Make Watermelon Jello Shots
Jello shots are easy to make as long as you get the correct ratio of water to gelatin powder.
Step 1: Hollow Out Half a Watermelon
Get a large watermelon and cut in half lengthwise. Since you want the watermelon half to sit upright, it's helpful to slice 1/4″ skin off the bottom. Just be careful not to create a hole!
Then using a spoon or ice cream scoop, remove all the flesh from one half. I don't recommend using the watermelon flesh, as it disintegrates easily. So store it for snacks.
Step 2: Make the Jello Liquid
In a medium bowl or measuring cup, add 1 1/2 cups of cold water. Sprinkle the 3 tbsp gelatin powder on top to soften. Then add 1 1/2 cups of boiling water and stir slowly for a minute to dissolve completely.
Step 3: Assemble the Jello Shots
Add the fruit pieces and booze to the watermelon half. Then slowly pour the jello liquid in to fill up to the surface. Remove any bubbles that appear.
Step 4: Chill Until Serving
Place the jello shots in the fridge uncovered to chill for at least 5 hours to set. Then you are ready to serve, or you can cover with plastic wrap to store for 1-2 days.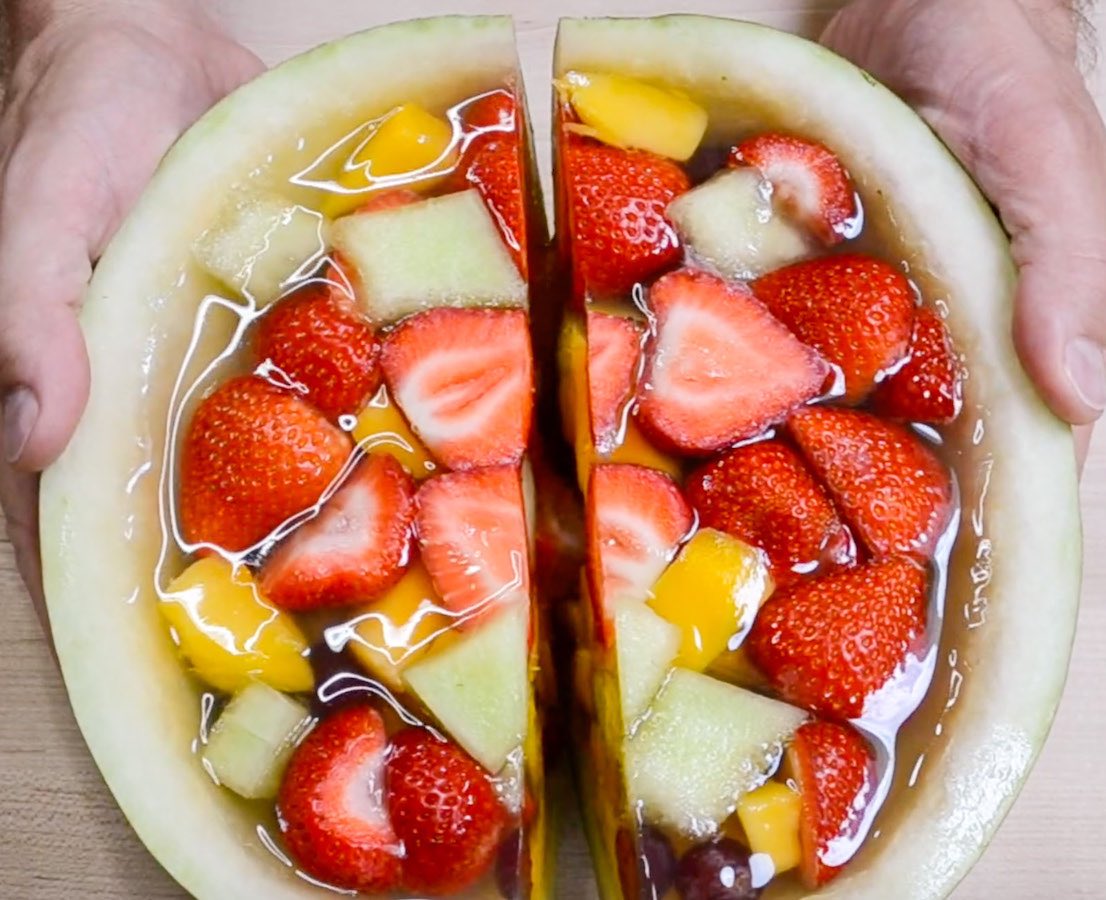 Tips and Secrets for Making the Best Watermelon Jello Shots
You can substitute different fruits, but avoid kiwi or pineapple, which contain enzymes that will prevent the jello from setting properly.
For alcoholic jello shots, the best liquor choices are your favorite rum or vodka. Some other options are tequila or triple sec.
For non-alcoholic jello shots, replace the liquor with a clear juice concentrate like apple juice or cranberry juice.
The recipe includes 1/2 cup of liquor, which is 4 ounces. You can adjust the amount to suit your crowd without affecting the recipe.
Before you place in the fridge to set, try to pop or remove any bubbles that may have risen to the surface.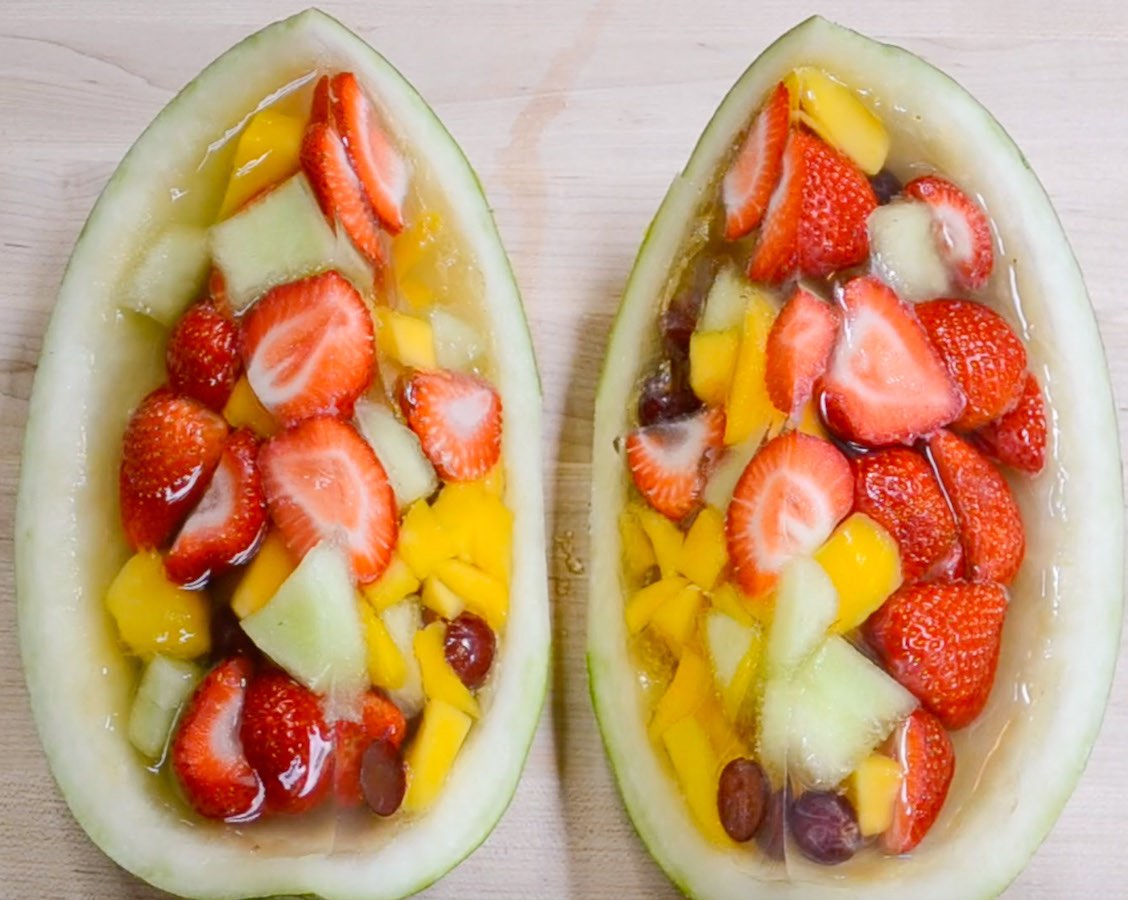 Equipment for Making the Best Jello Shots
A large measuring cup is ideal for preparing the jello and then it slowly and steadily into the watermelon.
A sharp 10-12″ chef's knife is necessary to get a clean cut through the molded fruits at the end. You don't want to be sawing with a dull knife.
Optional but handy is an ice cream scoop to easily hollow out the watermelon. A large spoon will work too.
Make Ahead Tip
The jello requires 5 hours of chilling time to firm up, so it's usually best to make this the day before. As long as your fruits are fresh and firm, these jello shots will last up to 2 days in the fridge covered with plastic wrap. You cannot freeze them however.
Fruity Watermelon Jello Shots (with Video)
These Fruity Watermelon Jello Shots are bursting with delicious fruity flavors with a beautiful presentation that's perfect for a party! Fresh fruits are molded in jello inside a half watermelon with your favorite rum or vodka.
Ingredients
1 medium-large watermelon
1 cup mango chunks, 1 large mango
1 pint fresh strawberries, hulled and halved
1 cup red grapes, halved
1 cup melon chunks, cantaloupe or honeydew, sliced
1/2 cup rum, or vodka, optional
1 1/2 cups cold water
3 tbsp unflavored gelatin powder, 3/4 ounce, I used Knox
1 1/2 cups boiling water
Instructions
Slice watermelon in half lengthwise with a sharp knife. You'll only need one half for this recipe.

Cut ¼-inch off bottom of one half for balance if needed.

Scoop out watermelon flesh from one half and set aside.

Put fruits in a bowl and mix together. Add to watermelon half along with optional rum/liquor.

In a medium bowl, add cold water and sprinkle gelatin on top. Then add boiling water and whisk slowly for two minutes until dissolved.

Pour gelatin water into the watermelon until it almost reaches the top. Refrigerate for at least 5 hours to set fully.

With a sharp knife, slice watermelon lengthwise and then into 1-inch wedges. Serve and enjoy!
Notes
Note: avoid using kiwi or pineapple, which will interfere with the jello formation.
Nutrition
Calories: 63kcal, Carbohydrates: 8g, Protein: 2g, Sodium: 7mg, Potassium: 141mg, Fiber: 1g, Sugar: 6g, Vitamin A: 830IU, Vitamin C: 31.4mg, Calcium: 13mg, Iron: 0.3mg
Looking for more recipes with watermelon?
Editor note: Published Aug 24, 2016 and updated April 10, 2018
© TIPBUZZ. Images and text on this website are copyright protected. Please do not post or republish without permission. If you want to republish this recipe, please link back to this post. This post may contain affiliate links. Read the disclosure policy here.