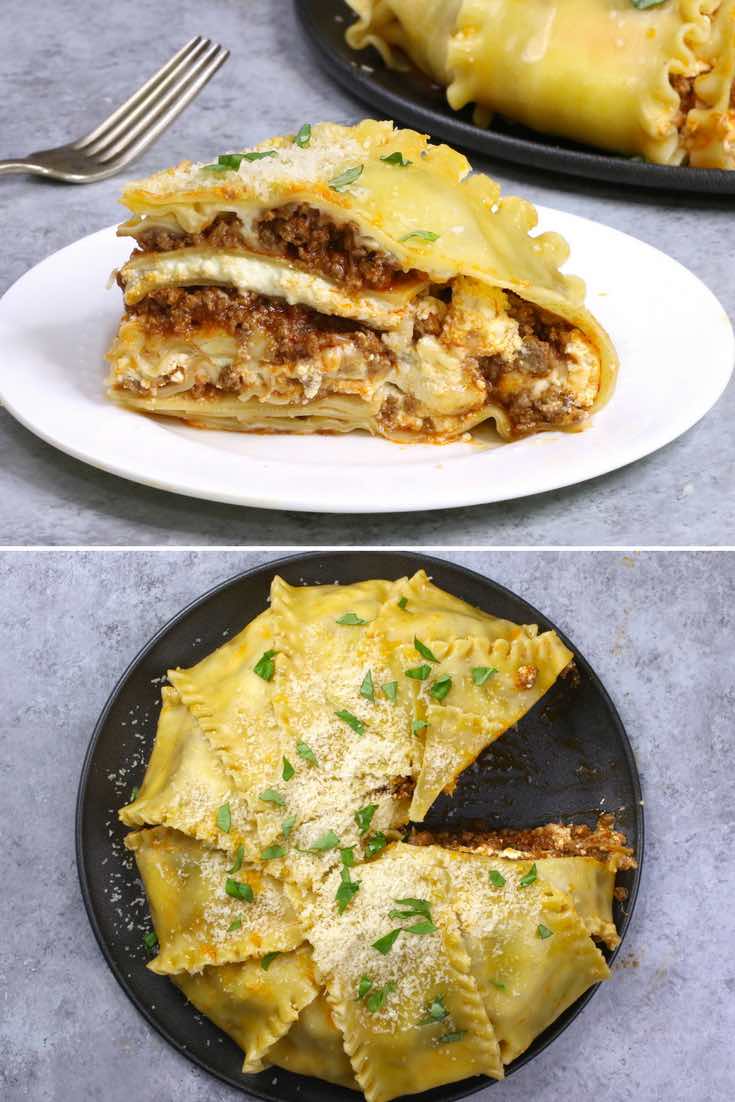 This party lasagna could be the answer to all your lasagna needs! It's much easier to make than traditional lasagna and takes half the time. And it looks so cool!
One of our fans said: "I'm Italian and usually think these variations are sacrilegious, but this looks amazing!" And truth be told, it's the best darn lasagna ever!
To make it, start by boiling dry lasagna noodles or getting your oven-ready noodles ready. Then cover them in a bit of oil so they don't stick, and lay them into a 5-quart ovenproof pot with a slight overlap.
Now onto making the fillings. Start by browning ground beef using a cast iron or non-stick pan. Add in chopped onions, garlic, salt and pepper and finally tomato sauce. You want to cook it for several minutes until it's nice and thick.
The only other step for the fillings is to mix the ricotta cheese, parmesan and eggs into a paste in a mixing bowl. Then you're ready to add the layers to the pot:
The layers are mozzarella, meat sauce, ricotta mixture, and noodles. Repeat once or twice until your pot is full! Seal up the top and sprinkle some final mozzarella on top, and it's ready for the oven.
When it's ready, you simply invert it onto a large plate and sprinkle some parmesan and basil on top.
For serving, simply cut it up like a cake using a sharp knife. Watch our video tutorial to see how to make it!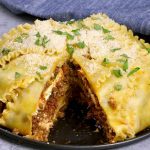 The Best Party Lasagna (with Video)
Easy, cheesy lasagna cake for parties – A perfect way for a crowd to enjoy the pleasure of lasagna. Makes a delicious dinner for the whole family or a party dish!
Ingredients
1 1/2

lb

lasagna noodles

cooked

2

tbsp

vegetable oil

2

pounds

ground beef

1/2

large

onion

diced

6

cloves

garlic

minced

1

tsp

salt and pepper to taste

3

cups

tomato sauce

3

cups

ricotta cheese

1

cup

shredded parmesan

2

eggs

3

cups

shredded mozzarella

basil

optional
Instructions
Preheat oven to 375°F. Set aside a 12-cup saucepan that's oven-safe (no plastic handles).

Cook lasagna noodles in a large pot of boiling salted water until al dente.

Place a large frying pan over medium-high heat. Add oil and then ground beef. Stir and cook several minutes until it starts to brown.

Drain off excess fat, and add in oil, onions, and garlic. Stir and cook until the onions are translucent.

Add the tomato sauce and cook several minutes until thick enough to form mounds, and remove from heat.

In a medium bowl, combine the ricotta, parmesan and egg, mixing until smooth.

By now your noodles should be ready. Drain them and toss in oil to prevent sticking. Slice 6 noodles in half widthwise and set aside.

Rub inside of pan with oil and lay 12-15 noodles according to the video.

Add 1/2 of mozzarella, then spread on 1/3 of meat mixture. Then add 2 noodle halves you cut to create a layer.

Spread 1/2 of ricotta mixture, followed by 1/3 of meat mixture and remaining mozzarella, saving just a large pinch. Add 2 more noodle halves.

This is the home stretch: add remaining ricotta and then remaining meat. Fold in the lasagna noodles to the center following the video.

Add the last pinch of mozzarella to the middle only (important: don't let them go down the sides or the lasagna will stick to the pan).

Bake for 40-45 minutes until the cheese is golden. Remove from the oven to cool 10 minutes.

Invert the lasagna cake onto a large serving plate. Sprinkle with parmesan and optional basil. Serve and enjoy!
Nutrition Facts
The Best Party Lasagna (with Video)
Amount Per Serving
Calories 446
Calories from Fat 207
% Daily Value*
Total Fat 23g 35%
Cholesterol 107mg 36%
Sodium 762mg 32%
Potassium 346mg 10%
Total Carbohydrates 31g 10%
Protein 32g 64%
* Percent Daily Values are based on a 2000 calorie diet.
Check out our Lasagna Roll-ups for another fun lasagna recipe: