Kung Pao Beef
This Kung Pao Beef is a fiery stir fry of beef, vegetables and peanuts a sweet and savory sauce. It's an adaptation of kung pao chicken, the Szechuan dish with spicy, mouth-numbing heat. Skip the takeout and make your own at home!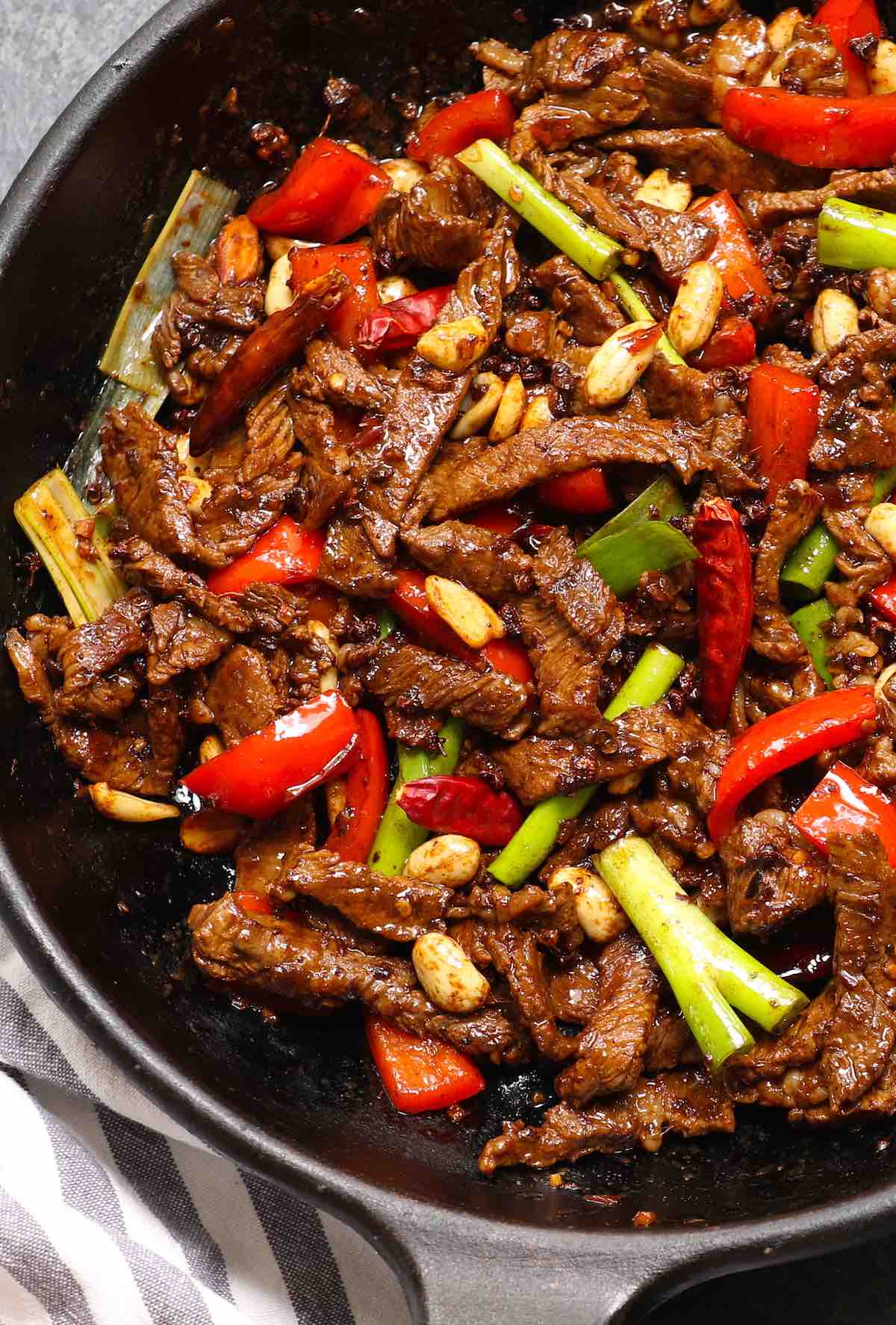 If you love spicy Chinese food, then kung pao beef is a must-try. The flavors will tantalize your taste buds without being overwhelming, and you can easily control the heat to your liking!
This recipe is so irresistible you won't want to go back to takeout. Plus, it's ready in a half-hour or less!
What is Kung Pao Beef?
Kung Pao Beef is not authentic Chinese, but rather a westernized adaptation of the fiery dish Kung Pao Chicken originating in Szechaun province after being named after a governor back in the 1800s.
This dish has become popular in America with sweet, savory and nutty flavors and a mouth-numbing sensation coming from the use of Szechaun peppercorns and dried chilis. In contrast, other spicy Chinese cuisines such as Hunan cooking do not produce this characteristic numbing effect.
Kung Pao Beef is sometimes compared to Mongolian Beef, the Taiwanese barbecue dish made famous by the restaurant chain P.F. Chang's. However, Mongolian Beef has mild flavors and does not use nuts or vegetables other than green onions.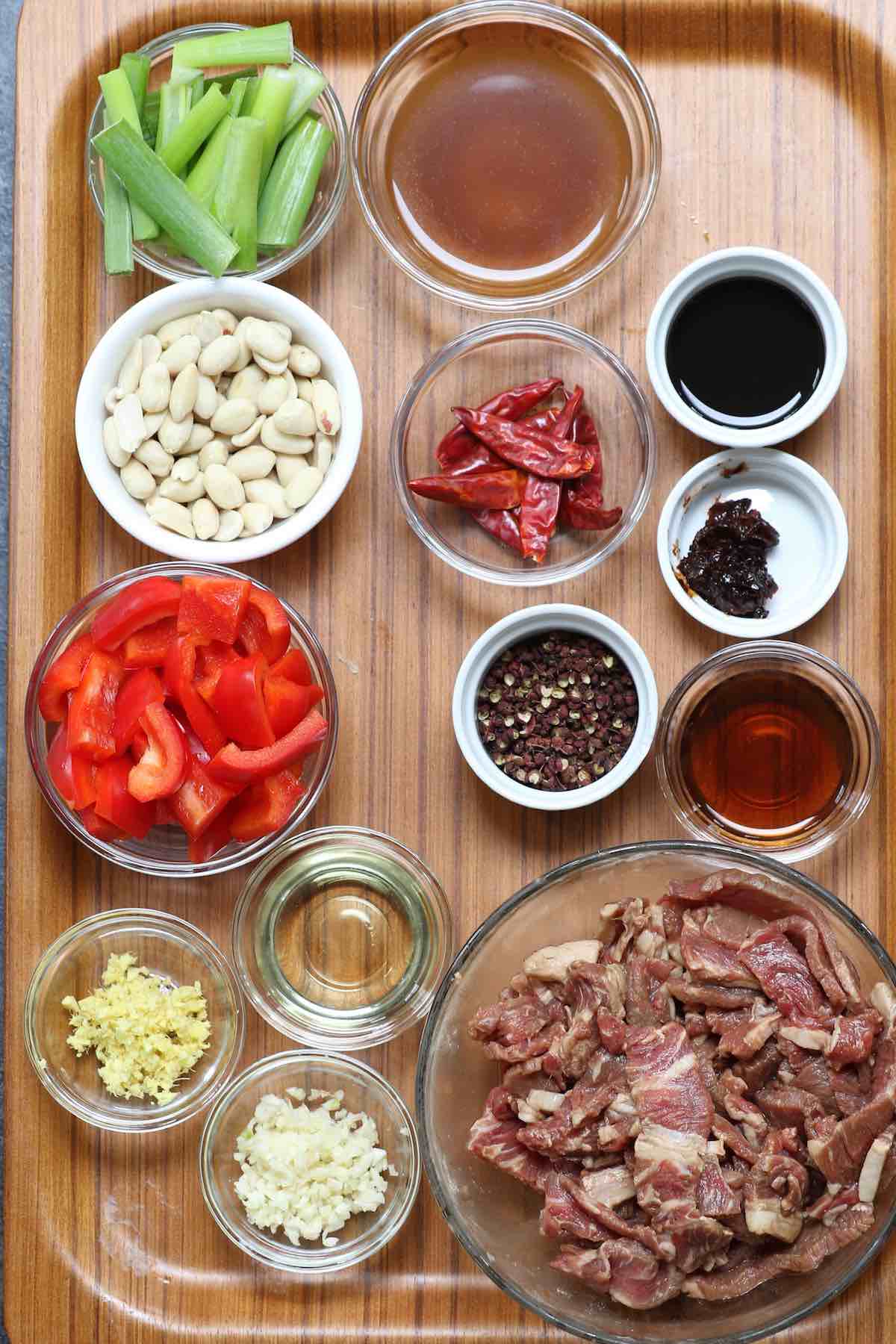 Ingredients
There are some special ingredients you'll want to pick up to create the Szechuan flavors in this dish:
Beef: You can use ribeye, top sirloin or flank steak for this recipe with skirt steak as a backup option.
Shaoxing wine: This is your standard Chinese cooking wine available at Asian grocers or online.
Soy sauce: Go for a low-sodium soy sauce to prevent this dish from becoming too salty. San-J and Kikkoman work well.
Cornstarch: Coats the beef and thickens the sauce. As a backup option, whisk all-purpose flour with equal pat water to remove lumps.
Chinese black vinegar: This is standard Chinkiang vinegar available in Asian grocers or online. Use balsamic as a substitute.
Chili paste (optional): A broad-bean chili paste like doubanjiang to build depth of flavor.
Beef stock: Go for low-sodium if possible. Use water if you can't find any.
Dried red chilis: Your standard dried cayenne peppers from the spice aisle.
Szechuan peppercorns: The crucial seasoning available from Asian grocers, Whole Foods or online. Coriander seeds as the closest approximation, but don't produce the mouth-numbing heat.
Garlic: fresh minced
Ginger: fresh ginger peeled and minced
Bell pepper: you can use green or red bell pepper, with carrots, celery or zucchini as alternatives.
Peanuts: Roasted unsalted are ideal but raw will do. Substitute cashews in a pinch.
Green onions: for garnish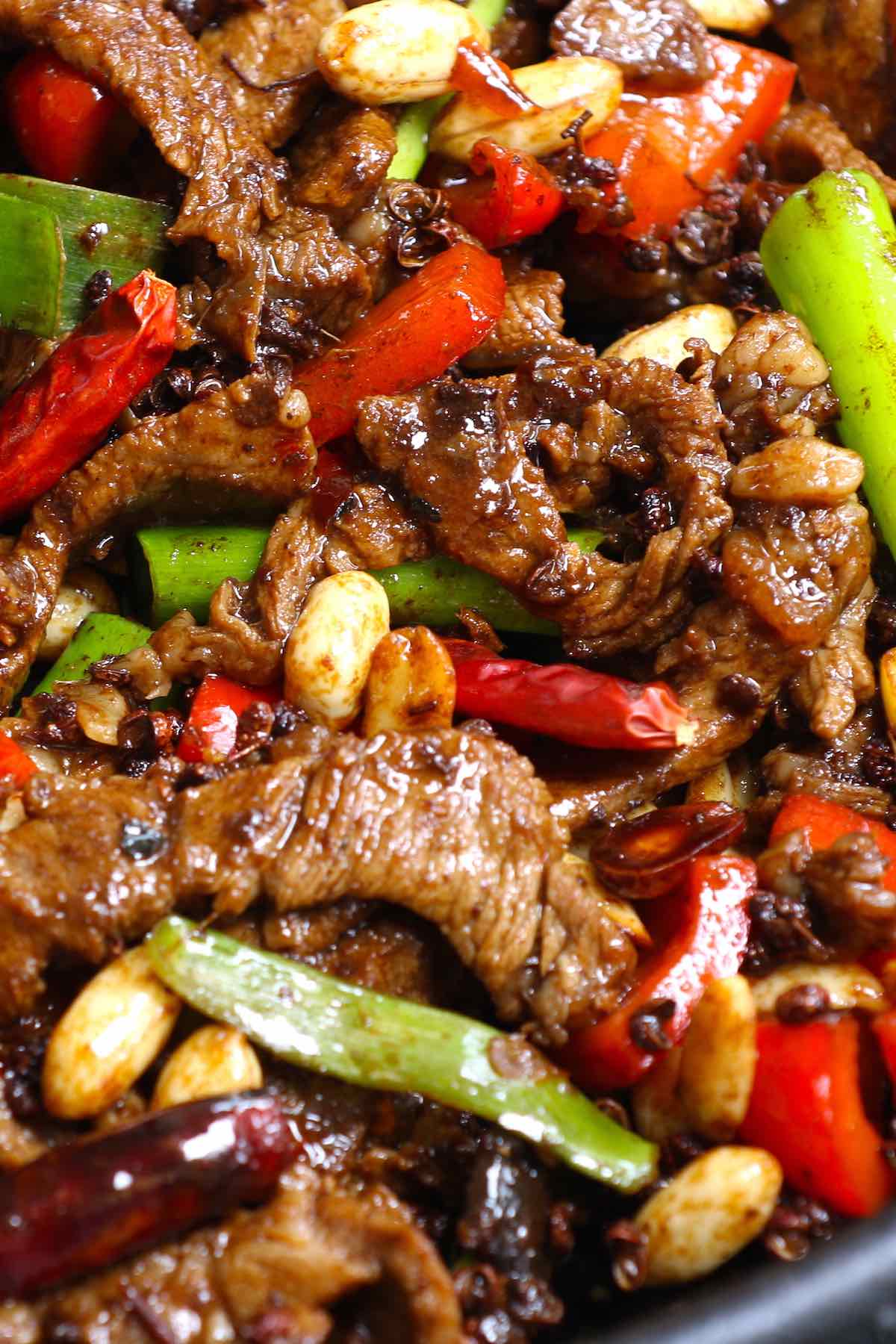 How to Make Kung Pao Beef
You can make kung pao within a half-hour, but get all your ingredients ready before stir-frying to keep things moving smoothly.
First, slice the beef into thin strips. You'll find this easiest when the meat is partially frozen. Mix the marinade ingredients together in a bowl and add the beef. Toss a few times and leave it to marinate/tenderize for 10-15 minutes.
Next, make the sauce by whisking together the soy sauce, vinegar, Shaoxing wine, beef stock and optional chili paste in a bowl.
Now you're ready to stir fry, and there are two rounds. Fry the beef until lightly browned, and then remove to a plate. Then you'll toast the chilis and Szechuan pepper on high heat before adding the garlic, ginger, vegetables and peanuts. The last step is adding back the beef along with the sauce, which coats all ingredients.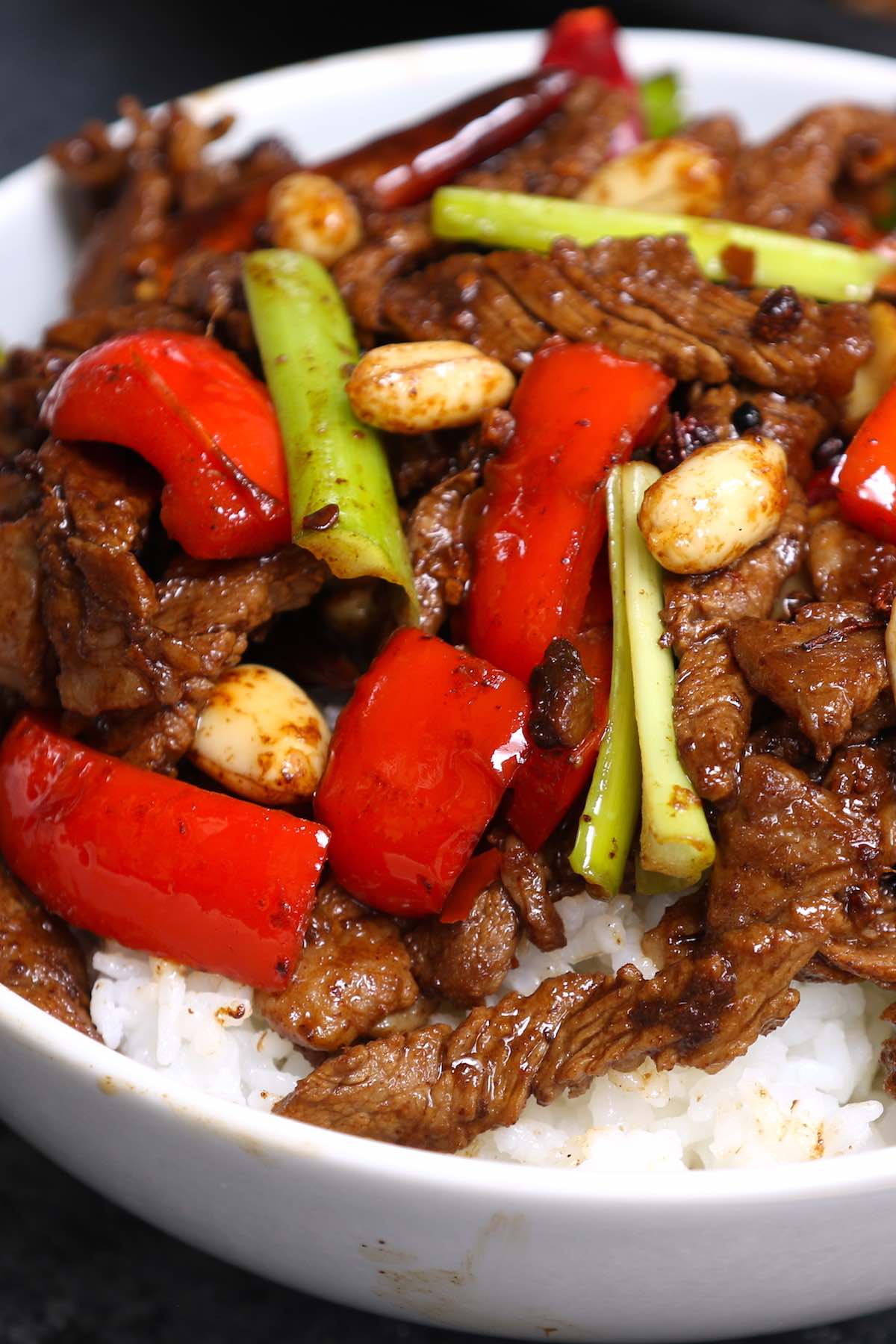 Serving Ideas
Traditionally you serve kung pao beef on top of steamed rice or fried rice. To make a fiery Szechuan meal, you can pair it with dishes like Szechuan Chicken and Mapo Tofu and spicy green beans.
For some non-spicy sides, try Garlic Bok Choy, Moo Goo Gai Pan and Steamed Pork Buns.
More Chinese Dishes:
View all Chinese recipes
Kung Pao Beef
Kung Pao Beef is a fiery stir fry of beef, vegetables and peanuts a sweet and savory sauce. The Szechuan adaptation features delicious, mouth-numbing heat.
Ingredients
Beef
1 pound beef, flank steak, ribeye or sirloin, cut into 1-inch wide strips (see note)
1 tablespoon Shaoxing wine, or sherry or rice wine vinegar
1 tablespoon light soy sauce, low sodium recommended
1 tablespoon cornstarch
Kung Pao Sauce
2 tablespoons Chinese black vinegar, or balsamic
2 tablespons Shaoxing wine, or sherry or rice wine vinegar
1 tablespoon dark soy sauce, low-sodium recommended
2 teaspoons chili paste, optional
¼ cup beef stock, low-sodium recommended
2 teaspoons cornstarch
Stir Fry
2 tablespoons canola oil, or other high temperature oil, divided
6-8 dried red chilis, about ¼ cup
1 ½ tablespoons Szechuan peppercorns
3 large garlic cloves, minced (1 tablespoon)
1 tablespoon ginger, minced
1 bell pepper, cored, seeded and sliced (red or green capsicum)
½ cup roasted peanuts, or raw peanuts
3 green onions, cut into matchsticks
Instructions
Combine all ingredients for the beef in a medium bowl; cover and marinate for 10-15 minutes while you prepare the other ingredients.

Whisk the sauce ingredients together in small bowl. Set aside.

Place a large skillet or wok over medium-high heat. Once it's hot, add 1 tablespoon of oil and the marinated beef. Fry for 2-3 minutes, stirring occasionally to let it brown evenly. Then remove the beef to a plate and set aside.

Add the remaining 1 tablespoon oil to the pan along with the dried chilis and Szechuan peppercorns. Let them sizzle and fry for 30 seconds.

Add the minced garlic and ginger and fry for 10 seconds until fragrant. Then add the bell pepper (capsicum) and peanuts, frying for one minute stirring regularly.

Pour the reserved sauce into the pan and bring to a boil stirring constantly. Once the sauce starts thickening, add the cooked beef and toss until coated, up to one minute.

Garnish with green onions and serve immediately with steamed rice or other dishes.
Notes
Sweetness: For a sweeter flavor, you can add 2 teaspoons of sugar to the kung pao sauce.
Vegetables: If you don't have bell pepper, you can try using sliced zucchini, celery or carrots.
Beef: The beef is easier to slice thinly when partially frozen, so consider placing it in the freezer for an hour to firm up.
Nutrition Facts
Kung Pao Beef
Amount per Serving
% Daily Value*
* Percent Daily Values are based on a 2000 calorie diet.
Please read our nutrition disclaimer.
Recipe tools:

© TIPBUZZ. Images and text on this website are copyright protected. Please do not post or republish without permission. If you want to republish this recipe, please link back to this post. This post may contain affiliate links. Read the disclosure policy here.