Chinese Steamed Pork Buns
Pork Buns (鲜肉包子 or bao buns) are a Chinese dim sum tradition consisting of soft steamed buns with a juicy and flavorful pork filling inside. They're a great grab-and-go snack, and fit nicely into any Asian-themed meal or potluck. Plus, kids and picky eaters love them. So good!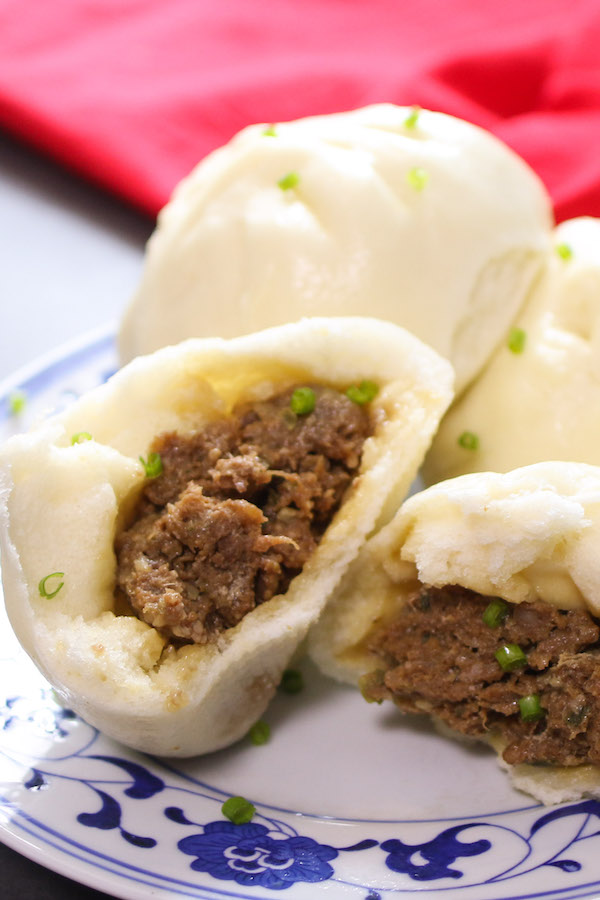 Everyone seems to gather round when pork buns are steaming, even the picky eaters. There's something about them that's so comforting and irresistible at the same time. Whether it's for an appetizer, dim sum or a party, we tend to double the recipe because they disappear so quickly! Oh, and they're amazing for breakfast too…
Pork buns are to China what sandwiches are in America: a go-to- snack that also fits perfectly into a sit-down meal. I made them for a friend over a decade ago and he still talks about them – they are that memorable 🙂
While people complain that pork buns are a lot of work to make, almost everyone agrees it's always worth the extra effort. They're a true a labor of love! We recommend making a larger recipe like this one, since they go so fast. You'll get 20-24 buns, and you can always store extras in the freezer.
Types of Pork Buns
Today you can find pork buns on almost every dim sum menu, and they seem to gain in popularity each year. There are two main types with the same dough but different fillings:
Pork Buns (鲜肉包子 or bao buns): made with freshly ground/chopped pork (this recipe)
BBQ Pork Buns (叉燒包 or char siu bao): made with cooked Chinese BBQ pork
Since the BBQ pork is already seasoned, it requires less additional flavoring than raw pork. There are also the small xiao long bao buns, which are more akin to dumplings.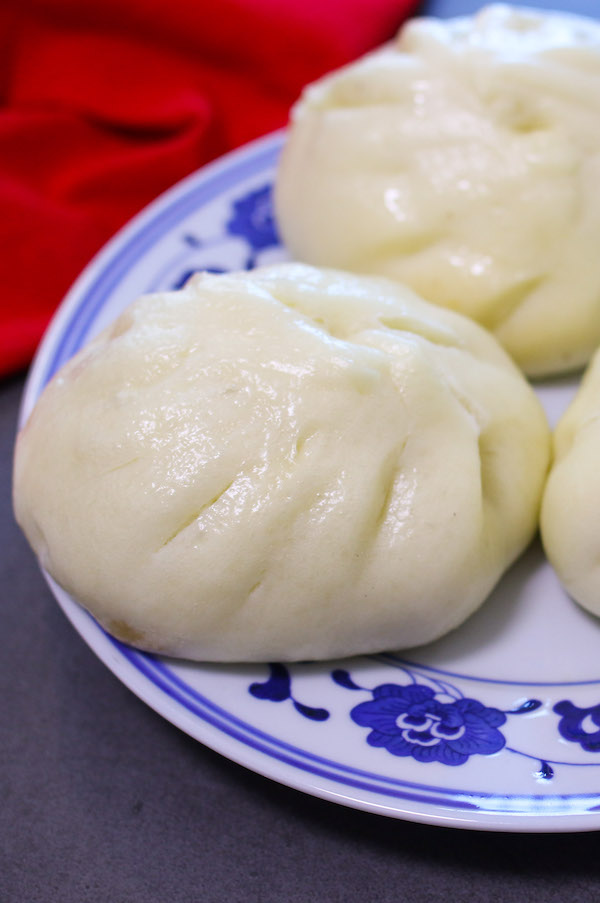 How to Make Pork Buns
Here's what you'll need to make the Chinese sweet bread dough for the buns:
dry active yeast
all-purpose flour
sugar
salt
baking powder
canola oil
And while the dough is rising, here's what you'll need to make the pork filling:
ground pork (tenderloin preferred)
fresh ginger
fresh garlic
soy sauce
hoisin sauce (or oyster sauce)
Asian sesame oil
cornstarch
green onions/scallions
Count on about 3 hours to make pork buns using these four steps:
Make the dough: proof the yeast, mix the ingredients, knead the dough and let it rise (1 hour)
Make the filling: sauté the meat with garlic, ginger and sauce ingredients (20 min)
Make the buns (30 min)
Steam the buns (15 min x 2)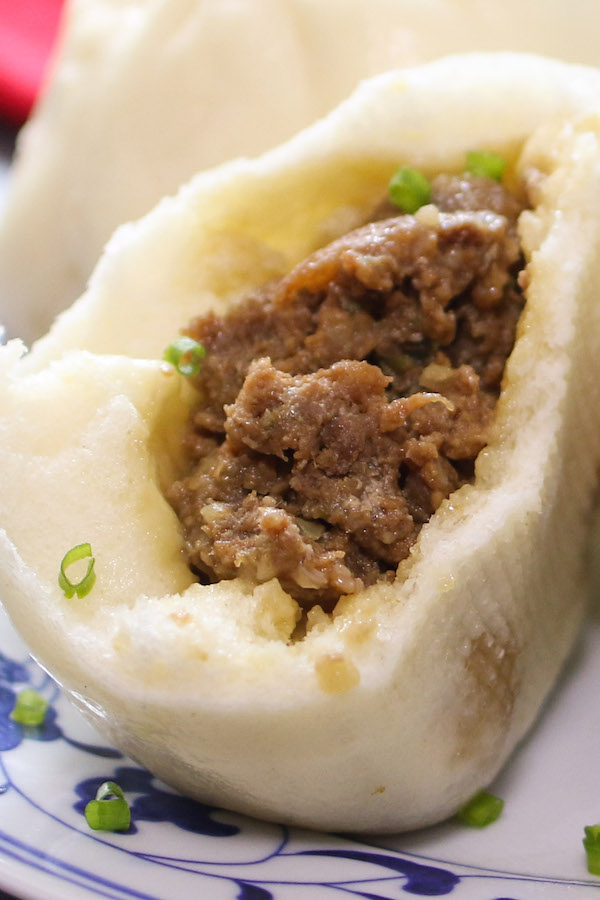 Can you make pork buns with other meat?
You can substitute ground chicken or ground beef for pork in this recipe. The end results will differ, but will still be delicious.
You can also make vegetarian pork buns by substituting in minced tofu for ground pork!
Tips for Making the Best Pork Buns
Use stackable bamboo steamers to cook more buns at the same time and reduce the number of batches required.
Sherry is a secret ingredient that makes the pork extra flavorful and fragrant. If you have some on-hand, give it a try.
Use parchment or wax paper paper cut into 3-inch / 7 cm squares to prevent sticking inside the steamer.
You can cook pork buns ahead of time and store in an airtight container or ziplock bag for up to 3 days in the fridge or 2 months in the freezer. To reheat, simply get out your steamer basket and steam again for 10-15 minutes. You can also microwave them, but the texture will become a bit spongey.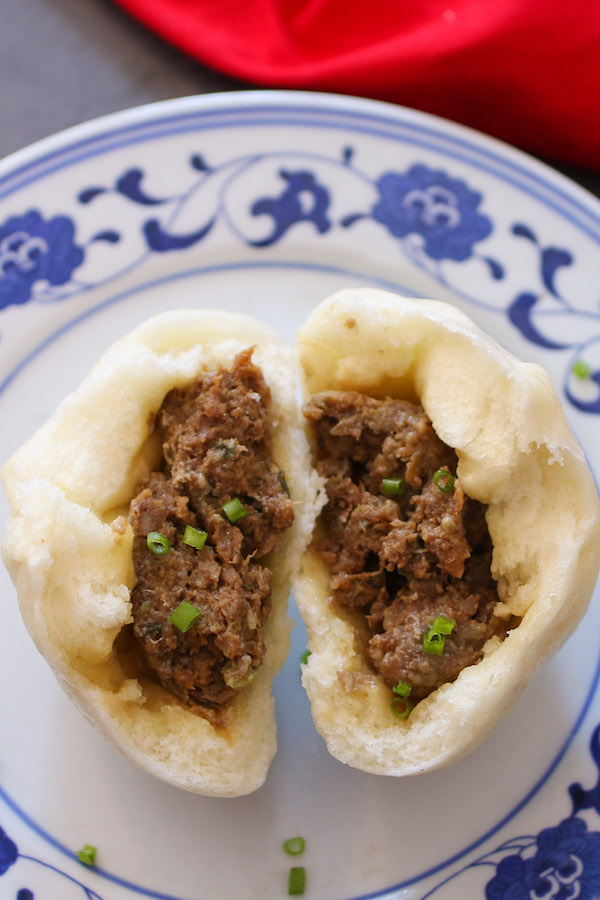 Chinese Steamed Pork Buns
Pork Buns (鲜肉包子 or bao buns) are a Chinese dim sum tradition consisting of soft steamed buns with a juicy and flavorful pork filling inside. They're a great grab-and-go snack, and also fit nicely into any Asian-themed meal or potluck. So good!
Ingredients
Chinese Sweet Bread Dough
1 cup warm water, 105-110°F / 36-38°C
1 tbsp dry active yeast, 2 envelopes
1/4 cup sugar
6 cups all-purpose flour, about 14 2/3 ounces
1/2 tsp salt
1 tbsp baking powder
1 tbsp vegetable oil
Pork Filling
1 1/2 lbs ground pork, or minced pork tenderloin
1  tbsp  soy sauce , low sodium recommended
2 tbsp sherry, or cooking sherry - optional
3 tbsp hoisin sauce, or oyster sauce
3 tsp  sugar, optional
½ tsp salt
1  tbsp  vegetable oil
1 tbsp fresh ginger, peeled and minced
1 tbsp fresh garlic, minced
½ cup water
1  tbsp  cornstarch, mixed with 1 tbsp water
1  tsp  sesame oil
1/2 cup green onions, minced
Instructions
Chinese Sweet Bread Dough
In a large bowl, whisk together warm water, yeast and sugar until dissolved. Set aside for 5 minutes.

Add the flour and salt to the yeast mixture. Stir with a large wooden spoon until a dough forms.

Turn the dough onto a lightly floured work surface, or into a large stand mixer fitted with a dough hook.

Knead the dough for about 10 minutes by hand, or 5 minutes in the stand mixer.

Return the dough to the large bowl and rub thoroughly with vegetable oil.

Cover the bowl with a towel and place in a warm, draft-free area to rise for 1 hour or until doubled in size (see note 1). [Meanwhile, make the pork filling.]

Punch down the dough with your fist and turn onto a clean work surface.

Sprinkle the baking powder on top and knead for 5 minutes until incorporated. Set aside.

Pork Filling
In a medium bowl, add ground pork, soy sauce, optional sherry, hoisin sauce, sugar and salt. Mix with a fork and set aside for 10-20 minutes to marinate.

Place a large skillet on medium heat. Add oil, garlic and ginger and saute for about 30 seconds until fragrant.

Add pork mixture to skillet and saute 5-7 minutes until no longer pink. Add water and bring to a boil, simmering for 5 more minutes.

Add the cornstarch/water slurry to the pork, and stir for a minute to thicken. Then stir in sesame oil and green onions. Remove from heat and set aside.
Pork Bun Preparation
Take your dough - if it has risen, punch it down again - and cut in half. Then cut each half in 10-12 equal pieces. Cover lightly with a towel to avoid drying out.

Form a piece into a ball with your palms. Then place on a floured work surface and roll into a 4-5 inch circle using a mini rolling pin if available.

Place 2 tbsp pork in the middle of the circle. Pull up the edges with your fingertips and pinch several times in the middle to seal.

Repeat previous two steps for remaining pieces. Once you have 10-12 pieces, you can steam the first batch.

Cut 2-inch/5-cm square pieces of parchment or wax paper. Place one beneath each bun and arrange 1/2-inch apart on a steamer basket.

Place one quart of water in wok and bring to a boil over medium-high meat. Cover steamer basket with lid and place on wok to steam for 15 minutes until puffy.

Remove steamer basket from wok. Add more water and repeat for second batch.

Let buns cool for several minutes. Serve warm and enjoy!

Notes
The dough is ready if you poke it with two fingers and indentations remain.
Avoid overcrowding the steamer by leaving a 1/2-inch / 1 cm gap in between the buns to allow for expansion during steaming.
Nutrition Facts
Chinese Steamed Pork Buns
Amount per Serving
% Daily Value*
* Percent Daily Values are based on a 2000 calorie diet.
Please read our nutrition disclaimer.
Equipment for Making Pork Buns
Looking for more Chinese recipes?
© TIPBUZZ. Images and text on this website are copyright protected. Please do not post or republish without permission. If you want to republish this recipe, please link back to this post. This post may contain affiliate links. Read the disclosure policy here.