Smoked Pork Loin
This Smoked Pork Loin is seasoned with a flavorful dry rub and smoked low-and-slow to BBQ perfection. This recipe produces tender and juicy meat with a nice smokey crust on the outside. Perfect BBQ for a party!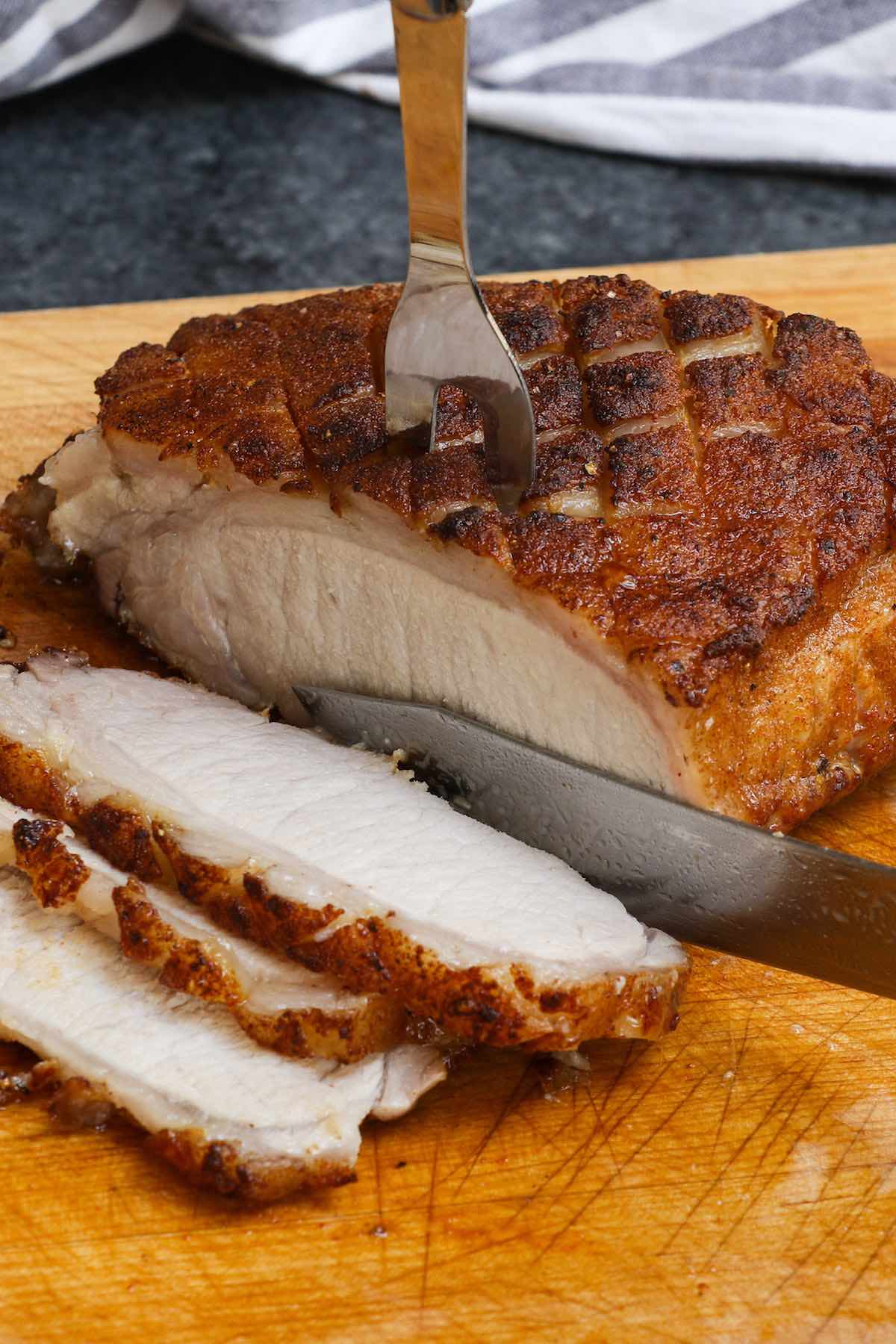 Nothing is more satisfying than a juicy smoked pork loin roast. The meat is lean but flavorful, with the smoker keeping it nice and tender!
Pork loin is a budget-friendly cut that costs just a few dollars per pound. While a typical 3-pound loin is enough to feed 6 people, you can go as large as 6 pounds to feed a crowd. Look a layer of fat on the outside to help keep it moist during smoking.
Dry Spice Rub
The centerpiece of this recipe is the homemade dry spice rub, which adds a ton of flavor using pantry ingredients. While you can always use store-bought in a pinch, this rub takes less than 5 minutes to make using paprika, garlic powder, onion powder, brown sugar, salt and pepper.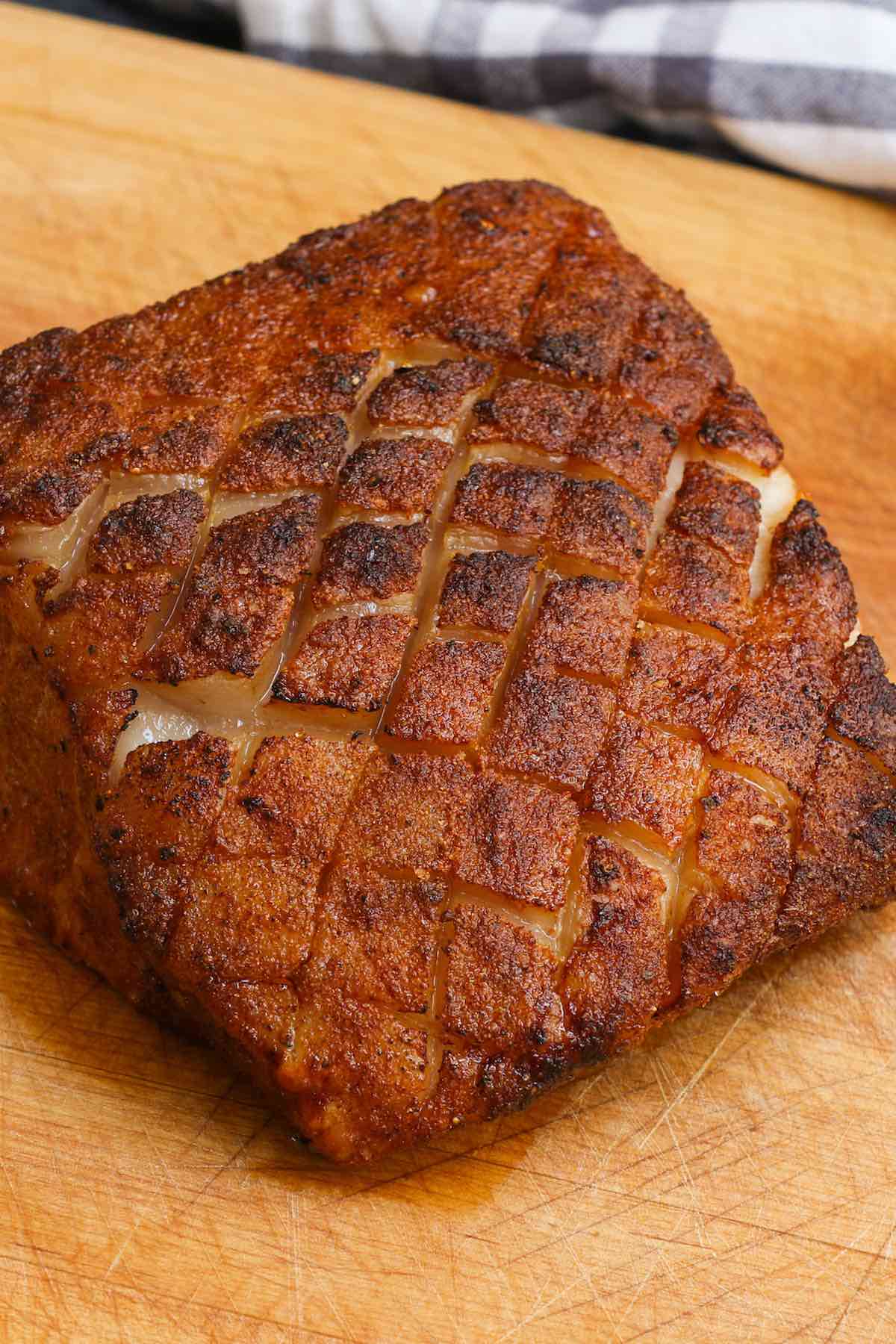 How to Smoke a Pork Loin
Start by getting your smoker ready. You can use whatever equipment you have on your patio, with a Traeger, Masterbuilt or charcoal smoker all working well. In terms of the wood, apple, cherry, hickory or mesquite are all great options, and you can add extra flavor by soaking in warm water for a half hour before use.
Get your smoker preheating to 225°F while you prepare the meat. Start by scoring the fat layer on top using a sharp knife. (If the fat is any thicker than ¼-inch, trim off the excess first.) You want to cut through to the meat in a criss-cross pattern, which will let the flavors of the rub penetrate into the meat.
Next, rub the meat with mustard or olive oil, which will help the seasonings to stick to the surface. The last step before smoking is rubbing the seasonings all over the meat.
Note: You don't need to wrap the pork loin. If it's getting too dark on the outside, you can always wrap in foil for the 30-60 minutes in the smoker.
With the meat fully prepared, place it onto the grates of your smoker. If you're using a wireless thermometer, insert the probe into the meat to ensure it reaches 145°F. Once it's done, remove and tent with foil to rest for 5 minutes before slicing.
How Long to Smoke a Pork Loin
Smoking time for a pork loin is 2-3 hours on average although varies by weight and temperature. The rule of thumb is 40-50 minutes per pound at 225°F, and just 20-30 minutes per pound at 275°F (the best option if you're in a hurry).
Here is a smoke time chart at 225°F for various sized roasts:
| | |
| --- | --- |
| Pork Loin Weight | Smoke Time at 225°F |
| 2 pounds | 2 – 2½ hours |
| 3 pounds | 2½ – 3 hours |
| 4 pounds | 3 – 3½ hours |
| 5 pounds | 3½ – 4 hours |
| 6 pounds | 4 – 4½ hours |
The internal temperature of the pork should reach a minimum of 145°F according to the USDA, and 150-155°F turns out tender and juicy. To measure, insert an instant-read thermometer into the middle of the loin 15 minutes before you expect it done. Alternatively, you an use a wireless probe to monitor the temperature continuously inside the smoker.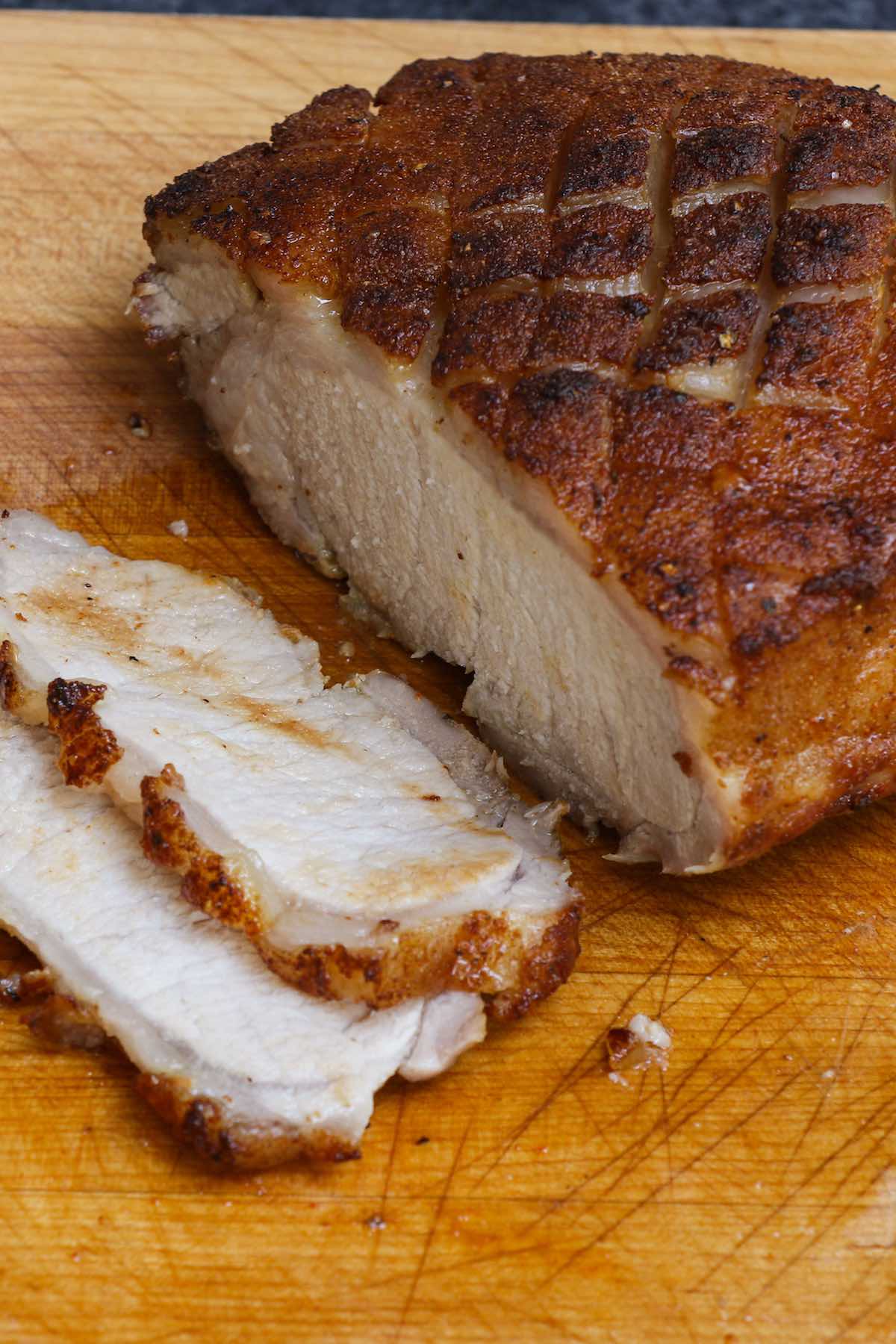 Pork Loin vs. Pork Tenderloin
These two cuts are completely different and cannot be substituted in this recipe:
Pork loin (also called a center cut) comes from the upper rib cage. It's a larger cut that weighs 2-6 pounds, sold either as boneless or bone-in. This lean meat is best suited to slow-roasting methods.
Pork tenderloin comes from the backbone and is a longer, thinner cut that weighs one pound on average. As one of the most tender cuts of pork, it's best cooked using high-temperature methods such as grilling.
Serving Ideas
Pork loin goes extremely well with mac and cheese, potato salad, rice, baked beans, coleslaw, apple salad or just a simple vegetable like broccoli. Applesauce is also a great condiment to serve on the side.
More Smoked Pork Recipes:
View all BBQ recipes
Smoked Pork Loin
This Smoked Pork Loin is seasoned with a flavorful dry rub and smoked low-and-slow to BBQ perfection. It's juicy and tender with a nice smokey crust!
Ingredients
3-6 pound pork loin, boneless or bone-in, with some fat on top (see note)
2 tablespoons mustard, or olive oil
Spice Rub (see note)
1 teaspoon kosher salt
1 teaspoon black pepper, freshly ground
1 ½ teaspoons paprika, or smoked paprika
1 teaspoon garlic powder, or granulated garlic
1 teaspoon onion powder, or granulated onion
1 tablespoon brown sugar
½ teaspoon cayenne, optional for a kick
Instructions
Pre-heat the smoker to 225°F, adding water-soaked wood such as apple, cherrywood, hickory or mesquite (note: you may need to add more during smoking).

While you're waiting for the temperature to come up, prepare the rub and pork loin roast. In a medium bowl, mix the paprika, garlic powder, onion powder, salt, pepper, brown sugar and optional cayenne.

Pat dry with paper towels if needed to remove excess moisture. Trim off excess so there's no more than ¼-inch layer. Score the fat layer down to the flesh using a sharp knife in a criss-cross pattern.

Rub the meat all over with the mustard or olive oil. Then rub the spices on all sides. Insert a wireless thermometer probe into the middle (if using).

Once the smoker temperature is stable, place the pork loin on the grates with the fat side facing up. Close the lid and adjust the vents if needed.

Smoke until the internal temperature reaches 145-150°F, about 2 ½ to 3 hours for a 3-pound pork loin.

Remove from the smoker and tent with foil. Let rest for 5 minutes so the juices redistribute throughout the meat. Then slice and serve.
Notes
Pork Loin: You can use any pork loin from 2 to 6 pounds, boneless or bone-in. A thin layer of fat on top will baste the meat and keep it juicy. For a larger roast, double the rub quantities to ensure adequate seasoning.
Grill Option: If you want to use a BBQ instead of a smoker, soak 2 cups of wood chips in water and wrap in heavy aluminum foil to make a packet. Poke several small holes (to allow smoke to escape) and place beneath the grill grates. Preheat the grill to 225°F with one side off/no charcoal. Place the pork loin on the cool side to cook over indirect heat. Replace the wood packet every 60-90 minutes as needed to maintain the smoke.
Brine (optional): To make the meat even more tender, you can always brine the meat overnight following this recipe.
Storage: Cooked pork loin can sit at room temperature for no more than two hours, but can be stored in the refrigerator for 3-4 days in an airtight container. It also freezes well in a resealable plastic bag.
Leftovers: You can use leftover pork loin to make sandwiches, lo mein and more.
Nutrition Facts
Smoked Pork Loin
Amount per Serving
% Daily Value*
* Percent Daily Values are based on a 2000 calorie diet.
Please read our nutrition disclaimer.
Recipe equipment:

© TIPBUZZ. Images and text on this website are copyright protected. Please do not post or republish without permission. If you want to republish this recipe, please link back to this post. This post may contain affiliate links. Read the disclosure policy here.