Braised Beef Cheeks
These beef cheeks are braised low-and-slow with red wine, vegetables and aromatic herbs. This dinner melts in your mouth with delicious beefy flavors, and it's easy to make in the slow cooker, oven or stovetop!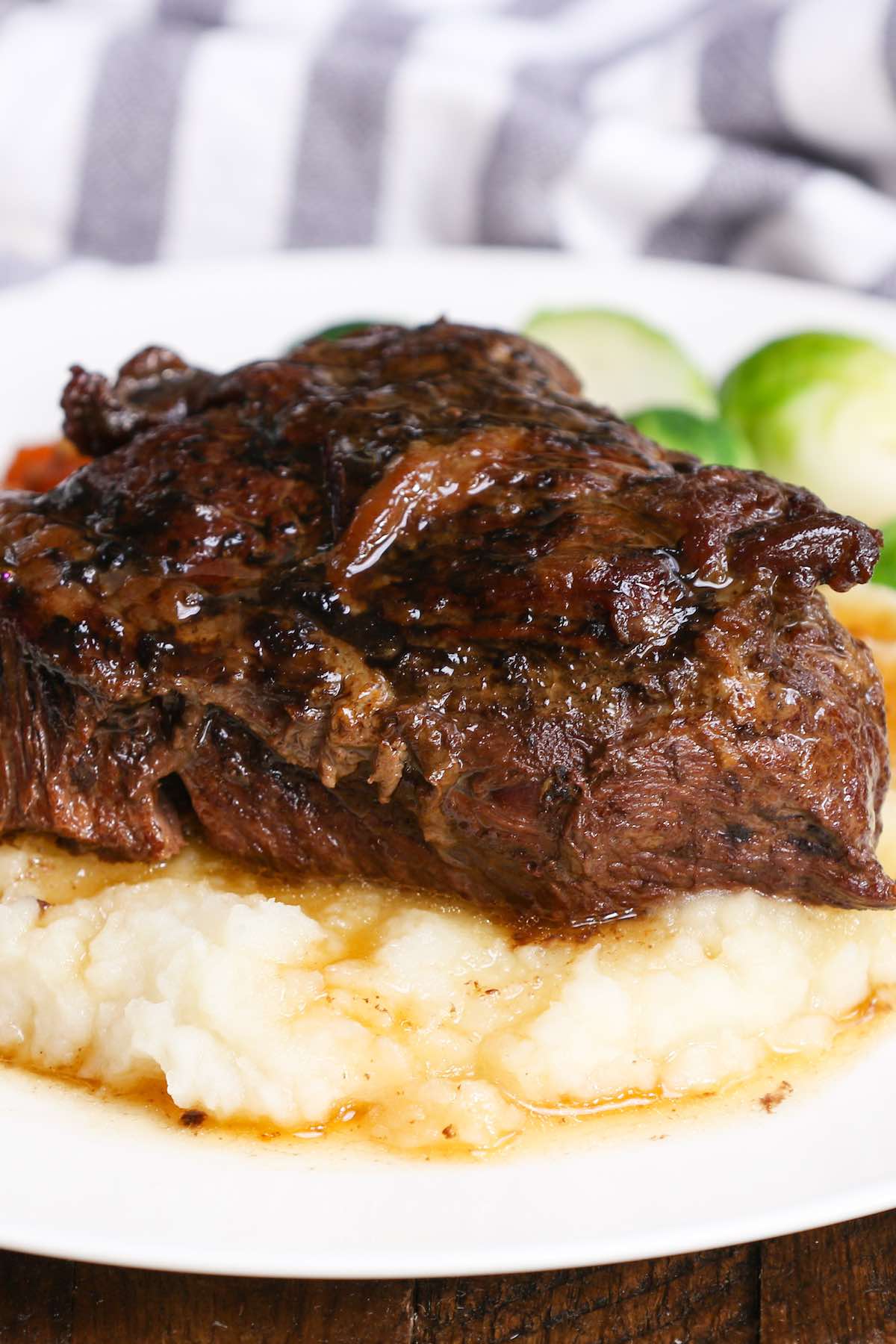 Venture off the beaten path with this beef cheeks recipe. This lesser-known cut is inexpensive and easy to prepare, with the meat becoming meltingly tender and absorbing flavors as it cooks.
Beef cheeks are popular in Europe, where they appear on menus in upscale bistros and restaurants. The flavors are rich and complex, resembling that of a pot roast or stew.
Beef Cheek Meat
As the cow's facial muscle, beef cheeks (also called ox cheeks) are well-exercised meat that's lean and flavorful although tough as well. Accordingly, they are suitable for slow-cooking methods such as braising and smoking to tenderize the meat.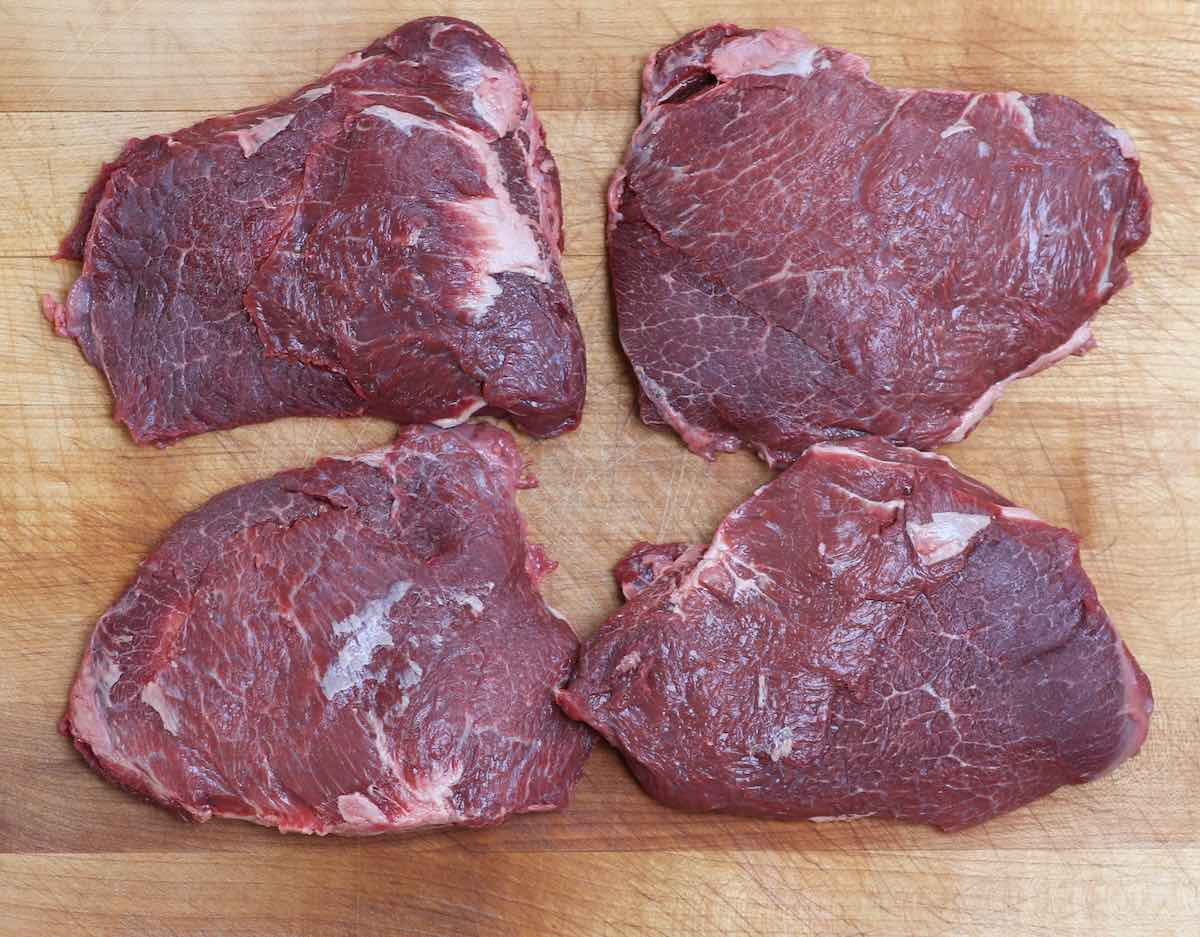 This cut is very affordable and weighs 6-12 oz apiece, yielding 4-8 oz of cooked meat or enough for 1-2 people depending on appetites. In addition to being a main course, beef cheeks are also used to make tacos, barbacoa and other dishes.
Note: Since meat counters do not typically stock beef cheeks, it's best to call your butcher a day or two ahead to place an order.
How to Cook Beef Cheeks
The easiest way to cook this cut is braising it low-and-slow in the crock pot, with the passage of time making the meat meltingly tender. Simply brown the meat in a hot skillet for flavor and add to the crock pot with all the other ingredients. Cook on "Low" for 7-8 hours until tender.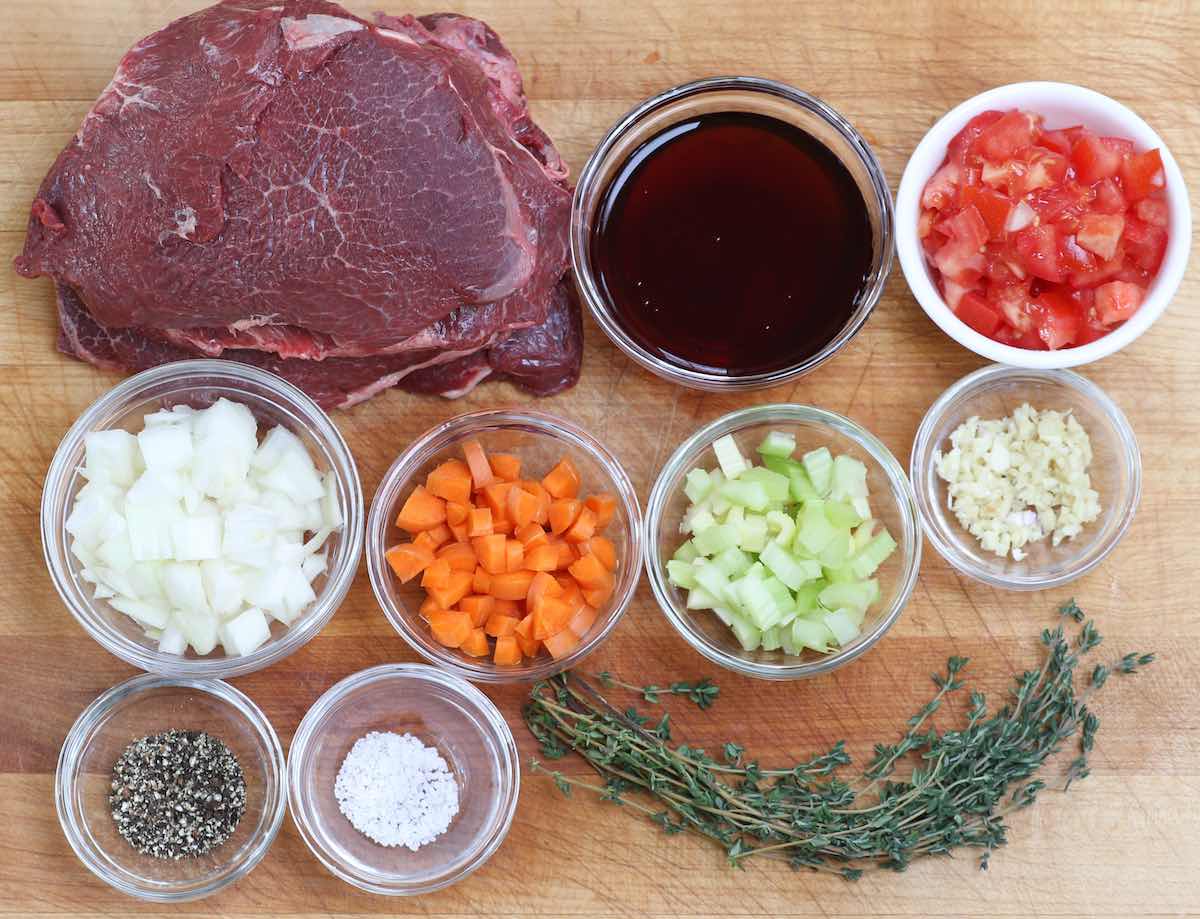 But that's not the only way to do it! Other cooking methods include:
Stove Top: Add the ingredients to a Dutch oven or heavy-bottomed pot. Bring to a low boil, reduce heat to the lowest setting and cook for 3-4 hours until tender.
Oven: Follow the stovetop method but place in the oven at 300°F for about 4 hours.
Pressure Cooker/Instant Pot: Add all the ingredients and cook on High pressure for 60 minutes followed by a natural pressure release. Remove the meat and thicken the sauce by boiling it down on high heat.
Before serving, I recommend degreasing the juices by putting them through a fat separator. Then drizzle on top of the beef for the most amazing flavor.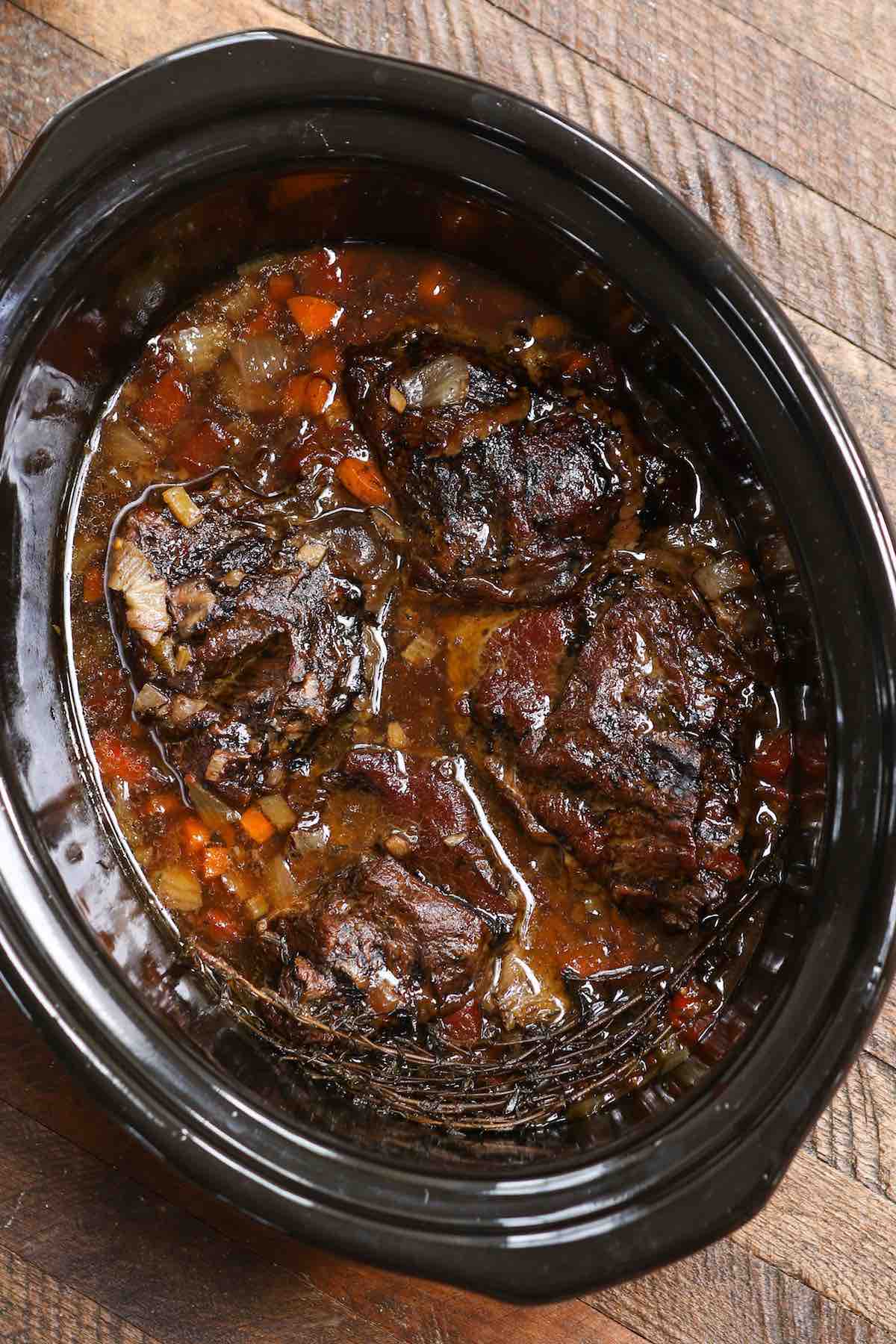 When Are They Done?
Beef cheeks are ready when they are soft and tender. If they are still chewy, you need to cook them longer. The good news is they are difficult to overcook!
What to Serve with Beef Cheeks
Beef cheeks are fabulous served with mashed potatoes, steamed rice or buttered noodles, with cauliflower rice being a keto option.
You can also add a side vegetable such as broccoli, Brussel sprouts, spinach, carrots or parsnips. Polenta also pairs well.
More Braised Beef Recipes:
View all beef recipes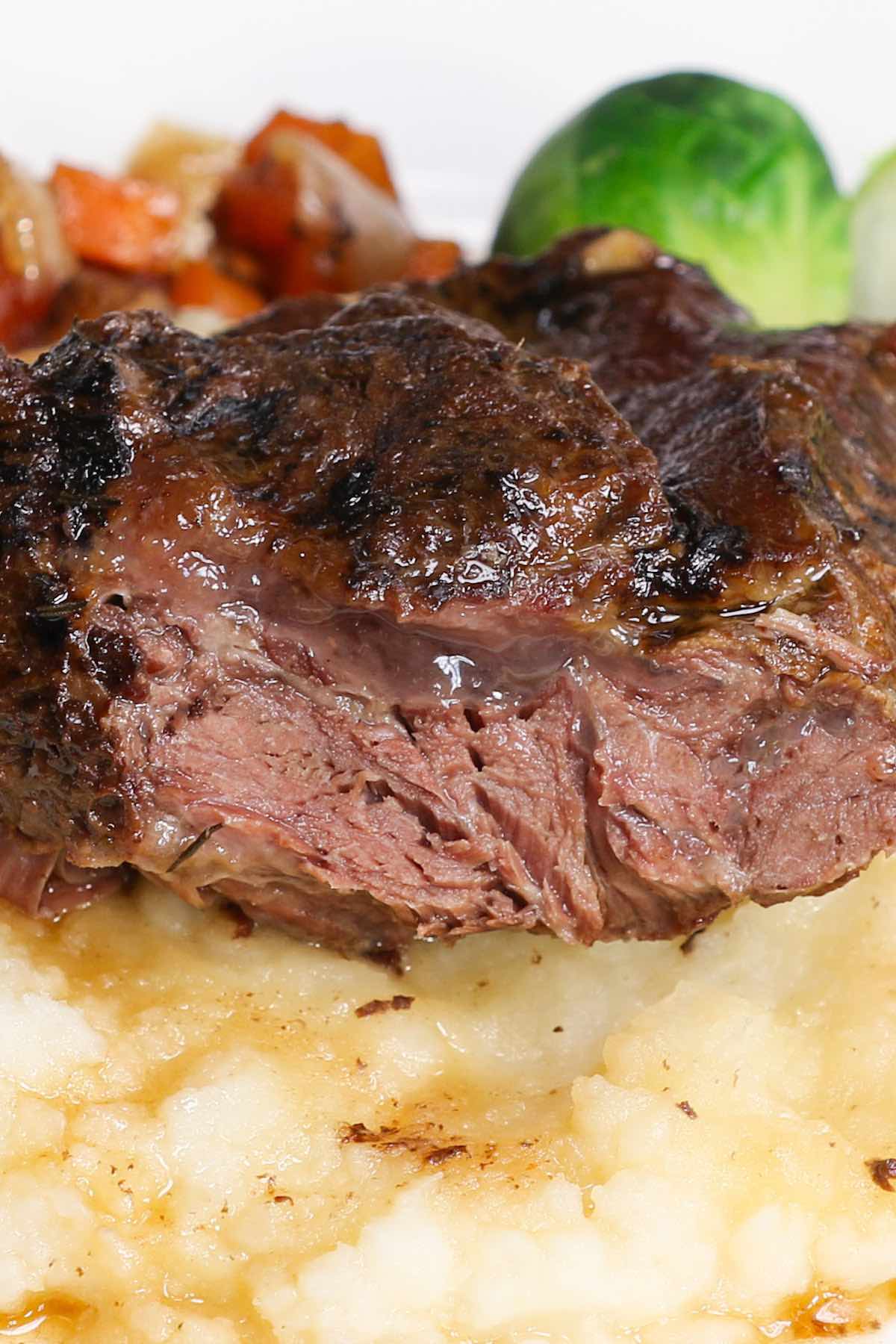 Slow Cooker Beef Cheeks
These beef cheeks are braised low-and-slow with red wine, vegetables and aromatic herbs. This dinner melts in your mouth with delicious beefy flavors!
Ingredients
3 pounds beef cheeks, 4-6 cheeks trimmed of fat (8-12 oz each)
2 tablespoons olive oil
1 cup red wine, full-bodied Cabernet, Merlot or similar (see note)
1 cup beef stock
1 medium onion, chopped (about 1 cup)
3 cloves garlic, minced, or 1 teaspoon garlic powder
1 medium carrot, chopped (about 1 cup)
1 celery rib, chopped (about 1 cup)
2 medium tomatoes, chopped (about 1 ½ cups), or canned
6 sprigs fresh thyme, or 1 teaspoon dried thyme, or rosemary
1 teaspoon salt, or to taste
1 teaspoon black pepper, freshly ground
Instructions
Place the beef cheeks on a work surface and pat dry with paper towels.

Optional (for extra flavor): Place a skillet over medium-high heat. When hot, add the olive oil and beef cheeks. Fry for 2 minutes until lightly browned. Flip and repeat for the other side.

Transfer the beef cheeks to the crock pot. Pour the wine and stock into the pan and dislodge off any browned bits with a wooden spoon. Then pour into the crock pot.

Add all the other ingredients to the crock pot: onions, garlic, carrot, celery, tomatoes, thyme, salt and pepper.

Seal the lid shut and set the crock pot to cook on Low for 8 hours, or High for 5 hours.

Discard the thyme sprigs. Optional: pour the cooking liquid into a fat separator to remove accumulated fat.

Remove the beef cheeks to a plate and drizzle juices on top to serve.
Notes
Wine: Any full-bodied wine such as a Cabernet, Merlot or Bordeaux will do. Basic table wines are suitable but avoid cooking wines sold in supermarkets.
Oven Method: Follow the recipe above, but put everything into a Dutch oven or heavy ovenproof pot. Cover and cook in a 300°F oven for 4 hours or until tender.
Stovetop Method: Follow the recipe above, but put everything into a heavy-bottomed pot. Bring to a low boil on medium heat, and then cover and turn to the lowest heat. Simmer for 3 hours, adding more liquid halfway through if needed.
Make Ahead: You can make them ahead of time and store in an airtight container in the fridge for up to 3 days. Alternately, you can freeze for up to 3 months.
Leftovers: Use them to make delicious beef tacos or sandwiches!
Nutrition Facts
Slow Cooker Beef Cheeks
Amount per Serving
% Daily Value*
* Percent Daily Values are based on a 2000 calorie diet.
Please read our nutrition disclaimer.
Recipe Equipment:

© TIPBUZZ. Images and text on this website are copyright protected. Please do not post or republish without permission. If you want to republish this recipe, please link back to this post. This post may contain affiliate links. Read the disclosure policy here.