Muddy Buddies
Muddy buddies are full of chocolate and peanut butter flavors with an irresistible crunch. This muddy buddy recipe only requires 4 ingredients and is ready in minutes. It's the perfect homemade snack or gift idea!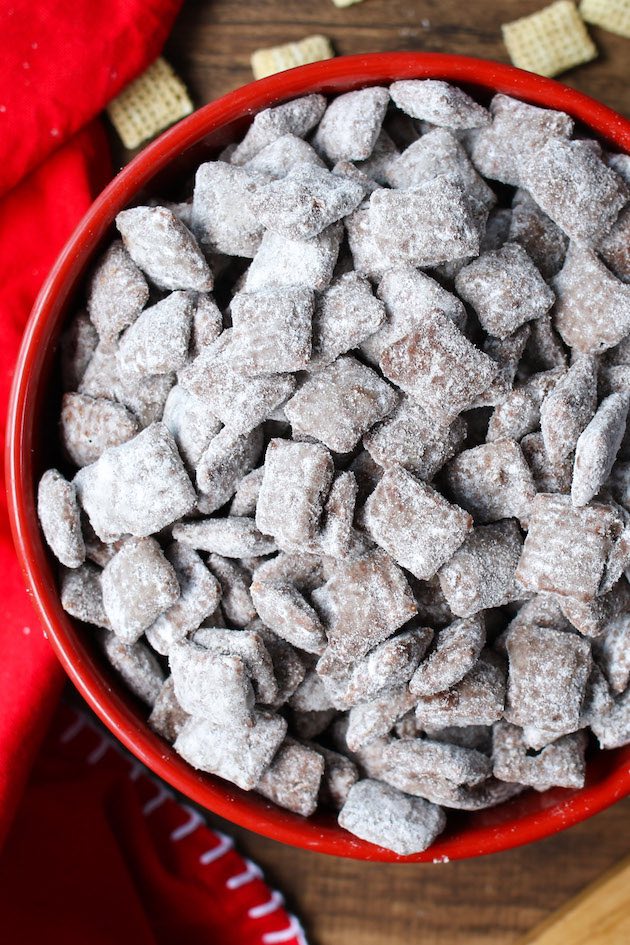 Muddy buddies are an irresistible treat that's perfect for everyday snacking, holiday parties or just a homemade gift. You might also know it as puppy chow or monkey munch, which are all the same thing!
The recipe is also easy and fun to make with kids.
HOW TO MAKE MUDDY BUDDIES
There are 4 ingredients to make Chex muddy buddies:
Chex cereal: Rice Chex works best with a nice crunch and neutral flavor. Other options include Corn Chex or Quaker Life cereal. Crispix will also work, although the shape is slightly different.
Chocolate: Semisweet baking chocolate coats the cereal the best, although premium chocolate chips (dark chocolate or milk chocolate) will also work.
Creamy Peanut Butter
Powdered Sugar – for the frosted look
This recipe is gluten-free when you use Rice Chex. To make it dairy-free as well, simply use dairy-free chocolate.
Sometimes butter/margerine, vanilla and salt are added, although I've found simpler is better!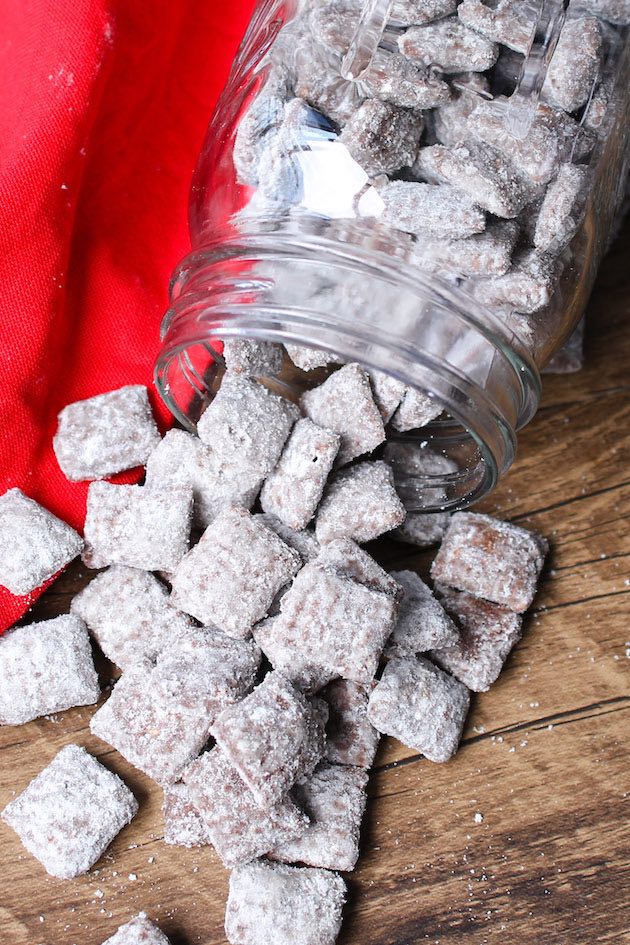 PREPARATION TIPS
You may find it easier to combine in two batches: mix half the cereal with half the chocolate mixture until coated. Remove and then repeat with the remaining cereal and chocolate.
Stir in the chocolate mixture using a soft spatula, as the cereal pieces crush easily with a rigid spoon.
Chill the coated cereal for 5-10 minutes before adding the powdered sugar. This step allows the melted chocolate to thicken slightly so the sugar coats instead of soaking in.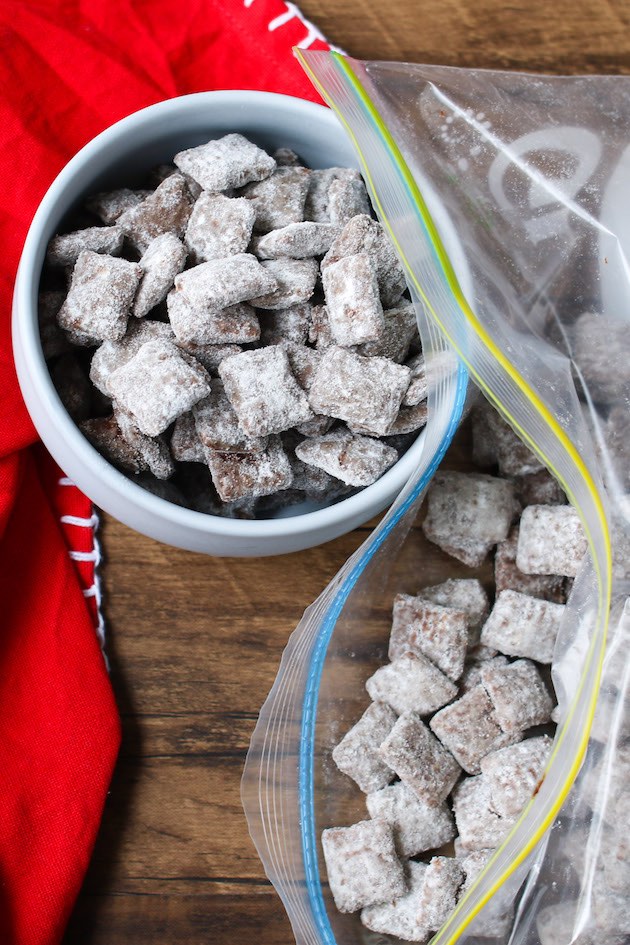 MUDDY BUDDIES FLAVORS
Once you've mastered peanut butter muddy buddies, try some of these other combinations:
Muddy Buddies Cookies and Cream flavored: Use white chocolate chips mixed with crushed cookie sandwiches instead of peanut butter.
Lemon Muddy Buddies: Use white chocolate and butter instead of semisweet chocolate and peanut butter. Add in a teaspoon each of lemon zest and lemon juice.
Muddy Buddies Without Peanut Butter: Simply substitute sunflower seed butter 1:1 for peanut butter.
For a holiday or seasonal twist, here are a few easy muddy buddy variations:
Christmas Muddy Buddies (AKA Reindeer Chow): Follow the original recipe and add in 1 cup of red & green M&Ms or similar candy at the end
Halloween Muddy Buddies: Follow the original recipe and add orange and black candy such as Halloween M&Ms, candy corn and chocolate etc.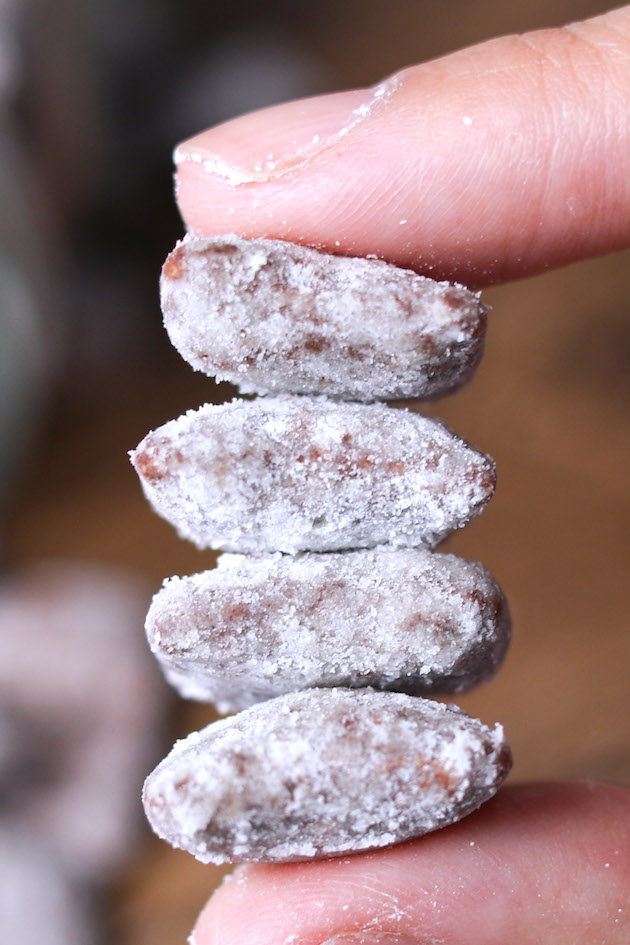 Muddy Buddies
Muddy buddies are an addictive treat full of chocolatey, peanut butter flavors! This muddy buddy recipe only requires 4 ingredients and a few minutes to make, plus it's gluten-free!
Ingredients
6 cups Rice Chex cereal, or similar cereal (12 oz)
6 oz semisweet chocolate, chopped, or 1 cup chocolate chips (see note)
1/2 cup creamy peanut butter
1-2 cups powdered sugar, sifted
Instructions
Add the chocolate to a medium bowl.

Place bowl over simmering water to melt. Alternatively, microwave on low power in 30-second intervals until smooth, stirring regularly.

Stir in the peanut butter until incorporated.

In a medium to large bowl, add the Chex cereal.

Pour the chocolate mixture on top.

Using a soft spatula, gently mix to coat the cereal evenly. Try not to crush the cereal pieces.

Chill for 5-10 minutes to let the chocolate firm up slightly.

Add the coated Chex and powdered sugar to a large ziplock bag.

Gently shake and invert the bag until the sugar coats the chocolate evenly. It takes about one minute.
Notes
Baking chocolate such as Baker's or Ghirardelli is recommended for easy mixing.
If microwaving, use low power to avoid scorching.
Store muddy buddies in a mason jar with a tight-fitting lid for up to one week. You can also freeze it for up to 3 months.
Nutrition Facts
Muddy Buddies
Amount per Serving
% Daily Value*
* Percent Daily Values are based on a 2000 calorie diet.
Please read our nutrition disclaimer.
More snack recipes:
© TIPBUZZ. Images and text on this website are copyright protected. Please do not post or republish without permission. If you want to republish this recipe, please link back to this post. This post may contain affiliate links. Read the disclosure policy here.